What's in your shopping cart this month? Hashtag gives you a few picks that are new and trending this season…
For product reviews/ features/ advertorials, email us at contact@hashtagmagazine.in
UFO Series by Swiss Military
– Hard-Shell Travel Backpack Blue Colour
Price: 3,899
Are you looking for a laptop bag that seamlessly combines style with functionality? Then, the Diamond Cut Laptop Bag is the perfect blend of style and functionality and is designed to meet the demands of modern professionals and travellers.
Its standout feature is the eye-catching diamond-cut ABS hard-shell exterior, enhancing aesthetics and offering robust protection for your laptop. It has ample space to accommodate laptops up to 15.6 inches.
Security is a top priority with the zip pullers, allowing you to lock the bag securely. The Velcro flap prevents accidental 180° openings, providing added peace of mind during your commute. The organization is a breeze with an elasticated file/documents holder, miscellaneous storage pockets, and a separate mesh zipper pocket for accessories.
Whether heading to the office or embarking on a journey, this bag elevates your style while ensuring your essentials are well-organized and secure.
Moh Malai Baby Body Lotion by Baby Forest
Price: 765
Baby Forest is a breath of fresh air in a world where modern solutions often overshadow age-old wisdom. Their commitment to reviving the ancient art of Ayurveda and infusing it into nurturing formulations for babies is genuinely commendable. Modern mothers often seek the trusted old ways of caring for their children, and Baby Forest bridges this gap beautifully.
One of their standout products, Moh Malai, this lightweight cream features a unique blend of 10 Ayurvedic herbs, including Shea Butter, Mulethi, and Rose petals. These ingredients provide nourishment and hydration and help suppress skin disorders while embracing your little one with the goodness of Mother Nature.
With Baby Forest, you can have peace of mind knowing that you're not just using any product; you're nurturing your child with the wisdom of generations past.
KIDDOZE Multivitamin Gummies
Price: 1199
Kiddoze Multivitamin Health Gummies are the perfect solution for parents looking to provide their children with essential vitamins and minerals in a delightful and fun way. These gummies are nutritious and a tasty treat that kids genuinely enjoy.
Gummies come in various delicious flavours like mango, strawberry, and lemon, making them a daily highlight for your child's taste buds. The attractive Peppa Pig-themed packaging adds an element of excitement and adventure to the daily vitamin routine, and each box contains a surprise puzzle that keeps kids engaged and entertained. These gummies contain no preservatives and are made from all-natural ingredients, ensuring your child receives the best without harmful additives. They support your child's immune system, bone health, and overall health and are suitable for kids aged 3 to 16, making them a versatile choice for families.
Moisturizing Baby Balm by CITTA
Price: Rs 650
CITTA's Moisturizing Baby Balm is more than just a skincare product; it's a nostalgic journey back to the wisdom of our grandmothers, combined with the precision of modern science.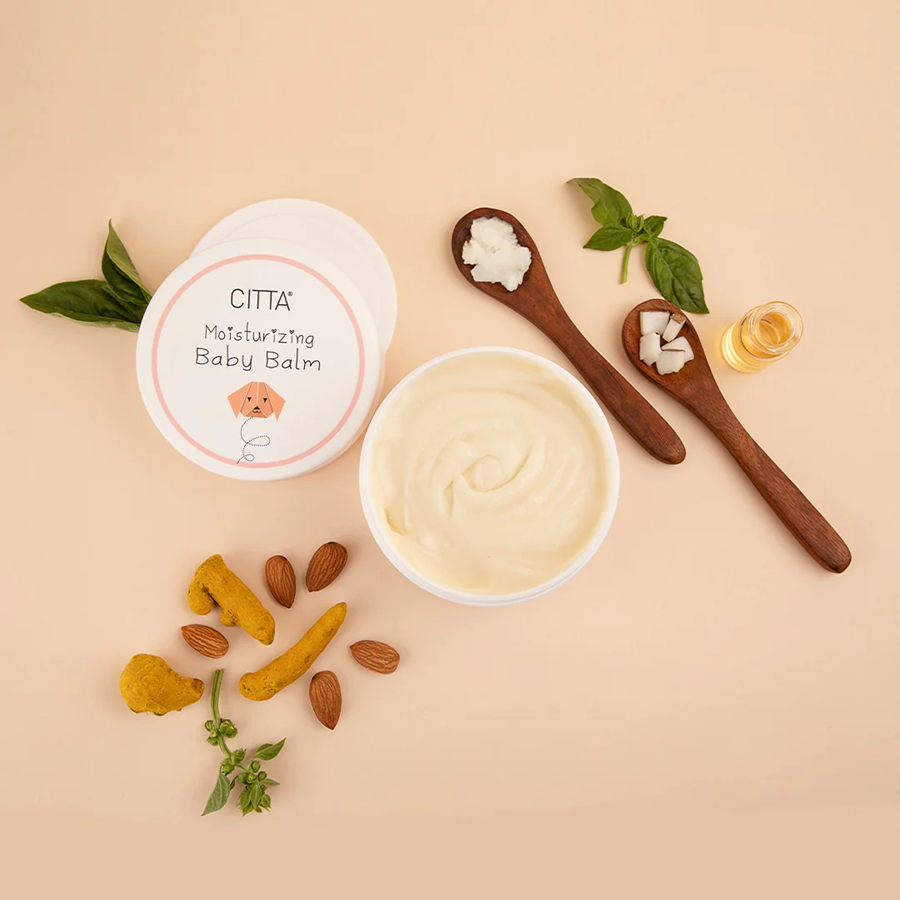 The first thing that stands out about this product is its commitment to quality. CITTA prides itself on using time-tested ingredients that have been cherished for generations. The magic of Shea butter and the goodness of eight different oils, including coconut, almond, and olive oil, combine to create an incredibly nourishing balm for delicate baby skin. It has been developed through meticulous research into the customs and practices of our culture. The product is free from harmful chemicals, making it safe for your baby.