From girl power to girls of power!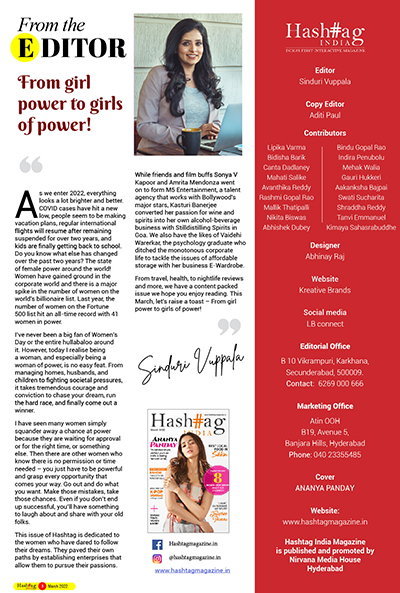 As we enter 2022, everything looks a lot brighter and better. COVID cases have hit a new low, people seem to be making vacation plans, regular international flights will resume after remaining suspended for over two years, and kids are finally getting back to school. Do you know what else has changed over the past two years? The state of female power around the world! Women have gained ground in the corporate world and there is a major spike in the number of women on the world's billionaire list. Last year, the number of women on the Fortune 500 list hit an all-time record with 41 women in power.
I've never been a big fan of Women's Day or the entire hullabaloo around it. However, today I realise being a woman, and especially being a woman of power, is no easy feat. From managing homes, husbands, and children to fighting societal pressures, it takes tremendous courage and conviction to chase your dream, run the hard race, and finally come out a winner.
I have seen many women simply squander away a chance at power because they are waiting for approval or for the right time, or something else. Then there are other women who know there is no permission or time needed – you just have to be powerful and grasp every opportunity that comes your way. Go out and do what you want. Make those mistakes, take those chances. Even if you don't end up successful, you'll have something to laugh about and share with your old folks.
This issue of Hashtag is dedicated to the women who have dared to follow their dreams. They paved their own paths by establishing enterprises that allow them to pursue their passions. While friends and film buffs Sonya V Kapoor and Amrita Mendonza went on to form M5 Entertainment, a talent agency that works with Bollywood's major stars, Kasturi Banerjee converted her passion for wine and spirits into her own alcohol-beverage business with StillDistilling Spirits in Goa. We also have the likes of Vaidehi Warerkar, the psychology graduate who ditched the monotonous corporate life to tackle the issues of affordable storage with her business E-Wardrobe.
From travel, health, to nightlife reviews and more, we have a content packed issue we hope you enjoy reading. This March, let's raise a toast – From girl power to girls of power!
In India being single is almost taboo. Reach the age of 18 or, at the most 20, and families are already planning the Big Fat Indian Wedding for their kids. For those from liberal families, you have another 4 to 5 years before the pressure builds up. But, the big debate continues. While many modern-day men and women want to settle down in their careers and lives before finding a partner, the old school advocates the idea of early marriage. The earlier you marry, the easier it is to make compromises, to adjust and settle down – or so they believe.
While the old and new schools continue their debate, the country has seen a slow growth of youngsters procrastinating or completely forgoing marriage in the name of being modern. They do not want to surrender to a life of domestic drudgery. And this change has become easier than ever before. Now, several businesses cater specifically to singles. From super fun dating apps (I am personally envious about this one, I never got to swipe right), to a singles night out, solo dinner experiences to even holidays and travel tours for singles, being single has never felt so good or right before.
It's completely okay to be single, but I believe one must be single for the right reasons. Don't choose to remain single to prove a point to anyone, be it the annoying aunt who is constantly pestering you and your family about finding you a bride/groom before you get too old, or before all the good ones are married away.
Yes, you may be financially independent, but marriage isn't always about financial dependence. It is also about building emotional dependence. Again, a lot of people are worried about losing their identities. You may think of entering a relationship as a sacrifice, believing you'd be losing your sense of independence and freedom. In a good relationship,worlds grow, not shrink. But if you have chosen the path of singlehood, then make sure it's based on a strong foundation of self-worth and personal development.
Every February, the pressure grows on everyone – singles and couples alike. For the singles, we have great interviews by experts on embracing singlehood the right way. For those in love, do read up on our romantic picks and choices. Gracing the cover we have actress Mrunal Thakur, who is currently the envy of every actress in Bollywood. From her choice of roles to her working relationships, she is currently the reigning queen of the silver screen.
With yet another content-packed issue, we wish all the readers a love-filled month and like I said earlier: Singles, no pressure, please!
Raise a toast, we turn one!
Today marks a year since we launched Hashtag India Magazine. This time last year it all didn't seem so easy. The pandemic had taken over the nation; chai and newspapers were replaced with news at our fingertips… Everything about Hashtag was vague. It was just a bunch of ideas getting tossed around in a room and there was scepticism about everything.
Today, we know we have done the right thing. With 12 successful issues, and over 1.5 lakh global subscribers, we have reached over one million viewers and readers. Seeing Hashtag Magazine turn one is such as surreal experience. It's incredible to see how far we have come in twelve short months. From glam covers to insightful stories on health, travel, wellness, and all things lifestyle, we have accomplished to maintain a fine balance with our stories. If you know it's trending, then it's surely on Hashtag! A lot of love, time, and effort has gone into nurturing Hashtag and there is no way we would be what we are today without my dedicated team of writers who bring in the best content, interviews, and discoveries from across the country and of course my team of designers, social media managers, SEO and outreach experts, photographers, videographers, editors and the copy edit team.
A special shout out to our marketing support Atin Ooh, who constantly gives us the much-needed reinforcement and backing, and of course our advertisers. We thank you greatly for your continued confidence and friendship.
The Hashtag team would like to specially raise a toast to the readers for all the love. A big thank you to everyone who reads, shares, likes, and talks about our little labour of love.
I hope you enjoy this annual issue; we've packed with great content. Do let us know if there are any topics you'd like to see covered in the future. Until then, let's raise a toast – We turn one!
We wish you a warm, joyous, and happy holiday season.
Is our cover making you hungry? Rightfully so! After having featured some of the country's top stars on our cover since the inception of our magazine, we wanted to do something different this time. An important question arose: Is there anything that can challenge a hot body or a good pair of abs? Well yes, certainly! A good plate of food!  
Food is a philosophy in itself and we realised that if there is one thing that unites the world seamlessly, it is a plate of edible options. Besides, isn't there is something addictive in scrolling through food blogs on social media? With so many delicious mouth-watering recipes and creations, reading up about cooking, and checking out new tips and cooking techniques is like a hobby in itself.  
The pandemic has been many things. A positive that has emerged is the boost experienced by amateur chefs around the world. Almost everyone picked up a ladle, and bravely entered the kitchen. From kitchen hits and misses to someone's failed attempts at baking, social media was abuzz with food posts. Almost two years later, recipe creation and blogging have become a whole new ball game. It is now a constant lifestyle that involves creating quality content, fine-tuning recipes, detailed plating, HD photography and so much more. This competitiveness is why, although we have thousands of food blogs and bloggers, only a few manage to catch the right eyeballs. 
Hashtag scouted for recipe creators who have continually wowed us with their dedication and creativity. While one creates vegan recipes, another offers simple everyday vegetarian recipes with a twist. While one specialises in delectable eggless desserts, another offers the best of international recipes. Each of them is unique; if there is one thing common between them all, it is their perseverance and passion for food. Armed with stunning photography and detailed recipes, they have managed to meet the exacting demands of virtual food lovers. 
Without a doubt, the world is a better place now they are in it – and definitely a more delicious one. So while you ditch the cookbooks that are stuffed in your kitchen cupboards and get following these food bloggers for a huge slice of inspiration, you can also browse through our magazine for everything that is trending. From celeb interviews to fitness, fashion, and travel, it's all in here.
 Wishing everyone an enjoyable and sumptuous December…
Festive seasons are the perfect time to make new resolutions! While we clean our homes and spruce them up to welcome Lakshmi mata, I think it's is also a great time to clean up and organise our minds. Of late, no matter where I go, all I hear are money making schemes—stock markets, land boom, cryptocurrency, women selling saris, jewellery—it's almost as if money is determining your worth. 
Worse than that is how today's happiness is postponed to 5 years later, when the speculated market boom is expected. A lot of youngsters don't want to marry until they settle down. Families postpone travel plans or buying a house or even visiting old parents. While I am not advocating for materialistic pleasure, I do question the very aspect of settling down. Where is the fun in travelling at the age of 60 with knee pains while you could have easily done it at 30?
We already know that settling down is an imaginary concept; yet we place all out bets and happiness on it. We can always hire people to drive a car for us or even make money for us; material things lost can be found, but the one thing that can never be found once lost is life. Enjoy life, share it with others, watch your children grow, throw things around and even mess up the house because the one thing you can control is now! Tomorrow, your land may or may not boom, your bitcoin may or may not double…that's for tomorrow. Today, don't miss out on the simple joys of life, only to come to regret it. 
All we want for all of you is to have a cracking Diwali. Go enjoy the simple pleasures! Colour your hair green; featured in this issue is an organic brand to perfectly meet that need! Shop your heart out— our fashion section will help guide you with tips from experts and inspiration straight from the runway. If you are vying for a vacation, we have you covered with amazing discovers and scenic beauties, recommended and researched by our team of writers. 
What's important is you learn the art of now…
Wishing all our readers a safe and happy festive season!
 It's good to be lost in the right direction…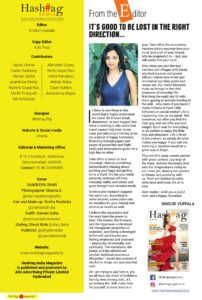 If there is one thing in this world that's highly underrated, it's travel. Be it heart break, depression, or your biggest fear, there is nothing in this world that travel cannot help heal. In my case, just planning a holiday gives me a boost of happy hormones. Browsing through pages and pages of properties and flight deals and destinations gives me a high like no other.
Take off to a beach or to a mountain; there is something indescribably relaxing about packing your bags and getting on to a flight. It's like your mind instantly switches off from everyday reality and stress and goes straight into vacation mode. 
Science and research suggest the same too. According to some studies, a new place can do wonders for your mental and emotional health as well. The new events and experiences help rewire your brain, boosting your mood and self-confidence. 
I believe the mountains and the seas have the power to heal. The Greeks, the Romans, and the Egyptians understood the therapeutic properties of seawater, while Hippocrates, Plato, and Aristotle all advocated the healing powers of the ocean. Just being submerged in the soft sand or being gently tossed about by the salty frothy waves, time by the ocean leaves you feeling awakened and cleansed – physically, emotionally, and spiritually. The mountains, the peaks, and the altitude are another mythical experience altogether. The flow of water, the vast expanse, the wind and the adventure are so exhilarating, I doubt any amount of alcohol or drugs can give you that rush. 
All I am trying to say here is, yes, we all have our share of problems. Family, time, money, kids…it's an endless list. Still, make time for yourself, at least once in a year. Take off to the mountains, traverse plains you may lose your mind (and a bit of your money, let's be pragmatic) to – but, you will surely find your soul! 
Only when you visit the tiny hamlets and villages with barely any food sources and power will you realise how trivial and immaterial our daily greed and issues are. Our metro lifestyles make us foreign to the little pleasures of everyday life. Watching the night sky fill with stars, gazing at animals hunting in the wild… who cares if you haven't made millions or have 100k followers on social media? Life is happening now, as we speak. Not tomorrow, not after you find the right guy, and not after you lose weight. Don't wait for everything to be perfect to enjoy the little joys and pleasures. Life is lived in the present, so simply do what makes you happy. If you ask me, planning a vacation would be a great way to begin…
This month's issue comes packed with great content, courtesy of the team. We feature popular organic brands and decode the latest Korean skin care trends. Actress Sandeepa Dhar sets the temperatures rising as our cover girl, sharing her secrets to fitness and positivity with us. For the tech lovers, we give you a lowdown on the latest tablets in the market. From pet fashion to celeb interviews and more, it's all in here. 
Dear reader, I wish you a joyful read, and a happy Dussehra!
 What's Right What's Wrong?
This editorial is very special because | write this sittinghere in the middle of nowhere – Spiti Valley with fascinating valleys, windswept landscapes, pristine fast-flowing rivers and the never-ending beauty of nature. As | sit here amidst all this bliss away from the everyday madness, | realised how we spend half our life worrying about what is right and what is wrong. Is this the right job? Am | dating the right guy? Biryani or pizza?Choices, choices, choices.
In between all this decision making, we forget to enjoy the smallwonders. Who cares what's right and wrong? Go ahead and do what makes you happy, because at the end of the day, that is all that matters. Besides, there is no right or wrong — just a bunch of perspectives and points of view. Even if you make some bad choices, it's alright. When you look back at life, you will have something to laugh at and know you have lived a life without regret!
Having given my little mountain gyan (and more importantly before | lose my signal) let's move on to this issue. The Hashtag team is happy to feature Kriti Sanon, who encompasses all that | have said. A brave go- getter, she has been making great career choices, churning out one unique film after another. In her exclusive, she reveals her motto, one that rings true with this issue — "Sometimes failure teaches you more than success can ever do."
In this issue, we have featured a lot of people who have chosen to make a difference. We begin with married couple Moulya Amar Nath and Shravanth Donthi, who launched the app Tankerwala to help you book water tankers on-demand. There's also Sumon and Sanyati, founders of Dorji Shantiniketan and Avipsha Thakur, founder of Bunavat — all who specialise in sustainable and environmentally friendly fashion. Truly, we have a myriad of interviews that are sure to inspire our readers.With the festive season around the corner, do check out our chef special festive recipes — with a twist and browse through our travel pick on the famous Ganesha temples in Coastal Karnataka, as an ode to the forthcoming Ganesh Chaturthi.We are also heavy on the glam quotient this September… from gardening hacks to tech picks,yoga and fitness tips from the hot and svelte Shilpa Shetty to exclusive interviews withSiddharth Malhotra and Ajay Devgn, it's all in here. Do enjoy reading our issue and enjoy a safe and happy festival!
Fitness – Most talked about, yet highly neglected!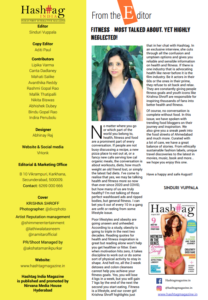 No matter where you go or which part of the world you belong to, health, fitness and food are a prominent part of every conversation. If people are not busy discussing a recipe, a new pizza place to eat out at, or a fancy new cafe serving low cal organic meals, the conversation is about workouts, diets, how much weight an old friend lost, or simply the latest fad diets. I've come to realise that yes, we may be talking health and fitness more so now than ever since 2020 and COVID, but how many of us are truly healthy? I'm not talking of those perfect washboard ads and ripped bodies, but general fitness. I can bet you 6 out of every 10 in a gang are unfit or reeling from some lifestyle issue.
Poor lifestyles and obesity are going unseen and unheeded. According to a study, obesity is going to triple in the next two decades. Reading quotes for health and fitness inspiration is great but reading alone won't help you get healthier or fitter. Even when motivation hits zero, it takes discipline to work out or do some sort of physical activity to stay in shape. And hell no, all the 2-week detoxes and colon cleanses cannot help you achieve your fitness goals. Yes, you will lose 4 kgs in a week, but you will gain 7 kgs by the end of the next the second you start eating. Fitness is a lifestyle, and our cover girl Krishna Shroff highlights just that in her chat with Hashtag. In an exclusive interview, she cuts through all the confusion and umpteen options and gives you reliable and sensible information on health and fitness. If there is one industry that is advocating health like never before it is the film industry. Be it actors in their 60s or the ones in their prime, they refuse to sit back and relax. They are constantly giving people fitness goals and youth icons like Krishna Shroff are responsible for inspiring thousands of fans into better health and fitness.
Of course, no conversation is complete without food. In this issue, we have spoken with trending food bloggers on their journey and inspiration. We also give you a sneak peek into the food streets of Ahmedabad and much more. Curated with a lot of care, we have a great balance of stories. From ethically sustainable fashion labels, unique travel discoveries to the latest in movies, music, book and more… we hope you enjoy this one. 
Have a happy and safe August!
Good news for the hypocrite meat eating animal lovers…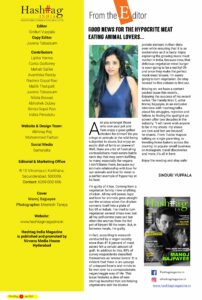 Are you amongst those who love your pet and then enjoy a good grilled chicken for dinner? Do you cringe at animals in the wild being subjected to abuse, but enjoy an exotic dish of lamb on skewers? Well, there are a lot of frustrating contradictions meat eaters battle each day that may seem baffling to many, especially the vegans. I don't blame them, because our intimate relationship with love for our animals and love for meat is a perfect example of hypocrisy at its best.gyan
I'm guilty of it too. Coming from a vegetarian family, I love anything chicken. All my will power, logic and love for animals goes straight out the window when the chicken converts itself into a plate of hot 65 or kebab. I've tried to turn vegetarian several times over, but all my self-control runs out but when the aromas from the hot pot of biryani fill the room. But, in between meals, I'm guilty.
In fact, according to research conducted by a vegan society, more than 47.8 percent of meat eaters felt a certain amount of guilt. In addition to this, 85% of survey respondents classified themselves as 'animal lovers.' It is evident that there is an upsurge of untapped hearts and minds to be won over to a compassionate, vegan/veggie way of life. This issue features a slew of new start-up launches that are helping vegetarians add the elusive protein element in their diets even while ensuring that it is as sustainable as it is tasty. Enjoy exploring the growing mock meat market in India, because now, that delicious vegetarian meat burger is soon going to be a reality! Oh and once they make the perfect mock meat biryani, I'm surely going to turn vegetarian. Do stay hooked to this column to find out.
Moving on, we have a content packed issue this month… Enjoying the success of his recent series The Family Man 2, actor Manoj Bajpayee, in an exclusive interview with Hashtag talks about his struggles, rejection and failure, to finding his spotlight on screen after two decades in the industry. "I will never wish anyone to be in my shoes: my shoes are torn and feet are bruised," he shares. From Tushar Kapoor talking on single parenting, to trending home bakers across the country, to popular small business on Instagram, travel discoveries and more, it's all in here.
Enjoy the reading and stay safe!
WE ARE THE SURVIVORS, LET'S MAKE IT COUNT…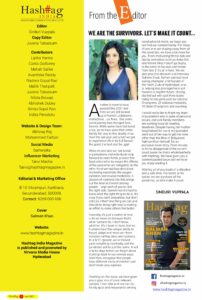 Another 6 months have passed this 2021 and here we are still locked lup at home! Lockdowns… restrictions….curfews…this entire covid journey has changed lives forever. While some have lost loved ones, some have seen their entire family fall prey to this deadly virus. Over the last year and a half we got to experience life in its full flavourthe good, the bad and the ugly!
While on one side we had social organisations and individuals step forward to raise funds, provide free food and shelter to ensure the effects of the pandemic are mitigated, on the other hand we had hoarders black marketing essentials like oxygen cylinders and crucial medicines. A season of darkness like this brings out the best and worst among people. I urge each of you to pick the right side. Sometimes it's hard to know what the right thing to do is. It's okay if you can't empathise, but don't criticise either! One thing we can and should be doing right now is making an effort to make others feel better.
Honestly, it's just a matter of time until we move on because that's what humans do. I don't know whether it's a boon or bane, but we humans have this unique ability to forget, adapt and move on-from massive earthquakes and cyclones, to a 9/11 episode, we've moved past everything eventually, and the pandemic will be just the same. It will only be days before we forget about it and go back to our normal ways. Until then, recognise that people have different levels of comfort and don't make assumptions.
Dwelling on this issue, we have given you a good mix of covid-relevant content. From diet and nutrition to handy apps and restaurants serving covid-adviced meals, we hope you will find our content handy. For those of you who are staying away from all the covid talk, we have a lot more for you. From motivating fitness talk and tips by celebrities such as Avika Gor and former Miss India Puja Gupta, to the latest in fashion and trends from Gen Z it's all in here. We are also proud to discover and interview Suheim Shaik, former national level sailing champion and founder of the Yacht Club of Hyderabad, who is helping less privileged kids sail towards a brighter future. Having started out with just three boats today he has produced six national Champions, 25 national medalists, 10 State Champions and counting.
I would really like to thank my team of journalists who in spite of personal issues, and sick family members are working towards meeting deadlines. Despite having her mother hospitalised for covid, my journalist went out of her way to get me none other than the Bhai of Bollywood, Salman Khan himself, for an exclusive cover story. From movies to to his disapproval of the current covid scene, he chats wholeheartedly with Hashtag. We have given you a content-packed issue and we hope you enjoy reading it. Wishing all of you loads of antibodies and a safe time. For better or for worse, we are survivors of the pandemic, so let's make it count.
Let's break the stereotypes…
Happy International Women's Day! Enter March and I'm literally scared to watch the news or even read a newspaper. Along with the overdose of heat we are also fed with an overdose of feminism. Newspapers are laden with pictures of women, social media is buzzing about womanpower, even WhatApp is spammed with moms and dads sending us empowerment quotes.  Oh yes, we must absolutely celebrate womanhood and women in general, but hey all this vagueness does not appeal to me. Feminism is not an annual event but a daily practise. Do we need to celebrate ourselves? Sure! Anytime, but to pretend this is some great feminist victory feels misrepresented.
Especially in a male dominated country like India, such celebrations are premature. How many men/ daddies wake up in the morning to cook or send their kids off to a class? It's taken for granted to be a woman's job.  This holds true for everybody–the highly educated, poor and uneducated alike. Take for example working couples. Both earn, both make money, both hold respectable positions but who does the cooking in the morning? The lady of the house of course!
It is fascinating to see how even the most progressive educated women with international degrees and exposure, do not insist on an unequivocal division of household work. This could be the result of myriad reasons, like our society, general conditioning or simply compromise to keep the peace of the house. But this in turn reinforces the same stereotypes, leading to a ripple effect.
No doubt, we are slowly changing, and if there is one industry that is taking the right steps towards this pivotal evolution, it is the digital entertainment world or the OTT Platform. You will no longer see women dancing behind the trees or play damsel in distress while the hero single-handedly fights off hundreds of goons. In an industry that was absolutely hero centric, OTT has come in as a breath of fresh air. With new scripts and women centric content, actors today are redefining and reinventing their characters on screen.  In our cover story this issue we have captured the journey of stars like Shriya Pilgaonkar, Ritwik Bhowmik, Shreya Dhanwanthary, Sarah Jane Dias, Harshita Gaur and others, who have been appreciated for their performance and have been a part of some of the amazing stories.
Yes, Hashtag may not have dedicated an entire issue for women, but we salute them in every section of our magazine. From Start-ups to NGOs, to fashion to my everyday team of journalists, we celebrate the fairer sex, everyday!  After all, women's standing in the world isn't just for the month of March; it's for a lifetime.
It's time we take a day off from feminism and instead come together as one and focus on where the real problemss lie! Together, let's break the stereotypes!
With a good balance of genres, we think we've finally created an amalgam that combines the exquisiteness, coherence and perspective of a monthly print magazine with all the timeliness, approachability and interactivity of an online one. We hope you agree! 
Do let us know if there are any topics you would want us to include about or if you have any other queries. Tell us what you love, tell us what you hate! We would love to hear from you irrespective! 
On that note, lets welcome 2021 with a bang and aim to not just be great, but awesome this year! And remember, you can't stand out by fitting in!
Here's to an amazing month…
Sinduri Vuppala