Here's to a joyous festive season!
As the festive season approaches, there's a heartwarming tradition that unites Indian families across the country—a shared love for food and togetherness. It's that time of the year when our homes are filled with the aroma of delicious recipes and the echoes of laughter, where traditions come alive on our dinner tables. Nothing quite says we care like a warm plate of food prepared with love passed from one hand to another. In this special issue, we not only bring you the culinary expertise of nine remarkable food creators who graciously share their festive recipes with us, but we also introduce you to a true food maestro and a household name, Chef Ranveer Brar. His journey from pots and pans to culinary startups, acting, and now his series is remarkable. His culinary mastery has touched hearts nationwide, and we can't wait for you to delve into his story. But that's not all! This issue is brimming with inspiration—from the entrepreneurial spirit of startup journeys to the thrill of travel discoveries. We also have exclusive interviews with icons like Kareena Kapoor and Sonam Kapoor, who share their insights and stories. As we celebrate Navaratri, each day teaches us to dispel the darkness within and embrace a brighter future. Let's come together to celebrate joy and happiness this festive season. May your homes be filled with the warmth of love and the flavours of tradition. Happy festivities, dear readers!
In life's intricate maze, we often find ourselves caught in the routine.. We stick to jobs we've held for ages, not because they bring us joy, but simply because they've become part of our comfort zone. The fear of change, the allure of job security, and the weight of responsibilities conspire to keep us shackled to the familiar, even when it no longer resonates with our passions. How many of us can honestly say that we find genuine joy in what we do, day in and day out? How many of us can attest that we're not just caught in a monotonous cycle but rather living a fulfilling journey? If your answer is a yes, you are indeed lucky. Some of you may not have the privilege to gamble, but those of you can; you have no excuse. One of the most significant barriers to change is the fear of failure, and of course, societal pressure plays its part, whispering doubts into our ears: What will others think? Will this unconventional decision be accepted? But it's vital to remember that the journey to fulfillment is not paved with others' opinions; our dreams and aspirations are carved. I believe there is never a wrong time to do the right thing, and actor Abhishek Bachchan, on our cover, shares that in his interview with Hashtag. Although he hails from an illustrious lineage, Abhishek's journey has been a symphony of highs and lows, a testament that family does not define success alone. Abhishek dared to defy convention and followed his heart. Even though his movies performed well, he bravely decided to take a break. His story is an inspiration to all those who've questioned the path they're on. Abhishek's interview highlights his steadfast determination to pursue his passion and resolve to define success on his terms. In the issue, we proudly present many remarkable stories. Mahesh Bhagwat, Additional Director General of Police (CID) in Telangana, has contributed to law enforcement and evolved into a mentor for civil services aspirants, which truly sets him apart. His journey from being a cop to a guiding light is a testament to his dedication, selflessness, and unwavering commitment to fostering the pursuit of knowledge. We also have the likes of Aashritha Daggubati, the visionary creator behind Infinity Platter. Her journey encapsulates a vibrant odyssey through global cuisines, cultures, and narratives. Her venture serves as a reminder that pursuing passion can transcend boundaries and create connections that resonate with your passion. That's not all, from well-being and health to pets and voyages of discovery, this issue presents an array of trending topics. Revel in the reading, and remember: There is never a wrong time to do the right thing!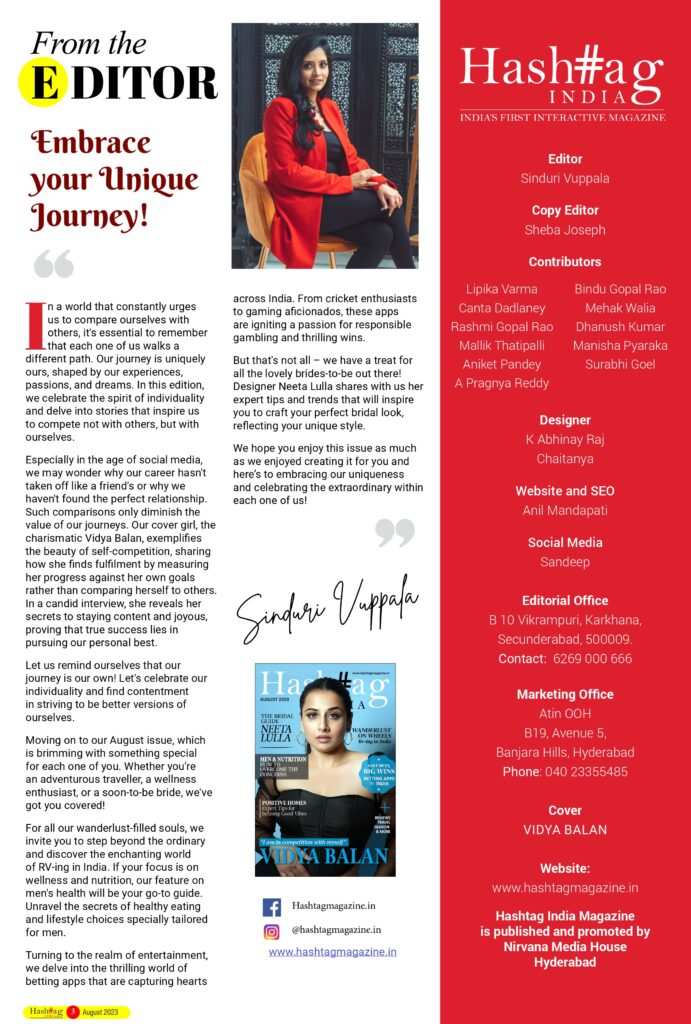 In a world that constantly urges us to compare ourselves with others, it's essential to remember that each one of us walks a different path. Our journey is uniquely ours, shaped by our experiences, passions, and dreams. In this edition, we celebrate the spirit of individuality and delve into stories that inspire us to compete not with others, but with ourselves. Especially in the age of social media, we may wonder why our career hasn't taken off like a friend's or why we haven't found the perfect relationship. Such comparisons only diminish the value of our journeys. Our cover girl, the charismatic Vidya Balan, exemplifies the beauty of self-competition, sharing how she finds fulfilment by measuring her progress against her own goals rather than comparing herself to others. In a candid interview, she reveals her secrets to staying content and joyous, proving that true success lies in pursuing our personal best. Let us remind ourselves that our journey is our own! Let's celebrate our individuality and find contentment in striving to be better versions of ourselves. Moving on to our August issue, which is brimming with something special for each one of you. Whether you're an adventurous traveller, a wellness enthusiast, or a soon-to-be bride, we've got you covered! For all our wanderlust-filled souls, we invite you to step beyond the ordinary and discover the enchanting world of RV-ing in India. If your focus is on wellness and nutrition, our feature on men's health will be your go-to guide. Unravel the secrets of healthy eating and lifestyle choices specially tailored for men. Turning to the realm of entertainment, we delve into the thrilling world of betting apps that are capturing hearts across India. From cricket enthusiasts to gaming aficionados, these apps are igniting a passion for responsible gambling and thrilling wins. But that's not all – we have a treat for all the lovely brides-to-be out there! Designer Neeta Lulla shares with us her expert tips and trends that will inspire you to craft your perfect bridal look, reflecting your unique style. We hope you enjoy this issue as much as we enjoyed creating it for you and here's to embracing our uniqueness and celebrating the extraordinary within each one of us!
The startup culture in India is currently experiencing a vibrant and dynamic phase. Dressed in their best suits and ties, entrepreneurs are enthusiastically making pitches, raising funds, and pursuing their dreams. However, amidst this excitement, it is crucial to acknowledge that failures are inevitable and that many individuals may encounter setbacks as well. In the world of start-ups, it is easy to be captivated by stories of overnight success. However, what many people fail to recognize is that these tales represent only a minuscule fraction of the countless entrepreneurial endeavours. Many entrepreneurs face numerous failures, setbacks, and challenges before achieving any form of success. While there are countless resources available to help start-ups with business plans, fi nancial projections, and marketing strategies, we hardly have anyone offering emotional support, which is more important than everything else. Failure is not the end; rather, it is an opportunity to learn and grow. It is important to strike a balance between chasing dreams and understanding that failure is an inherent part of the entrepreneurial journey. In this issue, our cover girl and actress Adah Sharma while sharing her journey sheds light on the signifi cance of embracing failure as it ultimately contributes to the overall growth. Having seen several highs and lows during her career, she shares how she's enjoyed every bit of her journey and wouldn't change a thing. This issue highlights the inspiring stories of plus-size infl uencers who have endured a lifetime of body shaming but have transformed their weaknesses into sources of strength. Through their platforms, they boldly challenge societal norms and champion inclusivity. Additionally, this issue offers a diverse range of stories encompassing success, failure, curated travel experiences, wellness insights, and captivating lifestyle content. Do enjoy this issue and don't forget, to chase dreams but with realism!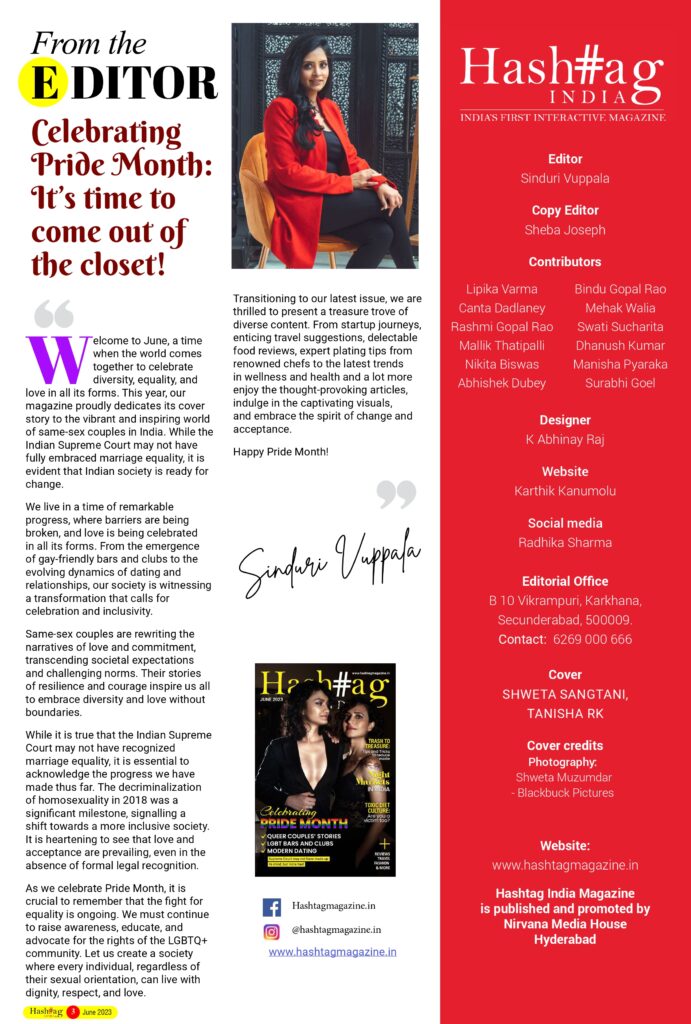 Welcome to June, a time when the world comes together to celebrate diversity, equality, and love in all its forms. This year, our magazine proudly dedicates its cover story to the vibrant and inspiring world of same-sex couples in India. While the Indian Supreme Court may not have fully embraced marriage equality, it is evident that Indian society is ready for change. We live in a time of remarkable progress, where barriers are being broken, and love is being celebrated in all its forms. From the emergence of gay-friendly bars and clubs to the evolving dynamics of dating and relationships, our society is witnessing a transformation that calls for celebration and inclusivity. Same-sex couples are rewriting the narratives of love and commitment, transcending societal expectations and challenging norms. Their stories of resilience and courage inspire us all to embrace diversity and love without boundaries. While it is true that the Indian Supreme Court may not have recognized marriage equality, it is essential to acknowledge the progress we have made thus far. The decriminalization of homosexuality in 2018 was a signifi cant milestone, signalling a shift towards a more inclusive society. It is heartening to see that love and acceptance are prevailing, even in the absence of formal legal recognition. As we celebrate Pride Month, it is crucial to remember that the fi ght for equality is ongoing. We must continue to raise awareness, educate, and advocate for the rights of the LGBTQ+ community. Let us create a society where every individual, regardless of their sexual orientation, can live with dignity, respect, and love. Transitioning to our latest issue, we are thrilled to present a treasure trove of diverse content. From startup journeys, enticing travel suggestions, delectable food reviews, expert plating tips from renowned chefs to the latest trends in wellness and health and a lot more enjoy the thought-provoking articles, indulge in the captivating visuals, and embrace the spirit of change and acceptance. Happy Pride Month!
This may seem like a simple question but it's highly underrated. It's time we explore the importance of checking in with ourselves and ask the simple yet crucial question, 'How am I feeling?' We often get so caught up in our daily routines and the demands of our work that we forget to take a moment to refl ect on our emotional and mental wellbeing. So much so, that most seem to be loosing their mental orientation in the process. In this fast paced life, it's easy to lose sight of what really matters. We get caught up in the endless cycle of work and social media, always chasing after the next big thing, comparing ourselves to others, and constantly feeling the pressure to achieve more. But in the end, what does it all really mean? Who cares what others are doing or saying? We have one life to live, and it's up to us to make the most of it on our own terms. It's time to rediscover the simple pleasures in life, to slow down and enjoy the little things. Whether it's reading a book on a lazy summer afternoon or taking a long train ride to an unknown destination, let's savor these moments and cherish them. It's important to break free from the constant comparisons and unnecessary goals and instead focus on what truly makes us happy. At the end of the day, it's not about what we accomplish or how much money we make. It's about the relationships we build, the memories we create, and the impact we have on the world around us. As part of this refl ection, we delve into the topic of legalizing adoption in same-sex marriages. We explore whether India is ready for this important step and what it means for all individuals seeking to start a family. It's an essential conversation, and we are proud to facilitate it in our magazine. In addition to this, we also bring you the latest travel and food recommendations to help you plan your next adventure and satisfy your cravings. From local cuisine to exotic destinations, we have it all Finally, we have an exclusive interview with our cover model and actor Akhil Akkineni, who shares his thoughts on dealing with the expectations and comparisons that come with his family's long-standing legacy in the fi lm industry. Akhil's insights remind us that we should follow our hearts and break free from the pressures and expectations that others may have for us. We hope you enjoy this issue and take a moment to refl ect on your emotional and mental wellbeing. As always, we welcome your feedback and suggestions. Happy Reading….
Welcome to the April issue of our magazine, which is packed with a diverse range of interesting topics. On the cover, we have the talented actor Nani, who has made a name for himself in the Telugu industry and is now making waves nationally. In an exclusive interview, Nani talks about his journey, the challenges he faced and his plans for the future. We are sure his inspiring story will resonate with our readers and give them a glimpse into the life of a successful actor. In another article, we delve into the sensitive topic of same-sex marriage in India. While the world is moving towards inclusivity and acceptance, India still has a long way to go in legalizing same-sex marriage. Our article explores the current state of affairs, the challenges faced by the LGBTQ+ community and the road ahead for India in terms of accepting and legalizing same-sex marriage. As we move into the wedding season, our experts give us a glimpse of the latest wedding trends for 2023. From fashion and décor to food and entertainment, our experts have their fi ngers on the pulse of what's in and what's out in the wedding industry. Whether you are planning your own wedding or just enjoy keeping up with the latest trends, this article is a mustread. With the onset of the holy month of Ramzan, we bring you an article on the best haleem places in India. Haleem, a delicious dish made from meat, lentils, and spices, is a Ramzan specialty and a must-try for foodies. Our article takes you on a mouth-watering journey to some of the best haleem places in India, from Hyderabad to Lucknow. With summer just around the corner, we cannot forget our furry friends. Our pet care experts give us tips on how to keep our pets healthy and happy during the hot months. From proper hydration to sun protection, we have you covered with all the necessary information to keep your pets cool and comfortable this summer. Lastly, we bring you a feature on Brown Skin Beauty, a startup by Anusha Dandekar. The startup is dedicated to providing beauty products for people with brown skin tones, which are often neglected by the mainstream beauty industry. Anusha Dandekar, a well-known VJ and TV personality, shares her journey, her vision and the challenges she faced in setting up her own venture. As you can see, our April issue is action-packed and has something for everyone. We hope you enjoy reading it as much as we enjoyed putting it together!
We are thrilled to present our latest issue, packed with informative and entertaining features that we think you will love. On our cover, we have the talented and beautiful actress Rashmika, who opens up about her journey in the film industry and the importance of representation and diversity. Inside, we have a feature on a sex toy start-up that is helping to destigmatize and democratize conversations around sexuality, empowering people to explore their desires with confidence and safety. We also have an exciting travel piece on the stunning Ramappa temple, a UNESCO World Heritage site in Telangana that is rich in history, culture, and architectural marvels. And for our women readers, we have a roundup of the best safety apps that can help you stay secure and connected when you're on the go. For parents and educators, we have a selection of insightful and engaging books for kids that can help cultivate a love of reading and spark curiosity about the world around them. And in keeping with the festive season, we have some valuable tips on how to celebrate Holi safely and responsibly. Whether you're looking for inspiration, education, or just some good old-fashioned entertainment, we hope that this issue of our magazine will meet your expectations. As always, we value your feedback and ideas, and we look forward to hearing from you. Happy reading…
Enter February, and all we begin to think about are relationships and love, lost friends, and heartache. But in today's fast-paced and busy world, fi nding the time and energy to focus on our relationships can be challenging. From work and career obligations to social media and technology to the never-ending list of activities and responsibilities that we must attend to, we are continuously bombarded with distractions and demands on our time. As a result, many of us may neglect our relationships or struggle to maintain the same level of connection and intimacy we once had with our loved ones. We are so busy trying to multitask, be socially active and lead the perfect life that we end up missing the small joys of life. We don't even have that ten minutes to sit and chat with our kids who get back home from school, and instead, we chase them off to the next activity or hobby class like their life depends on it. All your child probably wants to do is sit down and have a chat or even watch a mindless YouTube video at home. Partnering apart, we don't even have time for our parents anymore. We are so lost as individuals that we have forgotten how to prioritise. All it takes is a conscious effort to make time for what matters, be it relationships or even a set career, it's all in our hands, and all it requires is being intentional. Moving on to the issue, we have none other than Manushi Chhillar, former Miss World and actress, gracing the cover. With a big lineup of fi lms this 2023, she talks about how every aspect of her journey has been challenging. "Anything that you do in life or anything that you start needs a lot of work, a lot of patience, and a lot of effort," she shares. In this issue, we've got a great lineup of articles and interviews that we think you'll enjoy. We hope you enjoy our content curation, from entrepreneurial journeys, food discoveries, shopping picks, fashion ideas for the festive season, and many more. As always, we value your feedback, so please don't hesitate to reach out to us with your thoughts and suggestions. Thank you for your continued support, and we look forward to connecting with you again in our next issue. Happy reading!
We have hit yet another milestone: Hashtag turns two years old this month! It has been a delightful run, and I would like to thank all those who have stuck with us through this wonderful journey. When I started Hashtag Magazine two years ago, it started as a passion. There was no business plan, there was no budget, and there weren't even any expectations. But today, when I look at the response the magazine has received, it has fi lled me with more than I ever thought possible. From chasing interviews, shoots, sets, and action to scouting for the best recommendations, Hashtag has managed to deliver the best of everything—from glam covers to insightful stories on health, travel, wellness, and all things lifestyle. If you know it's trending, then it's surely on Hashtag! Time, they say, is the best judge and teacher, so today, having withstood the test of time, I would like to take this opportunity to thank every member of my team –Editorial, Marketing, Photography and Design, without whom this would not have been possible. I would also like to thank our advertisers for their undeterred support. Nothing brings people together like good food, and to celebrate our anniversary issue, we put together a special story on the top food entrepreneurs in the country. We have captured energetic and dynamic entrepreneurs who are revolutionising the food industry from Goa to Delhi, Bangalore to Mumbai. Enjoy our anniversary issue and let us know what you think. 24 issues down and many more to go! Wishing you a warm, happy and safe 2023!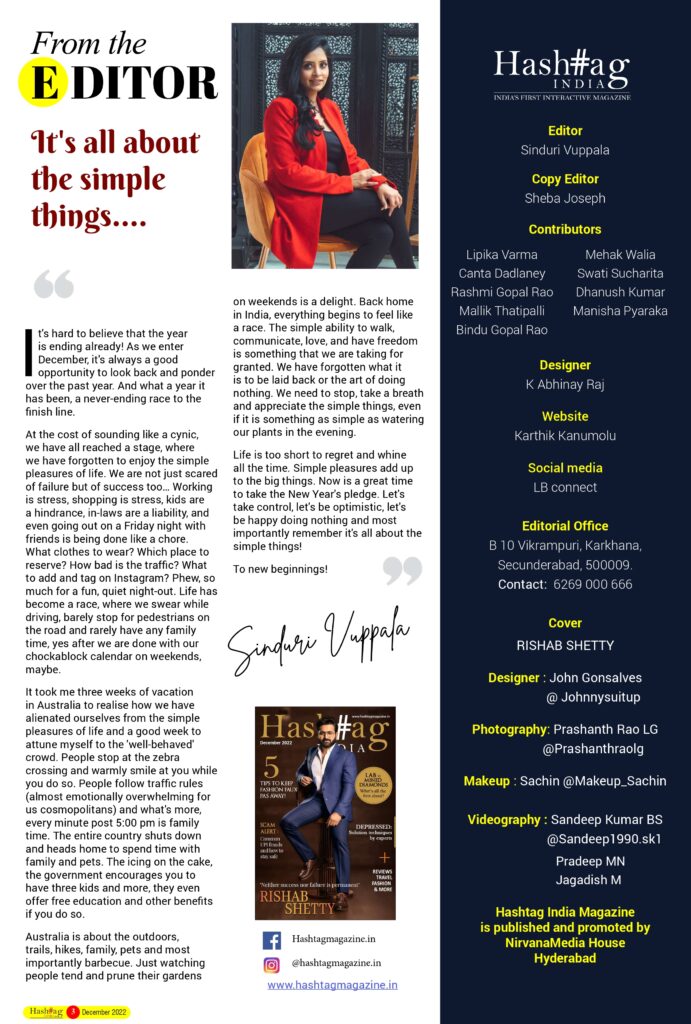 It's hard to believe that the year is ending already! As we enter December, it's always a good opportunity to look back and ponder over the past year. And what a year it has been, a never-ending race to the finish line. At the cost of sounding like a cynic, we have all reached a stage, where we have forgotten to enjoy the simple pleasures of life. We are not just scared of failure but of success too… Working is stress, shopping is stress, kids are a hindrance, in-laws are a liability, and even going out on a Friday night with friends is being done like a chore. What clothes to wear? Which place to reserve? How bad is the traffic? What to add and tag on Instagram? Phew, so much for a fun, quiet night-out. Life has become a race, where we swear while driving, barely stop for pedestrians on the road and rarely have any family time, yes after we are done with our chockablock calendar on weekends, maybe. It took me three weeks of vacation in Australia to realise how we have alienated ourselves from the simple pleasures of life and a good week to attune myself to the 'well-behaved' crowd. People stop at the zebra crossing and warmly smile at you while you do so. People follow traffic rules (almost emotionally overwhelming for us cosmopolitans) and what's more, every minute post 5:00 pm is family time. The entire country shuts down and heads home to spend time with family and pets. The icing on the cake, the government encourages you to have three kids and more, they even offer free education and other benefits if you do so. Australia is about the outdoors, trails, hikes, family, pets and most importantly barbecue. Just watching people tend and prune their gardens on weekends is a delight. Back home in India, everything begins to feel like a race. The simple ability to walk, communicate, love, and have freedom is something that we are taking for granted. We have forgotten what it is to be laid back or the art of doing nothing. We need to stop, take a breath and appreciate the simple things, even if it is something as simple as watering our plants in the evening. Life is too short to regret and whine all the time. Simple pleasures add up to the big things. Now is a great time to take the New Year's pledge. Let's take control, let's be optimistic, let's be happy doing nothing and most importantly remember it's all about the simple things! To new beginnings!
The world has gone brand crazy! Did you know that the sales for Louis Vuitton increased 44% in 2021 to €64.2 billion ($71.5 billion), during the pandemic? Brands like Dior and Gucci are gobbling up the world market like never before… As long as you buy a luxury brand because you can afford it or it gives you a sense of accomplishment, it's great, but once people start buying luxury brands to increase self-esteem or provide a sense of belonging, they lose the plot! Suddenly, it becomes an obsession, you want a new bag at every party and the loudest pair of branded shoes. How much is too much? Well, it comes down to each individual. As long as you're not losing your mind and sleep over your next purchase, you're good to go! Dressing well and feeling confident are of course interrelated. Perhaps it's pretentious to place such a high value on the power of dressing your best, beyond other apparent characteristics. However, what an individual considers to be aesthetically pleasing attire can contribute a big portion to his or her self-confidence. Fashion can be bought, but style is something that one must possess. In our issue, we have handpicked designers who have managed to create distant identities in designs. They are carving out their niche with brand and fashion philosophies of their own. In the future, you must slow down and become more mindful of what you shop or wear. You need to balance peer culture and your individuality. The next time you go to a store and pick up that bag, don't forget to ask yourself – Do I need a brand to feel good? Don't miss our other stories and exclusive interviews. While Karan Johar talks of parenting and his relationship with his mom, actress Mithila Palkar shares her journey from the web series to the cinema. We also have a lot of recommendations in this issue, from the best of travel to the latest in technology we have it all in here…. Happy reading!
Finding sanity in the social media world!
The month gone by has been a big eye-opener for me. We lost a family friend who succumbed to cancer. A doctor by profession, she was full of life, brave, and one of her kind. She fought cancer bravely for over 15 years; even when she was going through excruciating pain during her many treatments, her humour was intact and all one heard from her were positive thoughts and brave words. Her last message on social media before she breathed her last breath summed up her life in simple but loud words: Gratitude, the essence of my life.
These words still ring in my mind. I realised how gratitude could actually be the solution to our array of problems. We have in this fast paced world forgotten to stop, introspect and take a moment to count our blessings. Be it career, kids, or even festivals like Diwali, we have forgotten to enjoy the spirit of the festive season. Many get overwhelmed or down at this time of year, and the main focus is on clothes, better gifts, better décor, and better Instagram pictures, and the essence of the festival itself is lost.
Over the past month, I realised how simplicity is also beautiful and a life changing mechanism. Fond of luxury travel, I often opt for a big clean bed, great views, great locations, hot pools, and more, but after I got dragged into a family trip to the Himalayas, I realised all it takes for one to be happy is simplicity! We visited various ashrams; while we were fussing about beds and clean sheets, we saw several retired admirals and members of extremely wealthy business families stay in simple two-bedroom apartments, cook, clean, and even serve guests in their kitchen. Life is beautiful if you want to make it! Simplicity and gratitude are powerful emotions that can actually change one's life and outlook forever.There is no better time than Diwali to make these simple changes in our lives, as the very essence of Diwali lies in the sloka 'Tamaso ma jyotirgamaya' which means – 'From darkness, lead me to light.'
Do enjoy reading our content- packed issue, and whether tangible or intangible, let us all pledge to acknowledge the goodness in our lives.
Have a wonderful Diwali!
Yes, we allowed it to happen! Bedrooms and bathrooms used to be extremely private spaces. But that was before people started taking mirror selfies to flaunt off their ripped bodies and double bath shots. I, for one, have succumbed to this mania. My friends dragged me to Sketch in London to see what is allegedly London's most Instagrammable toilet! Sketch, located near Oxford Street, features grooving lighting, curved mirrors, and futuristic egg pods that beg to be photographed. If you're truly there to pee, good luck, because you'll have to wait in long lines, along with many others, for your turn to take a picture with the pee pods.
Like that is not bad enough. You now have what is called Instagram Tours available all around the world. What do these tours offer you? A great photographer and team that will take you around town. You can visit all the iconic and picturesque sites and snap some Instagram-worthy pictures. Have a bigger budget? Then it gets better. The crew will bring along outfits to match the locations. A wedding dress, if you want a proposal shot, a flowing red gown if you want to look like a superstar in some exotic Greece locale, feeling more like a goddess and less like a tourist, choices are galore! The real question is, where does this madness end?
It's fun to scroll through memes, and photos, and check out live updates from people you've met throughout your life, but have you realized social media has taken over our lives? So much so that we cannot eat a single meal without capturing it on camera first.
It is a true fact that man is a social animal and lives in society, with interaction being the foremost act.
But the line between interaction and exhibitionism is slim. And perhaps it is here that we fall. Families today seem to be divided by their phones, friends are happier online and real human communities have been exchanged for bigger online families! I mean, how crazy can it get?
Life is as easy as you make it! Don't overthink and don't forget to enjoy the simple pleasures! Lose that madness, not your sanity!
Enjoy reading and keep your comments
coming….
When life throws you lemons…
Life is definitely not easy, but it is also not as difficult as we make it out to be. It is entirely within our power to emote or react to any given situation. We cannot control fate, but we can certainly control how we respond to all of life's curveballs. You can spend a lifetime whining and crying about it, or you can simply accept it! In this issue, we have Taapsee Pannu as our cover girl, who plays Mithali Raj, captain of the women's Indian cricket team, in her biopic Shabaash Mithu. She discusses how women in general, as well as women's cricket, exist in the shadow of men. The society we live in may be patriarchal, but that doesn't deter her determination. "It can't happen overnight, it's going to happen over decades. But, if I or my contemporaries give up on this struggle, the next generation will definitely not be able to see the change," she assures.
Jaaz Joshi's story and journey as India's first transgender model is equally inspiring! The Joshi family from Delhi were blessed with their first child, a boy. Little did they know, their joy would turn into sorrow, as he turned out to be a transgender. From being abused as a child to dancing in a bar to finally undergoing hormone therapy and winning pageants, Naaz has always chosen to look beyond the situations and challenges that life has thrown at her.
We have a lot more inspiring stories in this issue; Chennai-based NRI Meghana Reddy pursued her career in animation in a foreign land, while Noopur Porwal and Akash Devaraju ventured into the uncharted territory of probiotic products with their start-up. Saba Poonawalla is a versatile animal trainer, dog cognitive developer, and behaviourist. Her dedication and focus enabled her to pursue her passion, which has since provided her with happiness.
None of these people were handed life on a silver platter, but they were all resilient. As humans, we have the unique ability to choose how we respond to any set of circumstances. Throw in some humour, and you'll be able to cope with difficulties, weather disappointment, and recover from adversity and loss. So, when life gives you lemons, don't just settle for lemonade; but make sure you throw in some mojitos too!
In today's world of hyper networking, hyper information, and hypercommunication, we can't even eat a meal without having to Instagram it first. As if taking photos wasn't bad enough, we now create reels, which has taken crazy to a whole new level. Everything today in the market is fierce and makes it that much more difficult to focus and stay sane.
Here's what you can do. Stop this mad race! Take up a fitness routine, and do some mindful meditation or yoga. Our cover girl Shilpa Shetty swears by yoga and how it has changed her life. In an exclusive chat with Hashtag she shares how she started yoga 18 years ago, "I was suffering from severe cervical problems. It was then that I started doing yoga and there has been no looking back. I can only say that yoga has been my biggest stressbuster, confidence-giver and agereverser! Yoga has changed my life, my body and my mind. It changes the way you perceive things and makes you much calmer." You may have a million followers on your Instagram, but if you don't feel good or healthy, everything is in vain! 
Focus on things that make you happy, this issue we have some interesting stories of communities and individuals who are doing just that. They follow their true passion while making a difference in the world. We give you a lowdown on Sadhana Forest in Auroville which is more than just a community. It is a place where they teach people to unleash minimal living standards and accept eco-friendly ways of life. Gender imbalance has been a constant issue and the art scene has been no different. But now we're seeing a rise in female artists opening up about their ideas, objectives, and societal challenges. We talk to these emerging modern women artists of Hyderabad who have carved out a niche in the modern art world, bringing positive change to society. "Surround yourself with things you love-they will inspire you," affirms Debosmita Samanta, painter and artist. 
I couldn't agree more! Make sure you are physically and emotionally fit, because nothing in life is more valuable than good health. Without health there is no happiness, no peace and no success. So quit the race, breathe!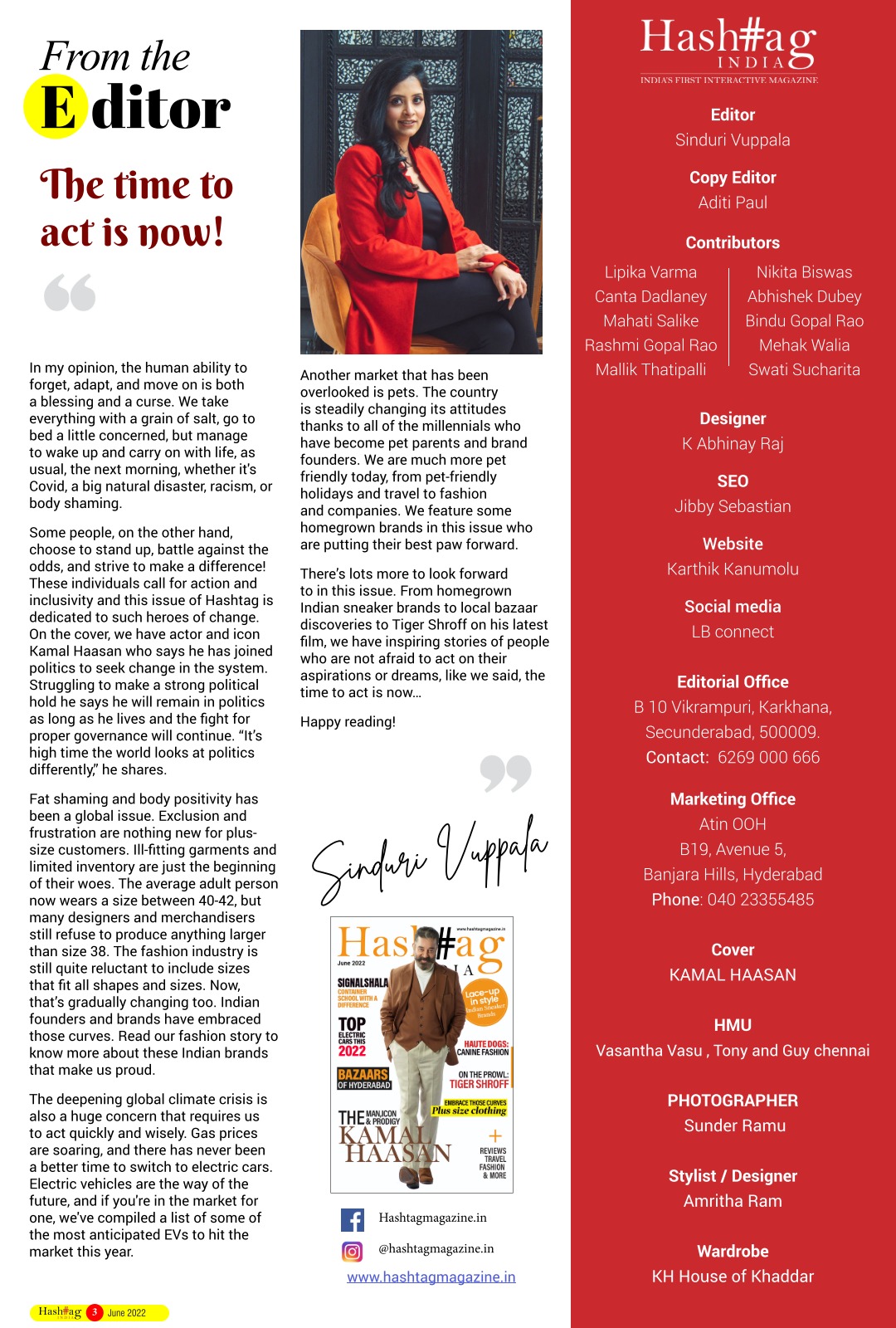 In my opinion, the human ability to forget, adapt, and move on is both a blessing and a curse. We take everything with a grain of salt, go to bed a little concerned, but manage to wake up and carry on with life, as usual, the next morning, whether it's Covid, a big natural disaster, racism, or body shaming.
Some people, on the other hand, choose to stand up, battle against the odds, and strive to make a difference! These individuals call for action and inclusivity and this issue of Hashtag is dedicated to such heroes of change. On the cover, we have actor and icon Kamal Haasan who says he has joined politics to seek change in the system. Struggling to make a strong political hold he says he will remain in politics as long as he lives and the fi ght for proper governance will continue. "It's high time the world looks at politics differently," he shares.
Fat shaming and body positivity has been a global issue. Exclusion and frustration are nothing new for plussize customers. Ill-fi tting garments and limited inventory are just the beginning of their woes. The average adult person now wears a size between 40-42, but many designers and merchandisers still refuse to produce anything larger than size 38. The fashion industry is still quite reluctant to include sizes that fi t all shapes and sizes. Now, that's gradually changing too. Indian founders and brands have embraced those curves. Read our fashion story to know more about these Indian brands that make us proud.
The deepening global climate crisis is also a huge concern that requires us to act quickly and wisely. Gas prices are soaring, and there has never been a better time to switch to electric cars. Electric vehicles are the way of the future, and if you're in the market for one, we've compiled a list of some of the most anticipated EVs to hit the market this year.
Another market that has been overlooked is pets. The country is steadily changing its attitudes thanks to all of the millennials who have become pet parents and brand founders. We are much more pet friendly today, from pet-friendly holidays and travel to fashion and companies. We feature some homegrown brands in this issue who are putting their best paw forward.
There's lots more to look forward to in this issue. From homegrown Indian sneaker brands to local bazaar discoveries to Tiger Shroff on his latest fi lm, we have inspiring stories of people who are not afraid to act on their aspirations or dreams, like we said, the time to act is now…
It's great time to exist!
Back in the day, life was very stark. One could either be an engineer, a doctor, or an artist. But today you can be all of those things together and can even make money from it! Dating back in the day, was primitive, all you got to see was a photograph of the potential groom/ bride or you had to spend days looking through the classified ads for the perfect match in the paper. This was usually followed by written correspondence, relatives visiting the potential family, and enquires that took weeks and even months. Today everything is just a click away. All one has to do is swipe right to match or hook up with someone. Life is so much easier, be it midnight hunger pangs, last-minute groceries, money transactions, or google maps. 
With the help of technology, you can now follow both your career and your passions and live a life of no regrets. Social media has allowed many to dream. Full-time stay-at-home moms now own successful blogs on parenting. Young college students are fashion influencers, if you love traveling but cannot afford it, you can still travel on someone else's dime by becoming a travel influencer. Yes from free food, workouts, cosmetic samples, and many more freebies if you are good with what you do, the sky is the limit. 
Millennials have more doors open to them than any other generation, use them right. If you love cooking, go ahead and explore it, love pets, then flaunt them on your social media handles. Don't let stress and expectations slow you down. In this issue of Hashtag, we have captured many stories of people who have followed their dreams and passion. Trailblazer of the month Neeta Kumar, Founder of Inhabit Store shares how she started her journey into bespoke furniture with just three carpenters while Shruthi Mukund from Washington dons many hats from being a consultant to a danseuse. In this issue, we have also discovered famous food bloggers across India who share their magnificent stories on how their exploration began in the world of food. 
From sustainable fashion brands, wellness getaways to popular ski resorts for summer, it's all in here. Enjoy reading the issue and remember, it's a great time to exist!
Have we mastered the art of overdoing everything?
Be it socialising, obsessing over social media or work, kids, fitness, food or for that matter the whole hair and skincare mania, are we turning into a crazy, fuddled society? Stress is a normal part of life, but how much of it is really needed? Half of us don't even enjoy on a vacation because we are busy planning the perfect reel, the perfect edit and the perfect trending song for the reel. As if obsessive selfies and photographs weren't bad enough, reels have taken this madness to a whole new level.
Next, we have the skincare mania. I agree your butt is as important as your face and a good skin regime is mandatory, but how much is too much? Starting off with skin peels to micro needling to PRP for hair to now opting for glutathione injects for fairer skin, people are clearly loosing the plot. This compulsive quest for the perfect skin and complexion is almost like any other unhealthy addiction, where every line, every wrinkle is considered a defeat.
Next in line are the traumatised women. The home makers are sad they don't have a career and the working moms are troubled they are missing out on quality time with kids and guilty of missing milestones. Life is a trade off. It's impossible to win at home and at the office, everyday, all at the same time. Some days I'm a better mom than editor, other days a better editor than I am a mom. There are very few days that I suck at both of my roles, but then, that is what life is!
Perfection is a myth! What one needs in life to be successful is discipline and balance. Be it our cover girl Madhuri Dixit or our Trailblazer and third generation entrepreneur Abhishek Somany, both share that finding the right balance is the key. Madhuri goes on to share how she treats fame as a by-product of what she does: "You have to pick and choose.
Stardom should never define you…you should define stardom." All I am trying to say here is that striving for perfectionism will only lead to doom. Take life with a pinch of salt, find that balance. Don't let the search for a happy tomorrow get in the way of living a happy life!
On that note let's move on to our well balance issue. From inspiring stories of Sunny Chandiramani, the founder of AstaGuru, India's leading auction house, to 30 year old Virali Modi, India's first wheel chair model, these are stories of grit and determination. For leisure reading we have for you recommendations on fashion trends, summer getaways and food discoveries and much more….
Here's to a breezy summer…
From girl power to girls of power!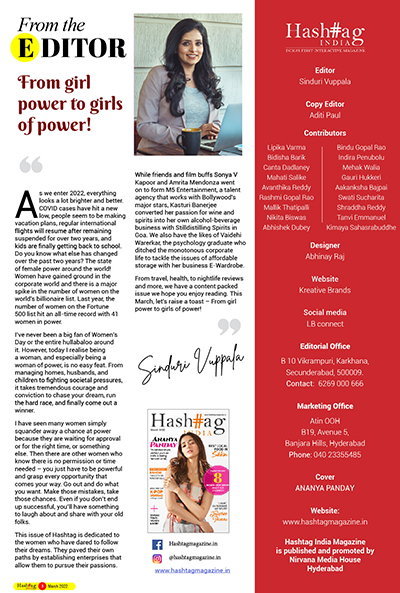 As we enter 2022, everything looks a lot brighter and better. COVID cases have hit a new low, people seem to be making vacation plans, regular international flights will resume after remaining suspended for over two years, and kids are finally getting back to school. Do you know what else has changed over the past two years? The state of female power around the world! Women have gained ground in the corporate world and there is a major spike in the number of women on the world's billionaire list. Last year, the number of women on the Fortune 500 list hit an all-time record with 41 women in power.
I've never been a big fan of Women's Day or the entire hullabaloo around it. However, today I realise being a woman, and especially being a woman of power, is no easy feat. From managing homes, husbands, and children to fighting societal pressures, it takes tremendous courage and conviction to chase your dream, run the hard race, and finally come out a winner.
I have seen many women simply squander away a chance at power because they are waiting for approval or for the right time, or something else. Then there are other women who know there is no permission or time needed – you just have to be powerful and grasp every opportunity that comes your way. Go out and do what you want. Make those mistakes, take those chances. Even if you don't end up successful, you'll have something to laugh about and share with your old folks.
This issue of Hashtag is dedicated to the women who have dared to follow their dreams. They paved their own paths by establishing enterprises that allow them to pursue their passions. While friends and film buffs Sonya V Kapoor and Amrita Mendonza went on to form M5 Entertainment, a talent agency that works with Bollywood's major stars, Kasturi Banerjee converted her passion for wine and spirits into her own alcohol-beverage business with StillDistilling Spirits in Goa. We also have the likes of Vaidehi Warerkar, the psychology graduate who ditched the monotonous corporate life to tackle the issues of affordable storage with her business E-Wardrobe.
From travel, health, to nightlife reviews and more, we have a content packed issue we hope you enjoy reading. This March, let's raise a toast – From girl power to girls of power!
In India being single is almost taboo. Reach the age of 18 or, at the most 20, and families are already planning the Big Fat Indian Wedding for their kids. For those from liberal families, you have another 4 to 5 years before the pressure builds up. But, the big debate continues. While many modern-day men and women want to settle down in their careers and lives before finding a partner, the old school advocates the idea of early marriage. The earlier you marry, the easier it is to make compromises, to adjust and settle down – or so they believe.
While the old and new schools continue their debate, the country has seen a slow growth of youngsters procrastinating or completely forgoing marriage in the name of being modern. They do not want to surrender to a life of domestic drudgery. And this change has become easier than ever before. Now, several businesses cater specifically to singles. From super fun dating apps (I am personally envious about this one, I never got to swipe right), to a singles night out, solo dinner experiences to even holidays and travel tours for singles, being single has never felt so good or right before.
It's completely okay to be single, but I believe one must be single for the right reasons. Don't choose to remain single to prove a point to anyone, be it the annoying aunt who is constantly pestering you and your family about finding you a bride/groom before you get too old, or before all the good ones are married away.
Yes, you may be financially independent, but marriage isn't always about financial dependence. It is also about building emotional dependence. Again, a lot of people are worried about losing their identities. You may think of entering a relationship as a sacrifice, believing you'd be losing your sense of independence and freedom. In a good relationship,worlds grow, not shrink. But if you have chosen the path of singlehood, then make sure it's based on a strong foundation of self-worth and personal development.
Every February, the pressure grows on everyone – singles and couples alike. For the singles, we have great interviews by experts on embracing singlehood the right way. For those in love, do read up on our romantic picks and choices. Gracing the cover we have actress Mrunal Thakur, who is currently the envy of every actress in Bollywood. From her choice of roles to her working relationships, she is currently the reigning queen of the silver screen.
With yet another content-packed issue, we wish all the readers a love-filled month and like I said earlier: Singles, no pressure, please!
Raise a toast, we turn one!
Today marks a year since we launched Hashtag India Magazine. This time last year it all didn't seem so easy. The pandemic had taken over the nation; chai and newspapers were replaced with news at our fingertips… Everything about Hashtag was vague. It was just a bunch of ideas getting tossed around in a room and there was scepticism about everything.
Today, we know we have done the right thing. With 12 successful issues, and over 1.5 lakh global subscribers, we have reached over one million viewers and readers. Seeing Hashtag Magazine turn one is such as surreal experience. It's incredible to see how far we have come in twelve short months. From glam covers to insightful stories on health, travel, wellness, and all things lifestyle, we have accomplished to maintain a fine balance with our stories. If you know it's trending, then it's surely on Hashtag! A lot of love, time, and effort has gone into nurturing Hashtag and there is no way we would be what we are today without my dedicated team of writers who bring in the best content, interviews, and discoveries from across the country and of course my team of designers, social media managers, SEO and outreach experts, photographers, videographers, editors and the copy edit team.
A special shout out to our marketing support Atin Ooh, who constantly gives us the much-needed reinforcement and backing, and of course our advertisers. We thank you greatly for your continued confidence and friendship.
The Hashtag team would like to specially raise a toast to the readers for all the love. A big thank you to everyone who reads, shares, likes, and talks about our little labour of love.
I hope you enjoy this annual issue; we've packed with great content. Do let us know if there are any topics you'd like to see covered in the future. Until then, let's raise a toast – We turn one!
We wish you a warm, joyous, and happy holiday season.
Is our cover making you hungry? Rightfully so! After having featured some of the country's top stars on our cover since the inception of our magazine, we wanted to do something different this time. An important question arose: Is there anything that can challenge a hot body or a good pair of abs? Well yes, certainly! A good plate of food!  
Food is a philosophy in itself and we realised that if there is one thing that unites the world seamlessly, it is a plate of edible options. Besides, isn't there is something addictive in scrolling through food blogs on social media? With so many delicious mouth-watering recipes and creations, reading up about cooking, and checking out new tips and cooking techniques is like a hobby in itself.  
The pandemic has been many things. A positive that has emerged is the boost experienced by amateur chefs around the world. Almost everyone picked up a ladle, and bravely entered the kitchen. From kitchen hits and misses to someone's failed attempts at baking, social media was abuzz with food posts. Almost two years later, recipe creation and blogging have become a whole new ball game. It is now a constant lifestyle that involves creating quality content, fine-tuning recipes, detailed plating, HD photography and so much more. This competitiveness is why, although we have thousands of food blogs and bloggers, only a few manage to catch the right eyeballs. 
Hashtag scouted for recipe creators who have continually wowed us with their dedication and creativity. While one creates vegan recipes, another offers simple everyday vegetarian recipes with a twist. While one specialises in delectable eggless desserts, another offers the best of international recipes. Each of them is unique; if there is one thing common between them all, it is their perseverance and passion for food. Armed with stunning photography and detailed recipes, they have managed to meet the exacting demands of virtual food lovers. 
Without a doubt, the world is a better place now they are in it – and definitely a more delicious one. So while you ditch the cookbooks that are stuffed in your kitchen cupboards and get following these food bloggers for a huge slice of inspiration, you can also browse through our magazine for everything that is trending. From celeb interviews to fitness, fashion, and travel, it's all in here.
 Wishing everyone an enjoyable and sumptuous December…
Festive seasons are the perfect time to make new resolutions! While we clean our homes and spruce them up to welcome Lakshmi mata, I think it's is also a great time to clean up and organise our minds. Of late, no matter where I go, all I hear are money making schemes—stock markets, land boom, cryptocurrency, women selling saris, jewellery—it's almost as if money is determining your worth. 
Worse than that is how today's happiness is postponed to 5 years later, when the speculated market boom is expected. A lot of youngsters don't want to marry until they settle down. Families postpone travel plans or buying a house or even visiting old parents. While I am not advocating for materialistic pleasure, I do question the very aspect of settling down. Where is the fun in travelling at the age of 60 with knee pains while you could have easily done it at 30?
We already know that settling down is an imaginary concept; yet we place all out bets and happiness on it. We can always hire people to drive a car for us or even make money for us; material things lost can be found, but the one thing that can never be found once lost is life. Enjoy life, share it with others, watch your children grow, throw things around and even mess up the house because the one thing you can control is now! Tomorrow, your land may or may not boom, your bitcoin may or may not double…that's for tomorrow. Today, don't miss out on the simple joys of life, only to come to regret it. 
All we want for all of you is to have a cracking Diwali. Go enjoy the simple pleasures! Colour your hair green; featured in this issue is an organic brand to perfectly meet that need! Shop your heart out— our fashion section will help guide you with tips from experts and inspiration straight from the runway. If you are vying for a vacation, we have you covered with amazing discovers and scenic beauties, recommended and researched by our team of writers. 
What's important is you learn the art of now…
Wishing all our readers a safe and happy festive season!
 It's good to be lost in the right direction…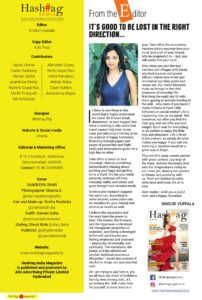 If there is one thing in this world that's highly underrated, it's travel. Be it heart break, depression, or your biggest fear, there is nothing in this world that travel cannot help heal. In my case, just planning a holiday gives me a boost of happy hormones. Browsing through pages and pages of properties and flight deals and destinations gives me a high like no other.
Take off to a beach or to a mountain; there is something indescribably relaxing about packing your bags and getting on to a flight. It's like your mind instantly switches off from everyday reality and stress and goes straight into vacation mode. 
Science and research suggest the same too. According to some studies, a new place can do wonders for your mental and emotional health as well. The new events and experiences help rewire your brain, boosting your mood and self-confidence. 
I believe the mountains and the seas have the power to heal. The Greeks, the Romans, and the Egyptians understood the therapeutic properties of seawater, while Hippocrates, Plato, and Aristotle all advocated the healing powers of the ocean. Just being submerged in the soft sand or being gently tossed about by the salty frothy waves, time by the ocean leaves you feeling awakened and cleansed – physically, emotionally, and spiritually. The mountains, the peaks, and the altitude are another mythical experience altogether. The flow of water, the vast expanse, the wind and the adventure are so exhilarating, I doubt any amount of alcohol or drugs can give you that rush. 
All I am trying to say here is, yes, we all have our share of problems. Family, time, money, kids…it's an endless list. Still, make time for yourself, at least once in a year. Take off to the mountains, traverse plains you may lose your mind (and a bit of your money, let's be pragmatic) to – but, you will surely find your soul! 
Only when you visit the tiny hamlets and villages with barely any food sources and power will you realise how trivial and immaterial our daily greed and issues are. Our metro lifestyles make us foreign to the little pleasures of everyday life. Watching the night sky fill with stars, gazing at animals hunting in the wild… who cares if you haven't made millions or have 100k followers on social media? Life is happening now, as we speak. Not tomorrow, not after you find the right guy, and not after you lose weight. Don't wait for everything to be perfect to enjoy the little joys and pleasures. Life is lived in the present, so simply do what makes you happy. If you ask me, planning a vacation would be a great way to begin…
This month's issue comes packed with great content, courtesy of the team. We feature popular organic brands and decode the latest Korean skin care trends. Actress Sandeepa Dhar sets the temperatures rising as our cover girl, sharing her secrets to fitness and positivity with us. For the tech lovers, we give you a lowdown on the latest tablets in the market. From pet fashion to celeb interviews and more, it's all in here. 
Dear reader, I wish you a joyful read, and a happy Dussehra!
 What's Right What's Wrong?
This editorial is very special because | write this sittinghere in the middle of nowhere – Spiti Valley with fascinating valleys, windswept landscapes, pristine fast-flowing rivers and the never-ending beauty of nature. As | sit here amidst all this bliss away from the everyday madness, | realised how we spend half our life worrying about what is right and what is wrong. Is this the right job? Am | dating the right guy? Biryani or pizza?Choices, choices, choices.
In between all this decision making, we forget to enjoy the smallwonders. Who cares what's right and wrong? Go ahead and do what makes you happy, because at the end of the day, that is all that matters. Besides, there is no right or wrong — just a bunch of perspectives and points of view. Even if you make some bad choices, it's alright. When you look back at life, you will have something to laugh at and know you have lived a life without regret!
Having given my little mountain gyan (and more importantly before | lose my signal) let's move on to this issue. The Hashtag team is happy to feature Kriti Sanon, who encompasses all that | have said. A brave go- getter, she has been making great career choices, churning out one unique film after another. In her exclusive, she reveals her motto, one that rings true with this issue — "Sometimes failure teaches you more than success can ever do."
In this issue, we have featured a lot of people who have chosen to make a difference. We begin with married couple Moulya Amar Nath and Shravanth Donthi, who launched the app Tankerwala to help you book water tankers on-demand. There's also Sumon and Sanyati, founders of Dorji Shantiniketan and Avipsha Thakur, founder of Bunavat — all who specialise in sustainable and environmentally friendly fashion. Truly, we have a myriad of interviews that are sure to inspire our readers.With the festive season around the corner, do check out our chef special festive recipes — with a twist and browse through our travel pick on the famous Ganesha temples in Coastal Karnataka, as an ode to the forthcoming Ganesh Chaturthi.We are also heavy on the glam quotient this September… from gardening hacks to tech picks,yoga and fitness tips from the hot and svelte Shilpa Shetty to exclusive interviews withSiddharth Malhotra and Ajay Devgn, it's all in here. Do enjoy reading our issue and enjoy a safe and happy festival!
Fitness – Most talked about, yet highly neglected!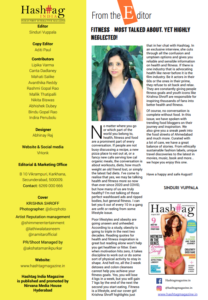 No matter where you go or which part of the world you belong to, health, fitness and food are a prominent part of every conversation. If people are not busy discussing a recipe, a new pizza place to eat out at, or a fancy new cafe serving low cal organic meals, the conversation is about workouts, diets, how much weight an old friend lost, or simply the latest fad diets. I've come to realise that yes, we may be talking health and fitness more so now than ever since 2020 and COVID, but how many of us are truly healthy? I'm not talking of those perfect washboard ads and ripped bodies, but general fitness. I can bet you 6 out of every 10 in a gang are unfit or reeling from some lifestyle issue.
Poor lifestyles and obesity are going unseen and unheeded. According to a study, obesity is going to triple in the next two decades. Reading quotes for health and fitness inspiration is great but reading alone won't help you get healthier or fitter. Even when motivation hits zero, it takes discipline to work out or do some sort of physical activity to stay in shape. And hell no, all the 2-week detoxes and colon cleanses cannot help you achieve your fitness goals. Yes, you will lose 4 kgs in a week, but you will gain 7 kgs by the end of the next the second you start eating. Fitness is a lifestyle, and our cover girl Krishna Shroff highlights just that in her chat with Hashtag. In an exclusive interview, she cuts through all the confusion and umpteen options and gives you reliable and sensible information on health and fitness. If there is one industry that is advocating health like never before it is the film industry. Be it actors in their 60s or the ones in their prime, they refuse to sit back and relax. They are constantly giving people fitness goals and youth icons like Krishna Shroff are responsible for inspiring thousands of fans into better health and fitness.
Of course, no conversation is complete without food. In this issue, we have spoken with trending food bloggers on their journey and inspiration. We also give you a sneak peek into the food streets of Ahmedabad and much more. Curated with a lot of care, we have a great balance of stories. From ethically sustainable fashion labels, unique travel discoveries to the latest in movies, music, book and more… we hope you enjoy this one. 
Have a happy and safe August!
Good news for the hypocrite meat eating animal lovers…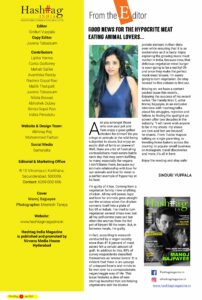 Are you amongst those who love your pet and then enjoy a good grilled chicken for dinner? Do you cringe at animals in the wild being subjected to abuse, but enjoy an exotic dish of lamb on skewers? Well, there are a lot of frustrating contradictions meat eaters battle each day that may seem baffling to many, especially the vegans. I don't blame them, because our intimate relationship with love for our animals and love for meat is a perfect example of hypocrisy at its best.gyan
I'm guilty of it too. Coming from a vegetarian family, I love anything chicken. All my will power, logic and love for animals goes straight out the window when the chicken converts itself into a plate of hot 65 or kebab. I've tried to turn vegetarian several times over, but all my self-control runs out but when the aromas from the hot pot of biryani fill the room. But, in between meals, I'm guilty.
In fact, according to research conducted by a vegan society, more than 47.8 percent of meat eaters felt a certain amount of guilt. In addition to this, 85% of survey respondents classified themselves as 'animal lovers.' It is evident that there is an upsurge of untapped hearts and minds to be won over to a compassionate, vegan/veggie way of life. This issue features a slew of new start-up launches that are helping vegetarians add the elusive protein element in their diets even while ensuring that it is as sustainable as it is tasty. Enjoy exploring the growing mock meat market in India, because now, that delicious vegetarian meat burger is soon going to be a reality! Oh and once they make the perfect mock meat biryani, I'm surely going to turn vegetarian. Do stay hooked to this column to find out.
Moving on, we have a content packed issue this month… Enjoying the success of his recent series The Family Man 2, actor Manoj Bajpayee, in an exclusive interview with Hashtag talks about his struggles, rejection and failure, to finding his spotlight on screen after two decades in the industry. "I will never wish anyone to be in my shoes: my shoes are torn and feet are bruised," he shares. From Tushar Kapoor talking on single parenting, to trending home bakers across the country, to popular small business on Instagram, travel discoveries and more, it's all in here.
Enjoy the reading and stay safe!
WE ARE THE SURVIVORS, LET'S MAKE IT COUNT…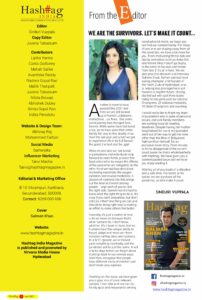 Another 6 months have passed this 2021 and here we are still locked lup at home! Lockdowns… restrictions….curfews…this entire covid journey has changed lives forever. While some have lost loved ones, some have seen their entire family fall prey to this deadly virus. Over the last year and a half we got to experience life in its full flavourthe good, the bad and the ugly!
While on one side we had social organisations and individuals step forward to raise funds, provide free food and shelter to ensure the effects of the pandemic are mitigated, on the other hand we had hoarders black marketing essentials like oxygen cylinders and crucial medicines. A season of darkness like this brings out the best and worst among people. I urge each of you to pick the right side. Sometimes it's hard to know what the right thing to do is. It's okay if you can't empathise, but don't criticise either! One thing we can and should be doing right now is making an effort to make others feel better.
Honestly, it's just a matter of time until we move on because that's what humans do. I don't know whether it's a boon or bane, but we humans have this unique ability to forget, adapt and move on-from massive earthquakes and cyclones, to a 9/11 episode, we've moved past everything eventually, and the pandemic will be just the same. It will only be days before we forget about it and go back to our normal ways. Until then, recognise that people have different levels of comfort and don't make assumptions.
Dwelling on this issue, we have given you a good mix of covid-relevant content. From diet and nutrition to handy apps and restaurants serving covid-adviced meals, we hope you will find our content handy. For those of you who are staying away from all the covid talk, we have a lot more for you. From motivating fitness talk and tips by celebrities such as Avika Gor and former Miss India Puja Gupta, to the latest in fashion and trends from Gen Z it's all in here. We are also proud to discover and interview Suheim Shaik, former national level sailing champion and founder of the Yacht Club of Hyderabad, who is helping less privileged kids sail towards a brighter future. Having started out with just three boats today he has produced six national Champions, 25 national medalists, 10 State Champions and counting.
I would really like to thank my team of journalists who in spite of personal issues, and sick family members are working towards meeting deadlines. Despite having her mother hospitalised for covid, my journalist went out of her way to get me none other than the Bhai of Bollywood, Salman Khan himself, for an exclusive cover story. From movies to to his disapproval of the current covid scene, he chats wholeheartedly with Hashtag. We have given you a content-packed issue and we hope you enjoy reading it. Wishing all of you loads of antibodies and a safe time. For better or for worse, we are survivors of the pandemic, so let's make it count.
Let's break the stereotypes…
Happy International Women's Day! Enter March and I'm literally scared to watch the news or even read a newspaper. Along with the overdose of heat we are also fed with an overdose of feminism. Newspapers are laden with pictures of women, social media is buzzing about womanpower, even WhatApp is spammed with moms and dads sending us empowerment quotes.  Oh yes, we must absolutely celebrate womanhood and women in general, but hey all this vagueness does not appeal to me. Feminism is not an annual event but a daily practise. Do we need to celebrate ourselves? Sure! Anytime, but to pretend this is some great feminist victory feels misrepresented.
Especially in a male dominated country like India, such celebrations are premature. How many men/ daddies wake up in the morning to cook or send their kids off to a class? It's taken for granted to be a woman's job.  This holds true for everybody–the highly educated, poor and uneducated alike. Take for example working couples. Both earn, both make money, both hold respectable positions but who does the cooking in the morning? The lady of the house of course!
It is fascinating to see how even the most progressive educated women with international degrees and exposure, do not insist on an unequivocal division of household work. This could be the result of myriad reasons, like our society, general conditioning or simply compromise to keep the peace of the house. But this in turn reinforces the same stereotypes, leading to a ripple effect.
No doubt, we are slowly changing, and if there is one industry that is taking the right steps towards this pivotal evolution, it is the digital entertainment world or the OTT Platform. You will no longer see women dancing behind the trees or play damsel in distress while the hero single-handedly fights off hundreds of goons. In an industry that was absolutely hero centric, OTT has come in as a breath of fresh air. With new scripts and women centric content, actors today are redefining and reinventing their characters on screen.  In our cover story this issue we have captured the journey of stars like Shriya Pilgaonkar, Ritwik Bhowmik, Shreya Dhanwanthary, Sarah Jane Dias, Harshita Gaur and others, who have been appreciated for their performance and have been a part of some of the amazing stories.
Yes, Hashtag may not have dedicated an entire issue for women, but we salute them in every section of our magazine. From Start-ups to NGOs, to fashion to my everyday team of journalists, we celebrate the fairer sex, everyday!  After all, women's standing in the world isn't just for the month of March; it's for a lifetime.
It's time we take a day off from feminism and instead come together as one and focus on where the real problemss lie! Together, let's break the stereotypes!
With a good balance of genres, we think we've finally created an amalgam that combines the exquisiteness, coherence and perspective of a monthly print magazine with all the timeliness, approachability and interactivity of an online one. We hope you agree! 
Do let us know if there are any topics you would want us to include about or if you have any other queries. Tell us what you love, tell us what you hate! We would love to hear from you irrespective! 
On that note, lets welcome 2021 with a bang and aim to not just be great, but awesome this year! And remember, you can't stand out by fitting in!
Here's to an amazing month…
Sinduri Vuppala