Fitness – Most talked about, yet highly neglected!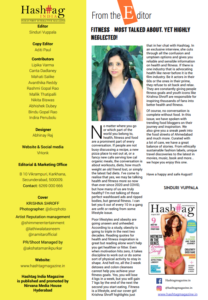 No matter where you go or which part of the world you belong to, health, fitness and food are a prominent part of every conversation. If people are not busy discussing a recipe, a new pizza place to eat out at, or a fancy new cafe serving low cal organic meals, the conversation is about workouts, diets, how much weight an old friend lost, or simply the latest fad diets. I've come to realise that yes, we may be talking health and fitness more so now than ever since 2020 and COVID, but how many of us are truly healthy? I'm not talking of those perfect washboard ads and ripped bodies, but general fitness. I can bet you 6 out of every 10 in a gang are unfit or reeling from some lifestyle issue.
Poor lifestyles and obesity are going unseen and unheeded. According to a study, obesity is going to triple in the next two decades. Reading quotes for health and fitness inspiration is great but reading alone won't help you get healthier or fitter. Even when motivation hits zero, it takes discipline to work out or do some sort of physical activity to stay in shape. And hell no, all the 2-week detoxes and colon cleanses cannot help you achieve your fitness goals. Yes, you will lose 4 kgs in a week, but you will gain 7 kgs by the end of the next the second you start eating. Fitness is a lifestyle, and our cover girl Krishna Shroff highlights just that in her chat with Hashtag. In an exclusive interview, she cuts through all the confusion and umpteen options and gives you reliable and sensible information on health and fitness. If there is one industry that is advocating health like never before it is the film industry. Be it actors in their 60s or the ones in their prime, they refuse to sit back and relax. They are constantly giving people fitness goals and youth icons like Krishna Shroff are responsible for inspiring thousands of fans into better health and fitness.
Of course, no conversation is complete without food. In this issue, we have spoken with trending food bloggers on their journey and inspiration. We also give you a sneak peek into the food streets of Ahmedabad and much more. Curated with a lot of care, we have a great balance of stories. From ethically sustainable fashion labels, unique travel discoveries to the latest in movies, music, book and more… we hope you enjoy this one. 
Have a happy and safe August!
Good news for the hypocrite meat eating animal lovers…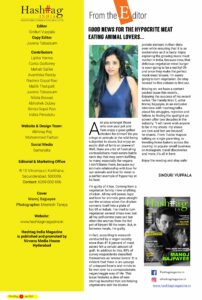 Are you amongst those who love your pet and then enjoy a good grilled chicken for dinner? Do you cringe at animals in the wild being subjected to abuse, but enjoy an exotic dish of lamb on skewers? Well, there are a lot of frustrating contradictions meat eaters battle each day that may seem baffling to many, especially the vegans. I don't blame them, because our intimate relationship with love for our animals and love for meat is a perfect example of hypocrisy at its best.gyan
I'm guilty of it too. Coming from a vegetarian family, I love anything chicken. All my will power, logic and love for animals goes straight out the window when the chicken converts itself into a plate of hot 65 or kebab. I've tried to turn vegetarian several times over, but all my self-control runs out but when the aromas from the hot pot of biryani fill the room. But, in between meals, I'm guilty.
In fact, according to research conducted by a vegan society, more than 47.8 percent of meat eaters felt a certain amount of guilt. In addition to this, 85% of survey respondents classified themselves as 'animal lovers.' It is evident that there is an upsurge of untapped hearts and minds to be won over to a compassionate, vegan/veggie way of life. This issue features a slew of new start-up launches that are helping vegetarians add the elusive protein element in their diets even while ensuring that it is as sustainable as it is tasty. Enjoy exploring the growing mock meat market in India, because now, that delicious vegetarian meat burger is soon going to be a reality! Oh and once they make the perfect mock meat biryani, I'm surely going to turn vegetarian. Do stay hooked to this column to find out.
Moving on, we have a content packed issue this month… Enjoying the success of his recent series The Family Man 2, actor Manoj Bajpayee, in an exclusive interview with Hashtag talks about his struggles, rejection and failure, to finding his spotlight on screen after two decades in the industry. "I will never wish anyone to be in my shoes: my shoes are torn and feet are bruised," he shares. From Tushar Kapoor talking on single parenting, to trending home bakers across the country, to popular small business on Instagram, travel discoveries and more, it's all in here.
Enjoy the reading and stay safe!
WE ARE THE SURVIVORS, LET'S MAKE IT COUNT…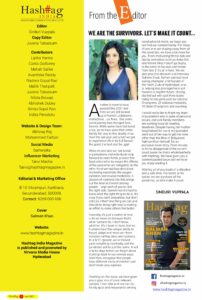 Another 6 months have passed this 2021 and here we are still locked lup at home! Lockdowns… restrictions….curfews…this entire covid journey has changed lives forever. While some have lost loved ones, some have seen their entire family fall prey to this deadly virus. Over the last year and a half we got to experience life in its full flavourthe good, the bad and the ugly!
While on one side we had social organisations and individuals step forward to raise funds, provide free food and shelter to ensure the effects of the pandemic are mitigated, on the other hand we had hoarders black marketing essentials like oxygen cylinders and crucial medicines. A season of darkness like this brings out the best and worst among people. I urge each of you to pick the right side. Sometimes it's hard to know what the right thing to do is. It's okay if you can't empathise, but don't criticise either! One thing we can and should be doing right now is making an effort to make others feel better.
Honestly, it's just a matter of time until we move on because that's what humans do. I don't know whether it's a boon or bane, but we humans have this unique ability to forget, adapt and move on-from massive earthquakes and cyclones, to a 9/11 episode, we've moved past everything eventually, and the pandemic will be just the same. It will only be days before we forget about it and go back to our normal ways. Until then, recognise that people have different levels of comfort and don't make assumptions.
Dwelling on this issue, we have given you a good mix of covid-relevant content. From diet and nutrition to handy apps and restaurants serving covid-adviced meals, we hope you will find our content handy. For those of you who are staying away from all the covid talk, we have a lot more for you. From motivating fitness talk and tips by celebrities such as Avika Gor and former Miss India Puja Gupta, to the latest in fashion and trends from Gen Z it's all in here. We are also proud to discover and interview Suheim Shaik, former national level sailing champion and founder of the Yacht Club of Hyderabad, who is helping less privileged kids sail towards a brighter future. Having started out with just three boats today he has produced six national Champions, 25 national medalists, 10 State Champions and counting.
I would really like to thank my team of journalists who in spite of personal issues, and sick family members are working towards meeting deadlines. Despite having her mother hospitalised for covid, my journalist went out of her way to get me none other than the Bhai of Bollywood, Salman Khan himself, for an exclusive cover story. From movies to to his disapproval of the current covid scene, he chats wholeheartedly with Hashtag. We have given you a content-packed issue and we hope you enjoy reading it. Wishing all of you loads of antibodies and a safe time. For better or for worse, we are survivors of the pandemic, so let's make it count.
Let's break the stereotypes…
Happy International Women's Day! Enter March and I'm literally scared to watch the news or even read a newspaper. Along with the overdose of heat we are also fed with an overdose of feminism. Newspapers are laden with pictures of women, social media is buzzing about womanpower, even WhatApp is spammed with moms and dads sending us empowerment quotes.  Oh yes, we must absolutely celebrate womanhood and women in general, but hey all this vagueness does not appeal to me. Feminism is not an annual event but a daily practise. Do we need to celebrate ourselves? Sure! Anytime, but to pretend this is some great feminist victory feels misrepresented.
Especially in a male dominated country like India, such celebrations are premature. How many men/ daddies wake up in the morning to cook or send their kids off to a class? It's taken for granted to be a woman's job.  This holds true for everybody–the highly educated, poor and uneducated alike. Take for example working couples. Both earn, both make money, both hold respectable positions but who does the cooking in the morning? The lady of the house of course!
It is fascinating to see how even the most progressive educated women with international degrees and exposure, do not insist on an unequivocal division of household work. This could be the result of myriad reasons, like our society, general conditioning or simply compromise to keep the peace of the house. But this in turn reinforces the same stereotypes, leading to a ripple effect.
No doubt, we are slowly changing, and if there is one industry that is taking the right steps towards this pivotal evolution, it is the digital entertainment world or the OTT Platform. You will no longer see women dancing behind the trees or play damsel in distress while the hero single-handedly fights off hundreds of goons. In an industry that was absolutely hero centric, OTT has come in as a breath of fresh air. With new scripts and women centric content, actors today are redefining and reinventing their characters on screen.  In our cover story this issue we have captured the journey of stars like Shriya Pilgaonkar, Ritwik Bhowmik, Shreya Dhanwanthary, Sarah Jane Dias, Harshita Gaur and others, who have been appreciated for their performance and have been a part of some of the amazing stories.
Yes, Hashtag may not have dedicated an entire issue for women, but we salute them in every section of our magazine. From Start-ups to NGOs, to fashion to my everyday team of journalists, we celebrate the fairer sex, everyday!  After all, women's standing in the world isn't just for the month of March; it's for a lifetime.
It's time we take a day off from feminism and instead come together as one and focus on where the real problemss lie! Together, let's break the stereotypes!
With a good balance of genres, we think we've finally created an amalgam that combines the exquisiteness, coherence and perspective of a monthly print magazine with all the timeliness, approachability and interactivity of an online one. We hope you agree! 
Do let us know if there are any topics you would want us to include about or if you have any other queries. Tell us what you love, tell us what you hate! We would love to hear from you irrespective! 
On that note, lets welcome 2021 with a bang and aim to not just be great, but awesome this year! And remember, you can't stand out by fitting in!
Here's to an amazing month…
Sinduri Vuppala