A food trail in the heart of Ahmedabad
Khavanu, pivanu, majja ni life! This is the mantra residents of Ahmedabad swear by! Whether they are catching up with friends, or a business meeting, shopping, or picking groceries, snacks and especially street snacks are looked forward to more than often and are the highlights of the day. KETKI GADRE goes on a lip-smacking journey…
You wouldn't know the number of items that can be cooked up with besan (gram flour) unless you visit Gujarat. Fried besan snacks are especially popular in Ahmedabad and form the majority of their street food. Ahmedabad's street food scene is evergreen – no matter what season or time of day. Let's dig into the favourites!
Fafda and Jalebi
This is the breakfast staple in Ahmedabad and Saurashtra. A day cannot start without eating this fried plateful served with green papaya spiced salad and kadhi (a thick gravy made from gram flour and yoghurt, with Indian spices) On the side? Crispy jalebis. There are generationally run chains of family-run restaurants that make and sell fafda and jalebi for all days of the year, making it a staple street food and must-have. Fafda-jalebi is especially popular during Dussehra when locals line up at midnight in queues to get a piece of fried heaven.
Where: Oshwal, 14, Ajanta Commercial Complex, Ashram Rd, Usmanpura
Khaman
Soft, spongy, sweet, and savoury is how khaman can be described. Though it is confused with dhokla, khaman is softer and juicier and one of the favourite street foods of Ahmedabad. Garnished with mustard seeds, green chillies and coriander, khaman is a healthy and delicious snack.
Where: Das Khaman, 2, Trade Center, Stadium Cross Rd, Navarangpura Gam, Navrangpura
Dal-Wada
Dal-Wada is to Ahmedabad what kanda bhajji is to Pune, especially when it rains. This deep-fried concoction of ground fermented yellow lentils with ginger and chilli paste is a monsoon must-have street food and enjoyed otherwise too.

Where: Ambica Dalwada Centre, G – 3, Shivam Complex, B/h H. L. Commerce College
Chai and maska-bun
Bread-Butter is revered in Ahmedabad in the form of maska-bun. Tea is the official beverage of Ahmedabad, and it is known that business deals worth crores happen over chai-ki-kitli in this city. The maska-bun makes for the perfect tea accompaniment on street in between meetings
Where: Lucky Restaurant, Opposite City College, Lal Darwaja
Dabeli
Also known as the Indian burger, dabeli is a bread bun sandwiched in the perfect mix of potato filling, spices, chutneys, peanuts, and pomegranate, nicely bathed in butter and served hot. It is an explosion of sorts in the mouth with crunchy as well as soft textures and a combined taste of sweet, hot, and sour. It feels like a festival when one is savouring dabeli – a gift from Kutch.
Where: Karnavati Dabeli, Shop No. 1/ Ground Floor, Radhamandir Complex, Opp. Hirabhai Tower, Uttamnagar, Maninagar
Bhajiya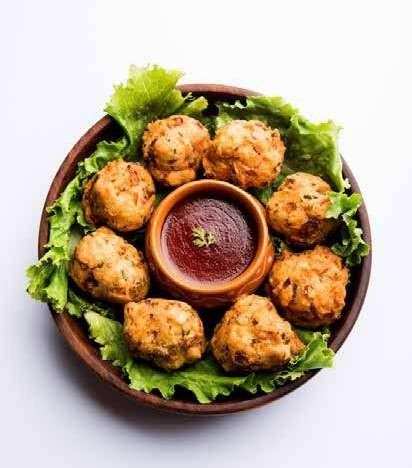 A brand in itself, this small shop in the old city of Ahmedabad has been serving bhajiyas for over 87 years and has an ardent fan base thanks to the consistent taste maintained over the years. The mix bhajiyas are the most sought-after option.
Where: Raipur Bhajiya House, Raipur Darwaja
See Also
Samosa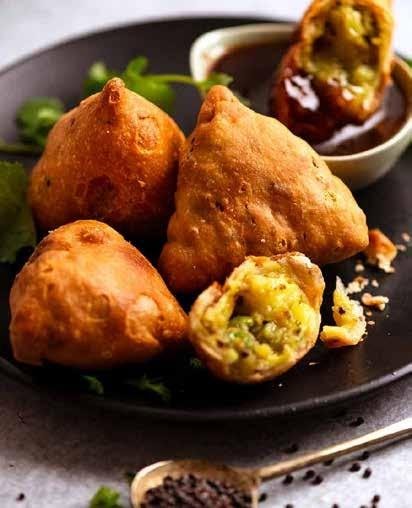 Samosa is probably the favourite street snack all over India, served in so many varieties and versions. There is no dearth of options: while the most common is the potato filling, there is also the Chinese flavoured noodle filling, as well as paneer or chicken fillings. Samosas in Ahmedabad have a special daal filling available and is known as Navtad na Samosa.
Where: Maharaj Samosa Centre, Kunjan Complex, 1 & 2, Kumkum Society, Sardar Patel Stadium Rd, Naranpura
Burgers
This is a place that serves desi burgers in the heart of Ahmedabad and has a fan following due to its variety of meat burgers as well. For almost two decades, this place has been selling burgers with different fillings such as aloo tikki, egg, chicken burgers, and many more, all topped with cheese. Other snacks which make it to their shelves are paneer puff, aloo puff, Danish buns and cupcakes.
Where: Salimbhai's Burger and Puffs, Besides L.J Campus, Sarkhej – Gandhinagar Hwy, Sarkhej
Kulfi
This list would be incomplete without mentioning the sweet tooth of Gujaratis. This street dessert is a favourite among the locals. The humble kulfi is the one that can single-handedly take on the frosty cupcakes, chocolate pancakes and maple syrup waffles.

Where: Asharfilal Kulfi, Nr. Happiness Parlour, Vijay Cross Road, Navrangpura
All these food haunts are a beloved part of the city and their wares can be best enjoyed standing by the roadside, or sitting on rickety benches and plastic chairs, while the Ahmedabad traffic moves on.