Abhishek Chanda – A fourth generation entrepreneur
"I believe in working hard," says Abhishek Chanda, Director at Capsgold Private Limited, Kalasha Fine Jewels and Vasavi Group. A fourth-generation entrepreneur, he is not only carrying his family legacy forward but is also introducing new technology and changes in the structure and work atmosphere. 
Having launched Kalasha Fine Jewels the first-of-its-kind designer jewellery store in 2016, which currently has a turnover of over 250 crores, the 34-year-old has proved that success happens to those who are determined and focused. In an exclusive with Hashtag, he talks about his journey and growth…
Carrying forward the legacy…
Those who dare to dream are the only ones to succeed. This age-old adage holds true for the fourth-generation entrepreneur from Hyderabad, Abhishek Chanda. With a family seeped into the business of precious metals since 1901, over the journey of a century and more, they are looked on as pioneers in the field of bullion trading and jewellery via their family firm Caps Gold Pvt. Ltd.
The 36-year-old entrepreneur recalls his childhood with a lot of nostalgia and passion saying that it was during those days that he learnt the tricks of the trade. "I come from a joint family of over 50 people. In my school years, we had a store at General Bazar in Secunderabad where I understood the trading of gold and silver. I thank God for giving me encouraging parents who supported me in whatever I did."
An alumnus of St Patrick's school and pursuing his engineering soon after, he recalls having a happy and carefree childhood where he went to the family store in summer vacations out of sheer curiosity.
Having gone to pursue his MBA from Cardiff University in the UK, he says that he was always sure that he wanted to come back to Hyderabad. "I didn't want to be trapped in the hustle and bustle of London life, so I chose Cardiff which was a very laidback place. Though I learnt a lot in my time there, having grown up in a joint family. I missed that energy and came back to Hyderabad."
CREATING A CULTURE OF CHANGE
In 2011, when Abhishek came back, he realized that there were a lot of gaps to be plugged in. The family firm was in a transition state from a family-run business to a corporate entity. For example, accounts were still manual and not online. To drive a technology-related change was one of Abhishek's first priorities.
"To enable a business to run digitally is very important and I think making that change enabled us to grow," shares the entrepreneur and adds, "People laughed at me as they thought a gold business did not need such kind of infrastructure, but I wanted to make it professional and run a business which is system-oriented."
Caps Gold Pvt. Ltd. is one of the top three bullion dealers in the country and had a lot of people come in from all corners of south India. To streamline the process Abhishek started three branches in Vijayawada, Bengaluru and Coimbatore. He recalls with a smile, "My family used to take care of business in Hyderabad and there was a healthy competition as to who will bring in more business." Further to this, he spearheaded the concept of going digital and launched the company's website called ecapsgold.com, an online commerce platform where customers can buy gold and silver coins online.
In 2017, Abhishek started the designer jewellery boutique Kalasha, which was a one-of-its-kind store. Even while he got married, he realized that most people opted to go to Bengaluru, Jaipur and Mumbai for buying wedding jewellery (he did the same) and understood that there was a gap in the market, and he intended Kalasha to bridge that gap.
He shares, "When I got married, I went all around the city and found that there was a lot of similarity in design. That was not what a woman would want to wear on the most special day of her life. We crafted designer jewellery so that people did not have to travel to other cities. There was a lot of hard work that went into building the store, and it was gratifying to see the response."
The store was a big success and in its first year of operations, it won multiple awards for ambience, and interiors, Abhishek never looked back post the launch. The turnover of the store also went up from 70 crores to 200 crores. The entrepreneur adds, "Kalasha means divine, and this is a place which focuses on unique and wearable jewellery. In our country, gold is the only commodity which gives a return of 18 to 24 percent per year and the purchases are driven by sentiment as people buy gold for every stage of life from birth to weddings. It also is a natural hedge against the vagaries of life."
MARCHING AHEAD
The USP of the store remains the wearability and design as well as its appropriate prices. While expensive jewellery is usually worn on special occasions, Kalasha offers the option of wearing jewellery for work or day-to-day activities. With seventy percent of the design team sitting out of Mumbai, it enables the store to stay ahead of the curve when it comes to design.
Another innovation bought about by Abhishek is that having noticed a large number of clients from abroad, he started shipping jewellery abroad which has brought in much recognition for the brand.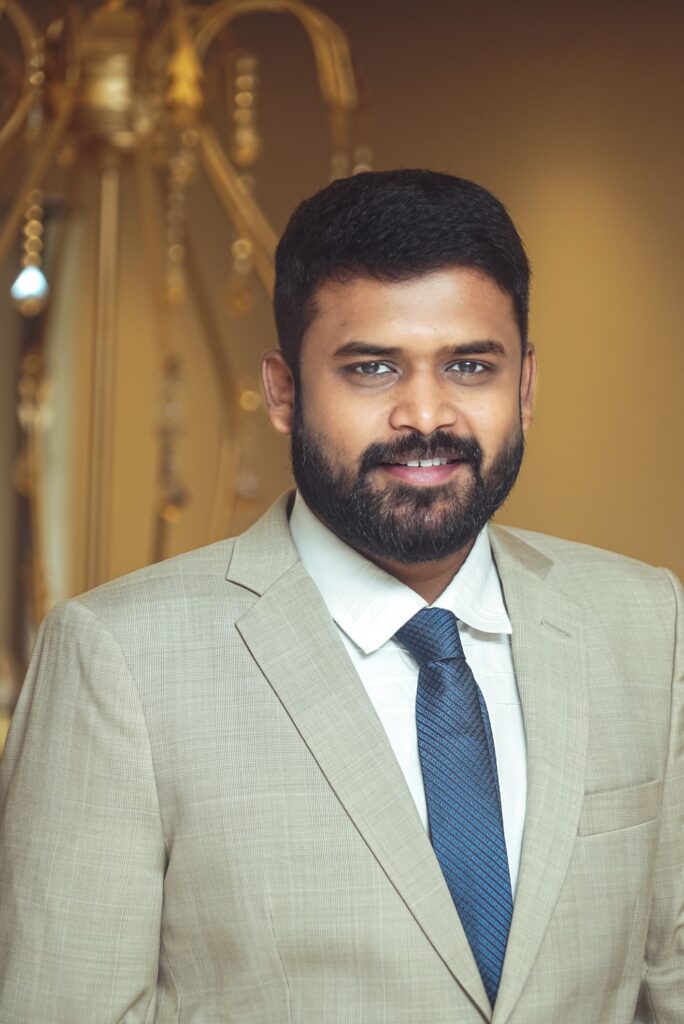 It's not all work and no play for the entrepreneur. While work does keep him busy he reaches home by 7 each day to spend time with family. He adds, "Covid was a relief as I finally got to spend time with my family. I usually spend my weekends at my farmhouse in Shamirpet as it is an ideal way to relax. Apart from that, I travel 4-5 times a year which is also something that re-energizes me."
The entrepreneur doesn't believe in getting pressurized at work. "I work with my father and uncles, so we divide the work and even when someone is travelling, the systems we set up enable us to not worry about work." Going from strength to strength, the world is the oyster for this dynamic entrepreneur.
QUICK TAKES
Role model: My Grandfather, Chanda Parameshwar Rao who was dynamic and a go-getter businessman. He used to make decisions in an instant that solved any issue he faced.
Business Mantra: An Entrepreneur should always work smart. It is important and pays off well.
The scariest thing that you have ever done: Sky diving and Bungee jumping in New Zealand
Future plans: Starting a franchise in the next five years.