ABHISHEK SOMANY: A LIFE WELL-TILED
This multi-faceted, third-generation scion of Somany Ceramics believes in living life to the fullest. PURNIMA SHARMA, in conversation with ABHISHEK SOMANY.
A sense of calm pervades as one steps into the swanky office of Somany Ceramics in Noida. Minutes later, as I sit admiring its tastefully designed environs, the group's Managing Director & CEO, Abhishek Somany, walks into the conference room, a cup of tea in hand and a smile well in place.
As I compliment him on the beautiful artworks adorning his walls, he says, "All this is part of my last decade's collection. Lately, I've been responding more to works by younger and more contemporary artists, especially those who delve into themes that exude serenity, not conflict or anything violent."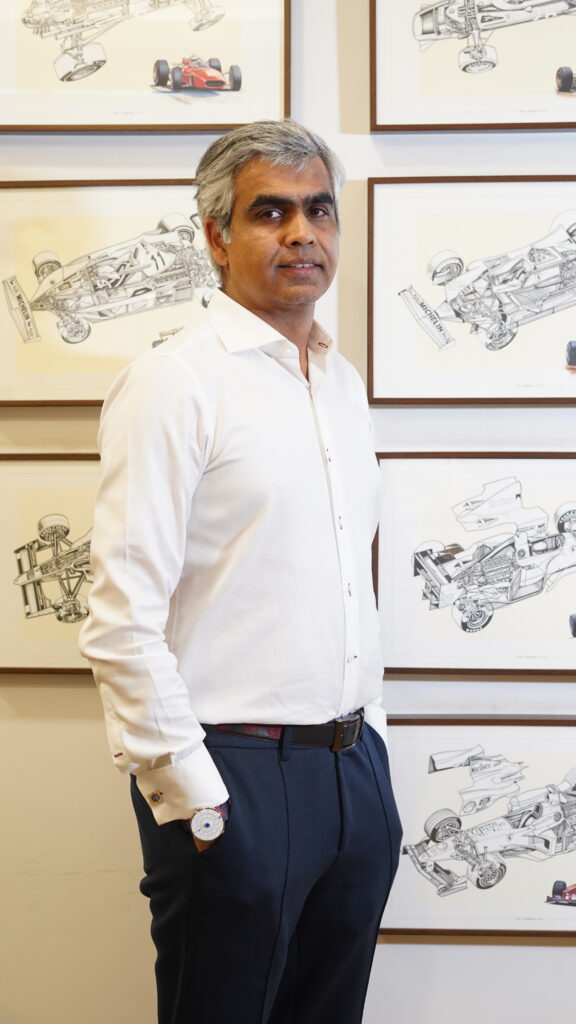 Indeed, staying calm was the way the scion of Somany Ceramics sailed through the tough times unleashed by the pandemic. However, despite stiff competition, his company – India's second largest ceramic tile manufacturer and one of the top 15 global players – continues to stay in the big league. In fact, just last month he announced a 20 % capacity expansion plan – from 62 million sqm/year to 73 million sqm/year.
Looking ahead and staying positive has indeed been a part of life for this third-generation industrialist, who grew up under the tutelage of his grandfather Hira Lal Somany. Talking about the family patriarch, Abhishek says that he started out as a share broker in Calcutta in the pre-Independence era.
However, when he lost his father and the responsibility of looking after eight little siblings fell on his young shoulders, something as volatile as share broking no longer seemed a viable option. "My grandfather set up a glass plant which today has grown to become the largest in India. However, this plant, after our family separation, is held by another faction."
A few years later, the time came to expand and diversify the business and Abhishek's father was given charge of another glass plant in Hyderabad. This was in the year 1980, when eight-year-old Abhishek too shifted from Calcutta with his dad, Shreekant Somany, to the City of Nizams. Fifteen years later, his family moved yet again – and this time to Delhi. "This was when my grandfather decided to split the family business, and Somany Ceramics came to us," says Abhishek.
Getting Ready For Serious Business
Gearing up to hold the baton of the family business right from childhood, Abhishek finished his studies in Business Administration from Richmond University, UK. Ask him if he had nurtured any other dreams during his growing-up years and he smiles, "No… Well, nothing so concrete that I could have challenged what was expected of me."
Soon after he completed his formal education, young Abhishek was sent for two training stints – one at Kanoria Chemicals, Hindalco, and another at Pilkington's plants in Manchester, UK. "Pilkington still had a share in our company; later we bought them over," he informs. While at Kanoria Chemicals and Hindalco, Abhishek was trained in general management. At the Pilkington office, he became well-versed with the basics – the process of tile-making, details of technology, and machinery used, "all of which continue to stand me in good stead even today."
Back on home ground, Abhishek's first task was to handle sales. "For the first five to six years, I met dealers across the country, even in the smallest of towns. Introducing them to our product, I discussed expansion plans with them… In short, it was all about relationship building."
Under the guidance of his grandfather, Abhishek "learned the ropes of the trade, spending time not just in the market, but also at the office, in the plant," until he came into the driving seat in 2004.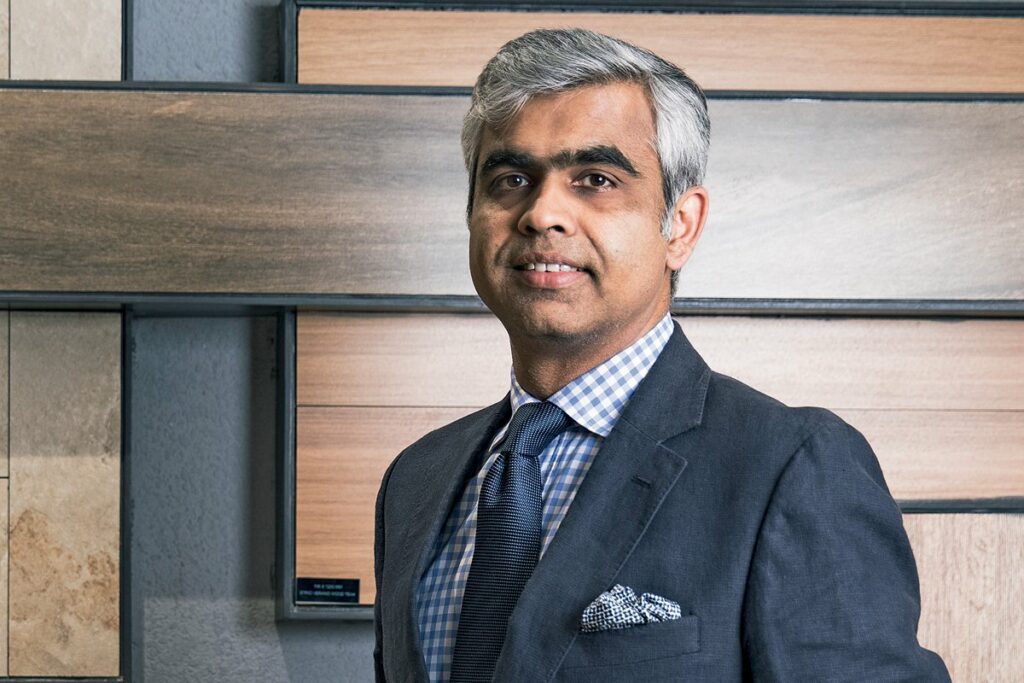 Challenging Times Ahead
Meanwhile, at the turn of the century, the world of ceramics was undergoing a sea change. "Before that, the Indian market had been rather complacent, producing what was fine for the 1960s or even the 1980s, that's it." In the year 2000, it got a rude shock when there was a gas outage "and cash flow went for a toss." This was courtesy of the then government's decision to move natural gas to power Pragati Power CNG buses, which starved all industries in the NCR region. "This was also the time when China, and even Italy and Spain started dumping, and we were caught in the middle," recalls Abhishek.
A ray of hope, however, shone in 2004, when an anti-dumping duty was levied on stuff coming in from China. It got further extended in 2009. The tile business "that had earlier been caught napping" got a much-needed breather.
It pulled up its socks, and how! In fact, the whole industry revved up and put in a lot of money for the up-gradation of technology, designs, patterns, and sizes. Indeed, it was only a matter of time. As Abhishek says, "We were making our way to be among the best in the business, even at par with what was being produced in Italy. And yes, our industry also started exporting – even to China for some limited products."
Having spread its wings across many countries, Somany Ceramics has to its credit today a complete range of products including vitrified tiles, ceramic wall and floor tiles, glazed vitrified tiles, bath fittings, sanitaryware, and tile laying solutions. "Over the years, we changed the face of our company – taking it from a Rs 200 crore to a Rs 2,000 crore company. From a debt-heavy company, we turned it into a zero-debt company," informs Abhishek.
Striking A Balance
Ask Abhishek whether being part of such a fiercely competitive environment leaves him any time for family and leisure, and he says, "Certainly. In fact, I feel that if you're unable to strike a balance there, you're a lousy manager."
Always a sports freak – his athletic frame gives that away – Abhishek was once crazy about playing cricket. "But, post marriage and kids, when I couldn't afford to give cricket the kind of time it needed, I moved to badminton and squash. Now, post-Covid, I've discovered the joys of golf."
For one who enjoys activities that give an adrenaline rush, Abhishek was into not just competitive rallying but also racing touring cars. "I have done the Formula BMW segment which can be just as exciting as F1," he says. His list goes on to include activities that are not for the faint-hearted – wing walking, zero-gravity flying, deep-sea diving and even doing the MiG-29, a flight that takes you 22 kms above sea level, towards space. "All these sports are super exciting but before trying them out, I do complete research not just to check details about their safety, but also the long-term health impact they can have," he adds matter-of-factly.
It's A Small World, After All
What tops the list of Abhishek's passions is his penchant for collecting miniature cars. "What started as a childhood hobby has now taken the shape of something very serious." His collection of over 500 die-cast cars includes vintage models ranging from the 1890s to 1940 European and the 1930-1970 American Classics. Picked up from online auctions and even toy or model-car shops in whichever city across the world he visits, these little cars enjoy a pride of place not just in his home but also in his office and factory.