The Heirloom Whisperer: How Jyoti Singh led Rang Riwaaz is Reviving Rare Ensembles from the Past

The Revivalist Who Can Give 'A Desi Bridgerton' Spin to the Pieces from Your Great Grandparents' Closet
By Vinay Agrawal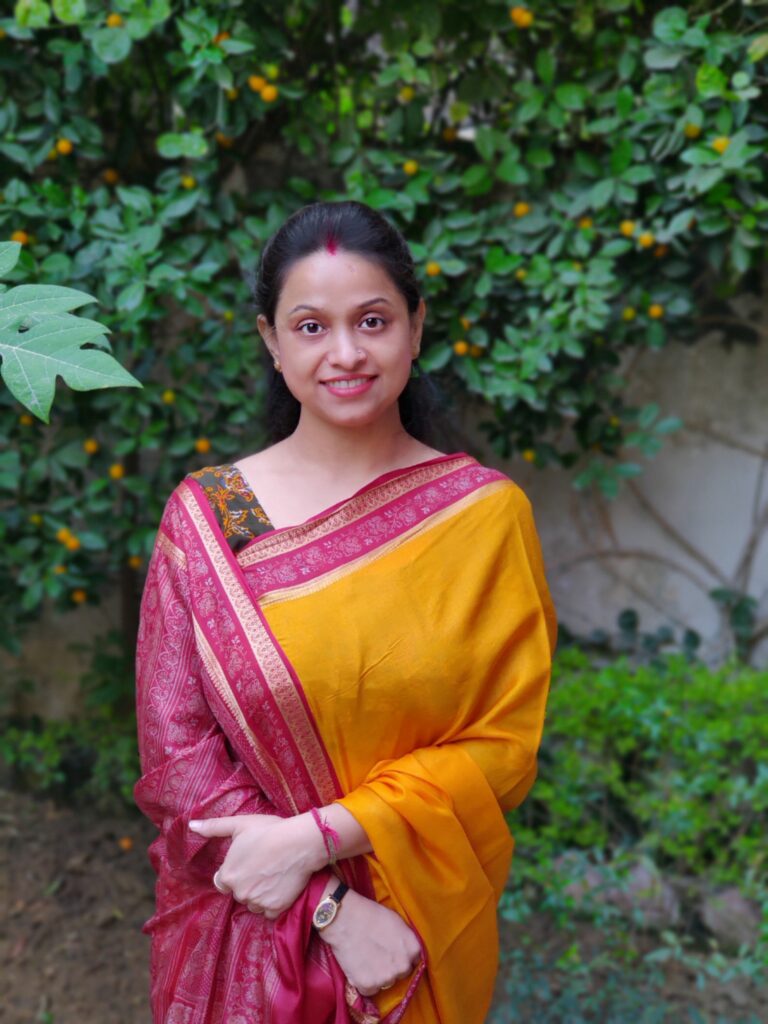 Thanks to Netflix's superbly popular series Bridgerton (renewed for a second season), the search for period costumes is on an all-time high. Set in the Regency era, the series has made a lot of us interested in the dresses that are steeped in history, and contain a bit of back-story. In current times, such dressing is a welcome distraction to the reality before us- and, benefiting psychological makeup for many. The period-appropriate dressing is our sartorial vehicle of escapism to an altogether different era, where grandeur and opulence was the norm, day after day (Bridgerton, I equally credit and blame you for this).
Closer home, Jyoti Singh's label Rang Riwaaz has been successfully recreating such effects on a desi scale, much before such shows became a rage. Taking inspiration from the treasure trove of Indian designs, Rang Riwaaz creates heirloom saris for women who are fond of heritage and history. Hence a typical floral sari, reminiscent of the Raj era is detailed with a rich, hand-embroidered border. A row of rare brocades in the most vibrant of colors is applied together to complete a lehenga and the entire Ram durbar is hand painted onto a pallu of a sari.
Born in Avadh and raised amongst art, Jyoti created the label as an ode to the traditional Indian artisans who dot her town of Lucknow—hand painting, embroidering and weaving the finest threads that were worn by the merchants and nobles of this historic city. The label also has a 'Legacy Clothing Restoration Division' that has revived clothes dating back to the 17th century. The division is always busy with restoring the grandmother's and great grandmother's trousseau sarees and lehengas. They secured the highest number of enquiries in the last six months. Jyoti talks about the restoration works, nostalgia as a currency and more in a chat with us.
As you grew up in Avadh, how would you describe fashion from there? How have those influences shaped up your aesthetic sensibilities?
It's very resplendent, as the ensembles are very elaborate with great influence from the Nawabi era. The sarees are paired with shawls or dushala, while ghararas are paired with double dupattas. Having grown with a great influence of these looks, my design aesthetics tend to be very symmetrical and rely on layering where I tend to design ensembles which can be toned up or down with the accompanying dushala or jackets. I am yet to be convinced to design a jacket style kurta lehenga outfit which does not need a dupatta as for me, our client has to have an arm candy, however unnecessary it may seem.
What projects have you taken up as part of the Legacy restoration division?
A few challenging projects were restoring an heirloom tissue saree for a Marwari family with pure silver work where the tissue had frayed so much that it was almost powdering. While we were working on the project, there used to be pink dust in the sweep. In fact, most of the tissue from the old saree literally got swept away.
Then there are heirloom banarasi chadars made on silk fabric. They were 56 inches wide, and 13-14 inches wider than the current width of looms being set. Probably these looms were set specifically for chadars, so when we started to get these projects we did not have silk in that width and had to do with some smart joining of silks as the base.
Sometimes art collectors also approach us with restoring antiques they purchase from vintage stores which is when this 17th Century cloak reached us, it was a jacquard silk cloak lined with velvet and embroidered with pure silver dabka. The cloak was probably pawned by an old family and had reached a vintage store where it was picked up by a client.
There is a particular saree from the brand's range that features an entire Ram Durbar painted on its pallu. How long did it take for the artisans to complete that piece?
This particular saree was done specifically on order for one of our patrons. It features Shri Ram, Lakshman, Sita and Hanuman with a background arch. The method for making these sarees involves painting on the pallu, using a reference (like you would do for oil paints- making the grid scale), which is then enhanced with hand embroidery.
The style of painting we chose for this piece was monochrome in tones of gold and beige which brought a very brass statue look as one would relate with historical temples. Then it was enhanced with semi-precious stones. The painting took me three weeks, and another three for hand embroidery, with some time for sourcing the raw material as it was important to have stones cut in specific shapes for the jewellery. It was close to three months that it took for completion.
What is the challenging part of estimating the cost of restoration work?
There is more to it than what meets the eye. When we are working on something and realise that we need to do something more to make the work enduring, the cost sometimes increases; then the overheads of sourcing the needed materials pose a challenge sometimes.
In case these cost variations are substantial, we share these with the client and revise the budget, and if it's something we can absorb along, we just proceed. This is slightly tricky for us as sometimes the ensemble to be restored comes with a very unique condition and we also learn on the job.
What do heritage and history mean to you?
We witness a lot of heritage in terms of the family heirlooms people bring to us; we get to discover different art forms which were prevalent. We see how a wedding shawl is part of a family's history, how the shawl had been worn over five generations, and could be passed onto future generations after a revival. We also see how families get heirloom pieces created to add to the treasure of their traditions, how they imbibe the colour and works from black and white photographs or as their grandmother told in stories.
With Netflix's Bridgerton, becoming a hit, people are getting interested in historic costuming. What other factors, according to you, are contributing to the renewed interest in period-appropriate dresses?
I would say that a general interest in period-appropriate dressing is surely influenced by these successful shows and also it derives from an increased awareness of the Gala events where your morning newspaper brings you the best dressed at Met Gala, Oscars etc and then there is Instagram.
The grandeur and sartorial excellence of these outfits have struck a chord with people. The silhouettes are also very complementing and striking, which is working very well at the moment.
Lastly, how would you describe Lucknow of your growing years and Lucknow of today?
Lucknow of my growing years was more like a neighborhood; wherever you went in the city it looked very welcoming and familiar. My memories are etched with giant banyan trees and smiling faces, now it's quite formal.
Somehow the metro lines running through the main city do not help me connect with Lucknow as I remember it. The only thing which the time has not been able to tarnish is the spirit of the people of the city- they manage to strike a small talk in place of a formal hello.