Scenic Road Trips in India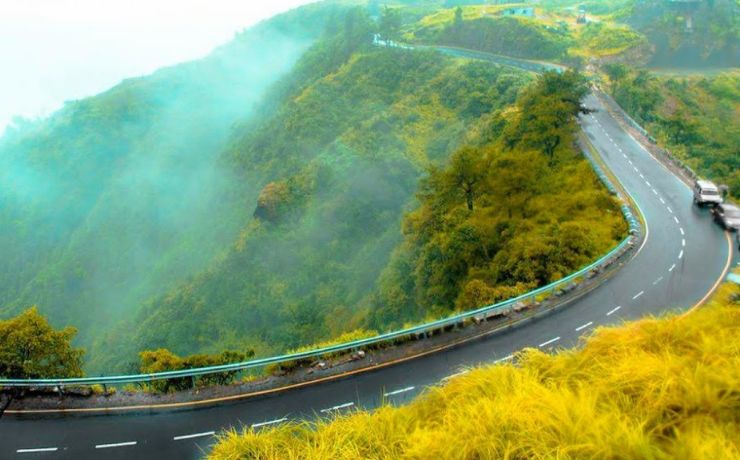 India is home to some of the most beautiful sights and scenic roads. Road trips in India are a great way to explore the country's natural beauty. From the magnificent Himalayas to the golden beaches, many scenic routes will lead you through some amazing landscapes. These are some of the best scenic routes which you should explore.
1. Mumbai-Goa
Mumbai to Goa is one of the best road trips in India. It is also called Asian Highway where you will be able to enjoy some beautiful views as you will pass through dense greenery. It is also the most preferred and safest route with narrow curves, and few toll booths. The routes have paddy fields and coconut plantations along the way.
Distance: 590km. Best time to go: September to March.
2. Manali-Leh
Manali to Leh road trip is a once-in-a-lifetime experience. The journey takes you through some deadly twists and turns, valleys, spectacular landscapes, and snow-capped mountains. Remember the road opens for only 3 to 4 months during summers and the journey takes about 2 days with one stopover for rest.
Distance: 479km. Best time to go: June to September.
3.Vishakapatnam- Araku Valley
The journey from Vishakapatnam to Araku Valley can be covered in 3-4 hours. The journey takes us through curvy roads, serene hills overlooking the beautiful Bay of Bengal, waterfalls, and coffee plantations. You can stop along the way and take some wonderful pictures. You can also visit Borra Caves, Katiki Waterfalls, and Tribal Museum.
Distance: 114km. Best time to go: October to March.
4. Chennai-Pondicherry
Chennai to Pondicherry route is one of the most beautiful roads for travelling. You will see the Bay of Bengal accompanying you on one of the sides. Along with the beautiful view of the sea, you will witness the changing colours of the sun on the water. This route is also called East Coast Road, and it passes through Mahabalipuram which is a UNESCO World Heritage Site. Make a pit stop at this site and enjoy the beautiful beaches.
Distance: 155Kms. Best time to go: October to February.
5. Bangalore-Ooty
Bangalore to Ooty road trip is a call out to all nature lovers. On both sides of the road, you will find tall trees, lush green grassland, and mountains. The route passes through one of the most beautiful and calming forests of Bandipur and the ancient city of Mysore. Along the way, you will find acres of tea plantations, and waterfalls.
Distance: 278km. Best time to go: October to June
6. Delhi-Agra-Jaipur
The list is incomplete without the classic Golden triangle. The route binds the three historically rich and diverse routes of Delhi, Agra, and Jaipur via the Yamuna Expressway and NH8. The entire route can be covered in seven hours, but it can be stretched up to two to three days to visit some beautiful places along the way. Visit the historical sites in Delhi (Mughal Red Fort, Jama Masjid), Agra (Taj Mahal, Agra Fort), and Jaipur (City palace, Hawa Mahal, and local bazaars like Tripoli Bazaar).
Distance: 449km. Best time to go: August to March.
7. Guwahati-Tawang
Guwahati to Tawang is one of the must-take road trips to take in India. The roads are a little rough but at every turn, there is mesmerizing scenery, snow-clad mountains, and lush greenery on both sides of the road. You have must an Inner Line Permit to enter Arunachal Pradesh whether you are an Indian or a foreigner. You can stop over at Dirang to witness the Buddhist culture at Kalchakra, or stop at Tezpur to explore historical attractions.
Distance: 509km. Best time to go: March to October.
8. Mumbai-Mount Abu
Mumbai to Mount Abu is a beautiful route that passes from urban towns to hilly terrains. Along the way, you can experience the different cultures of Maharashtra, Gujarat, and Rajasthan. If you are planning for a longer holiday then explore the towns and plenty of dhabas along the way. As you reach Mount Abu, you will be welcomed with lush greenery and misty mountains.
Distance: 758km. Best time to go: July to October. 
9. Kolkata-Digha
Kolkata to Digha is a favourite weekend trip for Kolkata people. The road is pleasing and lined with greenery throughout the way. Enjoy the drive by clicking some amazing photos all the way. While in Dhiga, spend some time on the beach and witness the spectacular sunset, you can also go for a pony ride along the shallow waters.
Distance: 184km. Best time to go: July to March
10. Ahmedabad- Kutch
A trip from Ahmedabad to the land of the white salt desert is one of the best road trips to go on. Along the route, one can witness the beautiful landscapes, and also the art and culture of Gujarat while riding past the unique huts lining the road. On the way to Kutch, you can see Chari Dhand which is a bird sanctuary and also stop nearby Hodko village to buy some amazing handicrafts and enjoy lip-smacking food.
Distance: 400Km. Best time to go: October to March.
Conclusion
These are some of the beautiful road trips in India that you can either go on a self-drive or plan a trip with your family or friends. All of these road trips have various tourist attractions along the way that can be explored.