Small Space Gardening In Urban Environments
Small-space gardening is a great solution for those who want to grow plants, herbs, or vegetables but have limited outdoor space. Whether you live in an apartment or a small house, you can still create an amazing garden with the right plants, and containers. Dhanush Kumar will help you explore some ideas that help you create a beautiful and functional garden in any small space.
Choose The Right Plants
The first and basic step in small-space gardening is to choose the right plants. Herbs and small flowers are well-suited for small spaces because they are low maintenance and can grow in containers. Herbs are well-suited for small-space gardening as they require very little space and can also be used for cooking. Herbs like basil, thyme, and mint are some popular herbs you can grow. Marigolds and Calendula are the best options for flowers.
Use Vertical Space
In small-space gardening, it is important to use every inch of available space. One of the best ways to maximize your space is to use vertical planters and hanging baskets. These things can be attached to the walls, balconies, and ceilings. Some plants like tomatoes, cucumbers, and peas are quite suitable for vertical gardening.
Get creative with containers
The fun part of small-space gardening is becoming creative with container ideas. There are many options for containers like traditional terracotta pots or repurposed objects like old teacups and jars. You can also use hanging planters, shoe organizers, teacup planters, and tyre planters for your small-space gardening.
Keep it simple
When you think about starting a small space garden, you must keep it simple. Don't include too many plants and make it complicated. Start with small plants that are easy to grow. The main goal of small-space gardening is to create a relaxing and enjoyable hobby. You can try the Spider plant, Jade plant, and Snake plant for your garden.
Enjoy the benefits
See Also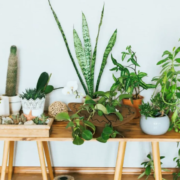 Small-space gardening has many benefits beyond just growing plants. It improves the air quality by absorbing pollutants and reduces your stress levels by providing a calming environment. It gives you immense satisfaction in growing your beautiful plants with utmost care and love.
Repurpose Household items
There is an endless number of options for small-space gardening. You can turn anything into a unique planter that includes old furniture, and tyres or you can even use a bathtub. Use your creativity or you can take the help of an expert gardener to repurpose the items that you no longer need. It is a great way to reduce waste and add greenery to your home.
Conclusion
Small Space Gardening is a sustainable and versatile solution for the city dweller. By using small-space gardening and vertical planting you can easily create a beautiful garden. So what are you waiting for? Start your small space gardening today and enjoy the benefits of gardening!