The culinary couple- Chinu and Christophe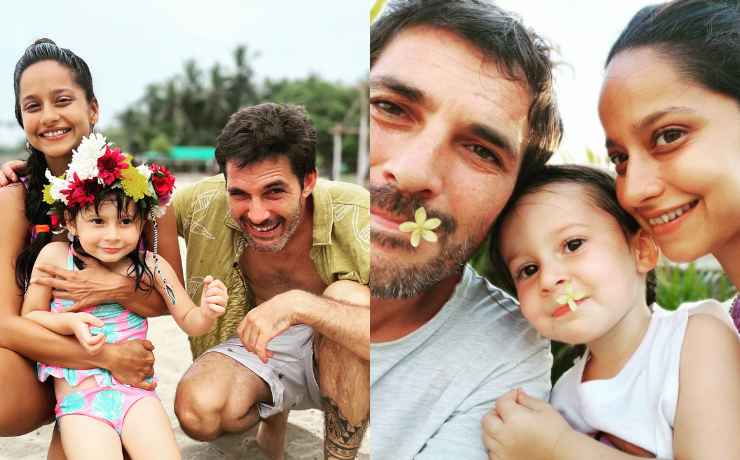 Shilarna Vaze, known as 'Chef Chinu,' & Christophe are the new faces of Indian and Swiss cuisine. They have combined their culinary experience to create a restaurant with the purpose to spread love through their culinary creations. Shilarna Vaze and Christophe Perrin, the well-known gourmet couple in India, in conversation with Surabhi Goel.
Chef Chinu developed an interest in food from the young age of four when she enjoyed eating crab curries in her hometown of Mumbai. Her partner Christophe Perrin, who grew up in the Swiss town of Leysin, learned to cook from his chef father, Roger Perrin, at the age of eight and is also trained as a horticulturist who grew up around gourmet food and foraging for mushrooms and quality produce in Switzerland. The chef duo who work together are known for their diverse range of cuisines, including Mexican, Maharashtrian, Japanese, Burmese, and French.
Chinu, a Mumbai girl is a political science graduate from Mumbai University who decided to pursue her dream of becoming a chef. She completed her post-graduation from Le Cordon Bleu in Paris. "What better place to learn the basics of gastronomy than the world's food capital—Paris!" she says. She added, "I was completely in love with food, and it made me cook to feed myself primarily, and it was my dream to open a restaurant in Goa." With her diploma, she returned to her dream town Goa, where she worked as an assistant chef at high-end restaurants gaining valuable experience and learning the intricacies of running a restaurant as an assistant chef.
Christophe says, "We are foodies, travel buddies, and epicureans by passion. We love to cook together, eat out or hang out with friends over good food and wine! We grew up cooking together for more than 15 years, so we knew how each other worked best in the kitchen." This is where they decided to open their restaurant, Gaia, on Ashvem Beach in Goa in 2010. The name Gaia was inspired by James Lovelock's Gaia hypothesis, which they believe represents their belief in connecting to the earth while cooking. They later moved to Mumbai and started Gaia Home Chef, now Gaia Gourmet, in 2011.
Gaia Gourmet is one of the most sought-after catering companies in the country that serves a variety of high-profile clients, including celebrities and consulates. The company is run by Vaze and Perrin, who personally cook in their clients' kitchens and oversee all aspects of the event, from the crockery to the decor and service. They enjoy the creative and challenging nature of the job and the ability to innovate and adapt to different preferences constantly.
Perrin and Vaze believe that catering is unique in a city where new restaurants are constantly opening because people enjoy being at home in their setup and getting the same level of food in a more intimate and private space. This trend works well for customers who prefer to stay in their area.
Ninja Sushim, a short-lived sushi restaurant in Mumbai, was opened between the period of Gaia restaurant and Gaia catering business. It was the only sushi restaurant in the city and opened when sushi was not famous or readily available in the city. It. Despite its short lifespan, it did well and is still remembered by people. Chinu believes chefs learn best by taking risks and working in busy kitchens. She likes to use local and seasonal ingredients found in Goa to create globally popular dishes with a twist. Vaze told us, "I visit the fish market regularly to see what is growing and what is in season." She also encourages artisan chefs to make entirely different products and use them in their restaurant's food to create a more community-driven approach. She finds this approach to be the most interesting for her.
One of the couple's proudest professional achievements was being named among the 50 people who influence how India eats by Le Cordon Bleu, which they consider a huge honour. As a multilingual couple, food can be a powerful tool to connect people from different cultures and backgrounds. Cooking and sharing meals can create a sense of community and understanding, even if individuals do not share a common language. Additionally, the physical nature of cooking allows for demonstration and hands-on learning, which can be helpful for communication in a multilingual or multicultural setting.
Quick takes-
How did you both meet?
We are a foodie couple who met on the road of life and love. We first met at a rave party in Goa, where Christophe initially thought Chinu was 12 years old and asked for her ID card; she was 25 then. (both laugh) We have been together for 15 years and married for 11 years.
How challenging is working for a couple under one roof?
Chris- It's common for people who spend a lot of time working together in close quarters to have occasional conflicts. In this case, the couple mentions that they fight about work-related issues and have a way of resolving the disputes quickly by not speaking to each other for a short period and then moving on.
Chinu- It's wise for us to separate our job responsibilities to reduce the potential for fights and maintain a healthy work-life balance. It's essential to recognize that after 11-12 years of marriage, it's normal for couples to experience challenges in their relationship. Taking steps to address these issues can help strengthen the relationship.
Valentine's day is around the corner. Tell us what it means to you and what you do to celebrate love every year.
We have no specific plans for Valentine's Day yet, but we are looking to celebrate by cooking a meal together and spending quality time at home.
Chris- We celebrate Valentine's Day by enjoying a meal together, with me cooking and pairing it with good wine. This is an excellent way to celebrate our love and spend quality time together.
Chinu– Chris usually cooks a special meal for me, including lobster and wine. It is good to have spent quality time spent together. We will be doing the same this year.
What inspires you the most about your spouse?
Chris- Chinu is a dedicated woman; she knows how to prioritize her needs and wants above my own. I find her cute and enjoy waking up next to her every morning.
Chinu- Chris is a kind and understanding person who knows when to give people space and when to walk away from a situation. These valuable qualities can help create a more positive and peaceful environment. In addition, I admire Chris for his ability to let things be and not stress over small things. This is a valuable trait in a relationship, as it helps to create a more relaxed and harmonious environment and also helps to take pressure off me.