The Entrepreneur Father-Daughter Duo
Study abroad programs usually leave us in a tizzy with all their details. Father-daughter duo NISHIDHAR BORRA and RITHIKA REDDY chose to tackle this through their start-up University2Go. DIVYA VALLABHANENI gives us a brief.
With the rise of the capitalist crunch, everyone is eagerly looking for one-stop destinations for most of their interests. One of the hot topics to discuss in these times is the future of students, especially those who wish to study abroad. Understanding the need for and importance of having everything curated on the same platform, one father-daughter duo from Hyderabad decided to launch an app called University2Go that helps students with their admission and university needs.
This app, which is currently in its beta stages, was launched by Nishidhar Borra and Rithika Reddy with the aim of providing all reliable information in one place, helping students who are planning their further education abroad. Nishidhar has been an educational consultant since 2001. Armed with that expertise, he soon began helping his daughter's friends with choosing and counselling on what universities or courses are well suited to them.
Soon after, Rithika came up with the idea of starting an app for easier communication and clarification, giving birth to the venture that is now University2Go. "One day my daughter suggested that we develop an app that will help students search for any content using different parameters and an app that is trustworthy and most reliable. That's when we started the Uni2Go, a one-stop destination for global education," Nishidhar explained.
Students can search universities, college fees, languages and explore various other queries using the multiple parameters on which the app is designed. They can compare the universities, chat with experienced counsellors, attend mock tests and webinars and various other online events that will help with their process of studying abroad. "We want this platform to be simple and trustworthy. We wanted to help and guide students in the right way. We designed the app to be the easiest platform for them to choose from and go abroad," Nishidhar added, explaining the features and guidelines on which the app is designed.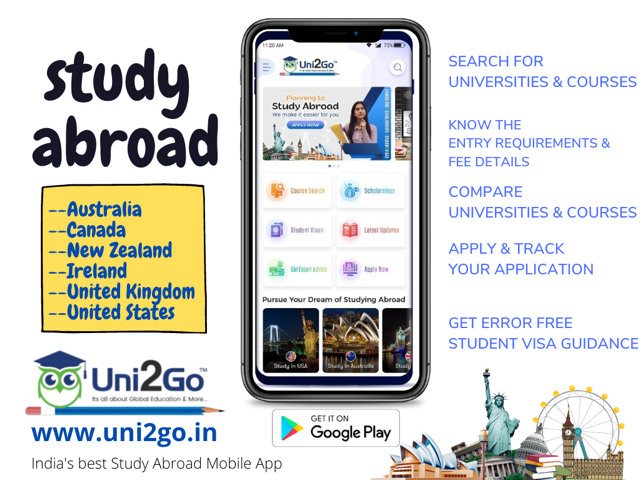 Key Features:
13000+ courses
200+ global universities and institutes
Application and admission
Scholarship search and eligibility check
Counselling support by experts
Student visa guidance
Predeparture support
Out of the many applications, University2Go was selected for the Lab 32 programme at T-Hub and works closely with universities at providing all the information at one's fingertips, sitting at the comfort of one's home. The app also facilitates support for visa applications and allows downloading of a university's prospectus.
See Also

Most innovatively, the app provides sample tests along with their counselling services so students can see which course and university is the right fit for them, especially taking into consideration the student's interest and results. Students can also compare the fees, eligibility and course requirements and make an informed choice based on their interest and advantages. "We want to guide students on which university suits them based on their profiles and be very transparent with this process," Nishidhar elaborates. 
Students can also download the applications from the app directly. The duo is aiming for a minimum of 1000+ downloads within the next two months. "We aim to simplify the student application process," Nishidhar concluded.
With Uni2Go you can:
Compare course and university comparison
Check eligibility for admissions
Shortlist for courses
Connect with university/college counsellor
Avail video and text chat for support