Tiger Shroff Streaming Now
Tiger Shroff is very particular and keen about the types of films he wants to make. Tiger, who is recognised for his high-spirited action sequences and incredible dance talent since his first film, Heropanti, is excited to try something new and different in Heropanti 2. The film directed by Ahmad Khan and produced by Sajid Nadiadwala was released recently. He chats with Lipika Varma about his latest films and more….
What does the film Heropanti mean to you?
I'm very emotionally attached to this title because it is my first film. It has also been a challenging and emotional journey. This title is significant with dad (Jacky Shroff) also, as it was his first film which proved to be a great hit and I had to take it forward. It is a huge responsibility for me and I'm hoping it will be successful. At the moment I'm very nervous as we're returning to the big celluloid after two years.
Does it make a difference when you face cameras after a long time?
Yes, it makes a huge difference, like everything, it requires practice! If you want to be better, you need more experience, and you improve along with the experience, making it easier.
What is your role in Heropanti? Are you only doing the action?
It's a hacker's role. He is very good with technology and computers as he mostly lives in the world of his gadgets and computers. But, he is both fast in action and intelligent too. As I am not at all techno-savvy in real life, I researched and depended a lot on Ahmed sir. I just followed him as he had researched enough for this character.
How was it working with Nawaz? What did you learn from him?
I get nervous while sharing the screen space with Nawaz sir because he is a wonderful actor. He is very intimidating as he has a huge aura around him. With every take, he brings freshness and newness. As a co-actor, I have to be on my toes. I need to be vigilant with his dialogues and understand his pace, he changes his performance as his voice modulation varies. It's helpful for the co-actor because we display a variety of reactions, which you may have thought you'd never be able to do.
Nawaz sir is always serious but he has performed this role very differently. He was totally into the character. It seemed difficult for him to get out of character, in between takes, when we would relish our lunch he would still be in character. It is quite interesting to watch him.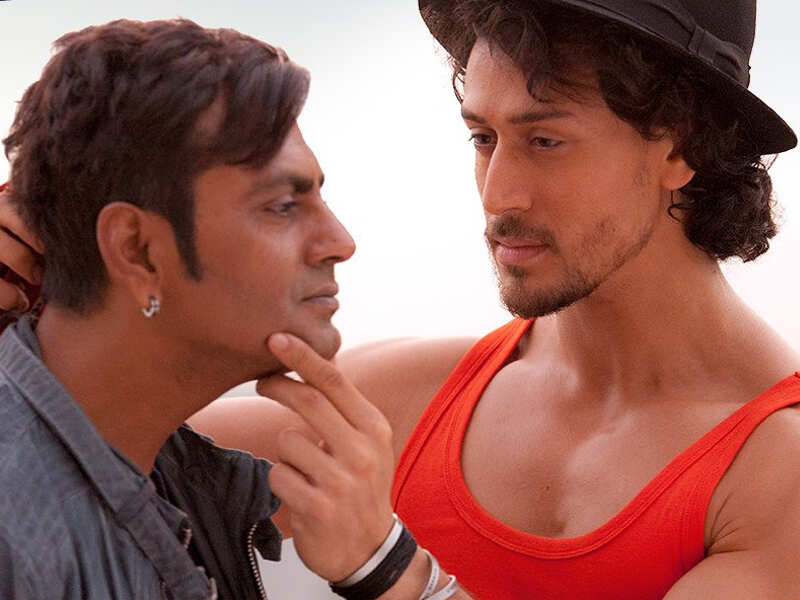 What should fans expect in this film?
There are no similarities between the first one and the second one as the story is different. In this film, you will definitely get to watch different kinds of action. This film can be watched with your children as there is not much violence and bloodshed. The story and action shouldn't be looked at as gruesome, but rather as an artistic and aesthetic action, which can be seen in every frame.
Quick questions-
What has Tiger learnt from stardom?
Along with stardom, you also get a certain sense of responsibility and understanding also. As an actor, I have instilled more confidence in myself. As stars, we are always under the limelight, although we don't always come across positive things, certain negativity also has to be dealt with.
How do you take the social media comments?
See Also
I read the comments definitely, as I get to learn a lot from them. In today's time, on social media, anyone can write good or bad without even thinking. I would have gotten affected earlier but now I'm very used to all those comments. I try to evaluate and understand if it is hate or not. I appreciate comments which are constructive criticism.
What are your future films?
Ganpat with Jacky- Bhagnani, Rambo and then with  Akshay Kumar- Bade Miya Chote Miya
Recently, Shri Amitabh Bachchan tried Tiger's kick style. How did it feel?
It's a huge thing for me! Amitji is the original action hero, the angry young man of his time. I am inspired by the way he is dedicated to work and success, someday when I reach that age, I hope to have that kind of energy.
What did you do during the lockdown phase?
I started singing classes during the lockdown period. The entire industry had organized a concert on zoom. Karan [Johar] sir told me to sing as he had watched a singing video of mine on Instagram and he thought I sang well. I sang a number from the film, 'October' and received a lot of love and appreciation for it.