Worldwide Developers Conference ( WWDC) is one of the most popular tech events held every year by Apple where they showcase latest innovations in software and hardware by unveiling its latest software updates for their existing products like iPhones, iPads, etc. Aniket Pande gives you the popular takeaways from the event.
iOS 16
The first feature Apple introduced was iOS 16, their most recent software update for iPhones. This time around, iOS 16 included significant visual updates, particularly to the lock screen. The newly redesigned lock screen now offers a variety of personalization choices, including the ability to add widgets and alter backgrounds by selecting from a variety of designs. The focus mode may now be accessed directly from the lock screen, allowing for the creation of various lock screens based on the selected mode. The Messaging app now allows users to edit and recall sent text messages; however, the time limit for recalling a message is just 15 minutes after it was sent. Additionally, users may now watch videos within Apple's iMessage app via SharePlay. Multi-stop routing has now become available in Apple Maps. Another new feature is Family Sharing, which allows customers to share their Apple subscriptions with up to five family members. Apple also announced iCloud Shared Photo Library, a shared photo library that may be joined and contributed to by up to five users. The iOS 16 upgrade is planned to be ready in September for iPhone 8 and above devices.
MacBook Air and Pro 2022 with M2 Processor
Apple also launched two new upgraded MacBook models, the MacBook Air and MacBook Pro 2022, both of which are powered by Apple's all-new M2 CPU. The M2 processor is only a small boost over the M1 processor from last year, with an 8-core CPU and a 10-core GPU. The new 13-inch MacBook Pro, on the other hand, had no design modifications, but the main event was the unveiling of the new MacBook Air, which features a larger and brighter 13.6-inch display with a notch at the top holding a superior 1080p webcam and will be available in four colour options. MacBook Air M2 starts at a price of Rs 1,19,900 whereas the 13-inch MacBook Pro M2 starts at Rs 1,29,900.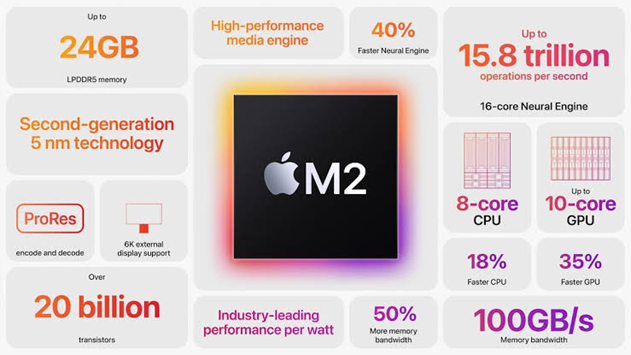 macOS Ventura
macOS Ventura is a new version for Apple's MacBook series that includes a number of new features. The Stage Manager is a brand-new style of multitasking that puts the app on which a user is working front and centre while also allowing users to rapidly transition between other apps, which is a great productivity boost. Apart from this, there's one more impressive feature which lets an iPhone camera be used as a MacBook webcam.
iPadOS 16
Just like MacBook, the new iPadOS 16 brings the Stage Manager feature to the iPads as well for an enhanced multitasking experience. Apart from this, there are a few minor improvements in the Files app and there's also a collaborate feature which lets multiple users share Safari browser tabs and do other tasks as well. iPadOS 16 will be available for iPad 5th Generation and above devices.
watchOS 9
The latest watchOS 9 update for Apple Watches didn't offer significant changes, but it did include some new health-tracking features, such as the ability to track sleep stages and medicine reminders, which allow users to set reminders for their medications and keep track of them. watchOS 9 will be available for Apple Watch Series 4 and above devices.