Reinventing the nightlife of Hyderabad
Live music is the new rave. Gone are the days of EDM and noise music; clubs are now seeking out regional bands to liven up their dancefloor. BLUMA HIWRALE reviews four such bands, whose music has been making Hyderabad dance the night away.
Notes for the Night
Jammers
The magic of classics never fades away. A homegrown band, Jammers have been regaling their listeners with regional covers since 2018. Band members Krishna Tejasvi (vocals), Chinna Swamy (guitar), Shashank Bhaskaruni (drummer), Jagadish Chintala (bass guitar), and Naren RK Siddartha (keyboard) have performed at more than 150 gigs and fests, setting the bar high with their appearances on shows such as Star's Maa Parivaar Awards and Zee's Sa Re Ga Ma Pa.
The five-member band stands apart for their skill in blending Carnatic kritis with commercial Telugu songs.
Their creativity stems from their varied musical training. "I am trained in Carnatic music for more than a decade, and the other mates are trained in different forms of music like western. Hence, we tried to blend them as it sounds unique and interesting," adds Tejasvi, noting the Bengaluru-based band Agam as their source of inspiration.
2021 has seen them release two original compositions to the delight of their fans. Valalo is a retro melody, while Bird's Eye is revered for its lyricism. Talking about the process of composing the songs, Tejasvi says, "Lockdown was hard, but it gave us the time to complete our original compositions that were always on the cards. We received a good response, and we are looking to compose more original compositions shortly. We are releasing our songs on different platforms and building our fan base in other places."
The lockdown did not stop Jammers from engaging with their fans. With gigs on halt, they took to social media, releasing 25 jam sessions under the tag #QuarantineJamWithJammers, which were widely received by their growing audience.
The most requested songs continue to be from their covers of Ilaiyaraaja and AR Rahman – their millennial twist breathes a fresh breath of air into these songs of old. It is their fans the band appreciates the most, thanking them for staying by their side for three years.
Through independent music, we can cater to a large scale of audience across the globe.
Merakee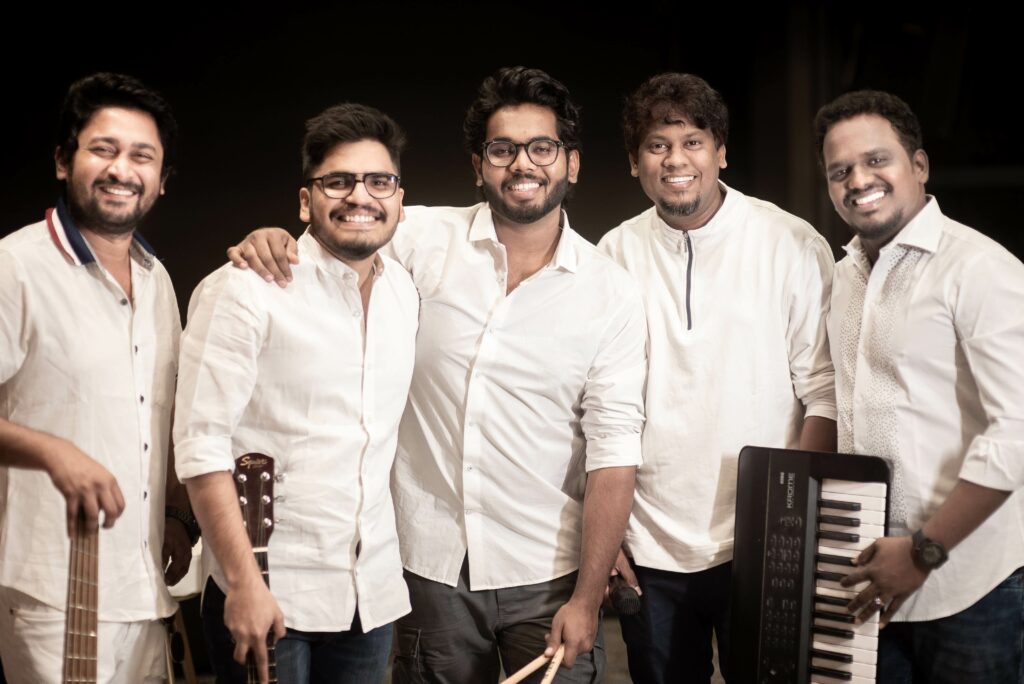 This five-member band strives to live up to their name, channelling their passion and soul towards the music they create. With experienced musicians such as Ganesh Krovvidi (vocals), Manohar Sujith (guitar), Vishal Prodhutu (drums), Elia Kondamundi (keyboard), and Rithvik Premdas (bass guitar) at the helm, Merakee has been able to bring Telegu songs to the wider public.
In search of a different sound, lead vocalist Ganesh Krovvidi exited his previous band Capricio in 2017. "I even thought of switching careers; I didn't have plans on starting a band again. Now I can't imagine life without music," adds Krovvidi. With him is guitarist Manohar Sujith, who works for musician and composer Mickey J Meyer. It is this deep level of experience that Merakee exhibits that set them apart from other regional bands.
When they first began, the band was faced with a lack of audience at their shows. Now, Merakee boasts of a huge fan base in the city and has gained the attention of the public.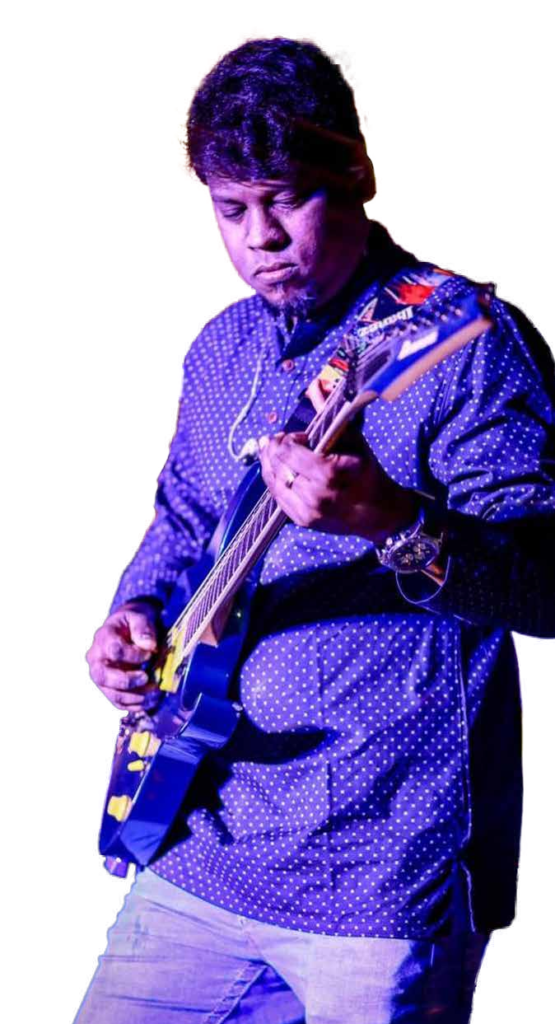 A popular segment hosted by the band is 'Micless with Merakee', where the audience is the performers. What began as a way to ensure the growth of Telegu music is now a crowd puller, with a set of regular fans showing up to these sing-along sessions.
2021 saw Merakee exciting new avenues. They were featured on the popular talk show Sam Jam, where they performed live for stars Naga Chaitanya and Samantha Akkineni. The band loved the experience, noting how they were recognized more widely after the show. "The primary challenge was to sing only Aditya Music songs, and we had less than a day to practice," says Krovvidi. "We recreated Naga Chaitanya and Samantha's tracks to entertain the couple. It was an honour and beautiful experience to perform for them," says keyboardist Kondamundi.
Currently, Merakee is working full swing on their original compositions and is looking forward to releasing new music soon.
Very few tables were interested in listening to Telugu songs, but within eight months, we started picking up; we're a full house now," says Krovvidi
Band Elyzium
One of the youngest bands in the city, Band Elyzium has Hyderabad hooked to their sound, delving into multi-genre classics alongside the latest on the charts. Launched just a short three months ago, the band seeks to deliver as its name promises – a paradise for music at their shows. 
Previously part of Capricio, Dinker Kalvala (vocals), Kaali (drums) and Anurag Netha (band manager) regrouped to form a new band, with a clear focus on original compositions and collaborations. Together with Vidhya Sagar Nagavelli (drums and percussion), Charan NVS (keyboard) and Richard Madella (bass guitar), the nascent outfit has already released two original compositions, setting a tough to match benchmark for their contemporaries.
While most of the team has a strong experience with the music scene, Kalvala is a familiar face, having made his debut as a playback singer in 2011. To date, he has lent his voice to more than 200 Telegu songs and has received industry accolades for the same.
Kalvala says the band's primary focus is to deliver the best output and great sound production. He adds, "We are not compromising on music. We aim to deliver the foremost output to the audience. Once we give the best to the audience ears, they will come back to our shows and won't turn back."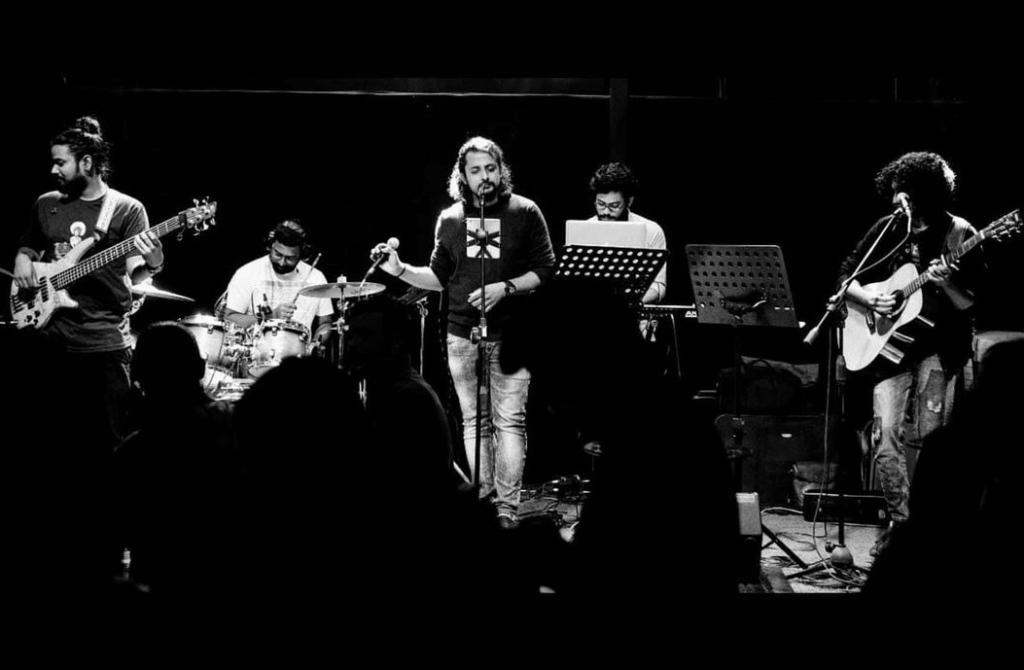 Through collaborations, Elyzium wants to bring a sense of newness and freshness to their shows. The band once collaborated with a choir on stage, making them the first band in the city to do so. "I wanted to form a powerful and tight band which will take a lot of time for the local bands to match," says Kalvala.
See Also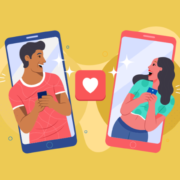 Their maiden gig at Tabula Rasa saw a full house, which was unexpected by the band itself. Kalvala sums it up, "We're grateful for the love and support we've received from the audience and the venues."
Although nascent, the band has already garnered accolades from their contemporaries as well as industry artists. They continue to engage with their audience and perform live throughout Hyderabad. We can expect tons of collaborations, original compositions, and avant-garde music from the band in the days to come.
We formed Elyzium with great triumph. In three months, we hit 8k followers on Instagram, which was a major boost
Taarey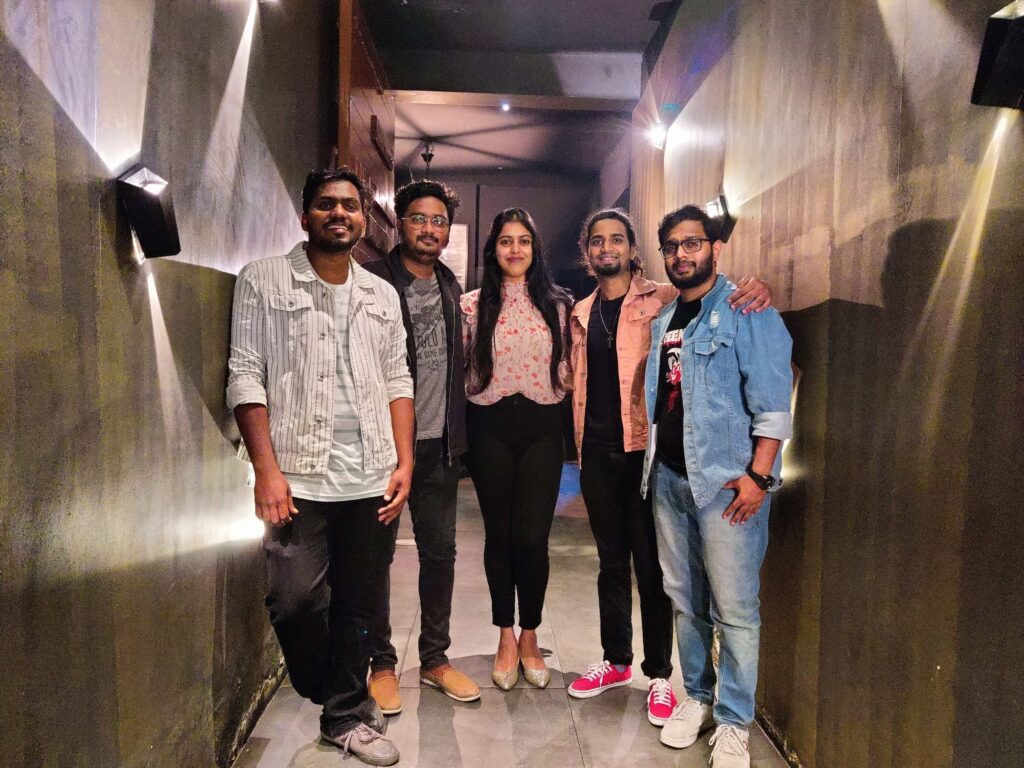 This young band began as a duo in 2018, with Rohit Nallala (vocals and guitar) and Simon Induri (drums and percussion) seeking to play their music to willing crowds. Their first show at Moonbean was a turning point, allowing them to expand the outfit to what it is today. Now, the five-member band also includes Shravan Inovolu (bass guitar) and Abhyuday (keyboard). The lockdown saw 2018 'Paduta Teegaya' title winner Sree Poornima join the band as a vocalist.
Having two vocalists is just the icing on the cake. Taarey is one of the very few live bands with a fusion of female and male vocalists, making their sound unique and outstanding.
Talking about their journey, Simon says, "It was a herculean effort to get recognized; we went from pillar to post looking for a platform. We waited for long hours at different venues. We have done free shows to showcase our talent. At times, there was barely a handful of the audience watching us. There have been many musicians who came in and exited from Taarey due to commitment issues and lockdown. Rohit and I have been the pillars of Taarey in such times. Our passion for music did not let us give up."
Taarey regularly plays three gigs a week at venues like Amnesia, Moonshine, and Prism. They have also performed at the Economic Times Award show, enthralling the audience with their tunes.
We did not have support or contacts to make the climb easy. It's a different struggle until you make a mark."
On a more personal front, the band openly speaks about the difficulties of juggling their employment with their passion. Says Simon, "Time management has been a hardship for the band as most bandmates are IT employees. We work on weekdays and gig on weekends. We also have family responsibilities to fulfil. For us, music is life, and playing for gigs is our passion. I love being on stage and entertaining the audience." He adds, "The whole journey is a roller-coaster ride; from playing for zero crowd to having a packed house audience, from knocking doors at venues to venues approaching us, we have come a long way and it's a colossal achievement for us.''
Taarey has already released 4 originally composed tracks and are looking to expand their horizons with their upcoming ventures. For now, they want to continue performing across various platforms and regaling their audience. Their journey is an inspiration for up-and-coming bands in the city.