Latching onto a Muse – Santhanam Krishnan
Doors are the route to the lives beyond them. Doors with colors smeared on them on festivals, sandalwood and turmeric paste and decorated with dots of vermilion…
Santhanam Krishnan grew up with such memories. The doors in his childhood hometown seemed to vanish as he moved to the city and he decided to stay with them through his art. It has been 21 years now, and Santhanam's paintings have been on display in art shows across the globe. In our fast-moving world, these paintings are like a reminder to slow down and smell the roses. He chats with Nivedita Rao on his preferred muse, and how he sees it as a piece of story that everyone wants to carry.
What moves you so much about doors that you decided to choose them as your muse?
In my hometown Kumbakonam, the doors are colorful and they have stories too. They depict the lives of the people behind them. That is how I started doing paintings with doors as my muse. Some doors open to a Tulasi plant. Some doors have a movie poster behind them. Some older doors have numbers such as P87 depicting the Polio drop immunization. It is also a journey to simpler times when copper vessels were used to boil water. The current era we are again drinking water from copper bottles. So it is a commentary on our lives.
And when they see my paintings with boilers—copper vessels or glasses, it connects a person to a story from their childhood, like it did for me. I registered everything from my childhood. Also, I believe that a painting is not a decorative piece, or a piece of furniture. You want to connect it with something.
Doors are a very evocative subject. What kind of a response do you get when people own your paintings?
Everyone has some story associated with an element of my painting. It could be anyone from any strata of the society. I have buyers in India and Germany too. A German recognised MGR from my painting and wanted to purchase it. He liked the cooling glasses and the cap. Even my driver goes back to his childhood when he sees my painting. Another interesting incident is when an Indian hotel owner in Berlin bought my painting to help calm down anxious customers waiting for their seats.
See Also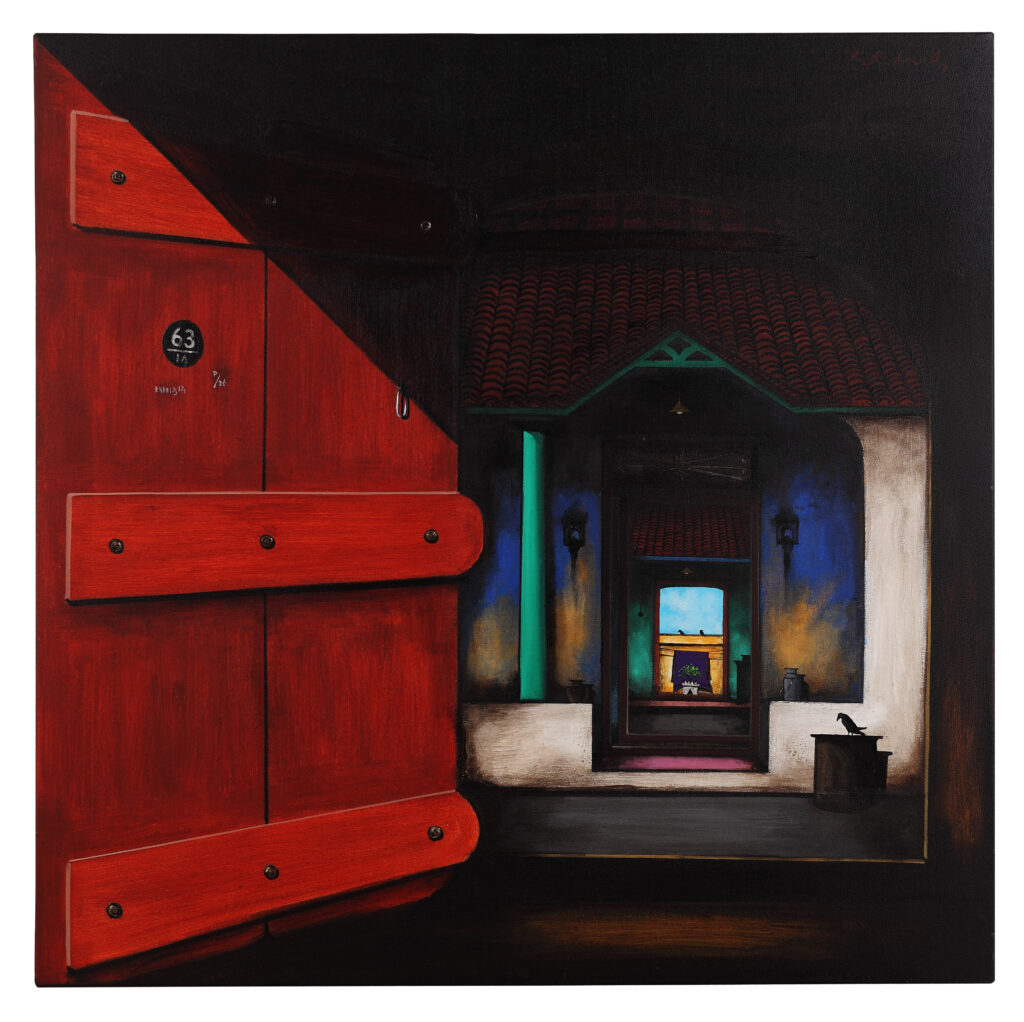 Has the pandemic affected your work in any way?
The pandemic has in fact increased my work by four times and people who are sitting in their houses, especially abroad, plan their interiors and reach out to me. Though I miss travelling, I feel art is therapeutic and has kept me going.
Santhanam hopes to reach out to more people with his paintings and also started a homestay in Kumbakonam to invite people to the temple town and explore the various flavours of the town and relax and paint.