The Artist with a Golden Heart
Ace artist MG Doddamani, in a conversation with Surela Chakraborty, reveals how he intends to pave the path for young artists to grow and convey positive messages through his work.
Sifting through the dreamlike paintings by artist MG Doddamani has a calming effect. While the vibrant colour palette of red, green, and yellow brightens up the mood, it does not take away the serene aura imparted through the figure of the monk deep in thought. The golden light shining down on the monk's face creates a meditative stillness and effectively brings out the central theme of his recently concluded solo show 'Introspective Meditation' held at the Manjushree Khaitan Foundation Museum of Art. We learn more about his styles, themes, and beliefs.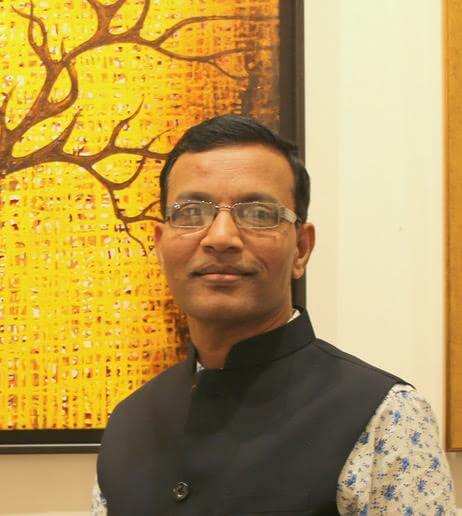 Prominent Themes
He has been working on the Buddha series for a while now to express the decline of nature caused by man's unbridled avarice. He started painting this series to express his grief over the destruction of the Bamiyan Buddha statues in Afghanistan. The monk is a symbol of his belief in the Buddhist philosophy of 'Middle Path' and conscious effort to spread positive energy by being a better version of oneself. His works reflect the constant struggle to find inner peace, which has become priceless in these turbulent times.
The deer is another recurring figure in his work and a symbol of all the living beings in a forest. This soft and sensitive animal is a reminder of how man is destroying the forest and occupying more space than necessary. The helplessness of the deer is prominent through its various figurative interpretations. The figure of the deer looks at a bleak future where extinction is inevitable if environmental destruction continues unabated. The deer is also a reminder of Lord Buddha's respect for mother nature and effectively conveys the relevance of Buddhist teachings in the modern era.
Having completed his BFA with first rank and a gold medal from Gulbarga University in 1990, he went on to get his MFA from Visva-Bharati University, Shantiniketan in 1992. He started his art journey in Bangalore by setting up and running Images Gallery, one of the prestigious art galleries of Karnataka, for more than a decade.
Fondly remembering his art education at Shantiniketan, he informs, "The teachers there taught us how to be analytical about our work. While discussing our work, they always questioned the purpose of making a particular choice. This taught me to have a logical approach to art. I was also inspired by the natural beauty of Shantiniketan." The 'romanticism' associated with the Bengal School of Art often finds expression in his style.
Painting the Pandemic
His recent work is an extension of the artist's peaceful demeanour and down to earth nature. Being a figurative artist, all the men and women in his work have a calm disposition. It is through the monk in reflection the artist expresses the human quest for inner peace, harmony and self-realization in a world riddled with challenges. His Buddha paintings emit positive energy, using light that emanates towards those who seek happiness, peace, and elation.
This same aura is reflected in the works he created during the pandemic; as the situation persists, these paintings depict the resilience despite facing life changing experiences and challenges, providing some hope and help to keep pain at bay. As an artist, the moment he stood in front of the canvas to paint, all worries melted away as if it was like meditation for him. Thus, he aptly titled his artwork for his recent solo show as 'Introspective Meditation.'
Having concluded the solo show, he is presently working on paintings which is an extension of the Buddha series where he aims to shows how technology has overtaken human lives. Doddamani also plans to create massive environmental themed art installations, sculptures, and murals in open public spaces where everyone can access his artwork. He believes, "As artists, we are inspired by the society at large. Through our paintings, we can create awareness for social causes that afflict the society today. I work towards peace and harmony through a play of light in my artwork, to display the positive energy that will help create an all-inclusive world, for humans, animals, and the whole of nature."
Apart from paintings, he has also created sketches of ordinary men and women to capture their emotions during the pandemic. These sketches portray the class divide and disparity in society, capturing the resilient spirit of humans in the face of crisis.
He has worked with various mediums like water colours, acrylic and oil on canvas, charcoal, and mix media to create drawings, murals, and installations. Using a double framed canvas gives him the freedom of expression and enables him to bring out the character of each medium.
The illustrious artist has truly led a rich life, having received awards and accolades from The Central and State Lalit Kala Academy, the State and National AIFACS and the Camlin Art Foundation. He has participated and conducted many state, national, and international art camps and has been invited as jury for many prestigious art competitions. He is the visiting faculty at Davanagere College of Visual Arts, Karnataka and Chitrakala Parishath, among others. His works are in government museums, and private and public collections, India and abroad.
Notable Shows
Solo
Shantiniketan (West Bengal)
Right Lines Art Gallery (Bangalore)
Clour Crew Gallery (Pondicherry)
Museum Galleries (Mumbai)
World at Astana (Kazakhstan)
Group
"Korea & Karnataka" (Academy of Fine Arts, Kolkata)
"Chitrayatra" All India Touring Exhibition (Karnataka Lalitha Kala Academy, Bangalore)
"Delta" (Venkatappa Art Gallery and Ravindra Bhavan, Bangalore)
"Human Form and Art" (National Lalit Kala Academy, New Delhi)
Group Show (The Gallery Chennai, Hongkong)
International Artist Camp (Central Lalit Kala Academy)
"Metaphorical Spring Image" (Gallery Leela and Sir J J Gallery, Mumbai)
"The Harmony Show" (Reliance Group, Mumbai)
Inaugural Show (Reflections Gallery, Hong Kong)
"Indian Art at London" (Maya Art)
"Indian Art" (Art Mantram, Paris and London)
"Indian Art" (Kynkyny, USA)
Kala for Vidya (Rotary Club, Taj Westend Bangalore)
Oorja Exhibition (Taj Westend, Bangalore)
"Unbound" (Oorja Online Art Show)
"The Kisans" (White Rose Online Art Show)
Art For All
Today, he works as a mentor to art students at his Indiranagar studio. He guides people of all ages and provides hands on knowledge to those who have just completed their art education by showing them the right way to hold exhibitions. This not only makes them self-reliant but also gives them the right direction to take their career forward. It is not surprising that many of his students have become artists of national and international repute. Some have successfully pursued careers in interior design, architecture, art, design, and animation after graduating from leading universities abroad.
He explains, "When I see students wanting to pursue higher education in arts, I always encourage them by helping to create their portfolio. It gives me immense happiness to fulfil someone's dream." Young and upcoming artists have his heart, especially the talented ones hailing from remote villages. As a curator, he ensures that the works of upcoming artists find enough space alongside established names in the art world.
Through his exhibition 'Oorja' he encourages several young and upcoming artists and students just out of college to participate alongside senior artists and gives them a scope to interact with the art fraternity. His own students conduct the exhibit. In 2020 he curated the 'Oorja Unbound' online art exhibition during the lockdown period of the pandemic, which showcased a two-minute video of each participating artist engaged in their creative work; they reached a huge audience through social media. It was an innovative way to introduce and promote new artists on a public platform since viewers could not interact directly with them due to the lockdown.
Future Plans
This year too he plans to curate another edition of the online art exhibition. He explains, "I felt bad seeing artists suffer during the pandemic and wanted to do something for them, so I came up with the idea of hosting an online art show. Online is a good platform these days, providing greater reach. I also want to enable students who complete their art education develop a bright future in arts." Keeping up with name— 'oorja' means energy or potential—this initiative provides more than just encouragement to talented artists, creating life changing experiences for them. As an artist, he truly believes in recognizing a talented artist at the right time goes a long way to add value to the art community. It is beneficial to both connoisseurs of art and the artists themselves. He strongly believes in working together and moving forward.