Top 10 Youngest Billionaires in India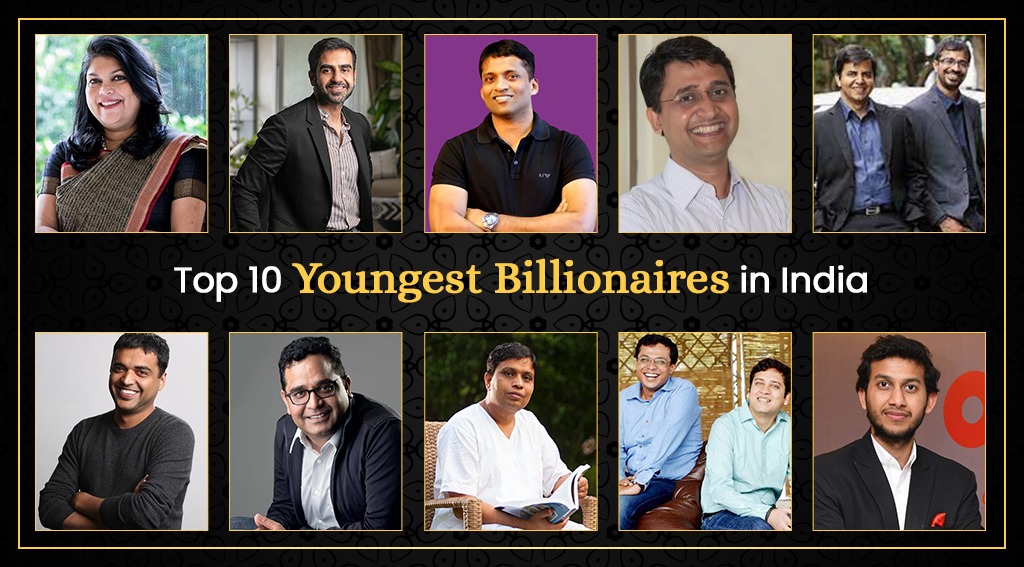 Millennial Billionaires of India – History in the Making
India is the world's second-largest populace and a fast-developing economic system in recent years. The twenty-first century has seen various entrepreneurs emerge across every region of India, each intending to provide a flourishing future for their fellow Indians. As such, diligence and perseverance are two important factors that help steer one towards accomplishing their goals.
It is said that 'Believe in yourself and you can achieve wonders.' Several individuals have taken this statement to heart. Their persistence towards creating ergonomic inventions has led them to achieve their goals. Hashtag introduces you to the young millennial billionaires of India who have taken off to an early start towards making their mark.
Top 10 Youngest Billionaires of India
Meet the people who have written their names in the book of success. Here we present to you India's youngest billionaires.
Falguni Nayar:
The youngest female billionaires in India adds a new name to the list and it is Falguni Nayar.
She started Nykaa, India's first billionaire business led by a woman, in 2012, offering cosmetics and personal grooming goods through its app and webpage.
Falguni has always been vehement about establishing a business of her own. After brainstorming her options for 2 years, in around 2011, she decided to become a multi-brand shop in the cosmetics industry. She was 49 years old when she resigned her job and founded Nykaa in March 2012.
Times immemorial, Nykaa's reputation expanded, so did its branding value, with prominent Bollywood stars like Katrina Kaif, as well as other public figures and stars, assisting the e-commerce site in blazing a trail in the cosmetic and beauty bags sector. Starting 2015, the business has also created its own brand of items and has lately begun retailing clothing and home goods. Boasting 80 outlets in 40 cities, it has a rising upmarket influence.
Moreover, Nayar tops our list, with a gigantic net worth.
Age: 58
Net worth: 48000 crores
Educational Qualification: Post Graduate from IIM Ahmedabad
Nikhil Kamath
This 35-year-old entrepreneur simplified trading through a platform that is called 'Zerodha.' In one of his interviews, Nikhil talked about how he disliked going to school and dropped out at 14, with the primary aim to make money. along with his friend, he started selling mobile phones, which infuriated her mother and they had to end the business. Later, in 2018, he began trading stocks and that is when everything changed. he received some his savings from his dad and moreover his dad believed in him.
In 2010, Nikhil and his brother, Nithin Kamath, integrated their savings into making Zerodha.
Zerodha is a firm that promises to tear down the cost, assistance, and technological barriers that stock investors encounter in India. Nikhil is also the creator of True Beacon, an investment firm that aspires to provide a network of innovative trading vehicles, asset management and consulting services, financial markets assistance, and customized programmes for professional investors.
Age: 35
Net Worth: 24,000 crores
Educational Qualification: Dropped out
Byju Raveendran
Having to educate more than 30 million students across India with an app has proven to be a thriving success, brought about by mastermind Byju Raveendran. Byjus, an application that educates students from kindergarten to 12th grade, was launched in 2015.
He made it to Forbes India Rich List of being ranked the 72nd richest man in 2019 and also became the authorized sponsor for the Indian cricket jersey. Sharukh Khan is their brand ambassador. Byjus is among the leading digital educational apps.
Age: 39
Net Worth: 22,500 crores
Educational Qualification: Graduated as a Mechanical Engineer from Government Engineering College, Kannur
Amod Malviya
Technology has become all-encompassing in our daily lives. By harnessing innovation, Amod Malviya has contributed significantly to the Indian digital enterprise. Amod alone has reinforced the miracles of innovation as the co-founder and programmer of Udaan, a company that is reinventing B2B trade in India. He has also worked as ApnaPaisa's vice chairman of engineering. Amod has demonstrated that a person with technological knowledge can strike it large as a businessman through his interventions.
Age: 39
Net Worth: 13,000 crores
Educational Qualification: Graduated from the Indian Institute of Technology, Kharagpur
Bhavish Agarwal and Ankit Bhati
These are the men behind the app that made travel easy, economical and adaptable. If you guessed Ola, you are right!
Ola is the product of the strenuous effort and consistency towards making the travel platform feasible for the normal population. This app culminated in a watershed moment in the evolution of the Indian economy. Ola is among the country's rapidly growing companies. Bhavish Aggarwal has been the standard-bearer of Ola Cabs. He is in charge of client and associate interactions. Ankit Bhati is in charge of the firm's technological elements.
Age: Bhavish – 36; Ankit- 34
Net worth of Bhavish Agarwal: 3500 crores
Net worth of Ankit Bhati: 2400 crores
Educational Qualification: Graduates from IIT Bombay
Deepinder Goyal
India is a country where people are junkies for food. What's more enthralling than receiving food that you like right at your doorstep. This wish was fulfilled by Goyal when he established Zomato.
Deepinder Goyal is the creator of Zomato, a company that delivers meals from eateries to homes around the city. Foodiebay was the firm's title when it first launched in 2008, but as it achieved fame in 2010, it was rebranded as Zomato.
Age: 38
Net worth: 2,200 crores
Educational Qualification: Graduate from IIT Delhi
Vijay Shekar Sharma
Simpler payments, easier transactions – online payment forums have made payments easy. One such platform is Paytm and it is the result of Vijay's ingenuity.
Paytm has approximately 400 million users and processes 25 million interactions every day. According to Forbes, he is among India's youngest billionaires. In 2020, he was quoted by Forbes as the 62nd richest person in India.
Age: 43
Net worth: 230 crores
Educational Qualification: Bachelor's from Delhi College of Engineering
Acharya Balkrishna
Patanjali is among the most prominent of ayurvedic brands in India, which is user-friendly for all its customers. Whilst Baba Ramdev is seen as the brand ambassador and co-founder, the brainbox of the brand is Acharya Balkrishna.
The duo launched the Divya Yoga Pharmacy in Haridwar in 1995 and that is when it all began. In 2006, the men teamed together once more to establish Patanjali, an FMCG startup. Balkrishna has truly propelled his organisation to unprecedented levels. Patanjali items may now be purchased across all significant e-commerce platforms.
Age: 49
Net worth: 230 crores
Educational Qualification: Graduated from Sampurnanand Sanskrit University, Varanasi
Sachin Bansal and Binny Bansal
Sachin and Binny Bansal are the co-founders of one of the most extensively used digital shopping platforms, Flipkart. The story of these 2 men is quite different from any others.
People usually tend to anticipate that they are brothers, which they are not. Sachin and Binny, both have been graduates from the same college, but they've known each other once they moved to Bangalore for their work. However, in the latter part, they became colleagues at Amazon. The IIT graduates eventually, did observe the shifting technological trend and saw the possibilities of e-commerce. Soon, they pooled in money and set up Flipkart in 2007. Since then, there was no turning back. From co-workers to co-founders their journey has been compelling.
Age: Sanchin – 40, Binny- 40
Net Worth of Sachin Bansal: 100 crores
Net Worth of Binny Bansal: 130 crores
Educational Qualification: Graduates from IIT Delhi
Ritesh Agarwal
Ritesh Agarwal, 28, is among the youngest executives at his firm, OYO Rooms. He is also the company's creator and CEO. Ritesh quit education and he joined the Thiel Fellowship, a programme financed by billionaire internet entrepreneur Peter Thiel to offer funds to a select group of teenagers exploring entrepreneurial ideas.
In 2012, Agarwal started his first startup, Oravel. The startup, which was an Airbnb, changed its name to OYO. In a place where affordable hotel chains are scarce, Oyo has established a system of 4,200 modest hotels in 152 cities throughout India, reserving a million stays every month. For customers travelling across the country, the firm offers a way to reserve inexpensive, standardised lodgings.
Age: 28
Net worth: 110 crores
Educational Qualification: College dropout
These 10 are the youngest billionaires of India. It is a proud moment for us to have the founders of these forums setting their base within the country.