Resurrecting the Art of Naga Tattooing
Morangam Khaling (Mo Naga or Mo), a member of the UIPO Naga tribe from Manipur and a fashion apparel graduate from NIFT stumbled upon tattooing during college and was intrigued. After researching its significance, he began studying and travelling to remote villages in North East in 2012 to learn more, eventually dedicating himself to preserving the art form. In conversation with Surabhi Goel, he shares his journey of reviving Naga tattooing.
Mo explains that while there is now ample information available online about Naga tattooing, he began researching the art form in 2007 when information was scarce. He espouses the notion that traditions are serving as vital identity markers, abound across India, and tattoos are not an exception. They serve as powerful expressions of one's status and culture and convey narratives about their persona.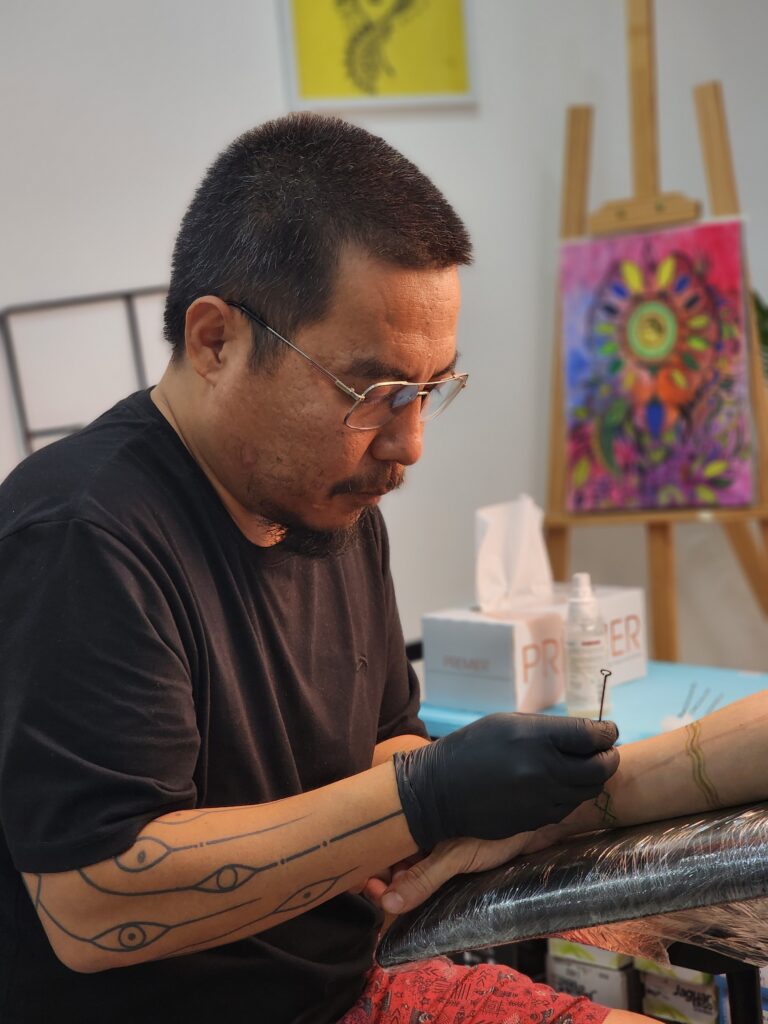 In the present era, grasping the significance of tattoos, and how they contribute to the formation of our cultural expression and identity, is crucial. Previously, tattoos had been relegated to insignificance. However, Mo Naga is determined to create awareness and promote the recognition of their importance. The fruits of his labour are becoming evident, with scholars and students increasingly studying this art form, bringing it to the forefront as an indispensable component of India's cultural heritage.
Mo Naga's approach to incorporating traditional tattoos into his designs involves a deep understanding and appreciation of the art form's significance in the identity, culture, and expressions of the people. He endeavours to disseminate awareness among those who have discontinued tattooing due to societal influence, which has deemed tattoos to be insignificant in the context of modern-day living. He is meticulous in his approach to avoid appropriating or weakening the integrity of the art, instead inspiring individuals to delve into their ancestral heritage. To achieve this goal, he engages in extensive research, travel, and communication to grasp and manifest a creation that respects the people's sentiments. One can find him on Instagram as Headhuntersink. 
The artist clients are a selective group of people who are culturally aware and seek to express themselves in a meaningful way. His tattoos are inspired by the wisdom, knowledge, and lessons passed down by ancestors over hundreds and thousands of years. Despite our modern advancements, Mo Naga believes that we still crave connection and community. His clients come from various parts of the world and relate to his work. The tattoos that he creates convey a way of life and philosophy, and the aesthetics of it reflect the majesty of nature.
Although Mo Naga was once known for his realistic tattoo styles, he has shifted his focus towards promoting traditional art and its importance. Over the past 8-9 years, he has been spreading awareness about traditional art and tribal tattoos, which he specializes in. However, he is still happy to take on special requests from clients who have exciting ideas or want to express themselves through a tattoo that may not be traditional. Despite his main focus being on traditional tribal tattoos, Mo Naga is always happy to take on projects that allow him to express his artistry and create something meaningful and personal to his clients.
Mo Naga is creating the Tattoo Village, a space for traditional tattooing using thorns and natural pigments in a village setting, where people can learn and share. He recognizes the lack of such a space in contemporary society and hopes to preserve and promote the art of traditional tattooing. The Village will also have a Tattoo Garden and serve as a platform for people interested in traditional tattoos. Mo Naga's ancestral village is the chosen location, and he has been appointed by the Ministry of Textiles Handloom of Manipur to support and promote handloom. Mo Naga plans to work with other cultural expressions of the people in the future, but for now, his focus and priority lie on the Tattoo Village. The Tattoo Village is his priority for now and aims to be fully operational next year. 
For tattoo artists interested in incorporating traditional art into their work, Mo Naga emphasizes the significance of investing time and effort into learning and researching traditional art before incorporating it into their designs. He cautions against rushing the process, warning that a lack of research and understanding can result in confusion or even distortion of traditional art.
See Also

Who is your favourite tattoo artist?
My favourite artist is a traditional artist who had a significant impact on me, the artist, who was 86 years old, did a tattoo on me in 2016 and sadly passed away soon after. I look up to her and the traditional art and culture that she embodied.
Besides tattooing, what other forms of art do you enjoy, and how do they influence your work?
I am very much interested in making furniture, particularly chairs, but due to my current commitments to travel and generate funds for building the tattoo village, I do not have time to pursue this interest at the moment. Other art forms that I love to work on are making music with my friends and working with women's organizations to protect handloom.
When you're not working, how do you like to spend your free time, and do you have any hobbies or interests outside of tattooing?
I enjoy making music and designing, including creating furniture. However, I don't have much time for these activities because I am focused on studying, promoting, and talking about Naga tattooing, as well as travelling to generate funds for the tattoo village. When I am in the forest, I am busy building the village, which involves cutting trees, building houses, and working on the ground. When not in the forest, I travel to different places.
What is your first love- Creating Music or Designing?
I enjoy music, but the design is an inherent part of my being. Despite not having had much time to pursue it lately, I view my work on the tattoo project as a duty rather than a passion or love.