The COVID-19 pandemic has been taking an incalculable toll on the people of India this year. Just when we thought the worst was past us at the end of 2020, the second wave of the pandemic has caught everyone unawares, and put several systems of the society out of gear. The common man, grappling with sickness and helplessness has been running from pillar to post trying to source healthcare utilities which have become more precious than gold. 
Times like these have brought out the best of humanity. Everyday we encounter strangers coming to each other's rescue, just to save a life, compiling and verifying lists of resources and reaching out to those in need. Aniket Pandey lists some apps and websites that have been supporting these initiatives. 
covidresource.glideapp.io
Now this is a very useful web application which will help you find all the useful contact numbers of people who can provide you resources such as food tiffin services for COVID patients, medicines, oxygen and hospital beds and you can search this according to your state and city.
covid19resourcesindia.com

This is a website which provides information about some additional resources such as oxygen cylinders, plasma, and drugs such as Remedesivir, Tocilizumab, among others. You can search according to your state and get required addresses and contact numbers.
covid19-twitter.in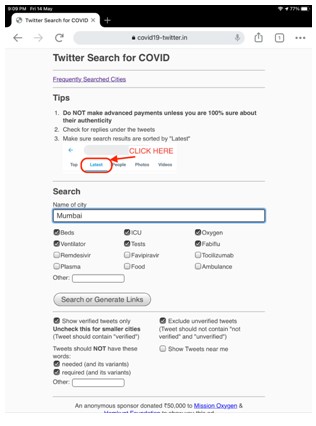 In this dire situation, social media has become a vehicle of help for a lot of people, sharing leads and information. But in thousands of daily tweets on Twitter it can become difficult to sort them as per a person's requirement. covid19-twitter.in website is a very helpful website for this. You can select your city and check mark the resources which you are looking for and then click on 'Search or Generate Links' and it will show you all the relevant tweets by people who are providing these resources.
 cov.social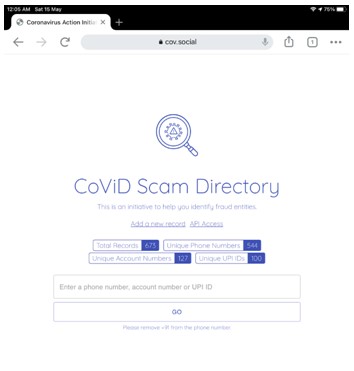 Even in times like these, there are still blackmarketers trying to profit off of people's desperation. Fraudsters claiming to provide essential medicines and other resources are accepting cash in advance, and then simply disappearing. To prevent such scams, the website cov.social might come in handy. The site contains a repository of phone numbers and UPI IDs which have been reported as fraud and spam. It is advisable to verify any dealer you may be in contact with with the list on the website, just to be safe.