Daysie is an all-day casual bar that has recently opened doors in Bengaluru's MG Road and has an eclectic menu that has something for everyone. An all-day dining space, Daysie is one of the newer additions to the burgeoning restaurant scene in Bengaluru, and much like its name has décor that is fresh and calming. Bindu Gopal Rao has a taste at this new venture. Started by partners, Anirudh Kheny, Neeti Gokhalay Kheny and Atul Sunder, the restaurant is spread over an expansive 10,000 square feet.
Décor Details
With 400 covers that include alfresco and indoor seating, the pastel colour palette is not just pleasing, it also lends a nice chic vibe to the space. A meandering stone-paved pathway set amidst a lush green landscaped space makes the alfresco dining experience breezy and an ode to the city's salubrious climate. The ground level has a mix of regular and bar seats with see the stunning floral light fixtures that bloom in and out adding a lovely feel to the space. There is a mezzanine level that is connected by a dramatic staircase, a favourite with selfies and photography lovers. The entire space has a nice interplay of colours, tones, and textures with a dash of playfulness which makes the space aesthetic and functional.
Start Right
The menu at Daysie is extensive and you will be spoilt for choice as you navigate the 14-page menu (that you will need to scan using the QR code on the table). The Wholesome Start section has a selection of hearty soups like the Green Pea Soup, a tender and velvety soup made with green peas and infused with fennel as well as the Gunpowder Lobster Bisque, a French soup made with whole lobster chunks, tempered with gun powder. There are a wide variety of Bar Bites that range from the classic Masala Peanuts to Peri-Peri Masala Fries that are tossed with peri-peri masala and served with mustard mayo to the Bohri Keema Samosa that comes with a spicy mutton filling served with chutney.  My vote goes to the Cheese Onion Rings that have the perfect crunchy, crumb-fried onion rings stuffed with cheese and served with a spicy mayo dip. Chaat lovers can rejoice as the restaurant serves an eclectic selection that includes the classic Bhel Puri, Dahi Bhalla, Papdi Chaat (in chicken and salmon variants as well) and Pani Puri.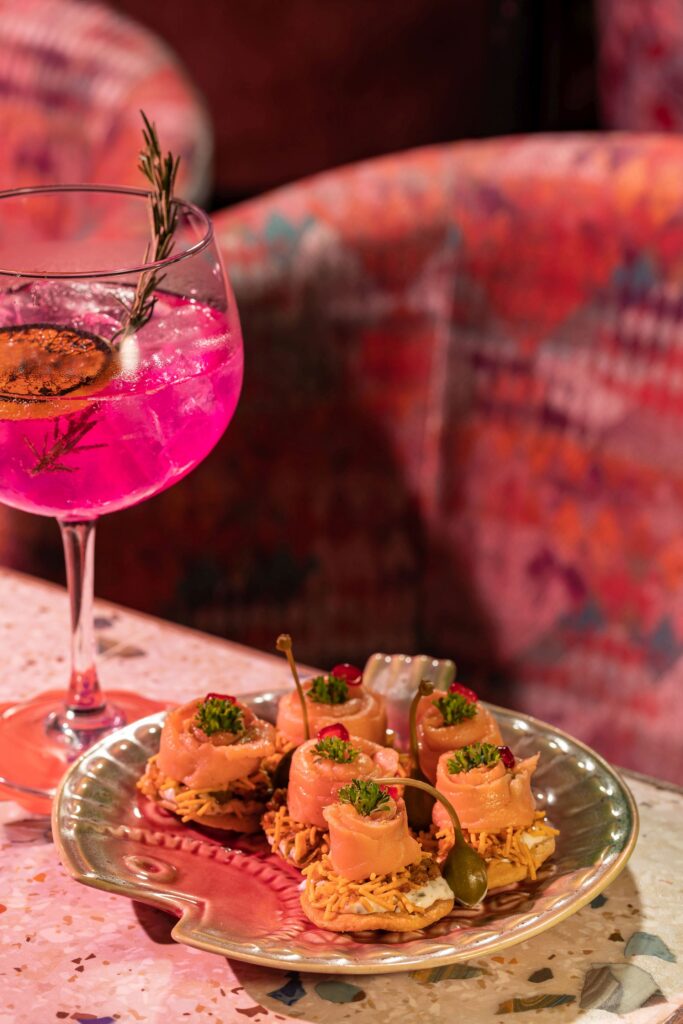 Food Coma
Apart from a wide choice of Small Plates, there is also a set of stacks and wraps served with dip and masala fries that has sandwiches, burritos, burgers, succulent kebabs, and tikka. The menu also includes scrumptious pizzas and delicious flatbreads as well. Do try the Beets and Ricotta Rigatoni pasta tossed in a zesty beet and cashew nut sauce – it tastes as good as it looks. If you prefer Indian, the Large Plates section will take you on a culinary sojourn across India from Dal Bhatinda, a Punjabi-style lentil preparation with chana and toor dal, tempered with garlic, red chillies and asafoetida and the Mushroom Chettinad that has button mushrooms tossed with a spicy south Indian Chettinad-style masala gravy. The Asian Large Plates includes the very popular Hunan-Style Sliced Lamb that is tossed with scallion and chillies in a fragrant sauce. Keep some space for the decadent desserts. I recommend the Textures of Coffee which has a rich Belgian coffee mousse, Arabica bean soil, coffee joconde sponge, dalgona cream and coffee almond praline. Also sample the moist Saffron and Rose Tres Leches that has a vanilla sponge, rose milk, saffron and cardamom mascarpone that will melt in your mouth.
See Also

Say Cheers
Daysie has a cocktail menu that is an extension of the brand's ethos of being fun, relaxed, and playful. Sustainability is key as they use locally sourced ingredients that are given innovative twists that ensure you experience creative flavour profiles and notes. The signature cocktails combine taste notes like sweet, sour, and bitter and are mixed along with premium brands and garnished with the finest ingredients. Twisted Classics involve adding their charm to traditional drinks while the Sub-Continental Cocktails are specifically curated and have locally sourced ingredients making them perfect with Indian cuisines. A selection of Gin and Tonic, Rum and Cola cocktails with homemade syrups, bitters, and masalas, shareable Community Cocktails, a range of Dessert Cocktails and Long Island Iced Teas make sure you never run out of drinks. The mocktails are also interesting here and great if you are a teetotaller. If you are looking to have a fun dining experience in Bengaluru, bookmark Daysie!
Fact File
Address: Daysie, Ground Floor, No. 18, Ramanashree Arcade, M.G. Road, Craig Park Layout, Bangalore 560001
Timing: 12:00 noon – 12:30 a.m. 
Reservations: +9180 4725 0000
Average cost for a meal for two is INR 1,000 without drinks and INR 1,800 with cocktails, all-inclusive.