Unique native dining experience at 5 offbeat dhabas of Mumbai
Bustling Mumbai is busy losing its marbles over the good ol' dhabas these days. Apart from being a total treat for your taste buds, the food here is made fresh in front of you—right from choosing the poultry or veggies to cooking it in their unique masala. The relaxing cots (charpayee) and lots of attractions for kids in an open air ambience makes them all the more fabulous. Saba Ladha takes a quick peep at the reasons why 5 dhabas of Mumbai are so popular amongst the locals and getting so much paparazzi lately.
1. The Dilli Darbar Dhaba — Looking for a hearty traditional Indian meal in an open restaurant? Then the Dilli Darbar Dhaba at Bhiwandi is the destination you should head to. The large spacious area with cots for you to relax while you enjoy a lavish meal and the exciting games to keep you busy makes your time spent here all the more amazing. The first thing that they always serve is crisp fried kabuli chana and fried garlic. Apart from this, do try their scrumptious mutton chaap soup, chicken banjara and fish reshmi kebab.
Address — Sawandhe, Bhiwandi, Maharashtra- 421302.
Telephone — 07757991800
Timings —4:00 pm — 3:30 am
Price —2,000-3000 INR
Our pick — Mutton chaap soup, fish tandoori, chicken handi and daal khichdi.
2. Rajhdhani Dhaba — A large lush garden, open seatings and eager to serve locals at your service, Rajdhani Dhabanear the Mumbai-Nasik Highway is certainly a refreshing location to head with your foodie group. Famous for its fried chana lahsun and full baby goat tandoori, the Rajhdhani Dhaba has a distinct way of welcoming its guests. And if you want more reasons to hit this place, then the attractive lighting and décor of this dhaba is surely a magnificent pointer to consider.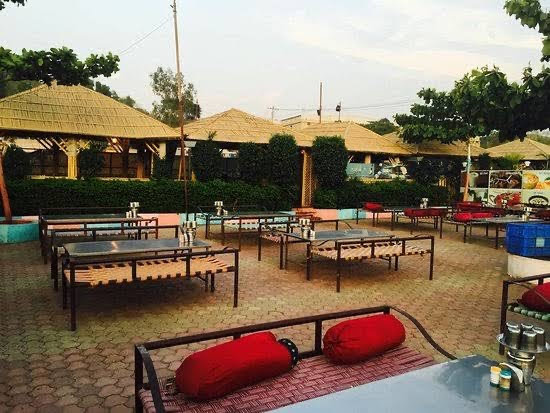 Address —Mumbai – Nasik Expressway, Near Shangrila Resort, Kukse, Borivali Tarf Sonale, Maharashtra 421302
Telephone — 097672 62717
Timings — 4 pm — 4 am
Price — 1500-3000 INR
Our pick — chicken pahadi kebab, raan rice, baby tandoori goat and cutting chai.
3. Karizma Dhaba — From the lighted ambience of the place to the vast area and comfortable seatings, everything at this Bhiwandi dhaba is super inviting. Especially recommended for group gatherings and parties, this dhaba has a special segment dedicated for kid's play too. What's more, there are enticing offerings of chana lahsun, dabang chicken, khebsa rice, and sholay kebab. Pro tip – don't forget to click attractive images in their luscious garden.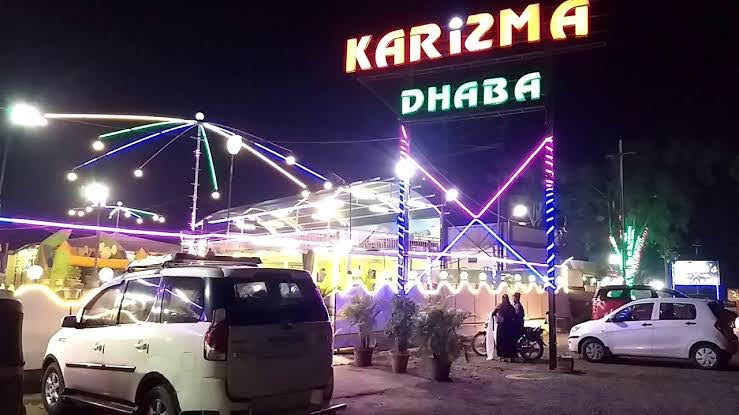 Address — Mumbai Nasik, National Highway No. 3, Near Police Station, Vadape, Bypass, Thane, Maharashtra 421302
Telephone— 090961 09885
Timings —9 am – 3 pm
Price — 2000-3000 INR
Our pick — kulhad chai, sitaphal cream, chicken sholay, mutton biryani.
4. Kinara Village Dhaba — The Kinara Village Dhaba that you cross while you head or return back from Lonavala brings a distinct feeling and charm of a village setting. From camel ride to lighted ambience, live ghazals, fish spa, carts to pose on, rich flowered garden to freshen you up, you'll love the enticing ambience of this dhaba. For your tastebuds, do enjoy their relishing veg crispy, chicken tikka masala, prawns tandoori and jalebi with rabdi.
Address — Toll Plaza Old Mumbai – Pune Highway , Vaksai Naka, Varsoli, Lonavla, Maharashtra 410401
Telephone — 086986 39639
Timings — 11 am — 1:00 am
Price — 2000-3000 INR
Our pick —veg platter, matka kulfi, chicken 65, prawns biryani and jalebi with rabdi.
5. Shanaya Dhaba — Cute cottages are definitely awesome to spend your time in. And what about enjoying a yummy meal in these cottages? If this idea looks enticing to you, then Shanaya Dhaba near the Mumbai – Agra National Highway should be your pick. From super comfortable and private seating arrangements to delicious meals fit for the royals, everything is absolutely enchanting at Shanaya Dhaba. Do try their excellent paneer bhurji, chicken and paneer tandoori and dal khichdi for a rich taste that stays on your senses for long.
Address — Mumbai – Agra National Hwy, Maharashtra 421302
Telephone — 09769494683
Timings —11 am — 3 pm
Price —2000-3000 INR
Our pick — chicken cheese garlic, mastani falooda and sitaphal cream.