Where are you headed in 2021? 10 best desi destinations with an exotic touch

From wild valleys to gorgeous waterfalls, and from sun-kissed beaches to magnificent monuments, India is a land that blends the best of nature with a remarkable diverse culture and traditional experiences. One need not look too far, no matter the specifications on your travel itinerary. If you wish to explore snow-clad mountains, head to Uttarakhand. If you're looking for tranquil vibes at beaches, head to Goa, or if you want to enjoy sand dunes, Jaisalmer it is. And if you love the wilderness, Jim Corbett awaits you. Mayuri Sarkar lays down some hot spots in India that reflect the essence of some of the world's best destinations.
Coonoor is one of the picturesque hill stations in the lap of Nilgiri. The place has its own charm and the perfect destination for tea lovers. Like Cameron Highlands in Malaysia, the hill station boasts of a calm landscape enveloped in lush green tea gardens, and pleasant weather.
Autumn- Winter season is the best time to explore Coonoor.
Major attractions:
1). Located about 1500 meters above sea level, Dolphin's Nose is a great spot to visit in Coonoor. The gigantic rock is covered by lush green tea estates, a stunning view of the majestic waterfalls, and a vivid sunset view. All these beautiful surroundings will make sure that you add this place to your itinerary.
2). If you are a tea-lover, lose yourself here in the aroma of fresh tea leaves. A fifty-year-old High field tea factory located 2km northeast of upper Coonoor, is a study tour for those who love to know how tea is processed.
3). St. George Church is a must-visit for those who have historical interests and adore architectural beauty. This vibrant looking church has elegant interiors and beautiful painting collections.
There are many budget-friendly homestays in and around Coonoor. When it comes to eating out, this little city has much to offer, especially try authentic South Indian cuisine.
If you wish to take an extraordinary journey, the Coonoor-Mettupalayam train ride is a must-try. A road trip is the best possible way to reach Coonoor from major cities including Bengaluru and Coimbatore.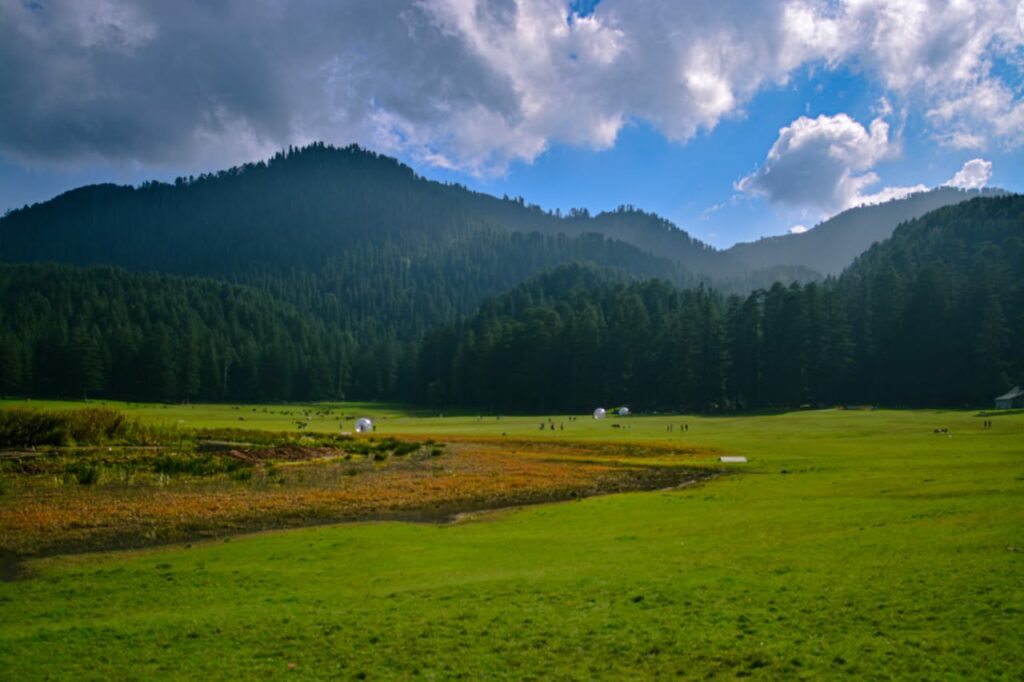 Located in the Chambal district, the tiny hamlet of Khajjiar is often glorified as mini-Switzerland. The serene atmosphere, stunning panoramic view, shimmering lake, and adventure sports are a rare combination that Khajjiar offers.
Summer is the ideal time to admire the beauty of this hill station. The weather is warm, but pleasant enough to venture out for sightseeing tours and indulge in adventure activities.
Places to see:
1). Kalatop Wildlife Sanctuary is one of the beautiful wildlife sanctuaries in Himachal Pradesh. Located 6km far from Dalhousie, this quaint sanctuary is home to pheasants, black bears, leopards, and other species of wildlife.
2). If you love to get lost in lush green woods, an enchanting trek to Dainkund Peak is a must for you. This highest mount in Dalhousie can be reached by trek. The enthralling scenic beauty of this place allures trekkers to visit here to rejuvenate their souls. You may find here an aerial view of the Khajjiar lake while trekking.
3). Khajji-Nag temple is one of the most vintage temples in HP. Dating back to the 12th century, the temple is decorated with wooden carvings inspired by Hindu-Mughal architecture. The temple is dedicated to Khaji Nag or the Lord of Serpents.
There are many budgeted hotels and resorts that will help you unwind amidst the mountain view. Sidu is made of wheat, Patande, Kull trout, Chicken Anardana, and Sepu Vadi are some of the popular local delicacies to taste.
Khajjiar hill station can be reached by road from major cities like Delhi, Chandigarh, and Dalhousie. Pathankot is the nearest railway head.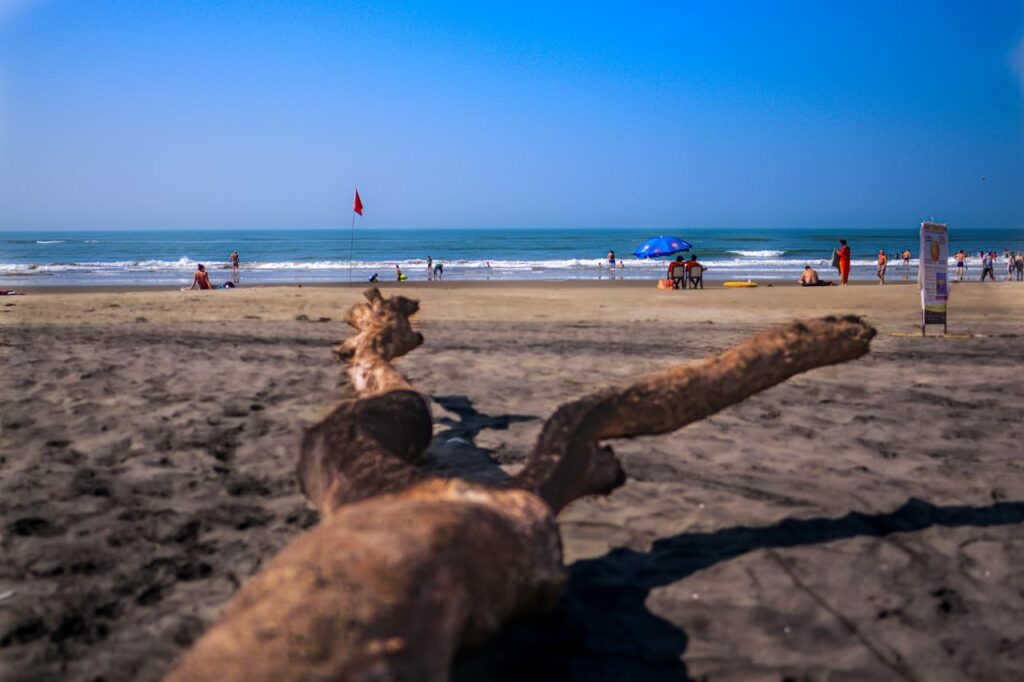 Undoubtedly, Goa is India's west coast paradise. From unlimited seascapes, ancient churches, majestic forts to sparkling Tito's nightlife, there are many well-loved places in Goa that are still untouched by travelers. Be it the best backpacker spot in Goa or check in to a luxury resort to unwind with family, Goa has different pitstops for different travelers.
The best time to visit Goa stretches from November to February.
Top 3 bold beaches with free sunshine in Goa:
Hankering for serenity, pristine beach, and laid-back environment? Morjim beach in Goa is here for you! This beach is referred to as 'Little Russia' because of its numerous Russian inhabitants. Morjim is also famous for various reasons. It is the breeding place for Olive Ridley Sea Turtles, indulging in exciting water sports activities, flea markets for shopping. It is also peppered with ample beach shacks and cafes.
With a romantic atmosphere, sea breeze, Mandrem Beach is the Phi Phi island of Thailand. This small beach in the northernmost region of Goa is not the one to witness large crowds. This beach is known for its quiet environment, home to tucked-away cafes and yoga retreats.
Cola beach is yet another beautiful hidden beach in South Goa. It remains shrouded by thick forest, palm trees, and hilly terrain. The stunning blue lagoon makes Cola beach unique from other beaches in South Goa. Spend your time by going kayaking or fishing here. If you wish to stay at a cosy and authentic Goan homestay, then this is an ideal place for you.
Exploring Kanatal is like experiencing tranquility where you can find a combined glimpse of Bandar Poonch – Thalai Sagar – ChouKhamba – Kedar Dome – Kala Pahar. Away from the urban uproar, Kanatal is an off-beat destination with stunning picturesque valleys, calm mountains, and a little blend of thrill and fun. It is a small hamlet nestled in the lap of the majestic Himalayas, amidst a lush green pine forest.
Kanatal can be visited throughout the year although it is especially pleasant in the summer.
Top fascinating places in Kanatal:
Nature walk: Since the hill town is filled with flora and fauna, you can go for a walk with your beloved ones into the woods, spend a tranquil time watching exotic species.
Tehri Dam: This is another hotspot for adventure junkies who love to engage in sports and enjoy a unique stay at houseboats or floating huts in Tehri lake. Apart from this, being an organised city in Uttarakhand, the Tehri Dam features the world's largest hydroelectricity project in New Tehri. The project connects more than 1000 MW of hydroelectricity distributed to the city. Enjoy a ropeway ride here!
Surkanda Devi temple – Dedicated to goddess Durga, the temple is a famous shrine, a three kilometer walk from the village of Kaddukhal. This is worth a visit for its panoramic view of the Himalayan range and the breathtaking sunset.
Here you get multiple options of homestay close to nature on a shoe-string budget.
Kanatal is well connected with Delhi via Rishikesh and Dehradun.
Exploring the legend of Kuldhara heritage to the mighty Tanot Mata temple at the Longewala border to walk through the majestic golden fort, Jaisalmer is a surreal land. If you wish to spend your days at sand dunes, camping at Thar desert is the best option. Enjoy dune bashing there! While a trip to Dubai may burn a hole in your pocket, the Thar is a perfect destination to relish an exotic delight.
To enjoy camel rides and desert safari, November to March is an ideal time to visit Jaisalmer.
Golden Fort: The fort is known as 'Sonar Kella', and is famous for its rich heritage. Built in 1156 by Rao Jaisal, the magnificent structure was constructed by yellow sandstone, that appears like a golden structure when seen from afar. The legendary fort is the most popular landmark of the city and it houses museums, and local shops.
Tanot Mata temple and Longewala border: If you are in Jaisalmer, the Longewala border is worth a visit. It is a war memorial that has showcased the Pakistani tanks and guns that were captured during the Indo-Pak 1971 war. If you are lucky enough, you may need to get permission before you visit the Indo-Pak border fence. From the Longewala border, the road to Tanot Mata temple is amazing. The temple is managed by the BSF. You can also see here that jawans are the only worshipers. While on your way back from the border, you can spend a day at a desert camp to feel the wind of the Thar desert. Staying at Sam sand dune is the best choice.
Kuldhara Heritage: In Jaisalmer, a little 20 kilometer to the west of the desert, there is a village named Kuldhara. The place is popularly known as a ghost town. The village was abandoned and cursed by Paliwal Brahmins 200 years ago. If you have the curiosity to feel the existence of ghosts, then this is a must-visit here.
In Jaisalmer, you must try lip-smacking local delicacies including Dal bati churma, Ker sangri, Bajre ki roti to treat your tastebuds. This is yet another unforgettable experience to drive down to Jaisalmer from cities like Delhi.
Be it adventure buffs, nature lovers, and wildlife enthusiasts, Jim Corbett national park in Uttarakhand has something for everyone to offer. The entire enthralling terrain is home to the majestic tigers, exotic animals, thousands of species, and beautiful birds.
The best time to visit this jungle in the winter to enjoy a thrilling vacation in the realm of nature.
Things to do:
1). The sanctuary is divided into four zones but taking a safari through the Dhikala forest and field of Corbett remains one of the topmost things to do An open-air jeep riding takes you on a journey of all the densely populated areas, where you can spot animals such as the red fox, elephants, tiger, black bear, and more species. Exploring the Dhikala forest is a promising real experience of the wild.
2). Corbett waterfalls: The waterfalls at Jim Corbett are another prominent tourist place and a beautiful treat to your eyes. The captivating beauty of this place surrounded by dense teak forest cajoles many tourists with the melody of the natural sound of the falling water, chirping of birds, thick vegetation, and many more.
See Also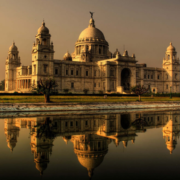 The forest can be easily reached by road from Delhi. Staying inside the forest resort or lodges is yet another thrilling experience that should be on your bucket list.
Located in Andhra Pradesh, Araku Valley is blessed with a mesmerising landscape, sprawling coffee plantations, lonely waterfalls, lush green forests, and a serene atmosphere that allures travelers across the world. You can slightly compare this hidden gem of India with the countryside of Vietnam.
The best time to visit this valley is during winters which offer pleasant days and chilled nights.
Offbeat paths in Araku:
Borra caves: Dating back to 1807, these caves are made of karstic limestone. The caves were discovered by William King Geroge. Borra caves are the largest caves in India perched at a height of around 705m. Natural skylight in the caves makes way for vivid imagery that exposes them to a unique mystery of their own.
Araku Tribal Museum: If you are keenly interested to learn about the culture and traditions of tribes in Andhra Pradesh, this museum is an ideal place for you. From utensils, costumes, jewelry, and hunting tools to wedding photographs, the museum depicts everything about the lifestyle, culture, and historical past of the tribes living in the vicinity. During the daytime, tribal dance is arranged for the tourists.
Traveling to Araku by train is one of the unique experiences. Visakhapatnam is the nearest city to reach the place. When you are here, camping is a must. In addition, you can try the famous dishes of this region like Bongulo chicken, Madugula halwa.
The second-largest wall in the world surrounds the Kumbhalgarh fort, located in the historic city of Ajaygarh, named so because the city has never been conquered by an enemy. The Kumbhalgarh fort is best visited in winter, and offers a variety of other attractions.
The charming wildlife sanctuary in Kumbhalgarh is another exciting place to be explored. It surrounds the fortress. The jungle is home to a number of highly endangered creatures. Nilgai, sambhar, wolves, and white-breasted kingfishers can be spotted here. The sanctuary offers horseback tours, thrilling safari, and trek inside the forest.
Ranakpur: This hidden quaint village in the remote Aravalli's range is one of the notable places near Kumbhalgarh. The place has a serene atmosphere and spectacular Jain temples that are enriched in amorous carvings. The temples of Ranakpur have similarities to the Khajuraho temples.
The place has quite a few good resorts. Do try the royal Rajasthani cuisine when in Kumbhalgarh. Kumbhalgarh Fort is 82 km from Udaipur in the Rajsamand district of Rajasthan. If you want to travel by train, Falna is the nearest junction and it is well connected to Mumbai, Delhi, Ahmedabad, Jaipur.
Lonavala is India's quintessential romantic escape. The small hill station is popularly known as the jewel of the Sahyadri mountains. The city comes to life during the rainy season and turns lush green with waterfalls and ponds. The beautiful weather is complemented with Vada pav, masala chai, smoked corn.
Places to visit: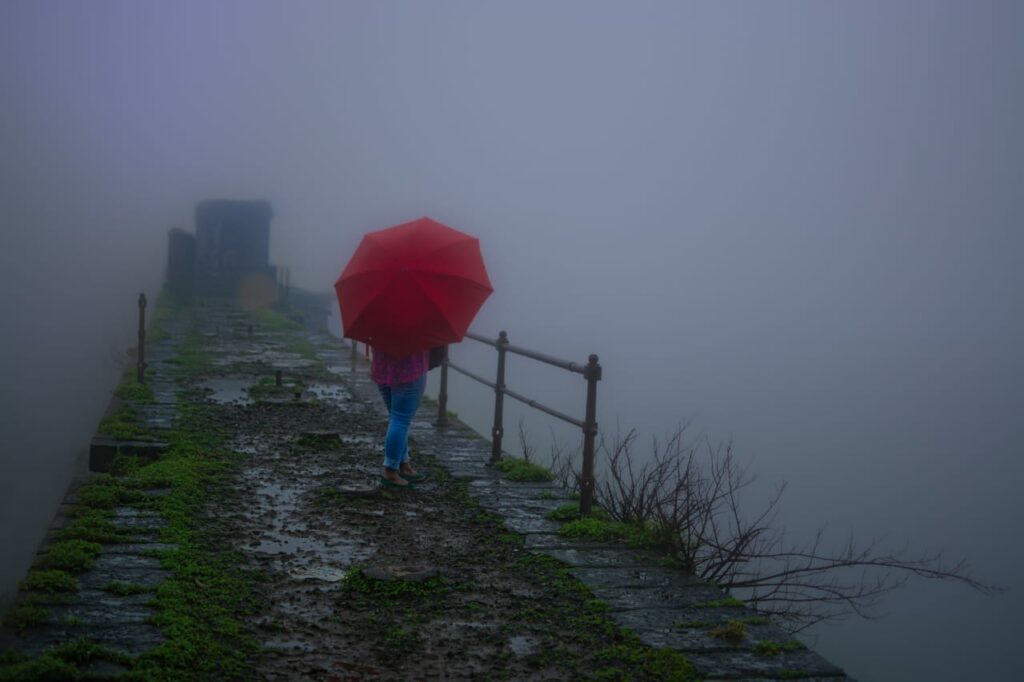 1). Lonavala Lake: Located on the outskirts of Lonavala, the mesmerising beauty of this lake and its tranquil nature has touched millions of travelers' hearts. The lake is known as monsoon lake because it brims with water in the monsoon. The misty weather with an exotic collection of flora and fauna, flamboyant species, and birds can be spotted on the edges of this delightful lake.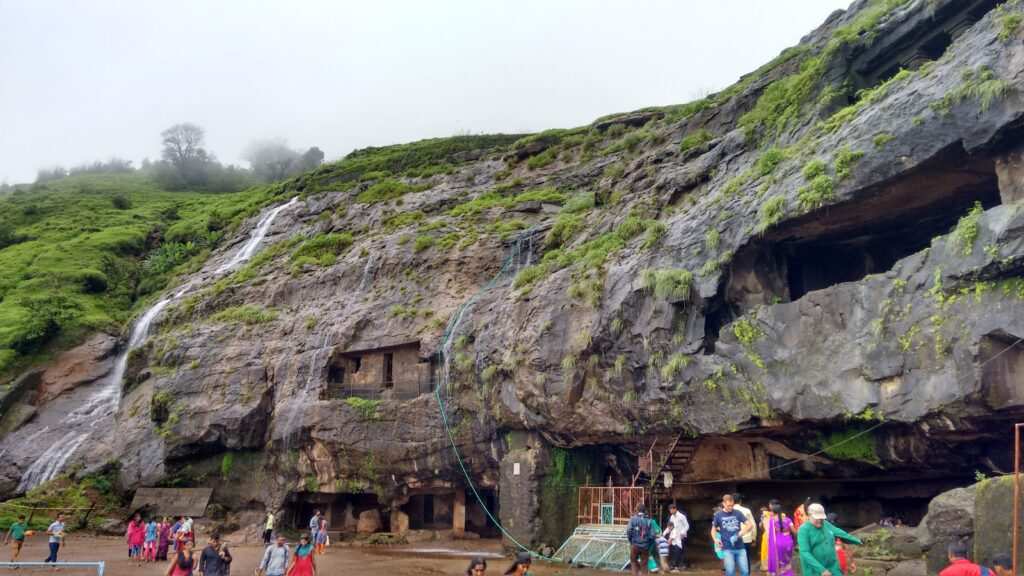 2). Karla caves: Located near Lonavala, these caves are ancient Buddhist rock-cut caves and a prime destination for travelers. Karla caves are mainly known for the Elvira temple situated inside. It is one of the oldest Buddhist cave shrines with the largest Chaityas (prayer hall with a stupa) and monastery in India. These caves were decorated with intricate sculptures of elephants, horses, and people, dating back to thousands of years ago.
Nestled close to both Mumbai and Pune, this quaint little town is perfect to spend your weekend getaway. Lonavala is in the vicinity between Mumbai-Pune expressway and is well connected by roads and trains.
The Northeastern state, Sikkim is a hub of spellbinding beauty of flora and fauna, captivating view of Kanchenjunga, blissful mornings, natural wonders, and ancient monasteries. Spring is a suitable time to witness the blooming natural beauty of the place.
Top places to visit:
1). Nothing can beat the beauty of Changu lake. Also called Tsomgo, it is a glacial lake in Sikkim. Perched at an altitude of 3780 m, this dream destination with a pristine lake, scenic sight, and snow-covered mountains will leave you amazed.
2). Gangtok – the capital of Sikkim: This is one of the most visited cities in Sikkim. The city has loads of gems in its kitty; You would be stunned by the never-ending walking trails, exquisite silver-fir trees, and friendly locals. Gangtok is noticeably the clean city where you get a chance to reboot your soul.
Since Sikkim is swayed by the cuisines of Nepal, Bhutan, and Tibet, you will get tasty momos, thupka, and local beer to satiate your appetite. If you are a budget traveler, the train is the ideal mode of transport to reach the destination. Both Siliguri and Jalpaiguri are well connected with major cities in India.