Forno Tinto – A newly launched restaurant by Novotel Goa Resort and Spa is definitely a must-visit place if you are looking to gorge on some scrumptious Italian food with some interesting fusion dishes with Goan flavours. RATNA BHUPAL takes you on a culinary journey of FORNO TINTO which derives its name from ITALIAN – FORNO (Oven) and TINTO (Village Market Place).
Fonto Tinto is a casual dining space overlooking lush paddy fields with a menu that ranges from pizzas, salads, desserts, gelatos and cocktails. The highlight is the twist of Italian and Goan flavours offering an elevated gastronomical experience.
Chef Alex Dias's vision for this restaurant was to be as close to nature as possible in both food and ambience and the restaurant truly delivers that. The focus is to deliver fresh, high-quality food with ingredients sourced locally that are used for the Goan influence.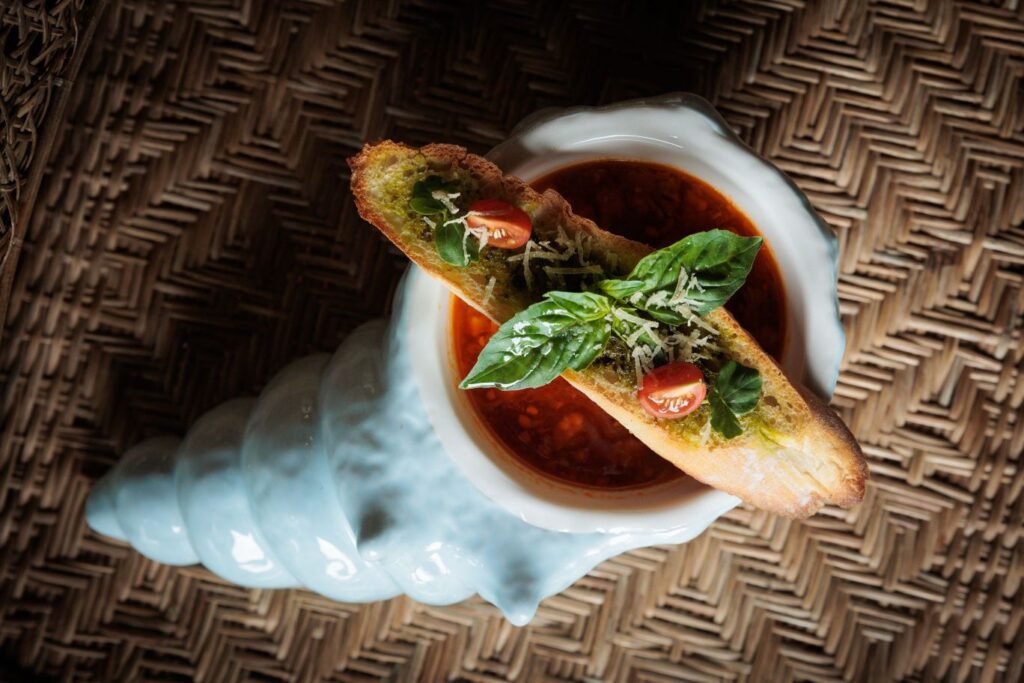 When we visited this restaurant, we were served fresh Goan poi (Gaon style bread) with a tomato salsa dip in a coconut shell on being seated. Both were extremely flavorful and set the right tone for the remainder of the lunch. Next came the Pomodoro Basililico – Tomato, basil and olive bruschetta which was also good. If you are a vegetarian, the classic Margherita pizza and Pizza de Fungi, one of their signature pizzas with mushrooms, oregano and buffalo cheese are a definite must-try. In the non-veg options, both their signature Pizzas – Cafreal Chicken Pizza and Chocolate Chorizo Pizza had the perfect fusion of Italian and Goan flavours and were delicious. The crust was crisp, flavorful, and chewy, the toppings worked together beautifully and the sauces were packed with flavour. For dessert, the Kokum Panna Cotta – another fusion dish is truly the best. They also have a few other desserts on the menu like the classic Tiramisu and Chocolate Salami, in case you want to eat the traditional version of the dish. They also have a range of mouth-watering Gelato0s which are a perfect end to the meal and ideal for hot Goan summer days.
The drinks menu has a wide range of cocktails, mocktails and fresh smoothies and milkshakes, something to offer for everyone. Whether you are lunching with friends, family or are on a diet, the menu takes care of everything. The Kokumtini – a mix of tequila and kokum (Goan drink) was my favourite. The cocktails have an interesting mix of spices and Goan herbs and are truly an experience! You can also try some of their super healthy smoothies like Berry kick (blueberry, strawberry, banana, apple, maple syrup) or Green Tinto (Spinach, almond milk, cashew nuts and flax seeds).
The restaurant also features an interactive live kitchen where you can see and maybe try your hand at making hand-stretched pizzas. Overall it was a wonderful experience with good food, ambience, wines and service. By the end of the meal, we were planning our next visit which is always a good thing!
Location – Novotel Goa Resort & Spa, Candolim, Goa, 403515
Phone – 08327112424
See Also

Timings – 12 PM – 8 PM
Meal for Two – Rs 1,500 – 2,000
Dine in
Bar
No contact delivery
USP – Tasty food and good ambience