Inchpaper: Empowering Students, Empowering India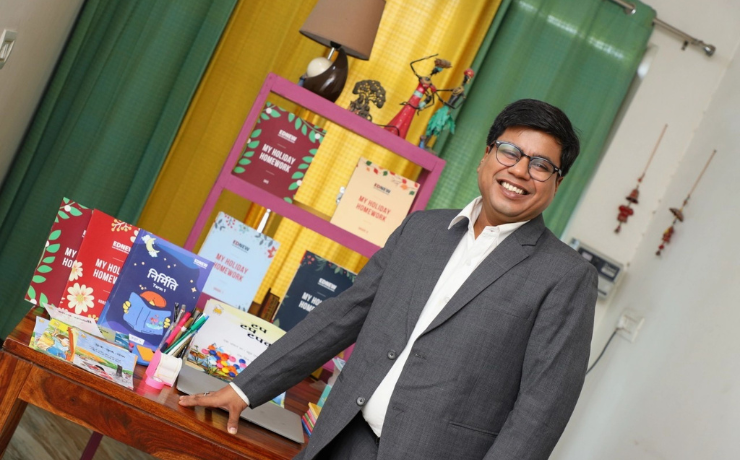 Pulak Agarwal, the founder of Inchpaper, a company that runs the NGO 'Har Ghar Kitab' is a seasoned professional with 18 years of experience in the field of education. The 'Har Ghar Kitab' initiative aims to provide underprivileged children with stationery materials without causing harm to the environment. In conversation with Surabhi Goel, Pulak talks about his passion for education, the journey of the NGO and more.
With a passion for transforming education, Pulak left the corporate world in 2018 to establish a management consulting firm in Gurgaon. The firm offers services to schools and aspiring school owners, contributing to the advancement of education. Under Pulak Agarwal's leadership, Inchpaper has achieved significant milestones, including the establishment of 118 schools and 215 vocational skill centres across India. This remarkable progress has garnered attention, making Inchpaper a company that is making waves in the education sector.
By collecting and recycling old textbooks, notebooks, and storybooks, Inchpaper is making a significant impact on the education landscape of India. Their campaign has garnered widespread recognition, including a special commendation from the Government of India, the Ministry of Environment, and the Ministry of Forest and Climate Change.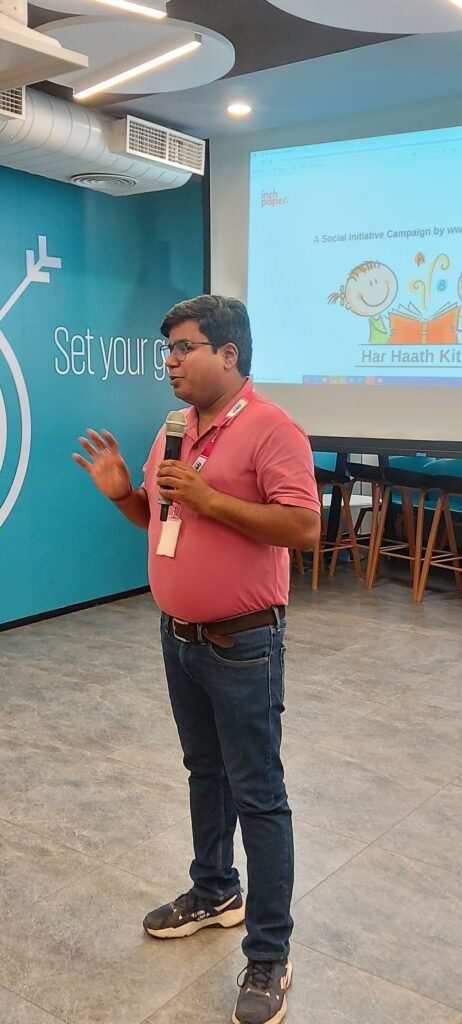 The Genesis of Har Ghar Kitab:
Inchpaper's journey into social initiatives began in February 2023 when they noticed a pressing need for stationery and books among disadvantaged children, particularly during the challenging times brought about by the COVID-19 pandemic. The objective was to support NGOs working tirelessly to educate underprivileged children. What started as a localized effort in Gurgaon quickly gained momentum, with inquiries pouring in from cities across India, such as Mumbai, Goa, Bangalore, Hyderabad, Kolkata, Jaipur, Chandigarh, and Ludhiana.
Collection and Distribution Challenges:
Expanding the campaign nationwide within a short period presented numerous challenges. The team had to strategize the collection process and address supply chain obstacles in different cities. Despite these hurdles, the response from parents, corporate offices, and communities was overwhelming. As awareness spread, NGOs expressed interest in collaborating with Inchpaper, requesting donations of notebooks and books for the underprivileged children they served.
Distribution Efforts:
Inchpaper has proactively produced recycled notebooks, which are expected to be distributed to various NGOs by the first week of July. Additionally, textbooks have been distributed to multiple NGOs in Delhi NCR and Mumbai. The campaign has also yielded over 3,000 storybooks, which will be utilized to establish libraries or reading clubs in Delhi NCR, Mumbai, and Bangalore. NGOs provide their specific requirements based on the age group and medium of instruction, and Inchpaper creates customized bundles for each organization, delivering them through courier or transport services.
Collaborations and Recognition:
Inchpaper's Har Ghar Kitab campaign has received three types of collaborations. Firstly, the Government of India, particularly the Ministry of Environment, Forest, and Climate Change, has recognized and appreciated Inchpaper's efforts to reduce paper wastage and recycle for a more significant cause. This recognition is evident through the ministry's certification and endorsement of the campaign. Secondly, corporates and NGOs actively collaborate with Inchpaper as part of their Corporate Social Responsibility (CSR) initiatives. Lastly, students and teachers from various cities, including Bangalore, Mumbai, Delhi, and Gurgaon, have volunteered to support the campaign, lending their enthusiasm and commitment to its success.
Future Prospects:
The collaboration with corporates and schools involves continuous support through book and paper donations, allowing the campaign to extend its reach year after year. The long-term goal is to create an enduring and influential drive that propels the initiative forward, benefiting many schools and organizations.
See Also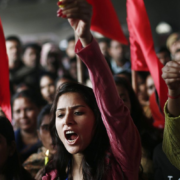 Conclusion:
Inchpaper's Har Ghar Kitab campaign is revolutionizing the education sector by providing underprivileged children with essential stationery materials sustainably. The recognition received from the Government of India showcases the remarkable impact of this initiative. With ongoing collaborations and an unwavering commitment to empowering education, Inchpaper is set to make a lasting difference in the lives of countless children across the country.
To participate in the campaign, contribute your old books, textbooks, and workbooks by sending them to the social handles listed below.