India's Most Famous Paintings
Painting is a better way to convey thoughts, emotions, and feelings. For the past few years, paintings have held the attention of art lovers because the paintings hold a story within the thick brush strokes. India had the privilege of being called the land of some wonderful artists with excellent minds. Every painting is a masterpiece and we have selected the best for you.
Famous Paintings of India
1)Shakuntala- Shakuntala the epic painting by Raja Ravi Varma painted in the year 1870. Shakuntala is an important character from Mahabharat pretending to remove a thorn from her foot while she is looking for her husband Dushyant. The painting beautifully captures the body language and expressions of Shakuntala and her friends.
The worth of Shakunta's painting is somewhere around Rs 12crores. There are many other wonderful paintings of Raja Ravi Varma like Hamsa Damayanthi, Woman Holding a fruit, Yashodha Krishna, and there comes papa.
Location: Sree Chitra Art Gallery, Thiruvanthapuram
2)Bharat Mata- Bharat Mata is one of the best works of Abanindranth Tagore who is the founder of the Bengal School of Art. In this painting, we see Bharat Mata in Saffron clothing holding a book, paddy, a piece of white cloth, and a garland in her hands. The painting signifies that Bharat Mata blesses her devotees with education, food, cloth, and initiation.
Some of the masterpieces of Abanindranth Tagore are Asoka's Queen, Ganesh Janani, My mother. The worth of Bharat Mata is 3.7million dollars.
Location: Victoria Memorial Hall, Kolkata.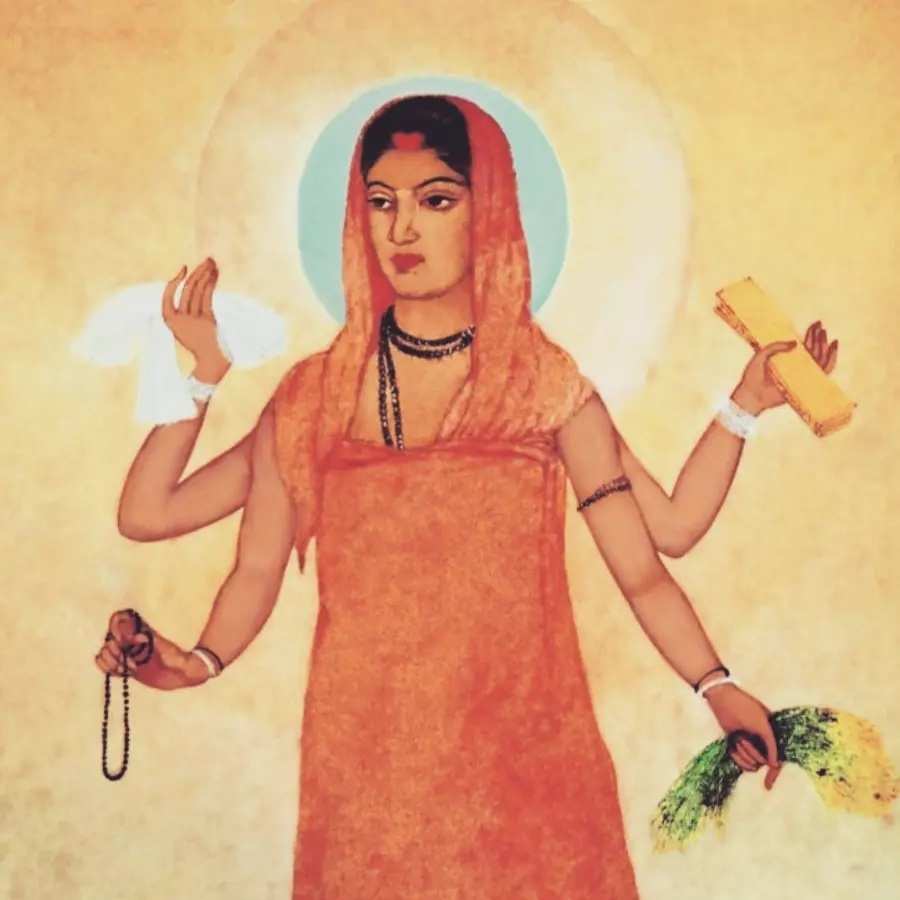 3)Bapuji- Bapuji painting was created by Nandlal Bose in the year 1930 as a mark of respect to Gandhi's Dandi March protest. Nandlal Bose's fascination and respect for Gandhi are reflected in the linocut portrait of Gandhi which unified the entire nation. It is displayed at the National Gallery of Modern Art in New Delhi.
Here are some other works of Nandlal bose are Floating a canoe, Rati with her bow, Darjeeling, and Fog. Nandlal Bose was the pupil of Abanindranth Tagore and he became popular for his unique style of painting and later on became the principal of Kala Bhavan in 1922.
Location: National Gallery of Modern Arts, New Delhi
4)Horses- M F Hussain's abstract art Horses was painted in the year 1960. His fondness for horses is seen throughout his paintings. This specific painting captures the power and energy of the horses through wonderful outlines that show the horse's strength in galloping. This painting was placed on auction in 2008 and it was sold for 1Crore Rupees. The other popular works of MF Hussain are Mother India, British India, Mother Teresa, Lady with Veena.
Location: Asia Society Museum, Mumbai
5)Self Portrait by Amrita Sher Gil- The Self Portrait of Amrita Sher Gil is one of India's famous paintings. The portrait shows us the 18-year-old Amrita who is half-smiling with intensity. Some of her other portraits capture her various moods which draw the viewer into the innermost feelings of the artist. The masterpiece of Amrita Sher-Gil's Self portrait fetched $3million in an auction. Some of the renowned works of Amrita are Three Girls, Brahmacharis, Ancient Story Teller.
Location: Kiran Nadar Museum of Art, New Delhi
6)Self Portrait by Rabindranath Tagore- The Noble prize winner Rabindranath Tagore made illustrations for his poems and verses in the early phases of his life. Later on, he went on to make sketches as well and this self-portrait of the artist is raw, expressive, and simple. Tagore was striving to create a universal art that is accessible to everyone that is why he took up painting as a medium and the most famous of them is his self-portrait.
Tagore painted some wonderful artworks like Dancing Woman, Dancing Girl, Head Study, Brooding.
7)Three Pujarins- Jamini Roy is one of the eminent artists in India was a wonderful painter who paints some great masterpieces that represent Indian essence. The three pujarins is one of the famous paintings which depicts three Bengali women in traditional saree holding their poise calmly. Jamini Roy created wonderful paintings with a technique of his own called flat technique and most of his artworks show women doing their regular work.
Some of his other best works are Krishna with Gopis, Woman, Cat, and the lobster, Bride, and two companions.
Location: National Gallery of Modern Art, New Delhi
8)Glow of hope- Lamp of Glow or Glow of Hope is a watercolor masterpiece created by S L Haldankar is a wonderful attraction in the Sri Jayachamarajendra Art Gallery in Mysore. This painting is so famous because Haldankar's daughter stood still for three hours with a lamp in her hand posing for her father's work. The painting depicts the simplicity, sensitivity, and ray of hope which is reflected from the fingers has made this wonderful painting famous across the globe.
Location: Sri Jayachamarajendra Art Gallery, Mysore
9)Krishna Spring in Kullu- Krishna Spring in Kullu was painted by the Russian Artist Nicholas in 1930. In this painting we see Lord Krishna playing the flute under a tree with big snow-covered mountains in the background. The painting is displayed at Nicholas Roerich Museum in New York. ASI has recognized him as one of the nine artists whose work is considered a national art treasure.
Nicholas Roerich was also an activist who stood for preserving art and architecture during times of war. For this, he was nominated for the Nobel prize as well. Some of his other wonderful works are Visitors from over the sea, mother of the world, Himalayas, the last angel.
Location: Nicholas Roerich Museum, New York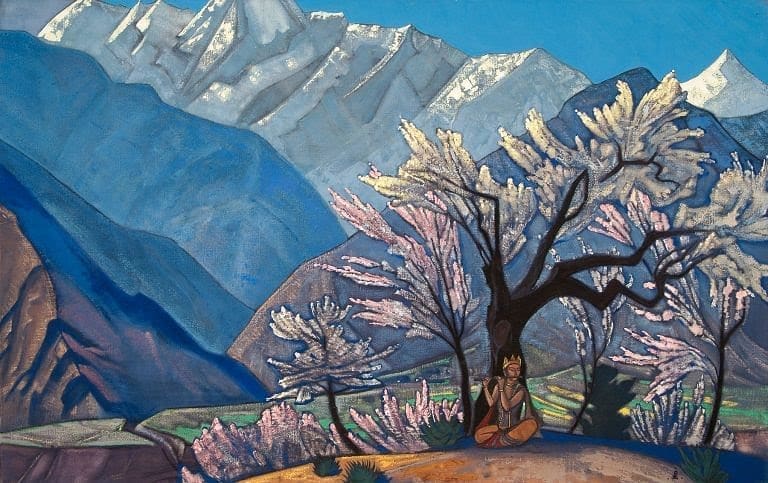 10)Days of Glory- Days of Glory has been created by Satish Gujral who was a painter and a Padma Vibushan awardee. This wonderful painting is done in black and white which reflects the human emotions like pain, suffering, and trauma which the artist has witnessed during the partition of India and Pakistan.
Satish Gujral was known for his versatility in his art and he changed his medium, materials to explore different types of art. Some of the best works for Satish Gujral are Mourning en masse, Tree of Life, and Meera Bhai.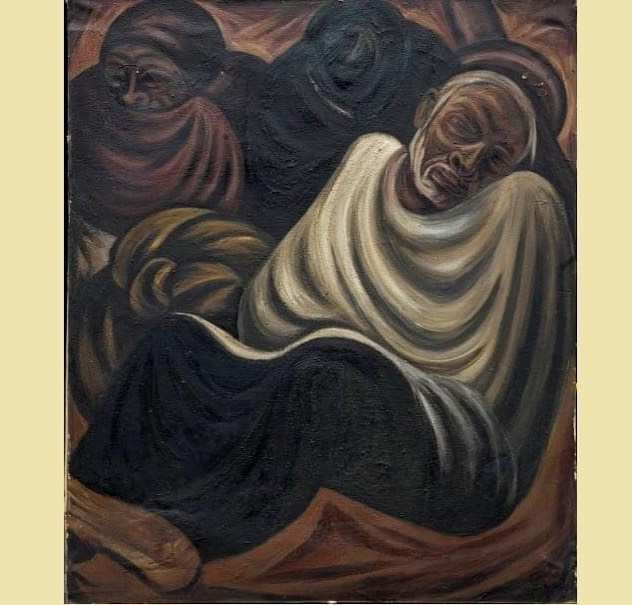 Conclusion:
So these are some of the famous paintings of India. There are many other popular masterpieces like Bindu by S.H.Reza, Mahishasura by Tyeb Mehta. All of these wonderful works are an inspiration to art lovers because every one of them greatly shows India and its beauty.