Luxe Trends & Creative Visions: Lakmé Fashion Week 2023 Unveiled!
As the Lakmé Fashion Week x FDCI 2023 has already unfolded, Hashtag tracks the year's top releases, equating them to precious works of art. This season's fashion rendezvous went beyond the runway and had much to offer. It featured a pool of designers aiming for recognition and capitalizing on the influence of 'Instagram validation.' Regardless of the fashion industry's politics, the focus remained on creativity and innovation. The event promised diversity and inclusion while keeping excitement alive and staying ahead of the curve.
Name: GenNext Designers- Prasoon Sharma, Sonam Khetan and Arnav Malhotra
Collection: Bivouac- Portal to Nature, Listening to the Earth, Inconvenience Today for a Better Tomorrow, respectively.
USP: The three INIFD GenNext winners highlight the superiority of craftsmanship over machines, the revival of traditional weaves, sustainable fashion, nature-driven, and more.
One Para:
Prasoon Sharma's 'Triune' label showcased 'Bivouac,' focusing on earthy tones, animal prints, and co-existence with nature. Various fabrics were used, including Tencel and hand-woven cotton. The men's line featured bold designs and unique textures, with hand-braiding, nesting, and 3D effects. The unconventional drama was added through intricate detailing and patchwork, emphasizing high-surface treatments.
Sonam Khetan's Paris and Delhi-based label offers timeless, ready-to-wear women's fashion. Her Lakmé Fashion Week 2023 collection, 'Listening to the Earth,' emphasized natural fabrics like linen, hemp, khadi, cotton, organic silk, and hand-dyed materials. Collaborating with women-led studios and an NGO, the collection featured intricate 3D fabric texturing, showcased beautifully in neutral-toned mini dresses and elegant, long-sleeved maxis in off-white and brown.
Arnav Malhotra's Lakmé Fashion Week 2023 collection, 'Inconvenience Today for a Better Tomorrow,' focuses on zero-waste pattern making. Inspired by the sari and Madras homes, the line features bold colours and Kolam drawings as block prints. It's gender-inclusive, with oversized shisha mirror work, woodblock prints, Madras checks, and ombrés. Notable pieces include a grey/neon green ombré robe with wide white pants and a statement one-shoulder creation with drawstring detailing.
Name: Samant Chauhan
Collection: The Ice Watch
USP: Samant Chauhan excels in blending Bhagalpur silk with modern weaving techniques while championing sustainability and fair trade in fashion.
One Para: Renowned designer Samant Chauhan is known for his fusion of Bhagalpur silk with modern weaving techniques. His 'Ice Watch' collection at Lakmé Fashion Week combined delicate glacier-inspired designs with an environmental message. The collection featured an ethereal colour palette, from blue to white and grey, transitioning gracefully from Bhagalpur silk to organza and cotton silks. Samant's feminine designs included swirling skirts, intricate geometric patterns, and various necklines and sleeve styles. He is acclaimed for his intricate embellishments, promoting sustainability and fair trade practices. The collection offered a range of fashion choices, from regal trench coats to bridal wear, catering to diverse tastes while emphasizing eco-conscious fashion.
Name: David Abraham & Rakesh Thakore
Collection: Body Language
USP: Abraham & Thakore's USP is their mastery of minimalism and innovative fashion communication, combining numbers, alphabets, and symbols to make a creative and social statement.
One Para: The 'Masters of Minimalism,' David Abraham and Rakesh Thakore, from the Abraham & Thakore label, took a creative approach to fashion communication at Lakmé Fashion Week 2023. Their collection, 'Body Language,' primarily in black and white, featured a captivating mix of numbers, alphabets, and symbols, exploring modern communication in our digital era. They incorporated braille, morse codes, and letters into their designs, blending ikat, Ajrakh, brocades, badla sequins, and laser-cut work for a playful yet socially insightful collection. The runway showcased a blend of formal and casual wear, from classic white shirts to sharp pantsuits and even a sari with a bowtie for a unique touch, all while maintaining timeless silhouettes with creative symbolism.
Name: Karishma Shahani Khan (KA-SHA)
Collection: Milan
USP: Karishma Shahani Khan's USP lies in her talent for merging individuality and synergy, crafting relaxed yet elegant silhouettes inspired by nature and manmade structures with vibrant colours and intricate embellishments.
One Para: The 'Ka-sha' brand, led by Karishma Shahani Khan, showcased their Milan collection at Lakmé Fashion Week in partnership with FDCI, drawing inspiration from Khalil Gibran's words on marriage. The collection explored the beauty of individuality and synergy in nature, manmade structures, and familiar shapes. Luxurious Chanderi silk, Kala cotton, and cotton were used in a vibrant colour palette. 'Ka-sha' continued its tradition of intricate embellishments, incorporating beading, hand embroidery, and appliqués. The collection featured relaxed yet fluid and feminine silhouettes with mix-and-match possibilities.
Name: Reby Jindal
Collection: Guapa
See Also
USP: 'Guapa' specializes in sustainable, bold, and relaxed fashion inspired by the desert oasis, offering versatile and feminine silhouettes with an eco-conscious approach, including innovative, eco-friendly materials like 'Econyl' yarn and Cupro.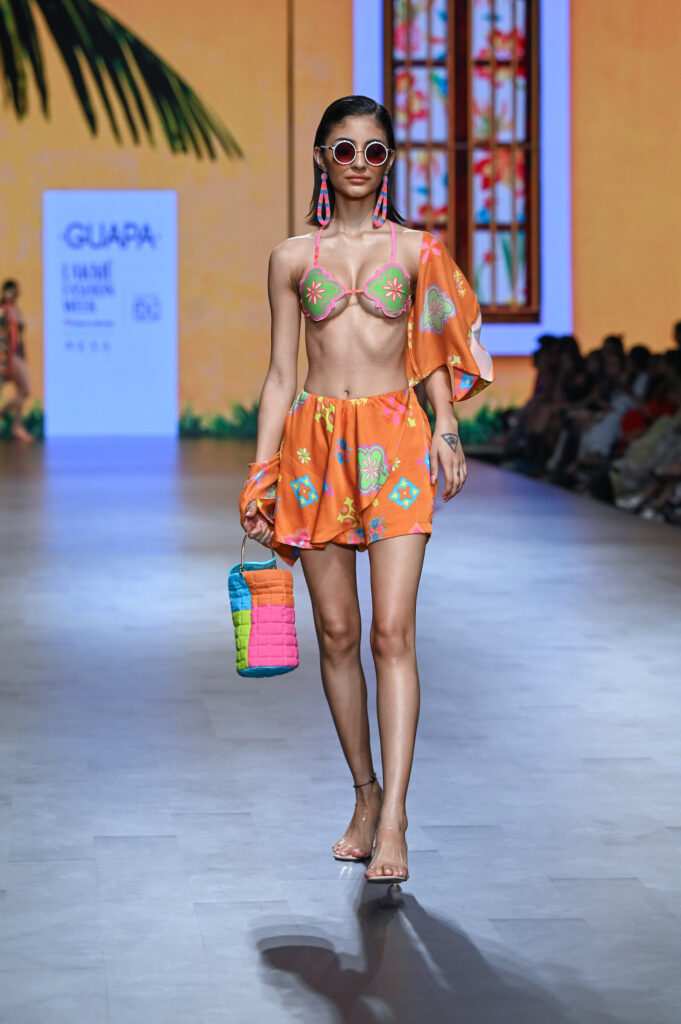 One Para: The 'Guapa' collection at Lakmé Fashion Week, in collaboration with FDCI, embodies bold, relaxed, and sustainable fashion, drawing inspiration from the desert oasis. It features feminine, draped silhouettes and tailored ensembles in earthy tones and vibrant hues. 'Guapa' emphasizes sustainability with biodegradable fabrics and upcycling, including garments made from regenerated 'Econyl' yarn that adds durability, chlorine resistance, and SPF protection.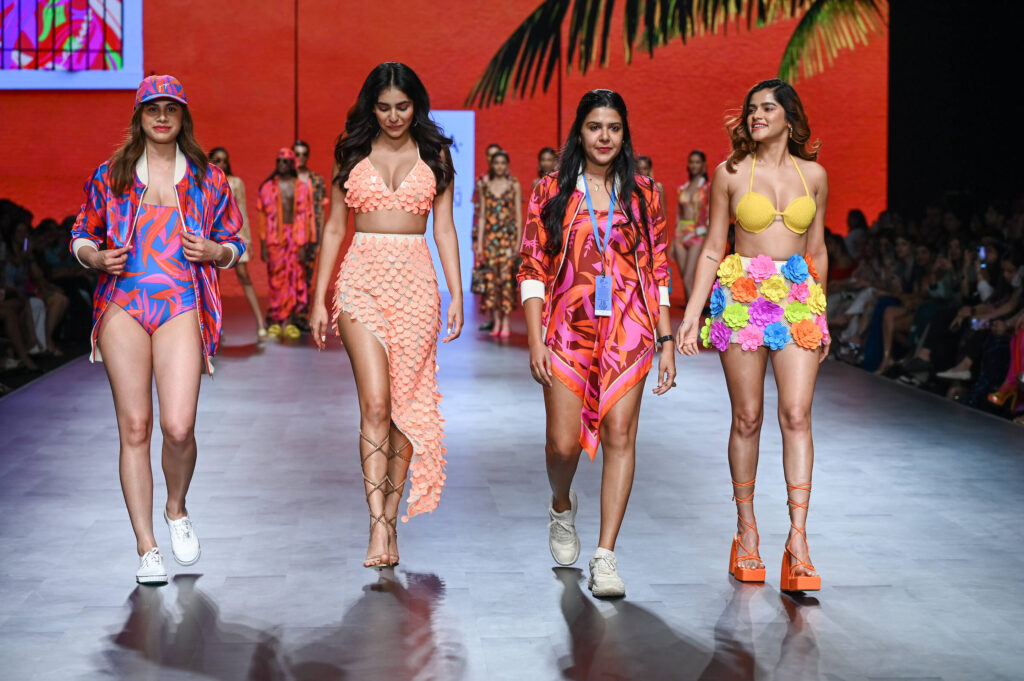 The resort wear line includes dresses, co-ord sets, kaftans, swimsuits, and more, catering to various holiday moods. The collection also extends its chic styling to men's beachwear, featuring resort shirts, shorts, lungis, tees, and robes. Influencers Radhika Seth, Meghna Kaur, and Malvika Sitlani showcased swimwear and stylish beach attire, making 'Guapa' the go-to choice for this season's holiday wardrobes.
Name: Vani Vats
Collection: Piroi
USP: Vani Vats, the designer behind 'Vvani,' is renowned for crafting bridal collections that symbolize love, trust, and companionship, offering modern brides versatile and memorable trousseaus.
One Para: Vani Vats of 'Vvani' presented 'Piroi,' a collection designed for the modern bride seeking a memorable trousseau. Inspired by the intertwining threads of love, trust, and companionship in marriage, the collection used mirrors and pearls to symbolize harmony. It showcased sensuous fabrics like georgette, silk organza, net, and crépe in an array of elegant colours. 'Piroi' caters to every wedding occasion, from mehndi ceremonies to grand receptions, offering a range of saris, lehengas, cholis, kurtas, and fusion wear. The collection culminated with a graceful runway appearance by Tamannaah Bhatia in a glitzy, tasseled lehenga.
Name: Aneeth Arora
Collection: Cuckoo & Co.
USP: Aneeth Arora's Péro collection 'Cuckoo & Co.' defies conformity with vivid colours and unique 3D designs, incorporating diverse craftsmanship and sustainability through global artisan collaborations and European partnerships.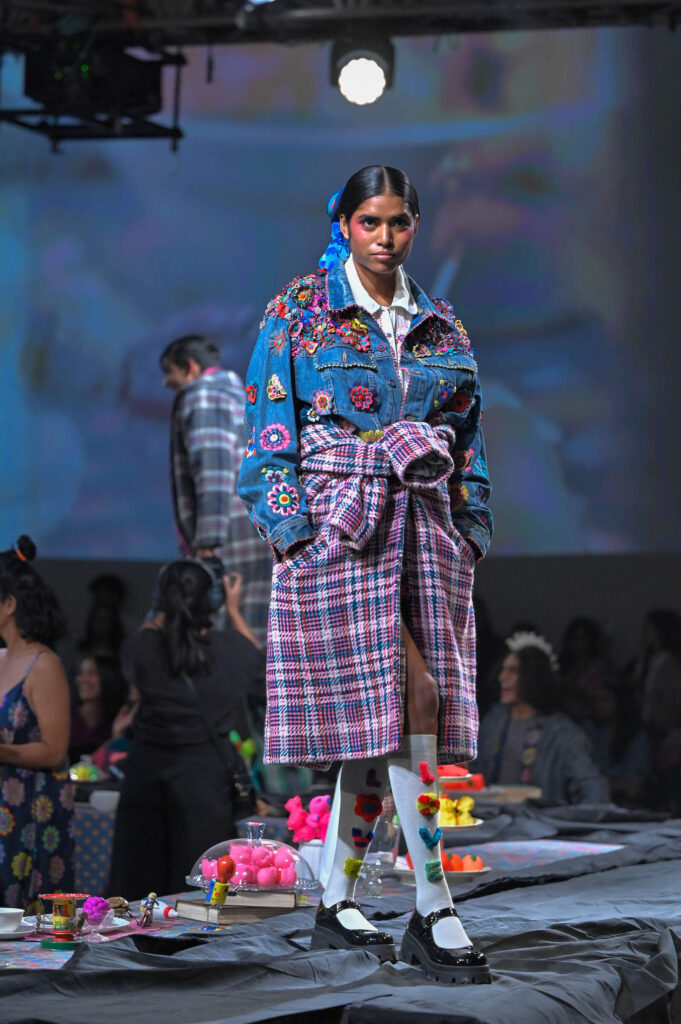 One Para: Aneeth Arora, the designer behind the celebrated brand Péro, presented the 'Cuckoo & Co.' collection at Lakmé Fashion Week in partnership with FDCI. Inspired by the 1930s and a celebration of misfits and eccentrics, the collection defied conformity with vivid colours, psychedelic patterns, and unruly stripes. Using various techniques, the garments featured 3D floral motifs, medallions, and geometric forms. Hand-woven materials like Mashru, silk, cotton, and pure wool were transformed into jackets, skirts, shirts, and more, highlighting gingham checks, bold stripes, prints, and colour blocking. Collaborations with global artisans added diverse craftsmanship, while European partners contributed to sustainability and unique accessories.