Must Follow Best Indian Food Bloggers for delicious content
It is a joy for foodies to explore various places and try out new cuisines. With the presence of social media, it is much easier for to explore new places and various types of cuisines.
If you are planning to launch a blog and sharing your mouth-watering experiences, Rashmi Bhumi Reddy interviews the best food bloggers who explore and savour different cuisines.
Durgam Ruthwik
Blog Name:- nom.nom.foodie
Durgam Ruthwik, a Hyderabad-based food blogger says, "When I used to go out with my friends, I used to take a few pictures of the food or drinks to show my family what I had. With the booming of Instagram, I thought why not upload the same things on the app by creating a digital food diary as it might be useful for someone".
He graduated from Hyderabad's Institute of Hotel Management, with a degree in Hospitality and Hotel Administration (IHM-H). Before running a restaurant, which is his long-term dream, he spent his time researching and exploring the production of food and beverages. In the upcoming months, he intends to debut a cloud-based kitchen.
While exploring a lot of dishes, his obsession with Hyderabadi Dum Biryani is irreplaceable.
Finally, the first and most crucial piece of advice he would give to someone interested in becoming a food blogger is to learn about recipes, spices, culture, the origin of the dish, and preparation. To rate a dish, you should be much more knowledgeable about the recipe.
Chahat Anand
Blog Name:- chahat_anand
Chahat Anand is a notable Haryana food blogger known for entertaining videos on YouTube and other social media platforms. Her posts captivate how she enjoys exploring new types of food by travelling across the country to different states and sampling various delicacies in every nook and corner of the country.
She says, "People like me who are from small towns have a very limited amount of knowledge about food choices available everywhere. I try to cover all varieties of dishes from different states irrespective of homemade, good restaurants or quick snacks and share a little about everything to the audience ."
She prefers to eat at large fast-food franchises like Domino's, McDonald's, etc. However, she enjoys comfort food at Subway. Though she travels and enjoys different cuisines, her fondness for Panipuri or Golgappe is unaffected.
She advises beginners to contribute a lot at first even if they waste a little time doing so.
Karthik Gandhi
Blog Name:- Gastrohogger
Karthik Gandhi, a Hyderabad-based food blogger says, "Food is a universal language beyond borders. Being a food blogger is purely out of love for food and passion which enables me to converse with a plethora of folks in the F & B industry. This love for food has taken me to various places where I have diverse interactions with folks."
His blog posts showcase his amazing experiences while exploring different cuisines across the city. He also says, "food exploration opens your mind beyond your imagination, and I believe that the chef plays a key role in it".
His favourite cuisines are Bandi-style Noodles (Hyderabadi street food), Bheja Potli, Jack Daniels Lamb Chops, and many more. Additionally, he shares that he wants to integrate food and travel by exploring food during domestic and international travels.
See Also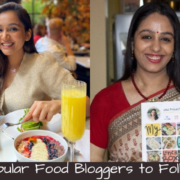 His advice for beginners is to be consistent in the process and also be passionate about exploring more about food cuisines and generating content. He also encourages us to interact with food and beverage entrepreneurs, chefs, food reviewers, etc.
Sneha Panda
Blog Name:- The Glutton Journal
Sneha Panda, a Hyderabad-based food blogger says, "love for food keeps inspiring me to explore new places and try out different dishes."
Her blog showcases exploration and reviews of various food cuisines and restaurants across the city. She believes that good food and good people make an amazing dining experience.
Despite trying out various dishes, her love for classic Panipuri (Pani Puri with aloo filling) exists forever. Regarding future goals, she says, "I want to explore cuisines which I haven't heard of at the moment."
Her advice for beginners is to enjoy the process of trying and exploring new dishes as that's the whole intention of starting a blog in the first place.
Conclusion:
As food and travel share an inseparable bond, step out now and dine, while also generating trending content which entertains your audience.