POWER TALK: INSPIRING WOMEN IN BIZ |Rachel Goenka

Rachel Goenka earned a bachelor's degree in journalism and a master's degree in English from The Pennsylvania State University. She recognised her true calling and love was in food after a spell in journalism and advertising, and she chose to make her dream a reality by pursuing a career in Culinary Arts. Her passion for desserts led her to study at the Ballymaloe Cookery School in Ireland for three months. She completed her intensive study in both cooking and pastry under the supervision of famous chefs Rachel Allen and Darina Allen. Her desire to concentrate in pastry won her a patisserie certificate from Le Cordon Bleu in London in 2012. She opened The Sassy Spoon, her first restaurant, when she was 24 years old. "Everyone would frequently say I was so infatuated with sweets that instead of being born with a silver spoon, I was born with a chocolate spoon," Rachel recalls of the humorous anecdote that inspired her company's name.
The young entrepreneur paved her way from journalism to becoming the founder of the parent company called The Chocolate Spoon Co.
The young passionate entrepreneur was enthralled by her profession, and the sassy task of plating desserts on the map piqued her interest. "It only pushes you harder and makes you grow better at your own trade," she continues, seeing competition as a fair game for her. While things are rapidly changing, Rachel believes that people are more interested in other people's professional expertise and respect for the same reason.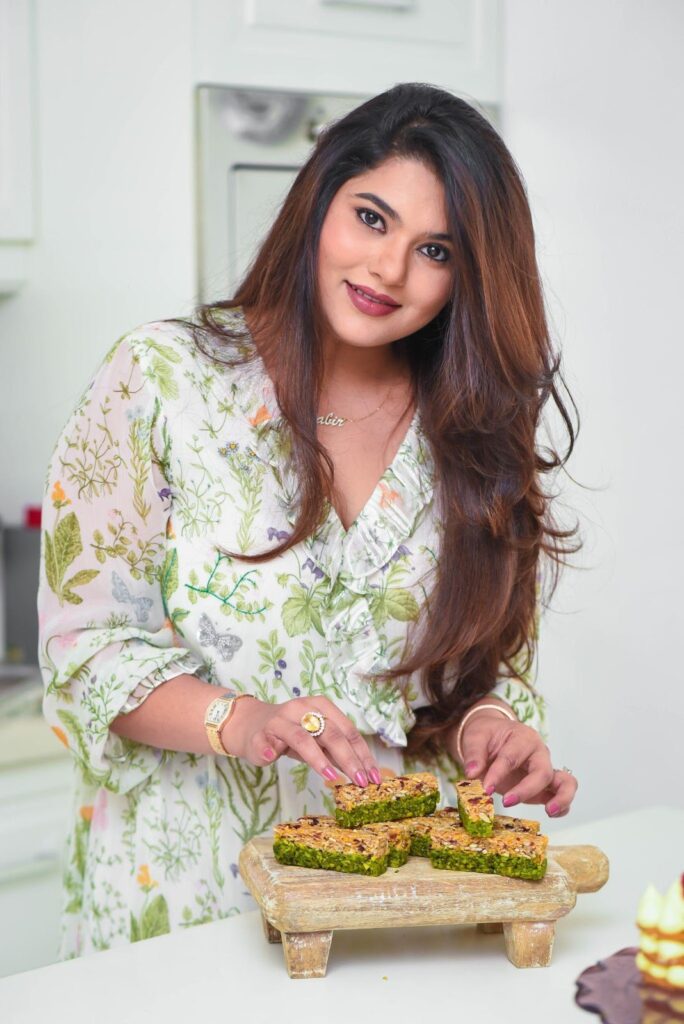 Rachel, dubbed 'Ms Sassy,' has made her mark in a male-dominated business and is determined to pave the way for other ambitious female entrepreneurs in all fields! She has introduced Sassy Littles, a brand of delicious and nutritious snacks for youngsters, inspired by her son Kabir, as a salute to all working mums. "When my son Kabir first started pre-school, there were a lot of dos and don'ts when it came to snacks. That motivated me to create a line of toddler snacks that were gluten-free, preservative-free, utilised no artificial or processed sugar, and were prepared with only natural, allergy-free, and healthful ingredients," Rachel adds. Standing out in a male-dominated sector and setting the route for success has been the key to turning attention. "But I also had to establish my worth," she continues, "and make sure I stood out for my skill, not simply because I was a female entrepreneur."
The Chocolate Spoon Co. now has five restaurant brands and one patisserie brand under its umbrella. They are planning to establish additional stores in Mumbai and Pune in the near future, as well as launch a pan-India D2C website. Last year, they also introduced "Saffron by The Sassy Spoon," their Indian delivery-only concept, in Pune and Mumbai. Prior to the pandemic, they planned to expand into the NCR, bringing The Sassy Spoon, Sassy Teaspoon, House of Mandarin, and Baraza with them. "Once the industry stabilises, we expect to relaunch these ambitions," Rachel concludes.
Quick Take:
How does a female entrepreneur stand in the spotlight in male-dominated industries?
– Let your work speak for itself. People need to value you for you and what you bring to the table.
One quote that keeps you going?
– Always be a first-rate version of yourself rather than a second-rate version of someone else.
Advice to all the young achievers/entrepreneurs?
– There is no substitute for hard work, passion, and dedication. Also, educate yourself as much as possible! Regardless of what field you are in, read, read and then read some more. Keep learning constantly, it's the only way to grow.