Sharib Hashmi – Shining Brighter
With his role as 'JK' in The Family Man, SHARIB HASHMI has not only won many hearts but has become a household name. In a conversation with AAKANKSHA BAJPAI he speaks about his journey in the film industry.
The second season of The Family Man had the audience finding themselves in tandem with the characters. In this journey, we also found our omnipresent friend 'JK' in Sharib Hashmi.
His breakout role is credited to the Amazon Prime series, but we have seen him grace our screens many times. Alongside playing the lead role in the 2012 film Filmistaan, Hashmi has also starred in Jab Tak Hai Jaan, and Slumdog Millionaire, alongside OTT performances in Asur and Scam 1992. We learn from the actor about his upcoming projects and his journey so far.
On Acting and The Beginning
Your father was a film journalist; will you say that impacted your career and your choices?
It had a huge impact on me. The seeds of becoming an actor were sown subconsciously in my mind. I used to go to film parties with my father. I would attend film shoots, grand premieres and muhurats; as a child, I was awestruck with the glitz and glamour. Somehow, I knew I was made for this world. So yes, it was because of my father that I was introduced to showbiz. 
You started as an Assistant Director and even wrote for movies. How and when did the switch to acting come to be?
I actually acted in two films, Slumdog Millionaire and Haal E Dil, even before I had decided to become an actor. I was working at Channel V when a friend suggested my name for a bit part in Haal E Dil. Another friend had cast me in a sequence in Slumdog Millionaire. I still had no intention of taking up acting as a profession then. It was when I was working at Imagine Showbiz that my dear friend Namit Das recommended my name for a part in Dhobi Ghat. Although I got auditioned and got selected as well, Kiran ji thought appearance wise I did not match the character well and I was replaced with Danish Hussain, who's a brilliant actor and now a dear friend. That incident however shook me completely, and I decided to quit my well-paying job at the age of 33 to pursue acting full time. That's how the acting journey began. 
Sharib Hashmi: "Be it movies, series, or theatre, as long as I get to act, I'm pleased."
What is your creative process before taking up any role?
I don't have a fixed process. It keeps changing with the kind of role I get. Every character demands a different approach. Some characters need extensive research, some need spontaneity. So, my process also changes with every role.  
You have done series as well as movies. How different are both the mediums? Which one do you prefer?

Though as an audience, cinema is what I love more, as far as work is concerned, I just prefer to act. The medium really doesn't matter to me. Be it movies, series, or theatre, as long as I get to act, I'm pleased.
It was because of my father that I was introduced to showbiz
The Experience So Far

Your role as 'JK' in The Family Man has garnered you more attention than any of your previous roles. How did that impact your professional and personal life?

It changed drastically! All these years I was yearning for that kind of love and appreciation, which I received as JK. And I thank Raj, DK, and Mukesh Chhabra for casting me in such an adorable character. Now the kind of roles I'm being offered are meaty and the audience love has increased immensely. All I can say now is 'Yeh Dil Maange More'. 
4. We saw you alongside Shahrukh Khan in Yash Chopra's last movie, Jab Tak Hai Jaan. How was that experience?

Jab Tak Hai Jaan was like a dream come true. Working in Yash ji's last film as a director was a huge honour for me. I still remember my first day when I entered YRF studio – Aditya Chopra standing with his team on one side, and on the other was ace cinematographer Anil Mehta along with the legendary Yash Chopra. It was as if I was dreaming. Then I met the greatest superstar, SRK, and he never made me feel like a newcomer. He was a great co-actor. I'll always cherish the days I spent on the sets of Jab Tak Hai Jaan. 
See Also

On working with SRK: "He never made me feel like a newcomer.
5. Filmistaan won a National Award. How was that experience different from any of your other experiences in movies?  

Filmistaan is and will always remain closest to my heart. It was because of Filmistaan that people took notice of my work for the first time. I learnt a lot working on the film with an amazingly talented cast such as Kumud Mishra ji, Inaamulhaq, and Gopal Dutt. Each of them taught me something new. I will never be able to thank director Nitin Kakkar enough for giving me Filmistaan.
8. Manoj Bajpayee and you seem to share a close bond on and off-screen. How has your experience been working with him?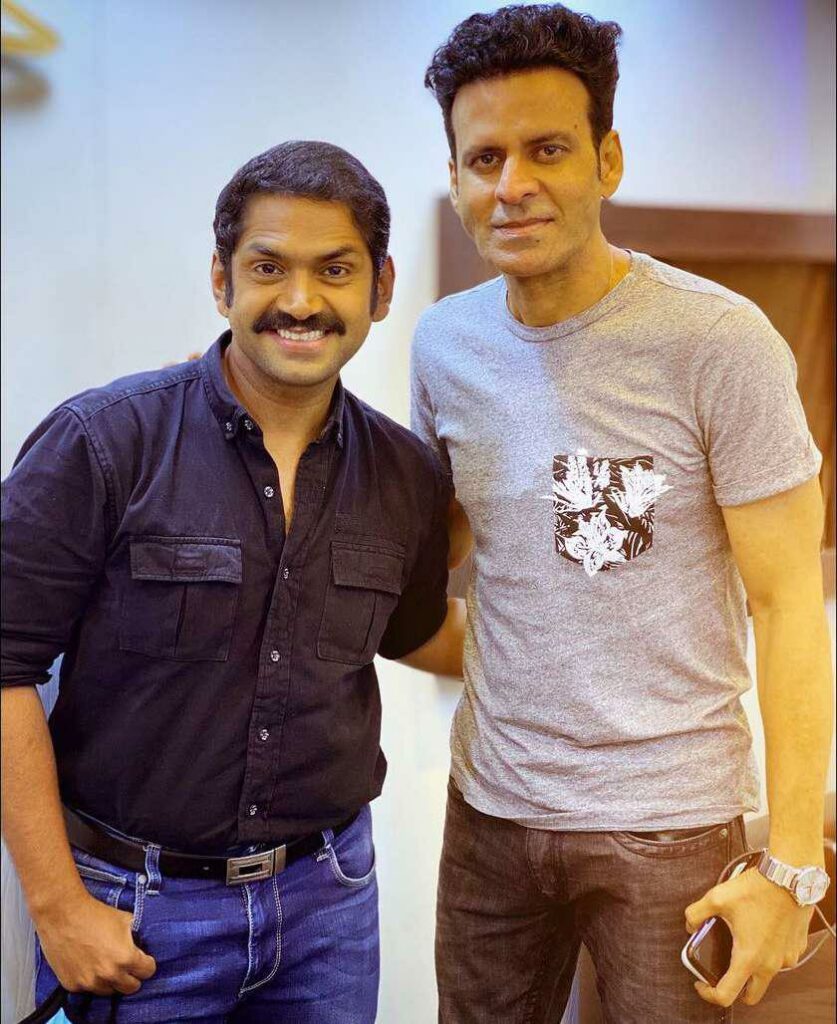 Working with Manoj sir has been such a satisfying experience. I really wish and pray to God that I get to work with him on many more projects. It's like going to a film school. He makes his co-stars so comfortable that you forget you're working with a legend. All you remember is the character Srikant Tiwari. He's a friend, philosopher, guide, and big brother all rolled into one for me. I love and respect him and admire him tremendously. 

Latest Ventures
Your recent projects are Bishwa and Helmet; how different are your characters in both the movies?

I have a small cameo in Helmet whereas, in Bishwa, I'll be seen in an important part. And yes, they are completely different from each other. I'm very happy with the kind of roles I've been offered post The Family Man.
I have a few projects lined up and coming through. There's Dhaakad, Mission Majnu, and Bishwa, as well as a series called Six Suspects.