The Mystical Blue Pottery of the Pink City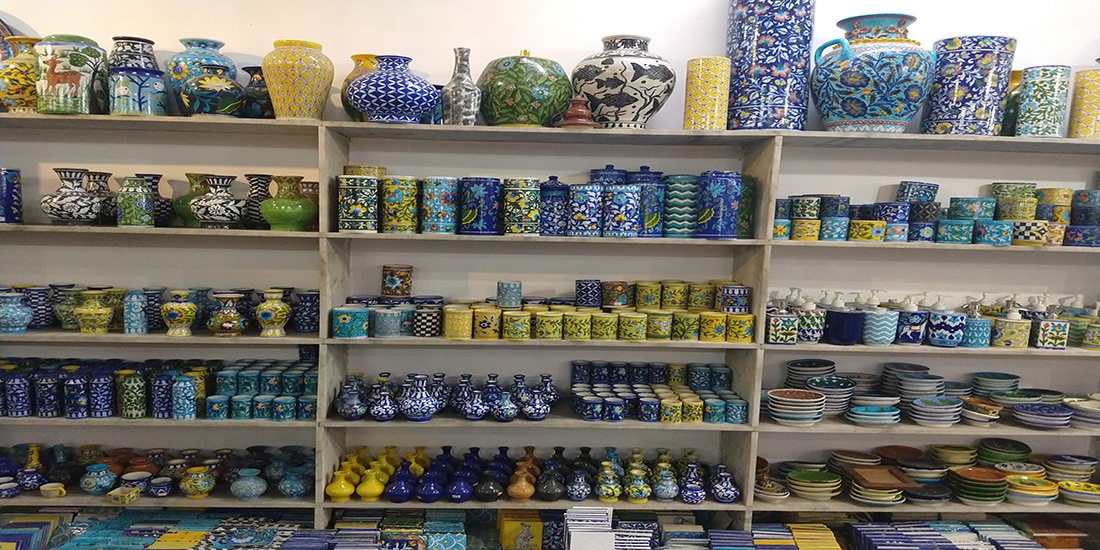 Jaipur is a celebrated city for its vibrancy, culture and heritage. Apart from textiles, it is well known for crafts such as Blue pottery, which is distinguished by a royal blue and turquoise colour palette. The comeback of the traditional, historically famed and unique Jaipur Blue Pottery is the sign of a successful legacy. Having received the Geographical Indications (GI) status, the Blue Pottery is an ode to ceramic art. Ketki Gadre takes us through the history of the famed handicraft.
What's with the name?
The name 'Blue Pottery' comes from the strikingly attractive blue dye that is used to colour the pottery. The pottery is painted with designs inspired by nature—animal/bird motifs and geometric patterns which make it extremely attractive and pleasing.
History of Blue Pottery
Known to have originated in Middle East Asia, this Persian inspired art combines Chinese glazing technology. The origin of Blue Pottery in India dates back to the 17th century. Before its arrival, the Blue Pottery was used only for decorating mosques and tombs across Central Asia, but in India, it was moulded into utility items for everyday usage.
According to a legend, Maharaja Sawai Ram Singh II attended a kite flying session and watched two brothers from Achhnera cut the royal kites that were flown by his kite masters. The brothers had coated their strings with glass-like dust from their pottery practice. The Maharaja was intrigued and impressed with this technique and invited the brothers to stay in Jaipur and teach this unique form of glazed pottery at his art school.
Unique aspect of Blue Pottery
Unlike most pottery items, Jaipur Blue Pottery is a no clay item. Instead of clay, this art form is made using a special dough prepared by mixing quartz stone powder, powdered glass, Multani Mitti (Fuller's Earth), borax, gum and water and moulded into desired shapes and sizes. The pottery item is shaped and rubbed with Regmaal to polish the surface. It is then dipped in another solution and dried. The blue colour is coated here with a solution of cobalt oxide and edible gum. The items are fired at low temperature in wooden kilns. The lack of high firing temperature makes them fragile but also makes them super unique. Products of this form of pottery ranges from tiles, vases, coasters and beads to kitchen cutlery, stationery items and home decoration items. 
Before its arrival in India, the Blue Pottery was used only for decorating mosques and tombs across Central Asia, but in India, it was moulded into utility items for everyday usage.
Shopping for Jaipur Blue Pottery
As unique as this art is, one cannot deny the labour-intensive and time-consuming process of making each Blue Pottery item. In order to help survive this age-old traditional art, it would be cruel not to take back a piece of Blue Pottery to your home. So the next time you are in Jaipur, experience the beauty of this timeless art and pay a visit to Jaipur Blue Pottery Art Centre. This two-storeyed store is sure to woo the visitors with thousands of products on display. The store has a small demonstration area at its entrance where visitors are shown the various powders used and the entire process of making Blue Pottery. With permission, visitors can visit their production unit in Sanganer, a town 15km south of Jaipur.
Workshops for Jaipur Blue Pottery
If students or artisans want to learn the art of making Blue Pottery, they can enrol themselves for workshops that span from two weeks to two months where one learn everything about the art. Workshops are conducted on the third floor of this store.
Jaipur Blue Pottery Art Centre
Near Jain Mandir,
Amer Road, Jaipur 302002
Contact: Durgesh Doraya – 9636079607
Email: jaipurbluepottery@yahoo.com