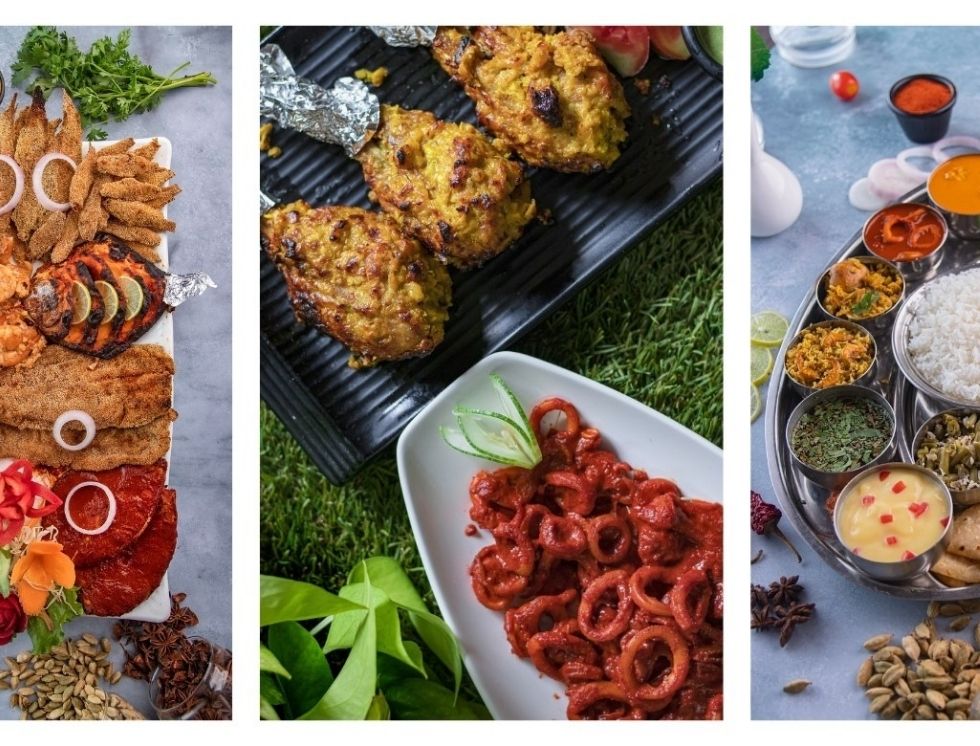 If you want to experience the famous Goan cuisine and don't know too much about it, a must try is the Goan fish thali. Popular among tourists and a staple diet for locals, you haven't experienced Goa if you haven't eaten the famous fish thali that you can't get a taste of anywhere else in India. Apart from its stunning coastline and beaches, Goa is equally famous for its delicious seafood. Panjim being Goa's capital has some of the best restaurants that serve authentic fish thali. Ratna Bhupal brings you two places that definitely stand out:
Sharada Classic
One of my favorite places has to be Sharada Classic. Located in the heart of Panjim city, it has a modern restaurant vibe with comfortable seating and is one of the fancier places in which to savour the thali. Located on the first floor of a commercial complex, it is not the essential quaint goan place that you might expect. The food and the friendly service however more than compensates for the lack of the goan feel and will make you coming back more than once. Their fish thali consists of a fried fish which is always the star of the dish. The fish comes rava fried and you can choose from a variety of options such as kingfish and chonak which are the most popular. This is served along with a portion of prawn curry, the famous tisreo (a dry coconut based goan preparation of clams which is enjoyed as a side dish), solkadhi (a drink prepared with kokum, green chillies and coriander which serves as a digestive and is had at the end of the meal.), kismur (prepared with dried prawns, fish and coconut), some vegetable curry, roti and piping hot rice. They usually also have a sweet dish or some fruit to complete the thali. The thali is priced between ₹250 – ₹300/- and is one you will never forget. The place also offers a wide range of North Indian, Chinese and seafood for those who like to have more options while dining out and a full-fledged bar because you are in Goa and a meal doesn't go unaccompanied without a chilled beer.

Address – Milroc Neurekar Pride, above Mig Mishra Pedha, Opp Azad Maidan, Panaji, Goa – 403001
Phone – 09075986849
Dine in
Take away
Bar
No contact delivery
Open for lunch and dinner
USP – Tasty food and good ambience.
Anandashramam
A no-frills place, this restaurant has been around since 1945 and is one of the oldest establishments in Goa. Here you will get to savour one of the best fish and prawn curry. The simple ambience laden with plastic chairs and tables can be found packed with locals and tourists and if you don't get there in time, you might just miss their thali as it often runs out due to high demand. Their thali comes with a portion of goan fish/prawn curry, rava fried fish, kismur, solkadhi, chapati and rice. Apart from their thali, their serradura (a portugese dessert famous in Goa) is also a must try. The thali is priced at a reasonable ₹210 and will leave you feeling satisfied and content.
Address – 31st January Road,near panjim post office, Altinho, Panaji, Goa 403521
Phone – 093252758
Dine in
Take away
No contact delivery
Open for lunch and dinner
USP – Tasty food and quick service.