Up Close and Personal with Madhuri Dixit Nene
Madhuri Dixit Nene, the forever Dhak Dhak Girl, is back on our screens with her latest role. Known for her romantic characters, we will now get to see her in a fresh and exciting new genre. With The Fame Game, she now steps into the rising territory of OTT thriller dramas, and how! Anamika (her character) has everyone spellbound with her mystery and the show has received positive critical attention. Lipika Varma chats with this star for the ages and unravels Dixit's take on fame, real and reel.
What is the story of fame in The Fame Game? How would you describe Anamika?
Anamika Anand is a big star, and she is very famous. She has the perfect life and the perfect family. I think in that sense she is a star. Her relationship with her family is very different from how mine is in real life. Her relationship with her husband and her dynamic with her kids is very different. She is like a tigress to her children. She loves them a lot; whenever they are subjected to any problems because of her fame, she is protective. This series has depicted the dark side of fame and mystery shrouds Anamika.
Through the series we see how fame always comes at a cost. Did you have a similar experience?
By and large my life has been good. Honestly, I did not pay any huge price simply because I treated fame as a by-product of what I do. When I get up early in the morning, I feel excited and eager to go to my sets and play my roles. My focus then is my art, be it dancing, singing, or acting. My focus is my family when I'm at home. It's everything to do with the kids – knowing about their schedule, what they are doing, where are they going – all of this is my priority. I have managed to keep my profession as well my personal life separate. I don't think fame has affected me in a negative way.
The game of fame is a gamble between wins and losses. How do you juggle this constant rollercoaster of uncertainty?
You have to reinvent yourself. You must think about what comes next. You have to grow and look forward to life. When I do something well, fame automatically follows. In fact, for all this, I think out of the box. I try to follow my heart and do what feels good. People will always point out things to do or not to do as they may feel but this does not suit me. People would always like to give their opinion. I think you should do what you want to do. If you do what you like and are passionate about it, you will never go wrong.
Anamika struggles juggling being a mother, an actor, and a daughter in the series. How important is it in real life to hold personal and professional identities at bay from each other?
It's very important. I always say stardom does not define me. I'm a very different person from my reel persona. I like to learn new things and experiment; I don't like to be stuck in a mould. For me, my kids and my family are very important along with my own happiness. I like to give glimpses to my fan base that's under my control. I say whatever I wish to say. You have to pick and choose, and my fans understand it. Stardom should never define you…you should define stardom. What you do should define your stardom.
Do your children know you are famous?
They better know by now that I'm famous [laughs aloud]. They have lived here for ten years they do know. They are grown up enough. One is 18 and one is 16. Sometimes they come and tell me that one of their friends have watched and liked my songs like 'Kay Sera Sera.' Sometimes they think I'm cool and sometimes they ask me 'What were you doing?' We have other things to talk about like any normal family does. We don't discuss my movies all the time. If there's something new in a film or a show, I do discuss it with them.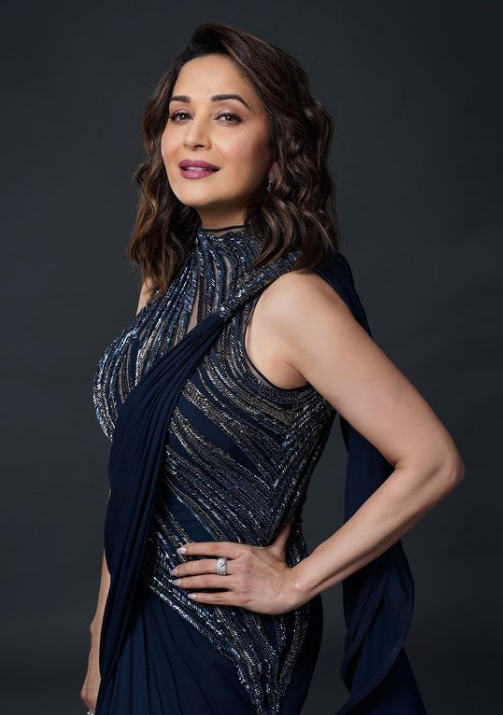 What are some of the drawbacks to being famous?
If you try to hold onto stardom, then there are drawbacks. Anamika tries and we see what happens in the show. I feel like fame treats you the way you treat it. Fame ke saath gehra rishta hota hai – if you go deep down then it affects you. For me, it's just the by-product.
You disappeared from the film world post marriage. What was it like to be away from the starlight?
Being off the cameras after my marriage, when I wasn't working, felt good. Truly speaking, I chose to get married, then I chose to have kids…I did what I felt good. Everyone has their dreams. Having a family was a big part of my dream. I was living my dream. Many people were like 'aapne ne apne peak par aisa kyun kiya.' But all that did not bother me. I love kids so that was a huge thing for me. I am living my dream. I met the right person, I wanted to get married and I have lived my life on my own terms.
Box:
Madhuri Dixit in 6 Questions
Given the chance, Anamika disappears from the world of fame. Would you run away if given the same chance?
I will never run away. I'm very happy with my life.
Where would you go to relax?
When I wish to go out, I go to beaches. Any place which is surrounded with lovely beaches, where I can go along with my children, I would love it as I can relax over there to the fullest.
How did you keep yourself busy during the lockdowns?
I used to do things from home itself. I spent a lot of time with my children and family members and took care of my mother, who lives with us. I also taught through my online classes.
What's going to be different with the latest season of Dance Deewane?
The third generation (above 35 years of age) will also be participating alongside first- and second-generation dancers. Everyone will be competing, no matter their background.
Dance has changed from the performances we used to know, being more about stunts now.
I'm often asked this question. Honestly speaking, if you are performing Bharatnatyam, you are exhibiting your flexibility in this dance form. Stunts have no space in this. If you perform hip hop or contemporary, then stunts are considered as part of the dance form. As judges, we are looking at everything. If you don't do stunts, then it's not like your dance will not be appreciated.
We've heard you are revamping your style quotient this season?
My style inspiration is going to be a little different in term of styling the saree I drape. Even a ghagra that I will be wearing will surely have a pinch of difference in comparison to what I wore earlier…[smiles] wait and watch.