Water Wise: How a Bangalore-based couple is fighting the rising water crisis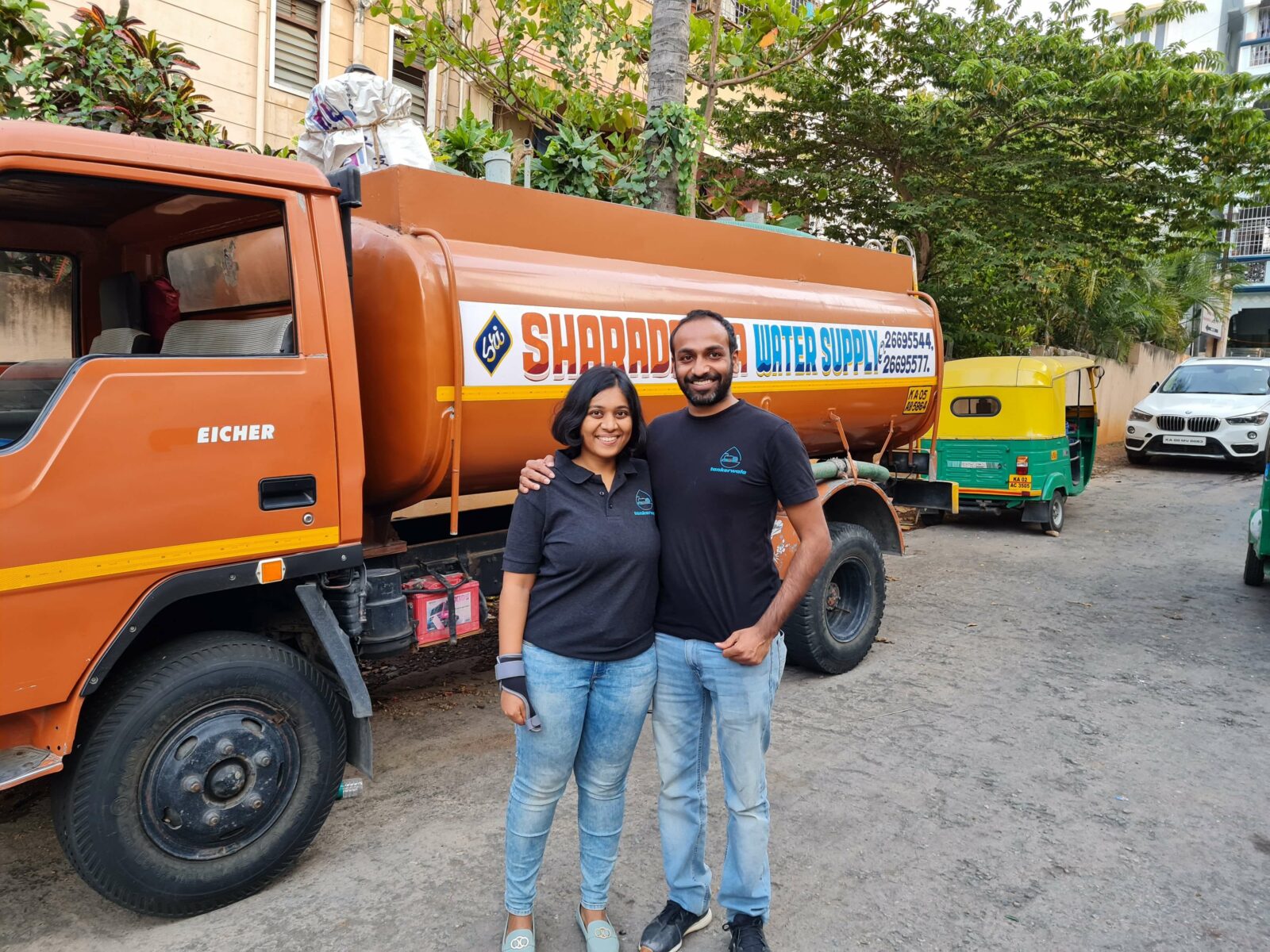 Cognizant of the rising crisis of water in Bangalore, husband-wife duo MOULYA AMAR NATH and SHRAVANTH DONTHI began Tankerwala to tackle the problem. BINDU GOPAL RAO talks to the couple and brings to us their refreshing perspective.
When Moulya Amar Nath and Shravanth Donthi were expecting their child, they moved to Moulya's parent's home in Banashankari in South Bangalore. This was an apartment complex with eight flats. The municipality water was not enough for all, leading them to order water from tankers frequently.
This is when they realized that things were not as expected. "We were very upset with the service of getting water on tankers and paranoid about the quality of water we used to bathe our baby. We realized this problem was very evident and widespread across the country. So, we decided to address these problems by starting Tankerwala in December 2020," explained the couple.
"Moulya and I, both are continuously identifying problems within our environment and trying to make a better way of life."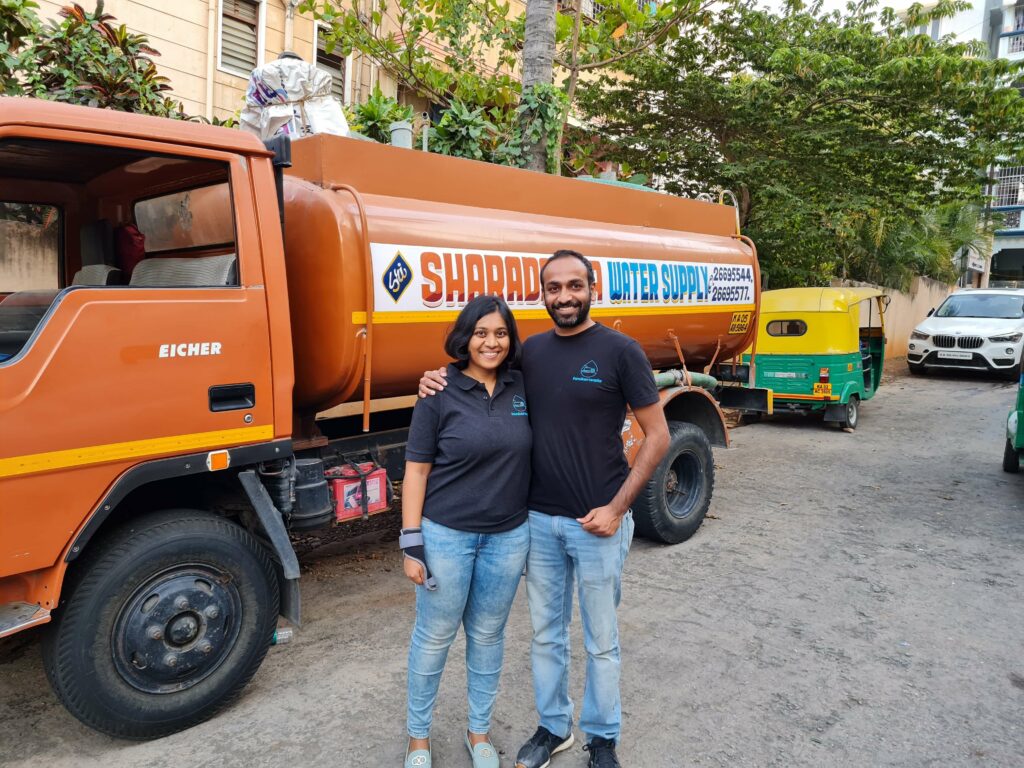 Moulya Amar Nath holds a Bachelor's degree in Computer Science, following which she began to work on community projects that created a better impact on our society. Her husband Shravanth Donthi is a commercial pilot who has worked as a flight instructor, an aerial fire-fighter and a charter pilot. In 2014, he moved back to Bangalore, India to work on projects that tackle water scarcity and went on to co-found Green Lantern Engineering to recycle water using Sewage Treatment Plants and convert waste-to-energy. In 2020, the couple came together to co-found Tankerwala, joining their skills for a better future for all. The company's mentor is Dr Ravi Shankar, who comes with an experience of over 40 years to the board and has been part of the Bangalore Water Supply & Sewerage Board for over 29 years.
The couple began Tankerwala in December 2020, hoping to create an impact in conserving water.
Tankerwala is currently a mobile app that allows you to book water tankers on-demand across the city. "It works very similar to cab aggregators like Ola and Uber. With a network of more than 1300 water tankers across Bangalore, we will ensure that a water tanker reaches you within 60 minutes," says Shravanth. With three simple clicks on the app, you can place an order for a hyper-local delivery of water on tankers. All you need is to choose location, choose capacity and delivery slot and finally pay for the delivery.
Keeping in mind the urgent need to reform the water crisis, Tankerwala has also branched out into a second wing of operations, delving into water recycling. "The company has licensed technology for sewage treatment/water reclamation – BioHYBRID™. The company engages in setting up and operating such plants across the country, be it in apartments, offices, schools, hotels and hospitals. The BioHYBRID™ technology is a highly advanced and indigenously developed process with many advantages over the conventional systems in the current market," says Moulya.
The company currently has access to over 55 million litres of treated water every day and is aiming to transport this water for secondary applications like irrigation and construction using the strong network of water tankers.
Tankerwala is aiming to create a great experience around ordering a water tanker. The mobile app has a live tracking feature to inform the user about the order status. With India's largest network of tankers, the team maintains quality control by having verified suppliers and periodic water quality testing. Pricing is regulated through geofenced localities/region, maintaining a uniformity in price. They also have a 24×7 customer and supplier support line that ensures there is someone available for any help at any time.
Commenting on their success, Shravanth says, "Moulya and I, both are continuously identifying problems within our environment and trying to make a better way of life. We both read a wide range of books, ranging from Bhagavad Gita to Sapiens and business focused books like The Hard Thing About Hard Things. We derive motivation and inspiration from each other every day and consciously try to be better versions of ourselves."
Tankerwala has plans to expand operations in Chennai, Coimbatore, Mysore, Delhi and Hyderabad in the upcoming years. Tankerwala will soon be delivering recyclable treated water across the city for secondary applications like irrigation and construction. Charting out their future plans, the duo let us know, "This will enable a user to not only buy fresh water, but also have a choice to buy recyclable water. This will create a significant impact in conserving water."
"The company has licensed technology for sewage treatment/water reclamation – BioHYBRID™."
While water is an important aspect for the environment, here is a start-up that is not just ensuring safe water but is also doing its bit to recycle water and make that accessible.
For details and bookings check out: https://tankerwala.in/