Wunderhaus Artist Getaway and Homestay
Tucked away in the suburbs in a village called Kuilapalayam, between Pondicherry and Auroville, is Wunderhaus—an artist's getaway and a quirky homestay. Just a kilometre away from Auroville Beach and Serenity Beach, this solar-powered, ecologically conscious homestay is an architectural love letter to nature. Founder and manager Keddar Maddula sought a place that provided the genuineness of small-town life. The result was this carefully built homely destination, designed for all those seeking to be far from the maddening crowd. Indira Penubolu discovers what sets this particular destination apart.
The devil is in the details at Wunderhaus, Pondicherry. Right from the famous aged stained glass window at the entrance, to the ancient wooden doorway, the beautiful vibrant blue Athangudi tiles that you step on as you enter and the Chettinad pillars that adorn the central courtyard—everything embodies creativity and art.
Founded and managed by Kedar Maddula, a fashion and space designer, this solar-powered homestay also has a beautiful indigenous organic garden. It is home to fruit trees such as cashew, mango, papaya, chikoo, soursop, banana, and kumquat, as well as other interesting flora and fauna.
Artistically Architectural
Listed on Airbnb, this homestay is primarily nomadic and deeply rooted in local culture. Kedar brings back little souvenirs and cultures to the home which in itself is an institution. Each piece of furniture is handpicked and unique, be it the custom-made bamboo recliners, the wooden benches and trunks, the swing near the entrance or the hammocks in the courtyard hanging on the branches of the cashew tree.
The windows of Wunderhaus deserve a special mention and are nothing short of a visual treat, each a unique shape, size, and colour. Some are embellished in the beautiful stained glass of different colours while others have ancient tiles with roses on them, yet others have artistic cement grills depicting creepers and flowers.
The tiny details on the walls, the cubby holes that hold lamps and candles, shelves holding unique items from the past, as random as a brass tiffin box carrier right to the collection of brightly coloured wooden animals such as a frog, a walrus, a fish, a cow, a pig, a crow, and a rooster—the house is composed of souvenirs from different parts of the world. At the foot of the semi-circular white wall onto which movies can be projected, you can also find a few mice painted; one holding an Indian flag and a couple smooching away in love.
The rectangular pond with a tall skunk tree on its island is filled with lotus plants, fish, and frogs. The vibrant mosaic wall art of a woman basking near the pond with a bottle by her side is visually enigmatic. Stay long enough and you may be able to make friends with the shy freshwater shark in the other pond hidden under the staircase.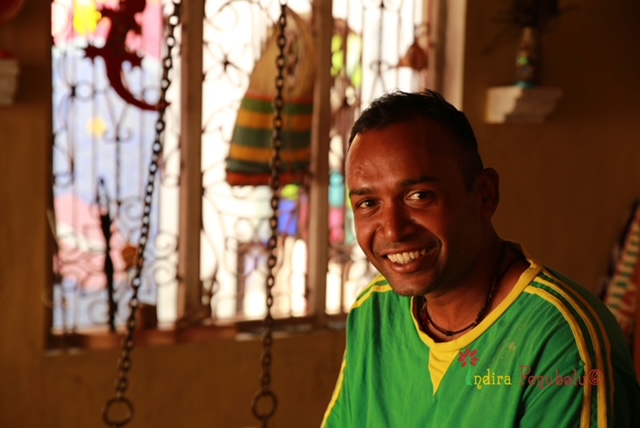 Each of the guest rooms has a unique name and theme. The Sea Room is large and blue, with a semi-circular wall with waves painted on one end and a surfboard propped on the other to finish off the look. The ceiling sparkles with sequins and is studded with round paper lanterns. The bathroom wall of this room is partly made of quarried rocks with conch shells built-in and has pebbled flooring. The Budget Backpackers Room is also in blue, decorated with Athangudi tiles. This small cosy room comes with a single bed and no attached bath. The Berlin Room, decorated in paraphernalia from Berlin, has a cemented double bed with an interesting cement bag-finish ceiling. Then there's the terrace, whose flooring is covered in little bits of mosaic tiles and is home to the dining area covered with a perennially blossoming Rangoon creeper for shade.
There's also the Jasmine, Garden, and Artist's Rooms, all unique to their themes. The bathing rooms, whether common or attached, have a special place in the homestay, decorated in mosaic tiles and with walls made of old glass bottles and cement, giving it a unique feel.
The common kitchen, painted in deep blue with a caricature of a cat and fish on one wall and terracotta fish and snails embedded in another, is a clutter of utensils—some steel, others brass and copper, and some beautiful hand-glazed terracotta mugs and plates. Equipped with a mortar and pestle, an oven, and a refrigerator, and stacked with a variety of cold-pressed oils and spices, one could cook up anything from mushroom stuffed grilled chicken to a black rice payasam.
Slice of Heaven
Wunderhaus is famous for its breakfast which is inclusive for the houseguests. Be pleasantly surprised by the visually beautiful cold red banana and millet smoothie bowl, or the double beans and pumpkin hummus served with sourdough bread. There's also a tomato, egg, and chicken spinach salad or a simple red rice dosa and coconut chutney, with a side of fruits harvested from the garden. The absolute star is the vegan coconut milk coffee.
The Wunderhaus Studio
Wunderhaus isn't just a cool homestay. It's also a studio for creating avantgarde and indigenous unisex clothing. The philosophy here revolves around exploring the narrative of historical craftsmanship in the fields of textiles and handicrafts across India.
The intent is to bring these into focus and carve out various interventions, collaborations, and skill exchanges in the rural sector in a language that appeals to the youth, to create economic opportunities for them and the people in rural India. Wunderhaus also collaborates with artisans with special skills in craft and textiles to create short capsule wearable art fashion collections to sell to a global audience.
The label "Wunderhaus" presently makes all-wear clothing and accessories and has a strong focus to popularise the Indian handloom, indigenous cotton, and handicrafts amongst the youth.
For those looking to get their creative juices flowing or seeking an elegant workcation, Wunderhaus in Pondicherry is the right place to visit.
Wunderhaus Culturals
Just when you think there's nothing more left to explore at Wunderhaus comes more. Kedar Maddula, the founder, often curates and hosts cultural soirees for intimate crowds in this space. It could be anything from a simple movie night to a musical storytelling session by travelling artists or even a food festival.
Bookings and Queries
Contact: wunderhauspondy@gmail.com
Instagram: @wunderhaus.pondicherry