Knocking at the heaven's door at Zuluk, Sikkim
Nestled between the craggy peaks of high Himalayas in Sikkim, Zuluk is a picturesque hamlet that is called home by a handful of Gurung families, transient troops of Indian armed forces and nomadic yak herders. History tells us Zuluk has been an important stop on the Old Silk Route operational until the Chinese invasion of Tibet. Zuluk sits atop a daunting height of 9000 feet. Madhurima Chakraborty explores this rather offbeat destination, which remains hidden under the obscure folds of the mountains guarding northeast India.
Despite being a small state, Sikkim has countless defined tourist routes. While most people visit north Sikkim and a few head to Pelling in the west for a personal rendezvous with the towering range of Sleeping Buddha, Zuluk from the eastern part of Sikkim is often overlooked. Most tourists prefer to set base in the thriving capital of Gangtok, and pack a day's picnic to the Changu lake. A sacred glacial lake, Changu is locally known as Tsomgo lake. On an ideal East Sikkim tour itinerary, often termed as the Old Silk Route by the numerous tour companies, Zuluk should be the starting point of the loop and Changu must be the penultimate stop before you reach Gangtok!
Getting there
Upon reaching Bagdogra airport, a small army airport connecting the north of Bengal and the state of Sikkim, you should hop onto an Innova or any big car. Avoid hatchbacks because the tiny cars often fail to trudge through the serpentine roads of the Old Silk Route that get painted with white snow. The ascent to Zuluk starts right from the Bagdogra airport.
The night before reaching Zuluk can be spent at the beautiful riverside village named Reshikhola. A handful of resorts abound in the area. You can proceed a bit further and reach Aritar to spend the night. In April, Aritar is painted bright in hues of Rhododendron bloom to welcome spring. Zuluk is reachable through paved roads by BRO India but driving to Zuluk in one day seems a bit far-fetched. Firstly, you have to sort out your entry permit to Sikkim. After that, an entry to Zuluk needs to be sorted at Aritar upon providing your ID pass. Moreover, Zuluk is sitting at an astounding height of 9000 feet. Not all human mechanisms are built in order to face that sheer change in altitude in a day.
Allow the first night at Aritar for a proper rest and start the morning with a relaxed drive that will span for three hours. The entire range of Sleeping Buddha will appear on the left of the road, granting your journey to the forbidden land of the mountain!
Life in Zuluk: Serenity Redefined
Zuluk is a small village divided in two segments, Upper Zuluk and Lower Zuluk. Zuluk's alluring proximity to the high Himalayas also translates into the village being scarily close to the Chinese border. In fact the Old Silk Route loops around Nathang valley and Nathula Pass which straddle the border with Chinese occupied Tibet. Needless to say, men in uniform dominate the horizon starting from Zuluk. This is a rest stop for Indian Armed forces before they venture into posts located further up in higher altitudes.
Alongside setting up army camps, makeshift tents and a place of worship used by every faith, the Indian army has also set up a water tank clearly marked in olive green and red that takes care of water supply for the whole village.
Sans occasional tourist footfall, Zuluk has not more than 20 local households. The quaint village homes are equipped to host tourists in humble clean homestays. All of them grow their own vegetables in the backyard. Plants include potatoes, cabbages and spinach during the short stint of summer. A cow or a zombu (a mix breed between a yak and a cow) takes care of the family's dairy needs.
Thambi View Point, Zuluk's Crowning Glory
If life is hard and resources are scarce, why do travelers rank Zuluk so high? The answer is buried at Thambi view point! About two hours (14 km) drive from Zuluk village through hairpin bends, you reach the proverbial doorstep to heaven. Thambi View point bestows you with a memorable panoramic view of Mount Kanchenjunga and the entire sleeping Buddha range of mountains while clouds kiss you at the feet at a sheer height of 11,800 feet! From Thambi view point, you will get a clear view of the Old Silk Route, the serpentine routes that curve the mountain heads and look extremely pretty during golden hour. In case you are visiting Zuluk during January or later, the roads (Old Silk Route) will dazzle in bright white snow!
Zuluk is a safer bet to spend the night in the mountains, when compared to the Lungthung village, which is accessible from the Thambi view point. Zuluk is better equipped with tourist infrastructure although power supply is frivolous. You may also need to turn the heater on from midnight to get warm water in the morning. Often, water supply is clogged due to sub zero temperature at night. You need to wait till the Sun rolls his magic wand.
The Snow Lion Resort in Zuluk is a decent hotel with running water and electric backup that may fail if power is not restored for more than 8 hours. So is the Zuluk Sojourn Homestay. Please note, the village relies on military facilities for sudden medical requirements. You may check out Padamchen at a lower altitude for better facilities including a small market.
See Also

Onwards from Zuluk, Completing the Loop at Old Silk Route!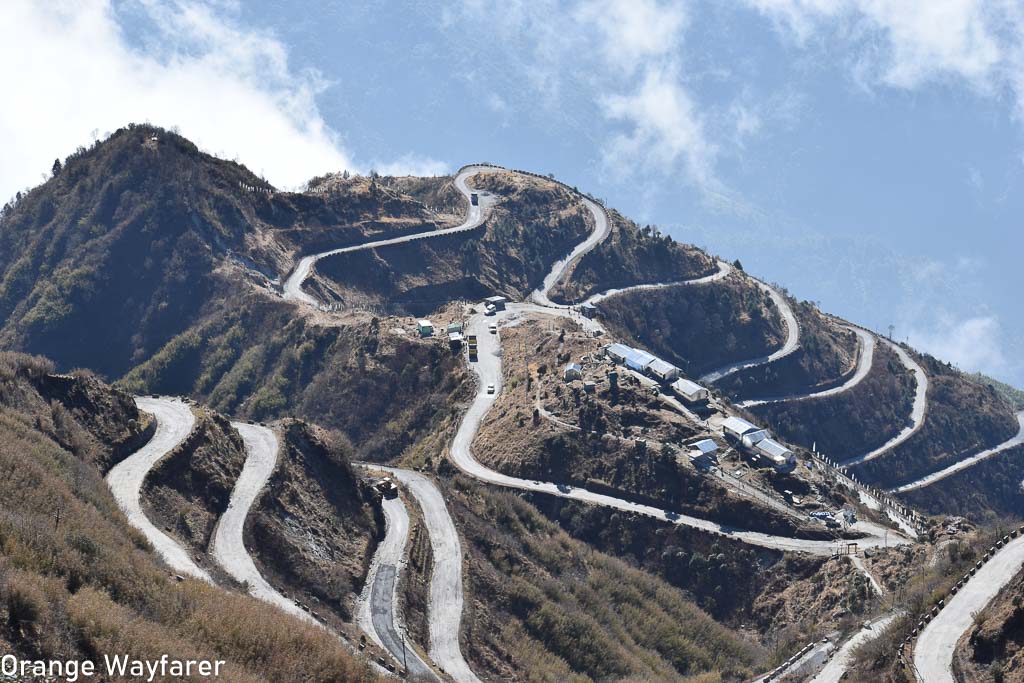 From Zuluk, you may stop for a night at the Nathang Valley, a small village sprang up on a valley on the west of which the towering Sleeping Buddha Range stands still. The next day, start early and complete the loop of Old Silk Route at the Tsomgo lake. True, Changu has become an apple in the eyes of tourists in recent times,  but the changing colours of the glacial lake will inspire you to find your own quiet. Gorging on a hot plate of "mountain maggi" is a prized experience you will find only at the Changu lake.
Lungthung Village, the Shepherds' Abode!
A short hike from Thambi View Point will bring you closer to Lunthung village. Only a handful of homestays run the show here. Lunthung was not developed to be a village for local's stay. There is scarcely any water here. However the makeshift homes are the sole respite for yak herders or nomadic mountain tribes during prolonged nights of snowstorm. You may choose to stay in Lungthung to witness a stunning view of sun kissed Kanchanjungha during sunrise. However beware of the hissing mountain winds. If the weather is spoiled, Lungthung becomes merciless.
Planning a trip to Zuluk:
Usually the Old Silk Route remains open throughout the year barring a few nights of particularly heavy snowfall in winter. If that happens, a permit to drive towards Zuluk will not be issued at the Aritar check post. You should plan your trip to Zuluk barring the monsoon months from June to September. Peak of winter usually paints the Old Silk Route in sparkling white but the road remains open with enormous military supply trucks braving the snow with special chains tied to wheels.
An important stop on the Old Silk Route, Zuluk sits at an astounding height of 9000 feet.
Zuluk has no more than 20 local households. The quaint village homes are equipped to host tourists in humble clean homestays. All of them grow their own vegetables in the backyard.
Thambi View point presents a memorable panoramic view of Mount Kanchenjunga and the entire Sleeping Buddha range of mountains from a sheer height of 11,800 feet.