10 Winter Fairs and Festivals of Rajasthan you should not miss
Rajasthan is a land of hospitality, vibrant culture, royalty, history, and rich heritage. Its royal monuments and architectural marvels capture the essence of Incredible India in one state. What makes it more alluring are its numerous fairs and festivals. The state has literary festivals, religious fairs, musical fairs, animal fairs and festivals to mark the changing seasons; but it is during winter that Rajasthan is at its colourful best. The winter festivals bring alive age-old traditions, and beautiful rituals and highlight Rajasthan's rustic charm to the outside world. They are a rich blend of trading, commercial activities and social gatherings that bring people closer. And if you are willing to go on a voyage of self-discovery, free-fall into a whirlwind of colours, music, songs, and dances then these celebrations are just the right scoop for you in winter.
Many of these events were put on hold since 2020 due to Covid-19 restrictions. After travel restrictions were lifted by the Government of India some months ago, tourists have started pouring in. The winter season brings foreign tourists to the desert state in large numbers, and they spend months here moving from one place to another, savouring the rich legacy. Even domestic tourists are now resorting to revenge tourism and hopefully, there will be grand celebrations across the state this year.
A majority of these events are organized by Rajasthan Tourism and attract international tourists in large numbers. Many cultural organizations and institutions also hold festivals to support local culture and heritage. Md. Masarrath Ali Khan lists the 10 winter festivals you should not miss in the desert state this year.
(1) UDAIPUR WORLD MUSIC FESTIVAL (16-18 Sep 2022)
Organized by SEHER in Udaipur, it is one of the country's biggest world musical extravaganzas. It brings together global artists and ensembles from over 20 countries including Iran, Switzerland, Indonesia, Azerbaijan, Greece, Portugal, Spain, Brazil, Senegal, France, Italy, and India. The event is designed to cater to the musical sensibilities of people of different ages and from all walks of life. An absolute once-in-a-lifetime experience, this one is a sheer treat for lovers of good music.
(2) KOTA DUSSEHRA FAIR 
The Dussehra Festival is celebrated all over the country, but the Dussehra Mela at Kota is an important fair in the cultural calendar of Rajasthan. It is the longest festival celebrated in Rajasthan for 25 days. More than 75 feet tall idols of the demons Ravana, Kumbhakarana and Meghnad (usually filled with crackers) are torched and set to fire on Dussehra day to symbolize the victory of good over evil. Rich in courtly splendour and age-old traditions, this event is marked by a glittering procession.
On Vijayadashmi, an arrow is shot at the effigy of Ravan which depicts the death of Ravan at the hands of Ram. Lakhs of people gather in the Dussehra Maidan to witness this event. Prominent artists from all over the country are invited to participate in various cultural programmes. The events include Cine Sandhya, Bhajan Sandhya Kavi Sammelan, Sindhi cultural programme, Rajasthani folk music and dance programme, All-India mushaira, Punjabi programme, Qawwali Night and Bhojpuri Night etc. 
(3) MARWAR FESTIVAL (8-9 Oct 2022)
The music and dance of the Marwar region are the main themes of the Marwar Festival celebrated in Jodhpur. It is a tribute to the brave Rajput heroes and their glorious past and provides a deep insight into their local art and culture. The best folk dances like Dandi Gair, Kalbelia and Ghoomar allow the lovers of art to soak in the local culture. Shows like moustache shows, turban tying competitions, tug-of-war, Matka races, traditional dress competitions, Puppet shows, magic shows, camel tattoo shows, horse riding, and horse polo keep the tourists engaged all through the day. The best of the lip-smacking delicacies and the aroma of the local snacks make it a must-visit festival. Some programmes of this festival are also held at Clock Tower and Osian's sand dunes. 
(4) PUSHKAR CAMEL FAIR (1-9 Nov 2022)
If you love cattle, this one is for you, held at Pushkar, 11 km from Ajmer. Thousands of camels and their traders spend days and nights at the sand dunes, making it their temporary home. The camels are lovingly seared and bedecked in their finery for the camel decoration competition. Tourists enjoy watching puppet shows, snake and mongoose fights, and the snake charmers sway the crowds with their acts. Lively cultural and musical programmes are held at the fairground. As the full moon night of Kartik month approaches, the town swells with tourists. Pilgrims take a holy dip in the Pushkar Sarovar and visit the Brahma Temple. Hot air ballooning is an added attraction at the fair.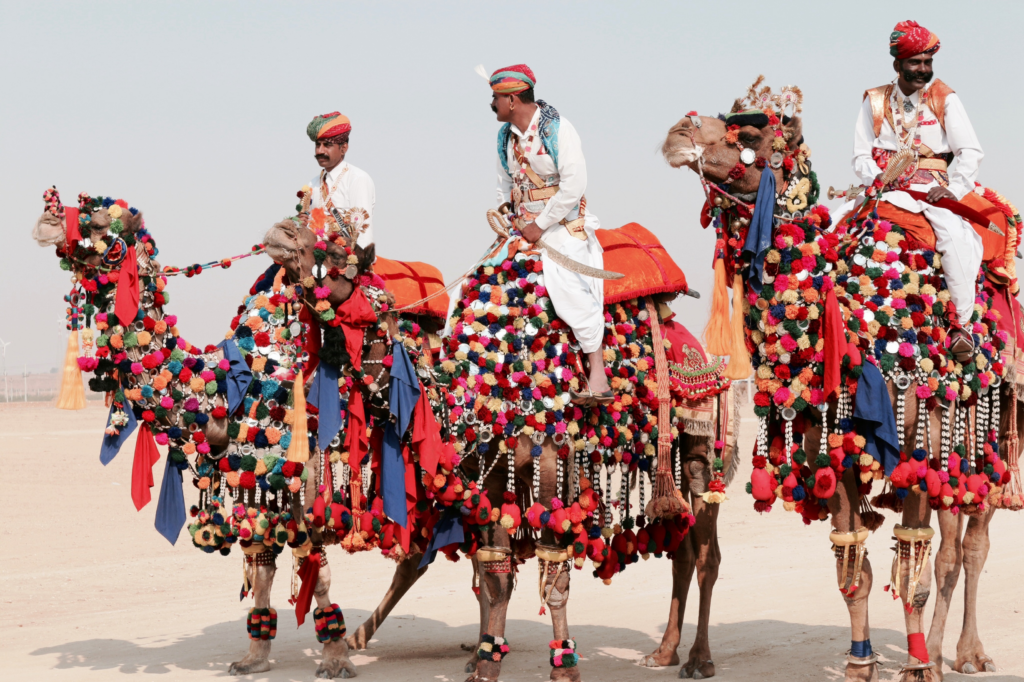 (5) KOLAYAT FAIR 
While the International Pushkar Camel Fair at Pushkar is halfway through, the Kolayat Fair begins at the Kolayat Lake of Bikaner. A sage name Kapil Muni had meditated here for the salvation of mankind. There is a shrine dedicated to him on a ghat named after him. The festivities begin in front of the Kapil Muni Ghat in the early hours of the morning and eventually spread to 51 ghats surrounding the lake. The pilgrims perform different kinds of worshipping rituals. They make offerings made of coconut, sugar drops, sugar cubes and dry fruits to the sage, participate in the aarti and take a holy bath in the lake. In the evening, earthen lamps are lit and set afloat on the waters of the lake, in a ritual called Deep Malika and the lake transforms into a visual spectacle. A cattle fair is held during the fair in which buffaloes, camels and horses are traded. 
(6) BUNDI FESTIVAL 
The Bundi Festival includes a colourful Shobha Yatra, arts-and-crafts fair, ethnic sports, cultural exhibitions, classical music and dance programmes, turban tying competitions, musical band competition and a sparkling firework display. Early in the morning, after the full moon night of Kartika Purnima, men and women clad in attractive colourful costumes light diyas or lamps on the banks of River Chambal and seek blessings. Programmes are also held at the 84-pillared-cenotaph. During the day, tourists enjoy a visit to the Garh Palace and Chitrashala (an open art gallery of miniature art executed in Bundi School of Paintings).
(7) JAIPUR JAZZ AND BLUES FESTIVAL
The 'Jaipur Jazz and Blues Festival' is a three-day celebration of world-class music from Contemporary, Fusion, Latin and Mainstream Jazz to Electric, Punk and Soul Blues. This cross-cultural initiative conceptualized and produced by SEHER provides an international platform for musicians and artists to display their talent. The programmes are held at the iconic Central Park of Jaipur.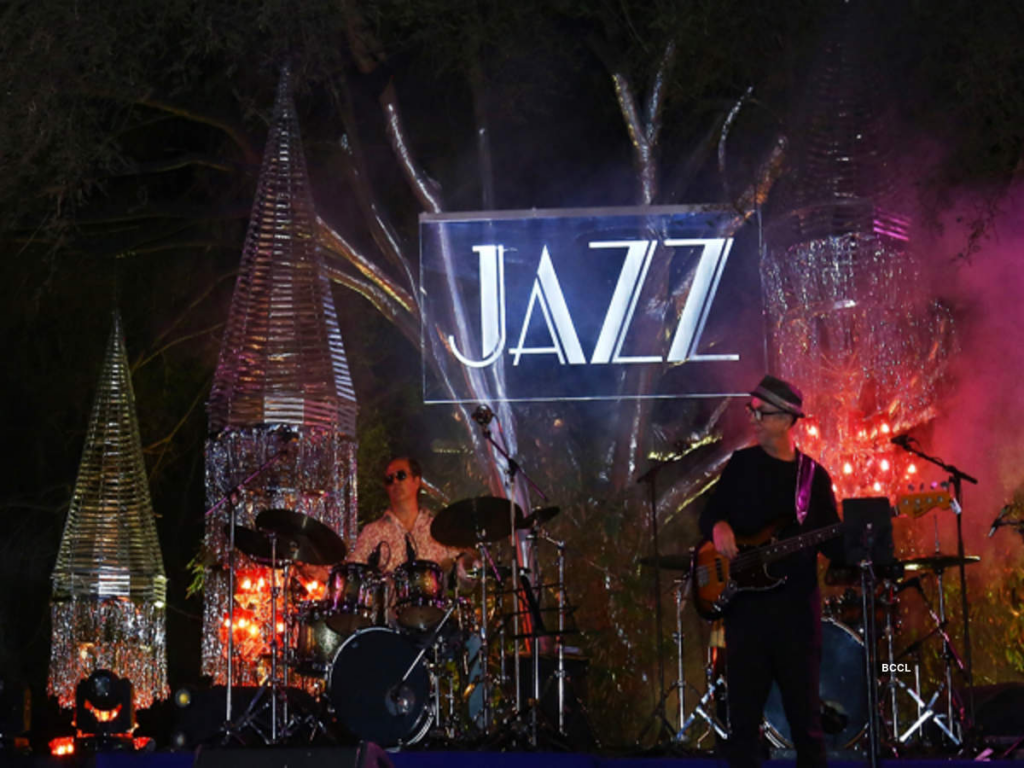 (8) MATSYA FESTIVAL (25-26 Nov 2022)
See Also

Legend says that during the Vedic period, an Indo-Aryan clan that resided on the west side of the Yamuna River named its kingdom 'Matsya Mahajanpada.' As the present-day Alwar, Bharatpur, and some areas of Jaipur are geographically located in the same region, this festival is named as Matsya Festival. It is celebrated to glorify the prosperity, traditional values, and colourful customs of the Alwar region. The events of the Matsya Festival are held at different forts and palaces to bring the limelight to the hidden marvels and historic gems. Thousands of pilgrims attend the aarti performed in the Shree Jagannath Ji Temple. This is followed by competitions like mehendi and rangoli, tug-of-war, rumal jhapatta (handkerchief snatching) and teer andazi (archery), sand art performances, Eco-trekking, parasailing, hot air balloon rides, all in the backdrop of folk music, and dance performances. The magnificence of Alwar's numerous palaces and forts, lakes, hunting lodges, archaeological sites, and thick forests, make it a delightful setting for a flamboyant celebration.
Add to it a leisurely visit to Alwar's magnificent landmarks: City Palace, and Fateh Jung Gumbad. Moosi Maharani Ki Chhatri, Vinay Vilas Palace, Siliserh Lake, Nangli Circle and nearby Jaisamand Lake – and you get a rich potpourri of colourful Rajasthan.
(9). KUMBHALGARH FESTIVAL 
Kumbhalgarh Fort hosts a grand festival to pay tribute to Rana Kumbha for his splendid art and architecture. Tourists visit the magnificent fort and appreciate its grandeur during the day. The local artisans display and sell their ethnic handicrafts, handmade jewellery, and a plethora of souvenirs, and they also show how these items are hand-crafted. Nights come alive with musical concerts, puppet shows, and folk and cultural performances like Kalbeliya, Sapera, Terah Thaali, Kachi Ghodi, and Odissi all in the backdrop of the magnificent fort, wonderfully illuminated in golden yellow lights. 
(10). DESERT FESTIVAL (3-5 Feb 2023)
The empty sand dunes around Jaisalmer come alive with a mesmerising performance during the Desert Festival. Rajasthani men and tall, beautiful women dressed in their best and brightest costumes dance and sing ballads of valour, romance, and tragedy, while traditional musicians attempt to outdo each other to display their musical talent. Puppet shows, camel tattoo shows, camel races, camel polo, traditional processions, camel mounted bands, folk dances add their flavour to the festival.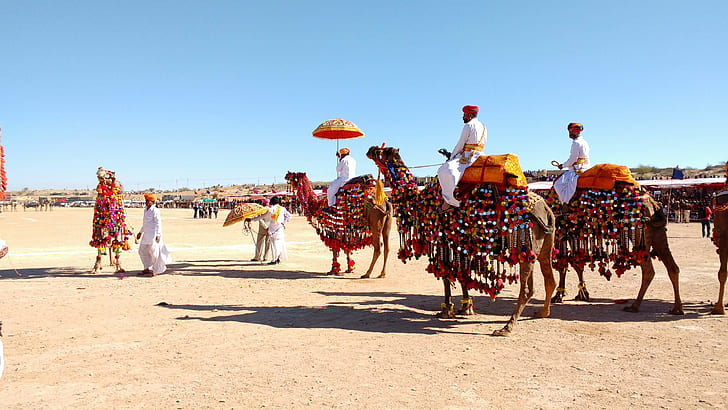 Conclusion:
Tourists and visitors have to follow all Covid-19-related safety precautions while taking part in these fairs. The actual dates of the events may vary by a couple of days due to the changes in the lunar calendar. For more information, contact
Department of Tourism, Paryatan Bhavan, Govt Hostel Campus, M.I.Road, Jaipur-302001, Ph: 0141- 2822863. A list of upcoming fairs and festivals is available at https://www.tourism.rajasthan.gov.in/fairs-and-festivals.html