15 Tourist Places To Visit In Ahmedabad
Ahmedabad is the first Indian city to be proclaimed as a World Heritage City by UNESCO, and rightly so. The largest city of Gujarat has numerous tourist attractions that are breathtaking architectural wonders, which have preserved the city's glorious heritage. Sultan Ahmed Shah founded Amdavad, as it is fondly known by locals, in 1411. The city of gathiyas, undhiyu, and chaniya cholis is also home to many temples, lakes, forts, mosques, and a sanctuary. Also known as 'Machester of the East,' Ahmedabad was Gujarat's capital until Gandhinagar took over in 1970. If you're planning to explore the vibrant city at your own pace, consider renting a car in Ahmedabad. Hashtag lists down 15 popular tourist places in Ahmedabad, presenting a scintillating mix of tradition and modernity.
15 Best Places to visit in Ahmedabad
A location where history, culture, and customs are all intertwined. When planning a vacation to Ahmedabad, these are the must-see attractions.

1. Sabarmati Ashram
A must-visit place in Ahmedabad, this is the ashram is where Mahatma Gandhi lived for 12 years. The ashram became a crucial part of the non-violent movement during the freedom struggle. Located on the banks of the Sabarmati river, the ashram gives visitors a glimpse of how Bapu lived his life. Gandhi's personal belongings, including his round glasses, wooden slippers, letters, and books, can be found in the ashram.
Attractions: Art Gallery, Library, Magan Niwas, Upasana Mandir, Hriday Kunj, Nandini
Location: Ashram Road, Ahmedabad
Time: 8:30 am – 6:30 pm
Entry Fee: Free
2. Jama Masjid
Just like the Jama Masjid in Delhi, there is such a mosque in Ahmedabad, and it is one of the city's top tourist attractions. Built by Sultan Ahmed Shah in 1423, the primary purpose was to allow Muslims to participate in Friday prayers. Made with yellow sandstone, the masjid has 260 finely carved pillars. The architecture of Jama Masjid is a melting pot of Hindu and Islamic architectural styles.
Attractions: The expansive courtyard famous for sunlight-filtered latticework
Location: Manke Chowk, Ahmedabad
Time: 2 am – 8 pm (closed during Namaz
Entry Fee: Free
3. Akshardham Temple
Located 26km from Ahmedabad, it is a temple dedicated to Swaminarayan. It is one of the outstanding monuments that reflect contemporary architecture and style. It is a place where education, entertainment, and enlightenment converge uniquely. Truly a marvel to behold, more than 2 million people throng to the temple every year.
Attractions: 10 stories tall golden idol of Swaminarayan, Light and Music Show, Water Show, Audio Show
Location: Gandhinagar, 26 km from Ahmedabad
Time: 9:15 am – 5:15 pm (Closed on Mondays)
Entry Fee: Free
4. Adalaj Step Well
Constructed in 1499 by Rudabai, the wife of a vital chieftain in Ahmedabad, the Adalaj stepwell is an example of architectural brilliance. The intricacy of the carved platforms which overlook the octagonal well on each floor is a sight to behold. The pillars on each floor have deities from Hindu mythology carved on them. What further enhances the beauty of the well are the geometric and floral motifs on the shafts.
Attractions: Annual Water Festival in Adalaj-Ni-Vav
Location: Adalaj Rd, 30 km from Ahmedabad
Time: 5 am – 7 pm
Entry Fee: Free
5. Kankaria Lake
Located in Southern Ahmedabad, Kankaria lake is the largest man-made water body in the city. Covering a circumference of 3 miles, it is a family-friendly destination and a picnic spot where one can enjoy their day relaxing, playing games, and eating delicacies from the food stalls there. Nagina Wadi, a garden-themed food stall, serves authentic Gujarati fare. Kids will love the zoo and the various rides on the lakefront. It is also dubbed the entertainment zone due to the number of rides and other entertainment facilities available.
Attractions: Children's park, musical fountain, jogging track, mini-golf, mirror maze, balloon rides, archery
Location: Kankaria, Ahmedabad
Time: 4:00 am – 8:00 am; 9 am – 10 pm (Closed on Mondays)
Entry Fee: Rs.25 for adults; Rs.10 for children; Free for joggers
6. Calico Textile Museum
Located in the heart of Ahmedabad's textile industry, the Sarabhai foundation established the Calico Textile Museum in 1984. The museum consists of 12 rooms which span across 2 storeys. Visitors will see the textiles used by Mughals and the types of cloths manufactured in the 19th century, such as royal tents, costumes, and carpets.
Attractions: 18th century religious paintings on cloth, Tribal art collection, and Pichwai Hangings
Location: Shahibag, Ahmedabad
Time: 10:30 am – 1 pm (Closed on Wednesdays)
Entry Fee: Free with prior registration
7. Bhadra Fort
Constructed in 1411 by Sultan Ahmad Shah, the fort houses the Bhadra Kali Temple, which is also the reason behind the name of the fort. Legend has it that Goddess Lakshmi entered the fort to bless the sultan so that the city remains wealthy. The lush green lawns and palaces in the grand courtyard are sure to capture a place in the hearts of the visitors. The fort also served as a jail in 1817 after the British captured Ahmedabad.
Attractions: Teen Darwaza, Royal Square, Azam Khan Sarai, Clock Tower
Location: Court Road, Ahmedabad
Time: 9 am – 5 pm
Entry Fee: Free
8. Jhulta Minara
Translated into 'Shaking Minarets,' the Jhulta Minara's architecture is complex and mysterious. It was known as the Sidi Bashar Mosque and was built in 1452. The shaking of one minara automatically leads to a vibration in the other minarets. The two minarets are located in Sarangpur Darwaja and near Kalupur Railway Station respectively. The renovation of Jhulta Minara has not been initiated as the construction style is unidentifiable. It is one of the most popular tourist attractions in Ahmedabad.
Attractions: Spectacular Architecture
Location: Laxmi Bazaar, Ahmedabad
Time: 5:30 am – 9:00 pm
Entry Fee: Free
9. Dada Hari Vav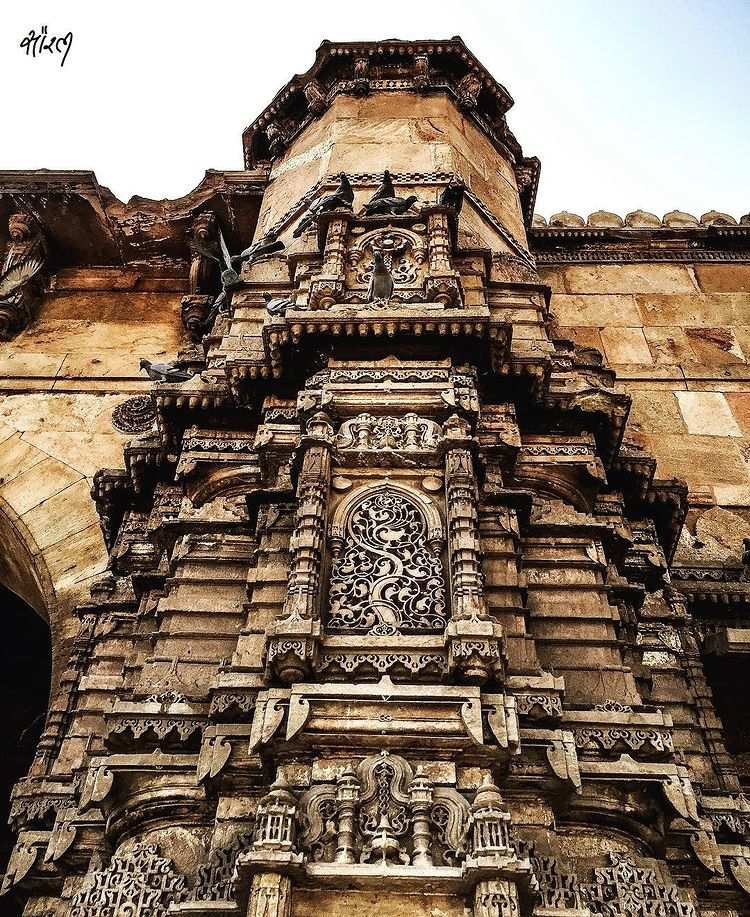 An offbeat tourist attraction near Ahmedabad, the Dada Hari Vav is located near the Asawara village. It is a 500-year-old stepwell built by Bai Harir Sultani. It is a seven-storeyed structure with intricate wall carvings, and one can witness a blend of Muslim and Hindu architectural style on the pillars and columns.
Attractions: Floral Motifs, Arabic and Sanskrit Sculptures, Traditional Architecture
Location: Near Asawara Village
Time: 5:00 pm – 9:00 pm
Entry Fee: Free
10. Sarkhej Roza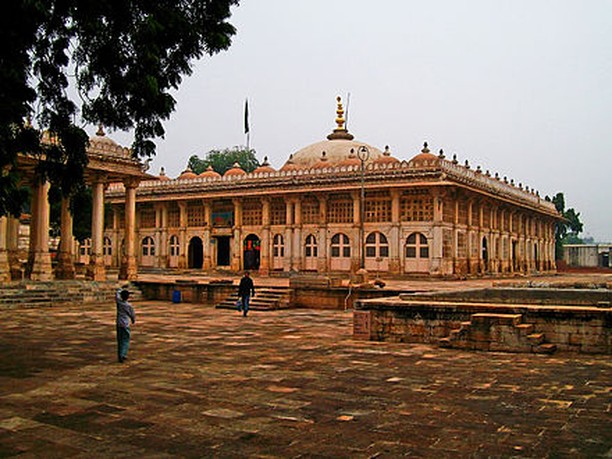 Sarkhej Roza is built around the Sarkhej lake, an artificial lake. The stunning complex consists of tombs and pillars which cover the place. It is a must-visit for the great latticework and detailed carvings. While the ornamental motifs have significant Hindu influence, the brackets and pillars are elements inspired by Islamic architecture.
Attractions: Baradari, Sheikh Ahmed Khatuu, Gank Bakhsh's Tomb
Location: Sarkhej Makarba Road
Time: 9:00 am – 6:00 pm
Entry Fee: Free
11. The Pols
The pols, commonly found in Gujarat, are interesting architectural structures. They are tightly packed houses built for the people's safety. They have secret entrances and going through them is in itself an exciting experience. Usually, all pols will have a personal temple built in the centre as well as a chabutro, tall pols placed for bird feeding. Visitors are sure to have a one-of-a-kind experience while visiting the pols.
Attractions: Carved wooden facades and frescoes
Location: Various locations in Ahmedabad
12. Kankaria Zoo
Also known as the Kamala Nehru Zoological Garden, the Kankaria zoo is loved by young and old alike. It also serves as a perfect picnic spot, thanks to the flora and fauna. Wildlife lovers frequent the zoo as rare, endangered birds, mammals and reptiles are found here. Light management is used in the nocturnal section so that animals like hyenas, leopards, jackals experience a night-like environment even during the day. The soundproofed enclosures ensure that animals are not disturbed by human noises.
Attractions: Rasala Nature Park; Butterfly Park
Location: Kankaria
Time: 9:00 am – 6:15 pm (Mar-Oct); 9:00 am – 5:00 pm (Nov-Feb)
Entry Fee: Rs.5 – Educational Tours; Rs.10 – 3 to 12 years; Rs.2 – Adults; Free up to 3 years of age.
13. Auto World Vintage Car Museum
You can learn about the history and evolution of automobiles at the Auto World Vintage Car Museum. The museum is a visual feast for tourists, with everything from horse-drawn carriages and railway saloons to magnificent convertibles, luxury antique cars, and a gorgeous collection of vintage buggies. Rolls-Royce, Buick-Cadillac, Daimler, Bentley, Chryslers, and Mercedes are a few brands you can see in the museum.
Attractions: Limousines, sports cars, and boat-tailed wooden speedsters
Location: Kathwada, Ahmedabad
Timings: 8:00 am – 9:00 pm
Entry Fee: Rs. 50
14. Hutheesing Jain Temple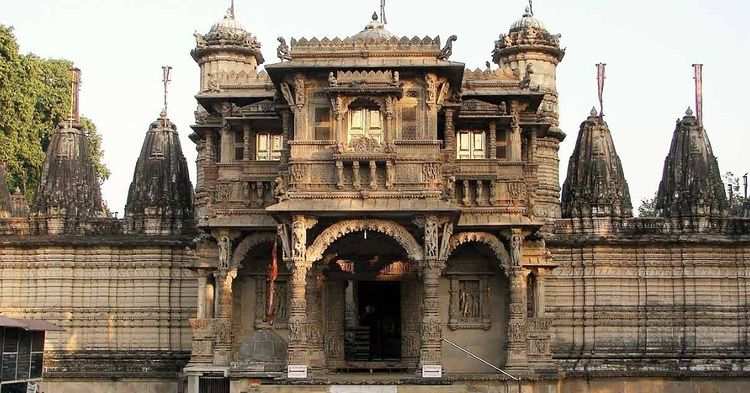 This temple, built in 1850 by a Jain merchant named Hutheesing Kesarsing, contributes to Ahmedabad's rich cultural legacy. This extraordinary work of art, made of marble and sculpted with extreme finesse, honours Dharmanath, the fifteenth Jain Tirthankara. The sanctum sanctorum for the various Tirthankaras is divided into 52 cubicles in the temple courtyard, paved with marble.
Attractions: Courtyard and Mandap with 12 pillars
Location: Bardolpura, Ahmedabad
Time: 9:00 am – 5:30 pm
Entry Fee: Free
15. Gujarat Science City
This science city informs visitors about science in a fun way. It results from the government's effort to instil a passion for science among the general public. It is one of the most incredible places to visit in Ahmedabad for kids and students, with exhibits that pique visitors' interests, virtual reality activity zones, and easy-to-understand demos.
Attractions: 3D IMAX theatre, Energy Park, musical fountain, Hall of Space, Auda Garden.
Location: SG Highway, Ahmedabad
Time: 10.30 am – 7.30 pm
Entry Fee: ₹ 20 (adults); ₹ 10 (children) and ₹ 5 (school group)
Ahmedabad has plenty of tourist attractions that are mostly free and affordable to visit. The 15 places listed above will help you explore a range of tourist attractions that will keep you on your toes, make your jaw drop, and also make you think.