2021 Heralds a new order!
How did the celebrities bring in the New Year? With Covid casting its shadow over the year 2020, will 2021 be suffused with a beacon of hope? Anita Raheja-Heena Agarwal caught up with some familiar faces…
Sourabh Raj Jain (Television actor) 
"My new year resolution is to have a better control over my mind."
We celebrated the New Year at home. We danced, ate pizza along with some ordered-in Indian food but the dish that stole the show was the kheer made by my mother. I've never been in a better mood; I guess the dawn of 2021 fills the environment with lot of positivity, energy and hope. My resolution for this year is to have a better control over mind. I am also expecting a lot of work and looking forward to it.
Dhvani Bhanushali  (Singer)
"My expectations of 2021 are safety and opportunities for everyone."
I celebrated my New Year's night with family in Goa. We saw some fireworks and had a sumptuous dinner. 2021 is surely feeling different to everyone including me! I'm happy and motivated to work on new songs this year and my New Year resolution is to be happy and inspired.  My expectations from 2021 are simple, I pray for safety and good opportunities for everyone.
Daler Mehndi (Playback singer)
I brought in the New Year bonding with and listening to stories of valour, courage, grit and resilience from men who despite staying in a bone-tearing ice region (the Himveers) are driven by the love for their country. Their fearlessness is wonderful, their oneness attractive. It was overwhelming and humbling to learn that my music served them in their tough times. The adulation and respect showered on me by the jawans and their seniors is a gift to cherish a lifetime. They conferred The Guard of Honour to me to express their love. This is the best New Year gift for me.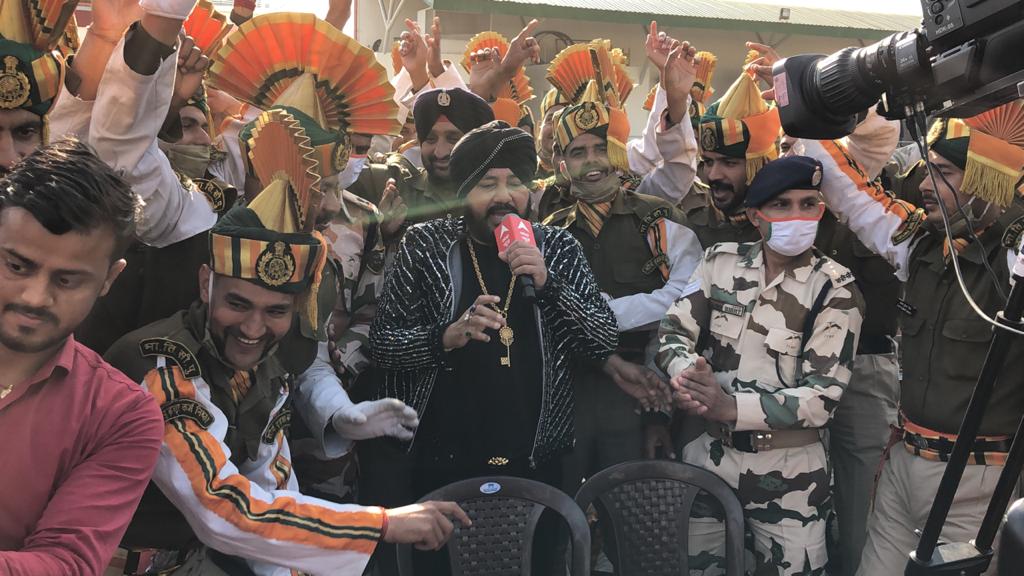 "I want to reach out, heal and serve people through my music."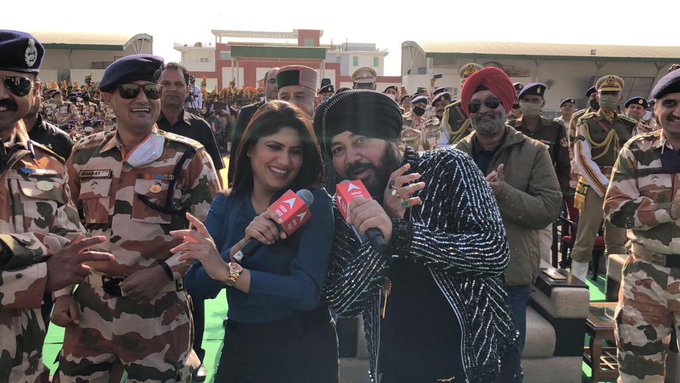 My mood currently is of gratitude and extreme enthusiasm. 2021 is hopeful wishful and very importantly 2020 taught us the value of people and things, 2021 is the platform to execute the lessons learnt.  My New Year resolution is to emphasise on collaborations whether it is instruments or programmers (those I have never worked with) and to reach out and serve people through my music. I want to heal and impart joy to people with autism and mental health issues. I expect 2021 will see a more empathetic world.
Mohit Mallik (Actor)
"After a very long time we were celebrating the New Year at home because my wife Aditi is expecting"
Our celebration was small but we had fun with close friends at home. Great food, laughter, music and dance, after a long time we were celebrating the New Year at home because my wife Aditi is expecting. Last year Aditi and I were in France. We always like to spend the New Years Eve at a place with scenic beauty. January first was a beautiful day. We woke up early and prayed. As is my annual routine, I spent some lone time with myself and then spent some time with Aditi. We have shifted to a new house recently so Aditi and I are enjoying my house.
2021 feels different. Finally, it all depends on your perception; every day can be different not just the morning after December 31.  We know that the clock is ticking and we really have to become better versions of ourselves. To those who call it a bad year, I would say bad is not the correct word. Yes, it was a tough year, a roller coaster ride but it made us much stronger.
Archana Puran Singh (Television host & Actor)
"Parmeet and I danced on our favourite number since our dating days – Dancing Queen by ABBA."
Usually, I don't celebrate New Year but this year for 2020, I celebrated it with a big bang. We were joined in by my mom, dad, kids, friends and we together danced the night away. I have posted the videos, for the first time I went live on my Instagram page and shared my happiness with my followers. Parmeet and I danced on our favourite number since our dating days – Dancing Queen by Abba. Our sons played the number and we dedicated half the night dancing to that song.
Technically New Year's Eve is just another day but the mood has changed because you feel a positive vibe. We are progressing towards 2021 and keen to leave behind a lot and remember what we learnt in this phase. I am feeling very upbeat and in a much better frame of mind. It feels like we have overcome the challenges of 2020 and have emerged victorious. One is thankful that we are alive unlike many who did not survive 2020. I never make New Year resolutions and this year has been no different but the lessons I've learnt in 2020 shall not be forgotten in 2021.
For this year I pray that the vaccine works. Once the virus is effectively countered the fear and the dread that enveloped 2020 will gradually disappear and life will limp back to normalcy. Hopefully, everything is going to be normal and I can meet those who I haven't met in a year -my sister my brother, my nieces.
Sudhanshu Pandey (Actor)
"Since I don't have any vices. I don't have to really make any resolutions."
I celebrated my night family, which is my best way of celebrating any occasion. We had a family dinner, relished great food and lots of mithai. I have been positive and strong throughout 2020 and I am just the same even now. I'm hoping that 2021 brings a lot more happiness to this world.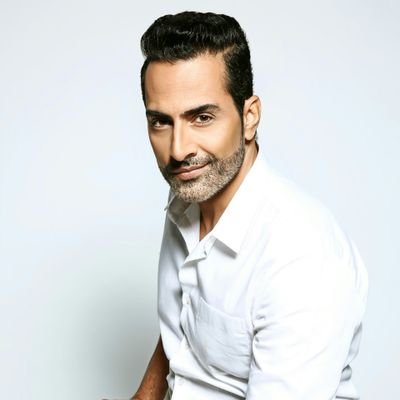 I don't have any New Year resolution apart from working harder. Since I don't have any vices. I don't have to really make any resolutions. My expectations from 2021 are not about me, they are universal. I want this world to be a better place to live in; I want people to more aware. I hope we never neglect mother nature to a degree that she punishes us the way she did in 2020.We must ensure that this planet remains healthy and green for our kids.
Madalsa Sharma Chakraborty (Actor)
"I am stepping into 2021 with a leap of faith."
I was shooting on the 31st night and as soon as pack up was announced I headed to my parents' house. I celebrated my new year with my family. It was a beautiful evening together and that's what matters to me the most.
I felt great on January 1, because it was the beginning of a new year especially after 2020, which was like a roller coaster ride. There was so much learning and new experiences for which we were not prepared. 2021 is going to bring a lot of happiness and joy. I am looking forward to 2021 – I am stepping into it with a leap of faith.
I don't make New Year resolutions because once you make a resolution you are psychologically compelled to follow it. I would rather do things in the natural course and I plan to keep doing the things that I have been doing all along – good deeds and helping the needy. My expectation from 2021 is firstly a vaccine so that everybody can live without a care and travel to their heart's content. We should be able to go to our workplace without a trace of anxiety. Wishing this to be a year in which we realise our dreams and find peace.