5 must-visit off-road restaurants in Goa
Known for its scenic beaches and vast lush landscape, Goa is one of India's leading vacation destinations. As we all know it, Goa is best known for its beaches, but the tantalising food serves to impress too! Travelling off-road in Goa is a must-experience for every traveller, however, the off-road food hits the right spot too. Avril Das lists 5 off-road delicious restaurants that are a must-visit for your next visit.
The Black Sheep Bistro:
Along the banks of the waterside in Panjim, The Black Sheep Bistro is a must-visit casual fine dining restaurant for all multicuisine lovers. The owners Sabreen and Prahlad Sukhtankar's farm-to-table policy just "makes sense" to them as the restaurant serves a unique amalgamation of global cuisine with fresh local Goan ingredients. Being a bistro too, it boasts of a "place where people, especially women can have a positive, unique and comfortable bar experience," says Prahlad, a sommelier, whose experience and passion for wines greatly shaped his thought process about food and art. The restaurant lives up to its eye-catching name by being rebellious and striving to break the moulds of restauranteering. Prahlad mentions he was often called the black sheep for being a "young rebel" and so founded the bistro of the same name. Apart from the unique multicuisine menu, they also regularly showcase artwork from the gallery Sala de Arte, Goa, showcasing local talent as part of a collaboration between the restaurant and the gallery- for all the art lovers. This is a must-try affordable restaurant for all food-loving families and friends.Address: The Black Sheep Bistro, 1st Floor, Villa Braganca, Dr Braganza Pereira Rd, above Fab India Store, Panaji, Goa 403001
Tel: 093250 23565
Timing: 12:00 PM to 12:00 AM, happy hours on cocktails every day with a limited snacks menu (5:00 PM to 7:00 PM)
Meal for two: Rs.1,800 approx.
Must try: Garlic bread, Mushroom Panisse, 5 spice lotus stem, Mexican chicken fried rice, hummus.
Aunty Maria, Fidalgo:
Located in Hotel Fidalgo in Panjim, Aunty Maria is a 24-hour café with a multicuisine snack menu with delicious beverages. The cosy ambience and the constant, lingering coffee aroma are sure to make your visit memorable and keep you coming back for more. A small café in the hotel, it seats tables of 2 to 7. It has everything from breakfast omelettes and sandwiches to fish and chip snack cravings. It is a great place to hang out with friends and family, catch a quick bite before your next stop as well as a late-night dinner. The wide variety of food selections caters to all age groups and every item is delicious.
Address: Hotel Fidalgo, 18th June Rd, Panaji, Goa 403001
Tel: 0832 222 6291
Timing: Open 24 hours
Meal for two: Rs. 950 approx.
Must try: Fish and chips, red sauce pasta, veg and prawn biryani, cold coffee, cheese chilli toast.
Fisherman's Wharf: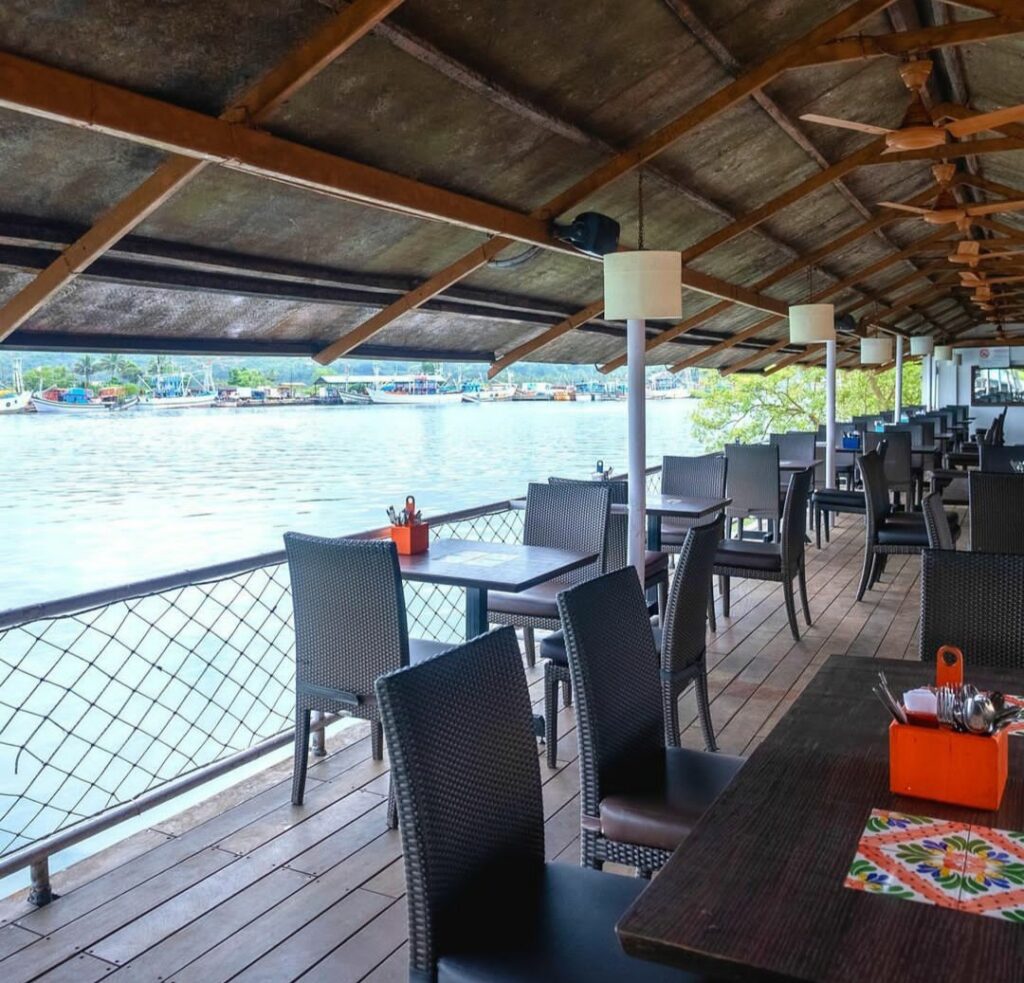 At the beautiful riverside in Cavelossim is one of The Fisherman's Wharf outlets that serves delicious Goan food and seafood with a great waterfront view. It is a large property and has many tables right on the river overlooking the docked boats. The place has a lovely ambience with an extensive Goan as well as a multi-cuisine menu. It is a great place to sit down and relax with a small as well as a big group of friends and family and is also a perfect location to host lunch and dinner parties. The restaurant also has regular events that one can check out beforehand and enjoy. It is usually packed on weekends so ensure to make a reservation, but on weekdays it is a little more relaxed. It is also a great place to grab a late lunch after most of the restaurants are closed till dinner.
Address: At the Riverside, Cavelossim, Goa – 403731
Tel: 090110 18866
Timing: 12 Noon to 11:30 PM
Meal for two: Rs. 1.300 approx.
Must try: Butter garlic prawns, fish curry rice, prawn curry rice, honey chilly chicken, honey chilli lotus stem, white angel mocktail, veg spring roll.
O'Cuzinero: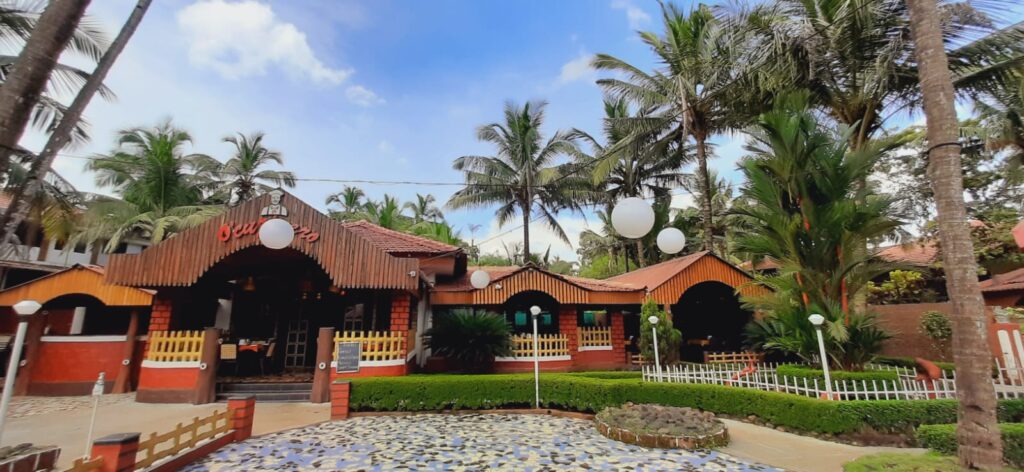 Located in the remote Chandor, O'Cuzinero is a great Goan seafood restaurant surrounded by greenery and cosy shacks. It is right on the road and close to a lot of open green fields that are great for bird watching too. Robert the owner of the restaurant says that the concept of the restaurant is that it "connects to nature by keeping the restaurant as open air as possible with a garden as well as indoor dining." It was a fulfilment of a dream for Robert as he created the restaurant in memory of his father, who was a great cook (cuzinero). Their shared love for cooking was the reason for his inspiration and thus he set up the restaurant as a tribute to his father. Robert adds, the restaurant aims to serve high-quality food with happy customers. The restaurant serves great Goan food that even the locals approve of. In addition to the food, the restaurant hosts New Year's Eve, Valentine's Day, Easter and Christmas parties where there is live music, games and dance.
Address: Bhindimoll, Chandor, Goa 403714
Tel: 084591 33946
Timing: Tues to Sun (11 AM to 3:30 PM and 7 PM to 11 PM), Closed on Mondays
Meal for two: Rs. 1,000 approx.
Must try: Ambotique curry, rechado fish
Sheela Restaurant and Bar: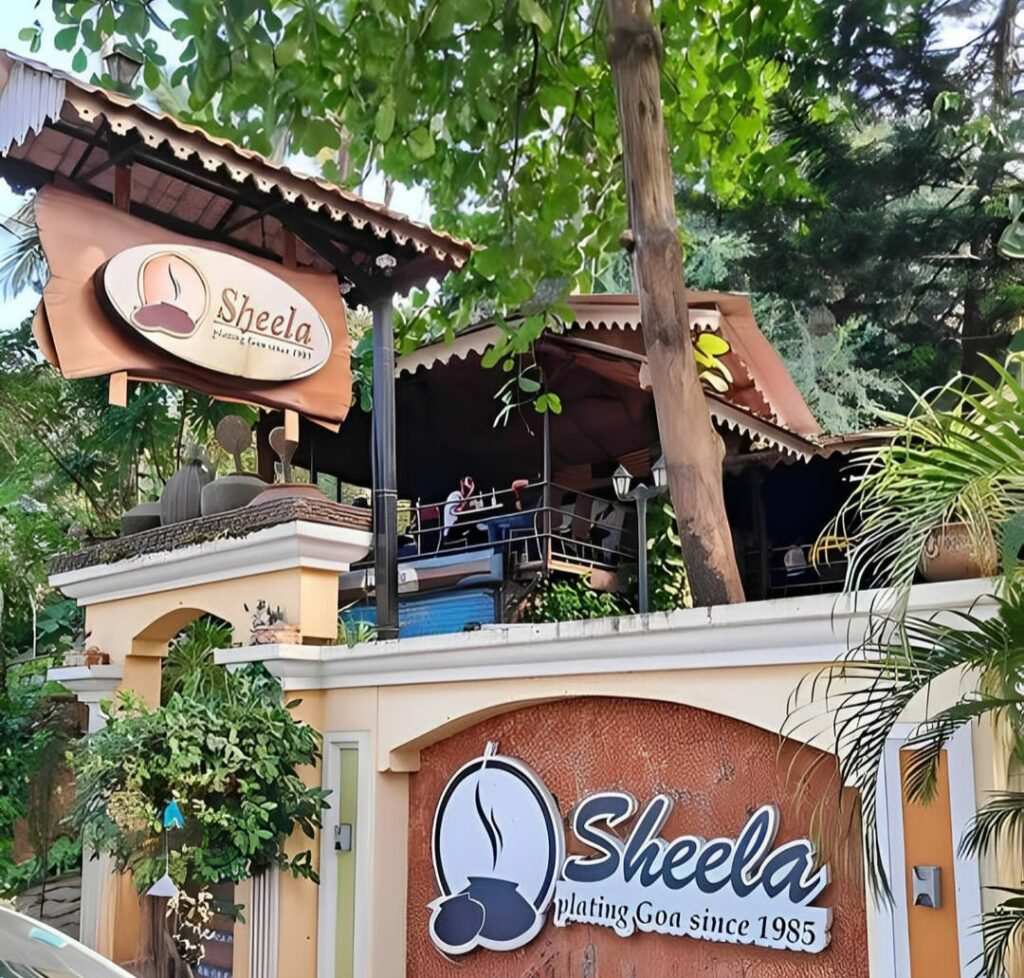 A small restaurant located opposite the beautiful St. Jacinto Island in Chicalim, Goa, Sheela's serves delicious plates of Goan speciality foods. Very accessible, it is situated directly on the main road, however, the parking space may be less as you must park your vehicle on the road itself. Serving authentic Goan flavours, it is approved by the locals too. It is a must-try if you want to taste the variety of Goan food as well as visit St. Jacinto Island across the bridge.
Address: Opp St Jacinto Island, Vasco – Cortalim Road H/No 39 Sancoale P.O, Chicalim, Goa 403711
Tel: 090491 58277
Timing: Tue to Sun (12 Noon to 3:45 PM and 7 PM to 11 PM), Closed on Mondays
Meal for two: Rs. 850 approx.
Must try: Prawn Caldin, fish thali, fish cutlet.