A Cafe with Some Quirks for Your Rishikesh Workation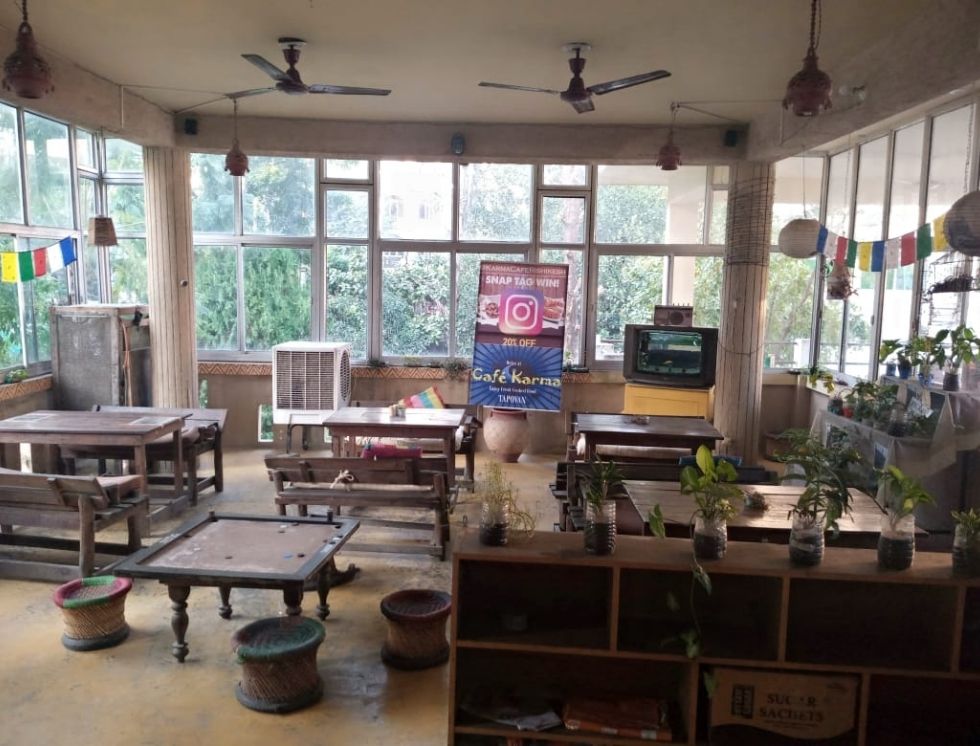 Karma has no menu; you get served what you deserve. However, surrounded by lush green trees, and located on the Badrinath Highway, Cafe Karma sure offers an exhaustive menu and some captivating sights. Nikita Biswas and Abhishek Dubey stop by for a quick bite…
It was a chilly afternoon in December when we stopped outside a cosy looking cafe on the Badrinath Highway. The artsy facade garnered our attention; the place greeted us with painted tires stuck on the wall adorned with a splash of colourful designs.
Once inside, Cafe Karma is a burst of nostalgia. The old school benches, carom set up, plants, artifacts, dummy telephones, spearheads, a small almirah comprising different novels, the items seemed to pay homage to different parts of the country, spread across different eras. There was much to look at but we were also ravenous.
We sat on a bench, and observed the outdoor seating, but the cafe's quirky interiors kept catching our eye. Peep: A scooter with plants spurting out of the seat. The music was neither Hindi nor English, but a hit Garhwali song with thumping beats and peppy lyrics, that complimented the ambience well enough.
Hosts, siblings Ankur and Vandana Sharma, seemed amused that we were so taken by the interiors, as they offered us the menu. "We have worked hard to create a positive environment with the interiors," they share. It is a vegetarian-only place, and we ordered a Nutella Banana Pancake. The crowd seemed to include teens and families alike. The pancake, when it arrived, looked delicious, with golden honey streaming throughout. It tasted fresh and perfect. We then went for a Mushroom cheese toastie, which promised oodles of cheese, and delivered it between bites of crunchy bread.
It was dark outside by the time we finished, and under lights, the cafe looked stunning. The aquarium, which was placed inside an old TV set, particularly stood out. The place was definitely value for money, and an extremely refreshing stop if you're out on a long journey. Ankur and Vandana believe that Cafe Karma evolved on the premise of repurposing, recycling and harmonising with nature. "Thanks to the support of loyal customers, we have managed to grow well," adds the duo. If you're on a workation in Rishikesh, looking for a cool place and a good hot cup of coffee to help you work, then this is one of the best spots to hangout at.
Address – Badrinath Highway, Opposite Green Hills, Tapovan, Rishikesh
Timings – 8.00 to 11.00pm
Cost for two – Rs. 600(approx.)
Cuisine Available –
Indian
Continental
Vegan options are available for selected items
Breakfast
Home Delivery
Vegetarian Only
Indoor, Outdoor and Rooftop Seating
Free Wifi
Pet Friendly environment
How to get there –
Bus – Take the interstate bus to Natraj Chowk. Take an auto to Green Hills, or ask for Tripti Guest House. If you are taking a shared auto it will drop you at Tapovan auto stand from where you have to walk for about 5 minutes to reach Café Karma.
Train – Get off at Haridwar railway station from where you can opt for an auto or a private car directly to the location
Flight – Nearest airport is at Dehradun (the Jolly Grant Airport),35 km from Rishikesh. Take a private car service directly to the location from the airport.