A Slice of Malvan in Mumbai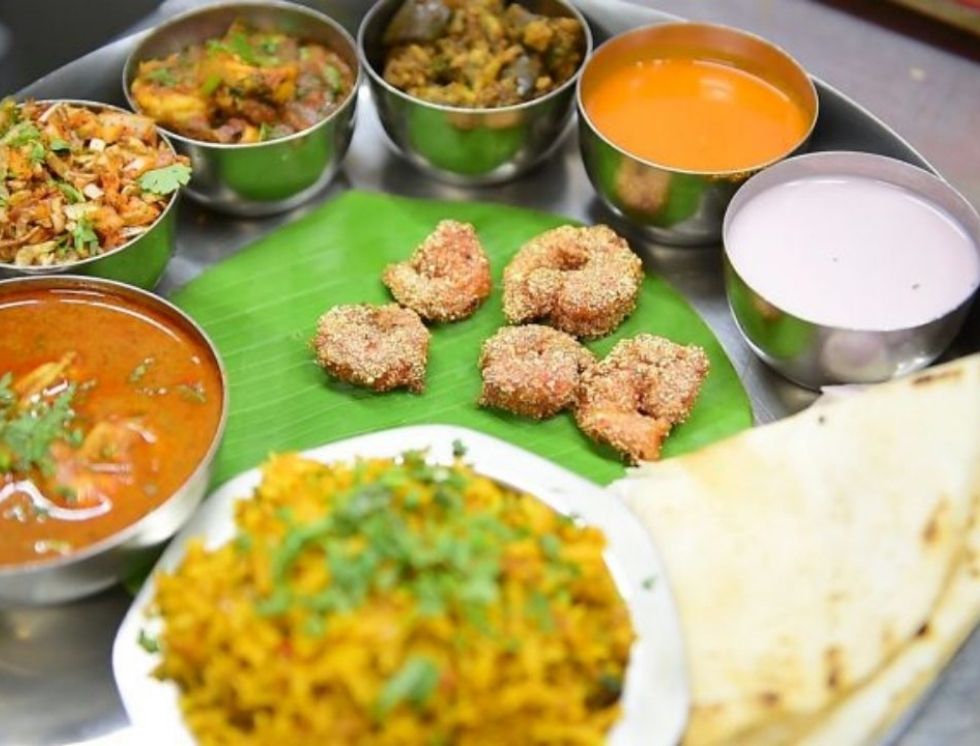 If you are a seafood fanatic looking to treat your family to an authentic experience in Maharashtrian Malvani Cuisine then stop right here! Chaitanya Hotel is nestled close to the famous Siddhivinayak Temple in Dadar, South Mumbai. A small hotel with modest interiors, Aniket Keluskar discovers that the restaurant makes sure to leave you with a satisfied stomach.  
Chaitanya Hotel has its origins in Malvan, a sleepy coastal village. Founded by Mr and Mrs. Mitra 25 years ago in Malvan, it first started in Mumbai a decade ago. Unbelievably, Surekha Mitra, who hails from Malvan, was unsatisfied with the taste of the food cooked in Mumbai waters. In the first year of operations in Dadar, she imported water from Malvan, which is 530 kms away from Mumbai. Such is the owner's passion for the perfect taste. Later, given the logistics she experimented with changes in salt and other ingredients to match the original taste. With such depth and sincerity behind every plate, you would expect the food to taste nothing less than spectacular, and that is testified by the jam packed place filled with delighted eaters every weekend. From their vast menu, here are our picks for the top 5.
 Chaitanya's Prawns Thali – It comprises almost 400 gms of prawns prepared in a variety of ways. Prawns Masala, Prawns Bhujana, Prawns Fry, Jawala Koshimbir (Dry Prawns Salad), Vegetables with Prawns and Malvani special Sol Kadhi with Prawn Rice besides the famous Ghavane (Malvani Dosa)
Surmai Fry – An awesome fish preparation marinated in spicy Malvani masalas and shallow fried. Fresh fish, crispy on the outside and soft on the inside, is a treat for the tongue.
Crab Fry – Juicy Crabs marinated in authentic Malvani masalas, rolled in rice flour and fried in hot oil.
Chicken Thali – Chicken Thali served with Chicken Curry, Chicken Sukka, Vade, Sol Kadhi, it is one of the most scrumptious and sought-after thalis. Besides the regular Chicken and Mutton thalis they do not disappoint their vegetarian patrons. Their Vegetarian Thali consists of a variety of VVeggies, bhajjias, rice, dal, ghavane along with papad, raita, achaar and three types of sweets.
Desserts – A dinner can never be complete without dessert and what could be better than an authentic taste of homemade ice creams such as chikoo, guava, sitaphal, jamun, and jackfruit. But this ingenious restaurant doesn't stop there. If you thought good ol' adrak(ginger) is best left with tea, well, think again. On the menu at Chaitanya, you will find not just ginger, but also chilli and lemon chilling out under the ice creams section. We agree it is a bit of an acquired taste, but it never hurts to try, does it? Staying true to Malvani cuisine, we also have the traditional dessert Shirvale, which are rice noodles dipped in sweetened coconut milk.
The list is endless from baby sharks to shellfish, Bombay duck to Bangde Tikhale (Extra Spiced Mackerel), crab lollipops to oysters. Served with authenticity and hanging on to the original taste of Malvani palette, the cuisine here is true food for the soul.
Address: 33, SK Bole Marg, Dadar West, Prabhadevi, Mumbai, Maharashtra 400025
Tel: +912224372243
Timing: Open all days: 11:00 am to 4:00 pm – 7:00 pm to 11:00 pm
Meal for two: Rs 700 to Rs.1000