Amaal Mallik and Manpreet Kaur Kaile, the Chalo Theek Hai duo
Amaal Mallik and Manpreet Kaur Kaile, the Chalo Theek Hai duo, in conversation with Lipika Varma…
Amaal Mallik is a multi-talented musician who began his career as a music director/composer/singer, music producer, arranger, background scorer, performer, and lyricist. He has recently added new feathers to his hat by appearing in music videos and hosting a reality show. In Amaal's most recent video, Chalo Theek Hai, he appears alongside actor Manpreet Kaur Kaile, which has created magic and is at the top of the music charts.
Amaal Mallik is working hard to continue his legacy being the grandson of Sardar Malik and the elder son of Daboo Malik in music. He is now receiving offers from Tollywood and will soon compose music in the South. He's overjoyed as his songs are going viral in the south and the Tollywood fans are eager to hear his composition.
Reminiscing his debut with Salman starrer flick, Jai Ho he avers, "In 2014, I debuted as a composer for three songs in Salman Khan's film, Jai Ho. It was a huge thing for me to get such a big opportunity at a young age, especially from a superstar like Salman Khan. I was so nervous, that I was hesitant to be introduced as an individual composer."
Having gained fame with more South audiences and fans Amaal elaborates, "After hearing my composition for songs in M. S. Dhoni: The Untold Story, there have been a lot of young fans from the South who have requested me to debut in Telugu." Adding more he gushes, "Yes I have been approached, my next base is going to be the Telugu industry which comes with the demand of the youth. We are indeed in talks with a few production houses and makers will reveal no sooner I sign something."
Talking about how he would support his beloved to achieve her dreams in real life, he says, "So this is on screen but in reality too, I will surely support her, if it's her dream. Usually, heart break songs capture the emotions of the listeners. But such positive videos with good intentions also do well as love never flies, but with distance, love instils more cravings." Taking a pause he says, "Surprisingly, in all my videos every girl leaves me and all my female fans feel happy about it!"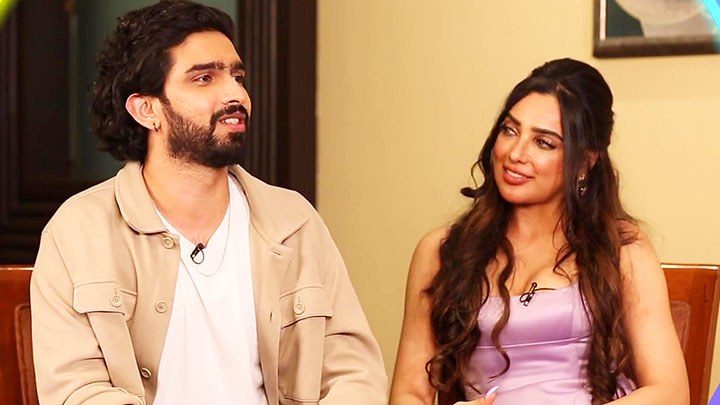 When asked about what love means to him, he answered, "Love is indeed happiness, but peacefulness is more vital!"
Meanwhile, Manpreet Kaur Kaile is on cloud nine! She never expected that her first music video 'Chalo Theek Hai' would get such a thunderous response.
When asked how she was chosen for the music video and whether she was chosen through an audition, Manpreet said, "It was sort of an audition. When I met Amaal Mallik's father, Daboo Mallik sir (who is also the producer of the song), he looked at me and said that he saw some spark in my eyes, and that's how it all began. Later he told me that he had a beautiful concept for a song and said that it would be perfect for me."
Notably, before coming to Bollywood for acting in films Manpreet Kaur Kalie informs, "I was an astronaut aspirant! I was pursuing my undergraduate course in Aerospace Engineering from Embry Ridley Aeronautical Engineering in America. During my course I realised my passion for acting and soon decided to shift to Mumbai to pursue my dream. Though it has been a short journey, it has definitely been a roller coaster ride for me."