Where is the time for marriage? Taapsee Pannu
Taapsee Pannu who gained notice for her performances in the Hindi spy film Baby (2015) and the courtroom drama Pink (2016), both of which were critical and commercial successes is happy in both her professional and personal sphere. Her latest film Shabaash Mithu, directed by Srijit Mukherjee is a biopic of woman cricketer, Mithali Raj who struggled to get recognition for women cricketers and  inspiring women everywhere. With other projects lined up, Taapsee will be heading out of the country to shoot Dunki, directed by Raju Hirani, starring Shahrukh Khan. In conversation with Lipika Varma, she talks about her films, the industry and more…
Professional Trade/films-
How does it feel to have your film Shabaash Mithu, releasing in theatres, any pressure?
We waited for a theatre release for so long and every actor has that pressure about his/her film releasing in theatres. One who has the interest of shouldering the release on his/her self that individual will have to deal with this responsibility. It depends on the pressure. It's like a gamble. Nobody knows how many people will enter the theatres? If anyone assures you about the number of people entering the cinema halls then those calculations and formulas prove wrong.
When playing the role of a female underdog cricketer's struggle, what similarities did you find in your journey?
Cricket and films in our country are considered as religions, those are the similarities! People are mad for films and cricket, but people would rather watch men's cricket, or films with famous male leads, and say they are cricket lovers or movie lovers. I feel people should not differentiate by looking at who is holding the bat or who is taking the film on their shoulders. When a female-led film is released, people wait for the review, but, advance book tickets when a male-led film is released. These gender biases should not come in.
Do you feel your struggle has now come to an end?
My struggle still continues! My pictures should now have a good budget, because female-driven budgets are never large. And even if it is successful, the film will struggle to find a large number of screens. Women driven films also don't get good shows.
How was it working with director Srijit Mukherje?
I felt relaxed and confident working with him because he was a cricket lover. I knew this biopic is in the right hands and he would do it well.
What is your take on all Bollywood films have been sinking at the box office, in recent times?
When were all of the Bollywood films successful? A few were successful in each period. How do you know films are not recovering? Big films used to fail earlier too! We earn revenue in other ways, it makes no difference if a film releases on OTT after having been released in theatres a month later. It's about your business, you decide and earn on your product. It all depends on where you feel you will find your audiences the most and you are confident where the show will run, be it OTT or theatres, and I make the deal accordingly. There are no two films that will have the same deal, I learned trade business before starting productions.
Personal life-
When are you planning to get married?
I have three films that are ready for release and I have signed 5 to 6 films which have to be shot and released. Where is the time for marriage?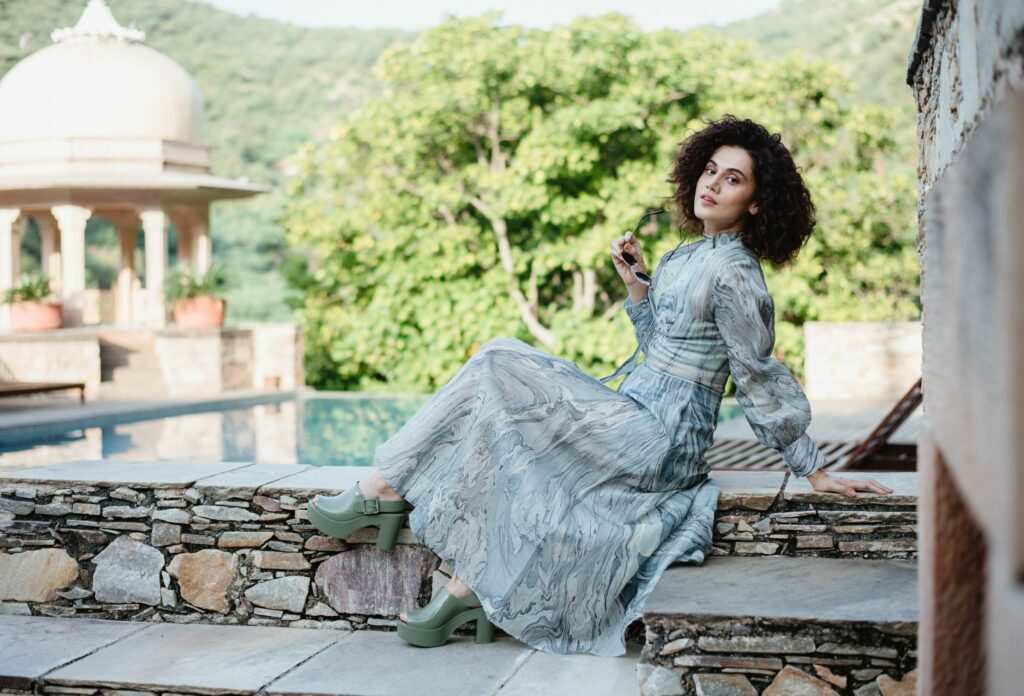 What do you have to say about long distance relationships?
I have been in a long distance relationship for the past 10 years and nobody knew about it, but now my value seems to have risen so people want to know about my long distance relationship!
Is it because you're in love that your face is glowing and we can see the blossom on your face? (Laughs) No blossom because of anyone, please, the credit and hard work to look fresh is mine… let me take that credit!
What are your beauty and fitness mantras?
I'm just like wine, getting better with age!