10 Benefits of Chia Seeds of Skin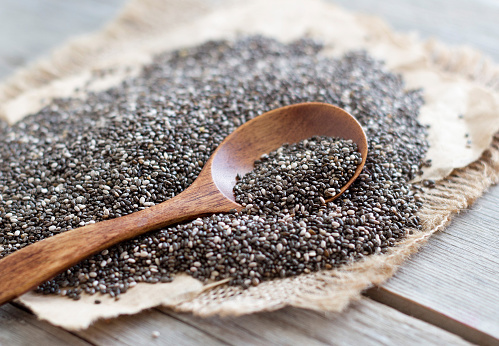 Chia Seeds are extracted from a flowering plant called Salvia Hispanica. These seeds are oval-shaped, and grey with black and white spots and come with huge health benefits. Chia seeds are not only rich in nutrients, omega-3 fat, antioxidants, and fiber but also easy to prepare. We tell you why you must add one tablespoon of Chia Seeds to your everyday diet and how they can do wonders to your health.
10 Benefits of Chia(Sabja) Seeds for Skin
Chia seeds have a lot of health benefits because they have high protein and calcium nutrients, which are very important for maintaining our immunity levels. Chia seeds can bring good control of indigestion, blood sugar levels, and are great for your skin and hair too. Read on to know more about this versatile superfood:
Chia Seeds come with antioxidants that help to fight radical damage like fine lines and wrinkles on your skin. By consuming Chia seeds every day, you will look younger and more beautiful.
Chia seeds come with Omega-3 fatty acids that will help to create a barrier on your skin to protect it from Acne, UV Ray Damage.
Drinking water with Chia Seeds will keep your skin hydrated and healthy.
Chia Seeds have nutrients like Vitamin A, Vitamin C, Iron, and Potassium which will help your skin to glow from inside.
Chia Seeds have good cooling techniques, which will keep your skin healthy and calm.
Chia seeds have proteins that can help reduce your weight in a quick time.
Taking Chia seeds daily will strengthen your hair and its follicles.
Chia seeds have amino acids, which will help to boost the scalp, and there will be no more hair fall.
You can also apply Chia seeds as a face pack to make your skin glow and look beautiful.
There will be more added benefits if you mix Chia seeds with a smoothie, or you can use curd as well. Blend the Chia seeds with curd and eat them. It will be tasty and healthy as well.
How to use Chia Seeds: 3 Different Methods
Here are some of the methods of using Chia seeds in our day-to-day life.
First Method:
Before you go to bed, take a handful of Chia Seeds and put them in a glass of water.
By the next morning, they will float on top of the water.
Even before you brush your, drink this glass of water completely.
By following this method for one month, you will see a lot of changes in your immunity levels.
Second Method:
Chia Seeds can be applied to the skin directly.
For this process, you will need honey, chia seeds, and olive oil. Soak a tablespoon of Chia seeds for 20minutes until they get that gel texture.
Add Chia seeds to a tablespoon of honey, olive oil and mix it thoroughly till it becomes a paste.
Apply this paste to your skin, massage for a few minutes, and relax for 30-60seconds.
Wash it off with lukewarm water. This method will help your skin glow and make you look younger.
(You can do the same method with Coconut oil as well.)
Third Method:
Last but not the least, you can add the Chia seeds to your diet by sprinkling them on bread, blending them with smoothies, curd, and cereals. By adding Chia seeds to your regular diet there will be more added benefits as well.
Chia Seeds have numerous benefits. Instead, of running after facial creams and gyms for weight loss uses these simple methods to lead and healthy and fit life.