Best Paragliding Spots In India
There are many thrilling adventure sports like trekking, river rafting, bungee jumping, flying fox, and others. But paragliding stands out as the best adventure sport because you expand your wings, fly like a free bird, and watch beautiful views from the top. Most of the paragliding rides are safe and if you manage to follow the rules and regulations of paragliding perfectly then you will have an amazing experience. Many wonderful places in India are offering paragliding, so bring the adventurer out of you and fly high like a bird.
Mussoorie is one of the most beautiful places to visit in India. It is also the best place to enjoy paragliding because the place is surrounded by the magnificent beauty of the Himalayas. There are many paragliding operators in Mussoorie, and the prices are affordable. You can try different paragliding methods like a short paraglide tour or an hour-long flight which is suitable for experts.
Bir Billing is the Paragliding capital of India. It is a perfect place for adventurers and also nature lovers because the place is surrounded by beautiful mountains and greenery, and the weather is pleasant most of the time. Bir Billing has the second highest take-off point in the world The take-off point is located at 8,000 feet above sea level and the landing spot is at 4,000 feet. There are many paragliding operators here who offer short, medium, and long flying lessons.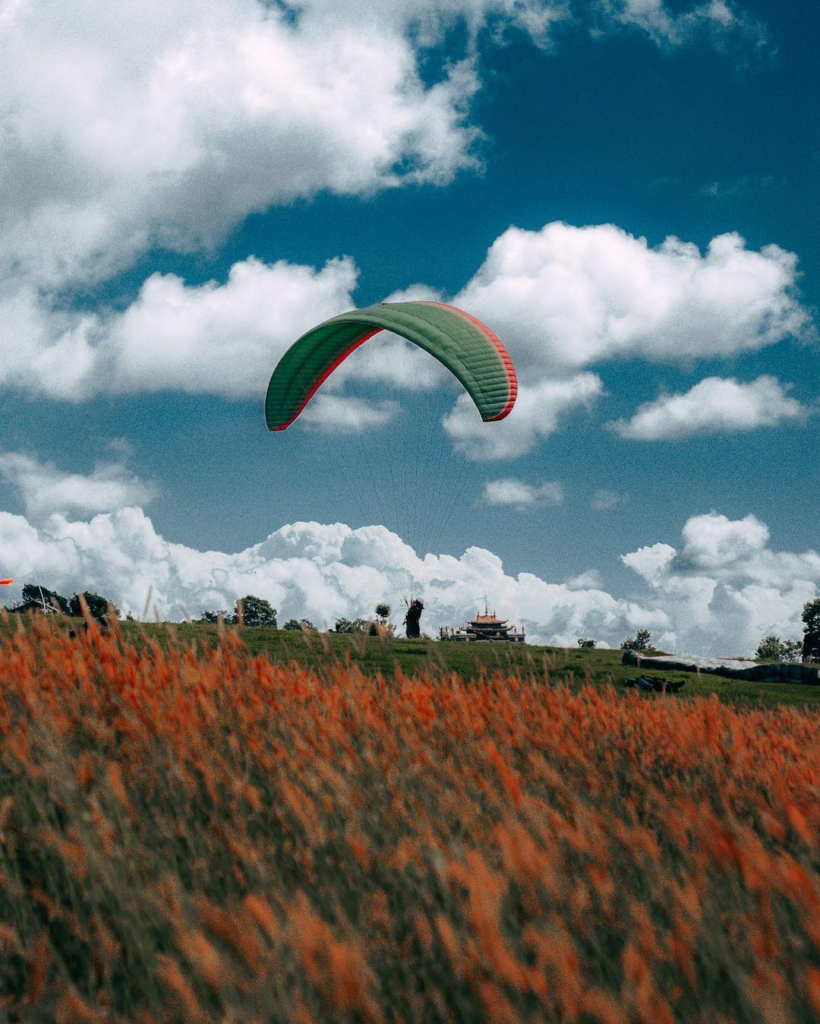 Manali is one of the major attractions of Himachal Pradesh. Places like Solang Valley, Fatru Mountain, and Nagger Road are some of the popular paragliding spots in Manali. When there is a lot of snow or bad weather, paragliding is not a good idea. You can take up a one-hour long paragliding session here which will let you experience the beautiful landscapes of meadows, water bodies, and the Himalayas. You can also enrol for camping, trekking, and other adventure activities here.
Located 60 km away from Bangalore, Nandi Hills is one of the most popular destinations in India. Here you can paraglide from a height of more than 4,500 feet and many expert paragliders visit this place regularly. The take-off points are stunning, and many experienced paragliding experts will guide you properly and assist you in having an unforgettable experience.
Panchgani is a popular paragliding spot in India. There are many take-off points in Panchgani like Tapola, Bhilar, and Khinger which are suitable for beginners. If you are good at Paragliding, then you can take up solo jumps as well. The reason why Panchgani is so popular for paragliding is that once you take off from the point, you will see beautiful rivers, lush green hills, and meadows that will take your breath away.
The stunning Nainital is another popular place for paragliding spots, both for beginners and experts. There are many paragliding timings to choose from like you can choose a normal flight for 3 to 10 minutes and a short flight for 90 seconds or you can fly high for 15 to 45 minutes. The popular take-off points from Nainital are Bhimtal and Naukuchaital. The aerial views of the hill station are stunning.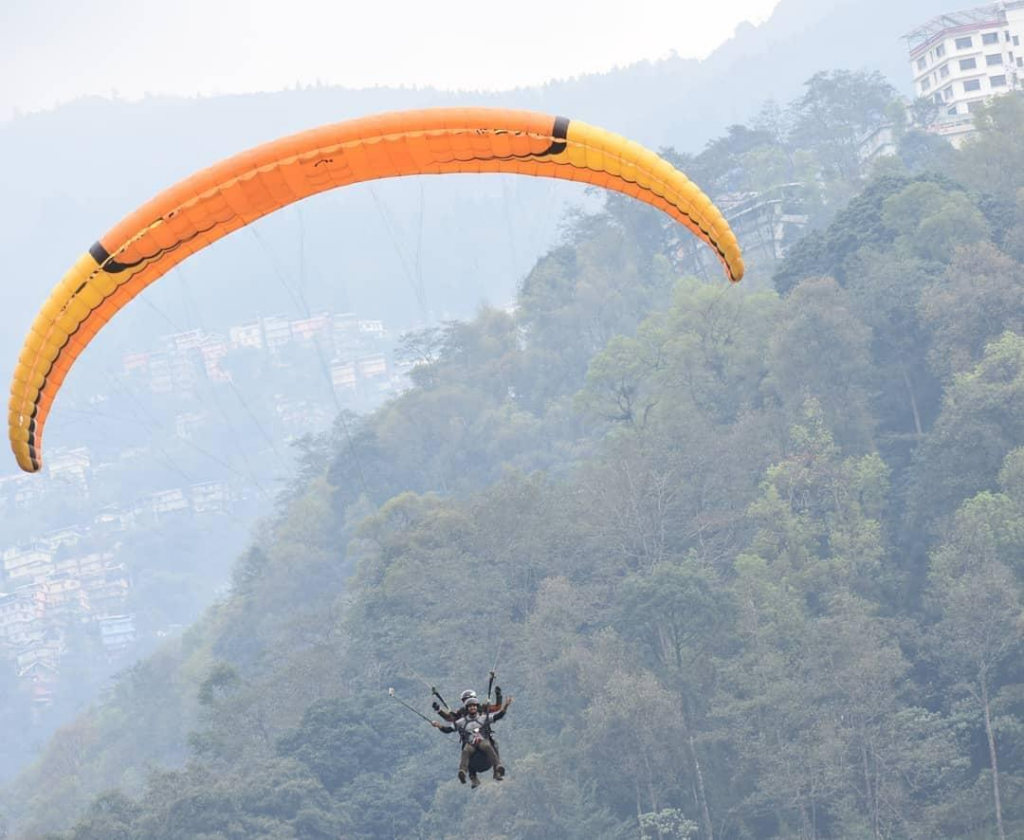 Gangtok is a new paragliding spot in India. You can explore the thrills of paragliding, and other adventure activities in Sikkim. The adventurers have started considering Gangtok for paragliding now. There are different ranges available for paragliding here, the medium range offers a 10-minute flying experience and the higher one lasts for 20 to 30 minutes.
Jaipur is an amazing place for paragliding. Instead of hills, mountains, and meadows you will witness the beauty of the forts, glorious lake, and the amazing architecture of Rajasthan here. The flying duration here is approximately 20 minutes and the ride will be amazing and fun. There are many professional pilots here who will assist you in gliding through the air and making this adventure in the pink city unforgettable.
Best time to visit: May-July, During Winter. Paragliding cost: Rs 3,000-7000
See Also
With tall trees, snow-capped mountains, and a divine landscape, Shillong is one of the best paragliding spots in India. There are numerous paragliding operators in the area, both government and private. The best adventure experience will be looking down from the top at the beautiful mountains and tall trees.
Best time to visit: September-April. Paragliding cost: Rs 1,500-4,500.
Bedni Bugyal in Uttarakhand is the most scenic paragliding spot in India. The thrill of flying over Uttarakhand's meadows and alpine ranges is unforgettable. You have to trek for about 11 km from the hamlet of wan to the take-off point which is in Bendi Bugyal. This is a unique experience of trekking and paragliding together and many adventure seekers are frequently visiting this place to attempt trekking and paragliding together.
Best time to visit: Paragliding cost: Rs 3,000
Conclusion: These are the amazing paragliding spots in India. You should carry sunglasses and wear comfortable clothes while flying. The sport may look a bit scary in the beginning but after you overcome your fear, it is an amazing and adventurous experience.