Chef Chalapathi Rao: The Ace Masterchef
Chef Chalapathi Rao needs no introduction for the die-hard patrons of South Indian cuisine. A chef par excellence, he has all enthralled with his sense of spice and everything nice, including Rocky & Mayur, the Highway On My Plate foodie duo, who make it a point to have a meal with the humble chef whenever they find themselves in Hyderabad. Having just wrapped up the first season of MasterChef India-Telugu and launched his partner venture Simply South's second outlet in Secunderabad, Chef "Challu", as he is fondly called, shares some rare milestones of his culinary journey with Swati Sucharita.
This chef would have worn a different white uniform, had destiny not intervened. Chef Chalapathi Rao had been waitlisted on the medical entrance list, and would have perhaps become a doctor, had it not been a chance visit to his cousin's house in Chennai which got him interested in hospitality instead. "My cousin's friend was doing his hotel management at IHM Chennai, and it was by chance we got talking about the course he was doing. Something appealed about the scientific aspects of hospitality education, and I decided to apply for the course and got selected too! This was back in the early 90's, when professional cooking was still looked down upon in middle class families like ours, so my father thought that this was a stopgap arrangement until I got onto more serious stuff like medicine. How things have changed since then," he remarks.
There is a distinct verve in the chef's stride, as he walks into 'Simply South by Chalapathi Rao,' the now-iconic restaurant in Film Nagar, Hyderabad, which bears his brand name, and which he co-partners with former colleague Amita Lulla and others. The noticeably chuffed expression is courtesy of a couple of significant milestones occupying centre stage right now.
For starters, after an extended lull in operations when the restaurant was closed post-pandemic since March last year – though catering and cloud kitchen business was on – things are looking up, with Simply South not only buzzing with business in Film Nagar but readying to get busier at their just-launched second outlet in Secunderabad.
The amiable chef has been basking in the success of the reality show MasterChef India-Telegu, where he appeared as a judge alongside co-judges Sanjay Thumma and Mahesh Padala. He is very happy to have chosen Krishna Tejasvi as the first-ever MasterChef India-Telugu winner. "The irony is that Tejasvi faced the maximum number of black apron or elimination challenges amongst all contestants, including a round in which she refrained from displaying her creation to the jury as she did not like it personally! Ultimately, her White Chocolate Dome with a Pineapple Consommé won unanimously among all judges. I have been very impressed by her confidence, grit, and determination. As an engineering graduate who is a home baker and chef too, she is bound to go places," says the chef. 
MasterChef India-Telugu is the first regional format attempted – besides the Tamil version too – outside the MasterChef India aired in Hindi since 2010 for a national audience. Produced by the original team of Endemol Shine India, MasterChef Telugu was co-produced by Innovative Film Academy, Bengaluru, on whose sets the reality show was shot over a period of nearly four months.
Interestingly, he had been invited for auditioning as jury for the very first MasterChef India season in 2010, "but the condition of a six-month sabbatical from work was not okayed by the ITC Hotels' management," recalls Challu.
Instead, he filled in as an expert chef for the first two seasons of MasterChef India, devising culinary challenges for the teams, and working behind the scenes. "The learning curve with this experience has been impressive. Sometimes, you can be forgiven for thinking that these contestants are not professional chefs, but home or hobby chefs; they are so creative. But then, these days, the exposure is so much, with online media opening the floodgates of information."
Interestingly, Chef 'Challu' as he is affectionately known, began his career at a Chinese restaurant in 1994 at the Park Sheraton in Chennai and only later moved to Dakshin, under the tutelage of creator and brand custodian Chef Praveen Anand. "There was no looking back after that. Chennai was the first city to start off with Dakshin early in 1989. The second Dakshin was launched in Hyderabad in 1996 which I handled from start; be it researching recipes from across districts of then undivided AP to then presenting it in a fine dine format, I had complete autonomy."
Diplomats, politicians, and royal guests have been fans of Dakshin's excellent South Indian fare, besides countless admirers. After working at the Hyderabad Dakshin outlet for a decade, he moved to ITC Maurya, Delhi around 2008 or so and then took up the corporate chef mantle of Green Park Hotels in 2011, doing the pre-opening of Avasa Hotels. But by 2014 he was getting restless for a change. And the wheels of destiny moved once again as old buddies Amita Lulla and her husband Jagan Mohan, (who had years of real estate experience behind him) were also looking around to start an F&B venture.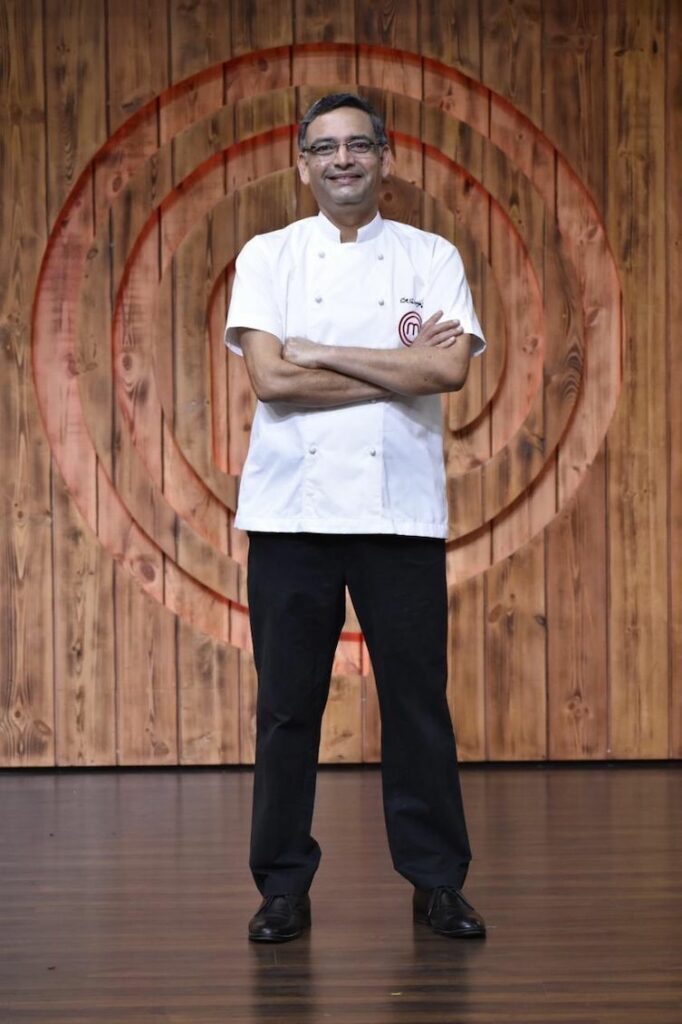 Recalls Jagan, "I was looking around to invest in a casual dining space and got to hear of the Thea – the continental restaurant which used to exist on the same premises – owners wanting to sell out. Around the same time, I get a call from Challu anna saying, let us meet for a drink, which is I think an 'once in a purple moon' kind of occasion for anna. We talked over drinks, and he opened up about wanting to create something on his own. Ironically, I while had thought of a South Indian restaurant with his Dakshin experience, he was not so willing!" he guffaws.
"I wanted to continue with the continental menu of Thea and in fact, we ran Thea for three months as it was," says the self-effacing chef, who took some persuasion to lend his name to the brand.
Eventually they had to buy out Thea in whole i.e., brand name and kitchen equipment included, as the owners were not willing to sell out the place. The name 'Simply South' was coined by Jagan and after exactly three months of running Thea and about five days after acquiring the place, their restaurant was open for business. But not exactly to an encouraging response!
"We would have old customers of Thea walk in and who would literally get into a start, saying, 'What's this? We don't want South Indian food!'," recalls the chef. "But one thing was clear, we wanted to stay true to our motto, which was only South Indian food of all five southern states and no dilution of the menu with Chinese, or multi cuisine options, which most South Indian eateries indulge in. We ran no ads, there was no budget for publicity.  In fact, it was only word of mouth which helped," he adds. 
Today, Simply South is not only much awarded and endorsed by culinary enthusiasts like the lovable HOMP duo Rocky and Mayur, it's pretty much a loved household name in Hyderabad. And amen to that!