Creating a World of Her Own: Bakula Nayak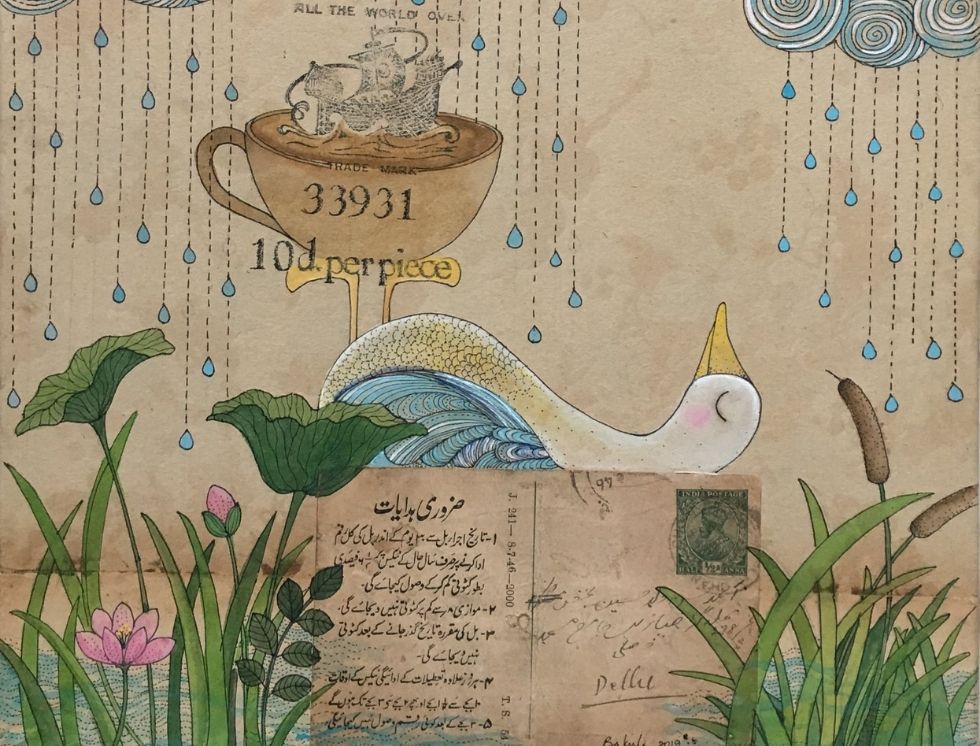 Bakula Nayak speaks to Nivedita Rao about her art, her canvas, and her unfettering spirit and passion
A Godrej Bill of 1971, a letter her father wrote to her mother— Bakula Nayak uses these vintage papers as a canvas. Her art of mixed medium is equally poetic. Different forms of love often dominate her work, and, birds, rabbits, typewrites occasionally enter onto this unique canvas. Bakula, despite a condition that forces her to be bedridden, has created a world of her own. The pandemic has led her to newer subjects and her new series that focuses on the changing political landscape of the world will be a part of a show titled (ME)(MORY) – a women-only group show at Vadehra Art Gallery's contemporary space in New Delhi in January 2021.
Tell us about your journey.
After spending more than a decade in New York City, I moved back to Bengaluru, India. Collecting vintage paper is a passion I have had for several decades. I love to imagine their life stories and of the people who owned them. I started illustrating on them five years ago to give them a life outside of the cupboards they were stored in. Aged gorgeously, they form the perfect canvas to interpret the reality of my world, an unfinished inventory of my daydreaming, my love for all things vintage and reflect my insane desire for romance, aesthetics, poetics and seduction in everything.
Why did you choose vintage paper?
As a young child I was always fascinated by the past — maybe it's because I did not have a sense of history of my own — I never had grandparents, my mom died young and my family didn't really keep any records or pictures. So, I lived in borrowed histories — vicariously living in a time that I didn't belong to.
Also, to think that someone loved these objects or papers so much and saved them for so many years only for it to become trash when they died made me sad. I call myself the memory keeper for people who have left all this love behind in these vintage ephemerals.
I started illustrating on vintage papers five years ago to give them a life outside of the cupboards they were stored in.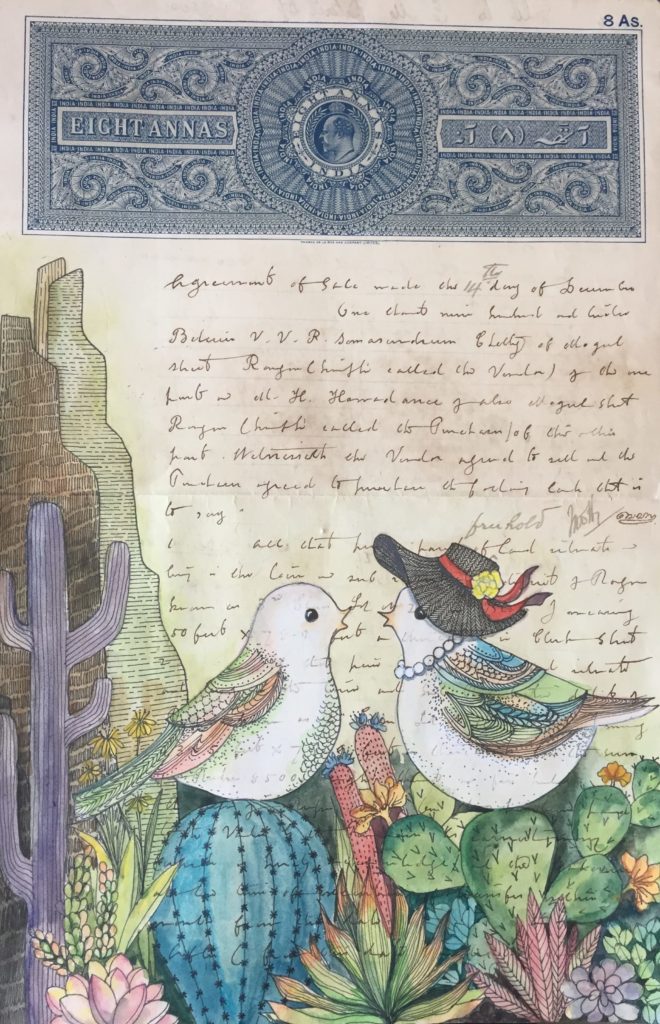 Who are your biggest influences?
See Also
I have been ill for the last five years and at a certain point in time I was bedridden and dejected with life. That's when I read about Frida Kahlo and her journey with pain and her art. I then realised that I have been always escaping into fantasy as a way of coping.
She taught me to face my demons head on — to confront my pain, my body. This is a new journey and I am not quite sure where it is going yet but it makes me happy to explore. Another influence has been ancient Indian Literature and Sangam love poetry in particular.
How has the pandemic affected your work?
I have two boys and having them home distracts me from my work. I got to spend more time with them which was enjoyable. I did however paint a series on how the gender pay gap has worsened with the onset of COVID. This will be part of a group show at The Bonns Museum, Germany.