One of the most revered festivals in India that symbolizes the unconditional love between a brother and sister is Raksha Bandhan. A festival without fanfare and elaboration involves tying a thread around a brother's wrist, a thread that serves to seal the unconditional and eternal bond between brothers and sisters. Over the years, the simple red and yellow threads tied have become more creative, commercial, and customized. Kalpana Dheeraj Gangar, Neetu Soni, and Ashlesha Bhadoria are three dynamic 'Rakhi makers' who Canta Dadlaney chanced upon while shopping for Rakhis. Let's have a look over the Creative handmade Rakhis.
Vamakshi's Rakhi by Kalpana D Gangar
Kalpana is your age-defying mother-in-law who started marketing her aunt's homemade, customized Rakhis in 2010. She is your modern-day, street-smart entrepreneur who knows what sells. What drives her are the satiated expressions of her clients whose numbers have been increasing in the past decade.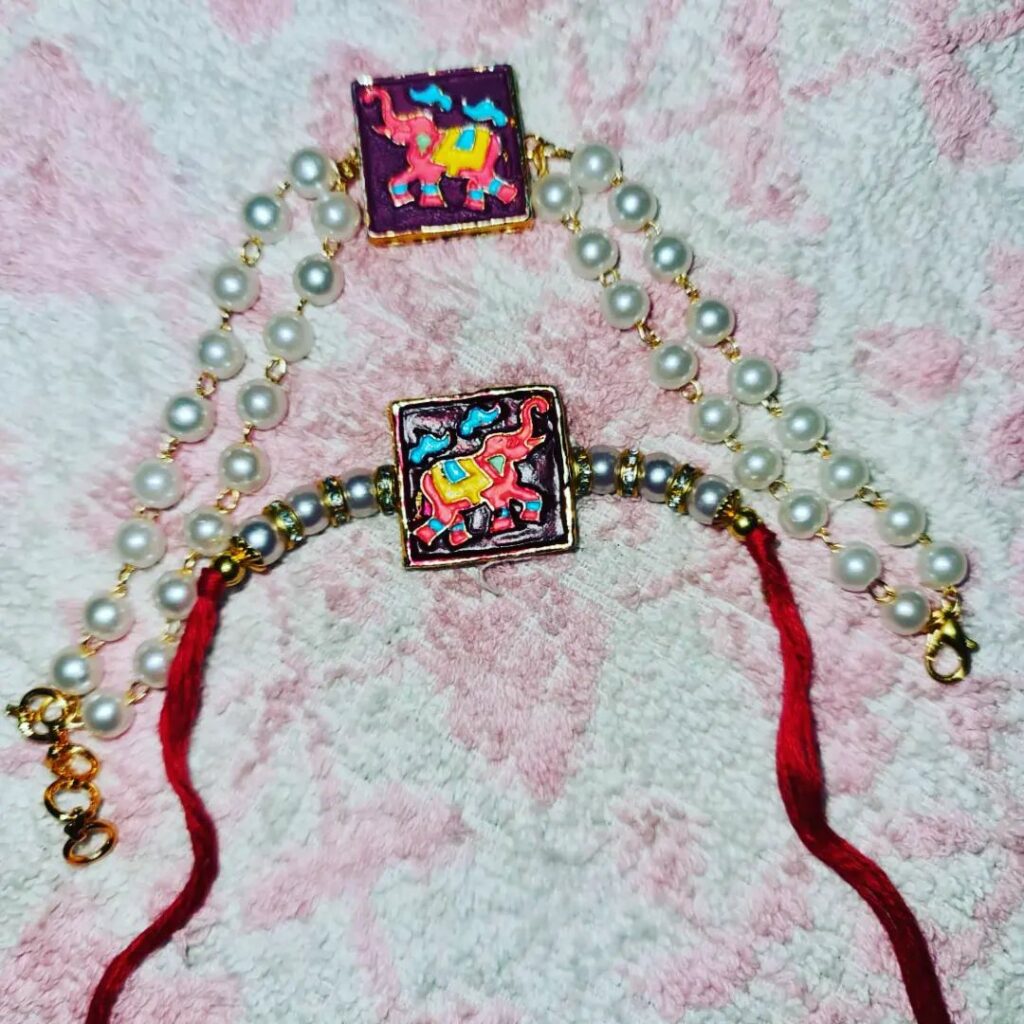 How did your business venture begin?
I used to carry my aunt's homemade Rakhis in a small bag and sell them among the entire community. The inspiration was my aunt, of course. We moved from the Santa Cruz suburb to Thane. I founded this venture, which is backed strongly by my daughter-in-law Vamakshi, after whom this venture is named. In 2010, I displayed the varieties of Rakhis across 10 tables arranged in one of my rooms. We started with 100 designs which included Rakhis for kids, brothers, and sisters-in-law. We continued on a small scale until 2018 when we set up our first exhibition in a proper commercial outlet.
Whats your collection this 2022?
We ensure that our Rakhis cater to the diverse tastes of all. We introduced Silver and Gold Rakhis as well. The silver and gold varieties are for domestic sales only.The basic ones cost between Rs 2 and Rs 10. The silver ones cost between Rs 250 and Rs 3500. We have even sold a gold Rakhi for Rs 5,000 but this is rare.
How do you customize your Rakhis?
We have clients who ask us to increase e.g., the amount of silver and incorporate a tiny photo of their brother, or a brother-sister photo. We also have some sisters requesting their brother's name as a centrepiece of the Rakhi. The customization varies and we are happy to serve everyone. People are not worried about the costs as they feel this is one festival to indulge their brothers and we try our best to incorporate changes according to their wishes.
Follow on:
Facebook: https://www.facebook.com/KG-Rakhi
Instagram: https://instagram.com/rakhi_lumba_2022
GlammIn by Neetu Soni  
Homemaker, Neetu Soni, a mother of two teenagers, was motivated by her husband to create appealing Rakhis. This entrepreneur stepped into the world of handmade Rakhis in 2019. From selling Chinese-made Rakhis to creating her designs, Neetu is a versatile person who wears many hats!
My husband noticed my marketing and sale skills in locally produced Rakhis every year. He suggested I focus my energies on my handmade products and set up a small-scale unit. The thought of creating my designs had always fascinated me, I love experimenting with different-coloured threads and beads and creating the ultimate Rakhi that personifies the love of a brother and sister. I had created about 12-15 designs which ranged between Rs 40 and Rs 150 and I was taken aback by the response I received. Since it was the first launch, I did promote some readymade ones as well. However, once I started marketing them on Facebook and Instagram, I was overjoyed to see the increasing demand for my handmade Rakhis.
Follow on:
Facebook: https://www.facebook.com/GlammIn
Instagram: https://www.instagram.com/glammin_nitusoni/
Parchaii – Eco-friendly Rakhis by Ashlesha Bhadoria and Srishti Kar
The duo behind brand Parchaii, a clothing line launched last year also ventured into handcrafted Rakhis at the same time. Ashlesha Bhadoria and Srishti Kar of Parchaii, concerned about the wastage of fabrics (from their clothing business), made a foray into sustainable, handmade Rakhis. What sets Parchaii apart is the fact that every single Rakhi is handmade with leftover fabrics and other paraphernalia.
When was Parchaii launched?
The clothing line was launched on June 1, 2021, and the handcrafted Rakhi business was launched in July 2021, about 28 days before the Rakhi festival.
How many Rakhis did you make for the initial launch?
We made a total of 60 Rakhis, as we wanted to understand how well our handcrafted and eco-friendly Rakhis would be received by the public at large. From cut-out fabrics, left-over ribbons, and beads, we interplay the product with contrasting colours to give the Rakhis a very aesthetic touch.
Tell us about your collection…
We implement zero-waste practices and will continue to do so in the future as well which makes the activity more time-intensive. The Rakhis are accompanied by 'Roti' and 'chawal' (rice) which form an inherent part of the festival's celebration. Moreover, we offer equally creative packaging instead of envelopes. We craft fabric pouches which can accommodate the Rakhis and the other elements comfortably. The prices range between Rs. 199 and Rs. 249 and we offer a discount of Rs. 50/-. on an order of three Rakhis.
Follow On:
Instagram: https://instagram.com/parchaaii
Facebook: https://www.facebook.com/Parchaaii/
Conclusion: These are a few women from different cultural backgrounds who believe in the expression of thought and creativity. Quite different from the run-of-the-mill, they spend hours crafting sustainable Rakhis which can create memorable moments for families across the globe! Get them while they are still available…
A Happy Raksha Bandhan to All the brothers & sisters. Keep the love growing!