Bridal Perfection Simplified- Neeta Lullas Styling Tips
Step into the world of enchantment and passion with Neeta Lulla's latest masterpiece, Vrindavan Symphony. Renowned for her innate ability to weave tales of love through her designs, Neeta Lulla has once again surpassed all expectations, leaving us in awe. Since 2016, Vrindavan Symphony has been thriving, with its inaugural photoshoot featuring Pooja Hedge. Inspired by the eternal romance of Radha and Krishna, this collection will transport you to a realm of magic, where music, flowers, and the mesmerizing ambience of Vrindavan converge in perfect harmony. Neeta Lulla, a true romanticist at heart, has poured her soul into every intricate detail of this collection. Surabhi Goel gets an exclusive look at Neeta Lulla's new bridal collection while the designer imparts her wisdom on wedding style.
What inspired your latest collection, Vrindavan Symphony, and for what occasions are these outfits perfect?
Vrindavan Symphony is an embodiment of my philosophy, intertwining love, sensuality, and timeless elegance. The epitome of happiness, love, and romance between Krishna and Radha in Vrindavan, depicted through dance and folklore, serves as the foundation for this collection. Through Vrindavan Symphony, I aim to capture the essence of their eternal love and bring it to life through the medium of fashion. The collection effortlessly combines the essence of romance with flowing fabrics, delicate pastel hues, and alluring ensembles. Stealing the spotlight are captivating gowns, skirts, and jackets adorned in rich shades, making them a perfect choice for resort wear or a radiant bride's special day or for post-bridal functions like sangeet, mehndi, or cocktail night.
What are some key factors that brides should keep in mind when choosing their wedding trousseau?
As a designer, when it comes to a bride-to-be shopping for her trousseau, I believe it's essential to prioritize timeless pieces and versatile jewellery. The key is to select classic items that can be worn beyond the wedding day and easily incorporated into her everyday wardrobe. These pieces should have the ability to be styled differently, offering a distinct look with various garments. For instance, investing in classic jewellery allows for multiple outfit pairings, extending its wear beyond the wedding ensemble. In fact, I personally have repurposed embroidery from my bridal lehenga, transferring it onto another fabric, which took around three months to accomplish.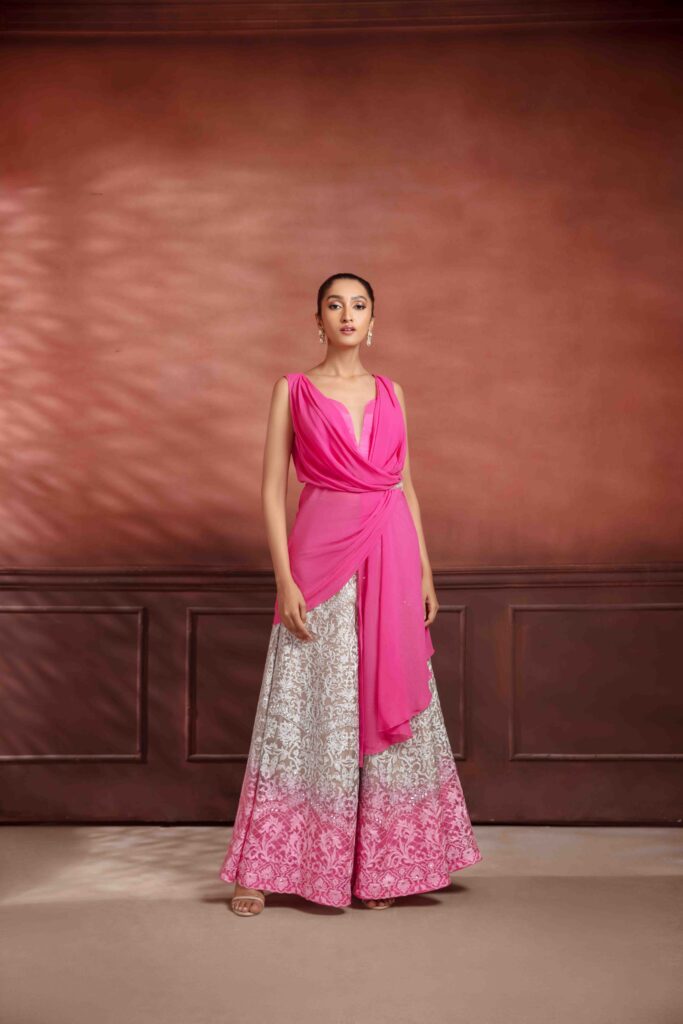 What are some of the latest wedding fashion trends that brides should consider?
When it comes to selecting bridal attire, the latest fashion trends are not of utmost importance. Brides nowadays prefer outfits that they can cherish for a lifetime and wear on multiple occasions. Comfort plays a significant role alongside aesthetics. Ultimately, the choice of bridal attire is a personal decision for each bride, allowing her the freedom to design it according to her preferred style and colour. The most crucial factor is how confident she feels while carrying herself in that outfit.
Can you give some tips on choosing the perfect wedding outfit for a bride based on her body type?
When choosing the perfect wedding outfit based on your body type, it's important to consider the silhouette that flatters you. Opt for a style in which you feel comfortable and have received compliments in the past. For top-heavy brides, a long deep neckline with a low waist long skirt can create a balanced look. Hourglass figures look stunning in A-line lehengas, while bottom-heavy brides can rock a high-waist lehenga to highlight their curves. Ultimately, choose what makes you feel confident and consult with a trusted designer or stylist for personalized advice.
What are some popular colour palettes or combinations that you recommend for bridal outfits this 2023?
When it comes to popular colour palettes for bridal outfits in 2023, I recommend considering classic red, ivory, copper, gold and rose gold. These colours are currently trending and can add a touch of elegance and sophistication to your wedding ensemble. Red is a timeless choice that symbolizes love and passion, while ivory exudes a sense of purity and grace. Copper and gold tones bring warmth and richness, while rose gold adds a hint of softness and femininity. These colour combinations are sure to make a statement and create a stunning visual impact on your special day.
Can you share some insights on accessorizing bridal outfits for a complete and balanced look?
Firstly, consider mixing and matching different accessories to create a unique and personalized style. Experiment with various pieces and styles to give your outfit a fresh look each time you wear it, as long as you feel comfortable in them.
One essential accessory is a perfect Maang Tikka that suits your forehead and complements your overall outfit. It adds a touch of elegance and tradition to your bridal look.
When choosing wedding shoes, prioritize comfort over excessive embellishments. Opt for comfortable footwear that allows you to walk and move with ease throughout the day, ensuring your comfort is not compromised.
Belts are a trendy accessory that can enhance your waistline and add definition to your silhouette. Consider incorporating a stylish belt that complements your outfit and helps achieve a more balanced look.
Don't forget about the accessories for your hands. Bangles and large rings are prominent accessories that can beautifully complement your bridal outfit. Ensure they match and coordinate with your overall ensemble, creating a harmonious and cohesive look.
The key is to choose accessories that enhance your bridal outfit while reflecting your personal style. Strive for a balanced and complete look that makes you feel confident and radiant on your special day.
With destination weddings becoming more popular, what kind of outfits do you suggest for brides getting married in different settings (beach, mountains, etc.)?
For beach weddings, muted shades and calming hues work wonderfully. Opt for bridal dresses in colours that complement the beach environment. Additionally, choose fabrics that are flowy and lightweight, allowing you to move comfortably in the beach breeze.
For weddings in mountainous regions, darker-shaded bridal outfits are a great choice. These colours not only keep you warm in chilly temperatures but also help you stand out against the backdrop of the mountains. Consider fabrics that provide warmth while maintaining an elegant and stylish look.
When it comes to garden destinations with neutral and breezy temperatures, vibrant shades are ideal. Choosing a vibrant bridal dress not only enhances your aesthetic appeal but also has a psychological impact by boosting your mood. It helps you embrace the joyful atmosphere of your destination wedding and keeps any cold feet at bay.
Can you share some do's and don'ts for brides when it comes to selecting their wedding outfits?
When it comes to selecting wedding outfits, there are several do's and don'ts that brides should keep in mind. Here are some key tips:
See Also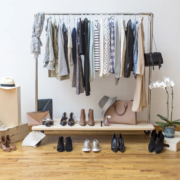 Choose your jewellery before selecting your outfit. This allows you to coordinate your accessories with your dress seamlessly.
Look at your most flattering colours and select your outfit accordingly. Avoid choosing a dress based solely on how it looks on a hanger. Opt for colours that enhance your natural beauty and make you feel confident.
Opt for classic cuts and styles. Classic designs have timeless appeal and can be worn even after the wedding day, adding to their wearability and versatility.
Pick shoes with minimalistic or no embroidery. This ensures that you can move comfortably without getting caught up in the layers of your outfit.
Consider a classic hairstyle that enhances your overall look. Avoid experimenting with new hairstyles or makeup on your wedding day to avoid any unexpected surprises
What are your thoughts on sustainable and eco-friendly wedding fashion, and how can brides incorporate these principles into their outfits?
I believe sustainable and eco-friendly wedding fashion is a wonderful approach that brides can embrace. When it comes to bridal outfits, it's important to select something that can be enjoyed and worn beyond the wedding day. Sustainability is about creating pieces that have longevity and can be cherished for years to come. Opt for timeless designs with classic styles that won't go out of fashion. This ensures that your outfit remains relevant and wearable in the future, reducing the need for frequent updates.
Instead of letting your bridal outfit gather dust in your closet, explore options for repurposing it. You can transform it into a different ensemble or reuse certain elements in other garments or accessories.
What are some common mistakes brides make when it comes to choosing their wedding attire, and how can they avoid them?
Avoid choosing your outfit before selecting the jewellery; instead, start by choosing your jewellery and then find an outfit that complements it.
Don't succumb to external pressure or choose an outfit solely to please family, relatives, or fiancé; prioritize your own preferences and select a dress that resonates with your personal style and makes you feel confident.
By being mindful of these common mistakes, brides can make more informed decisions when choosing their wedding attire. Trust your instincts, prioritize your own preferences, and surround yourself with supportive loved ones who respect your choices. Ultimately, selecting a bridal outfit that reflects your style and makes you feel beautiful will ensure a memorable and joyful wedding experience.
Quick takes.
Reel screen vs Real brides:
Both reel screen and real brides present their own challenges, each in their own unique ways.
Perfect Pre-wedding outfit:
An ideal pre-wedding outfit can be a stunning saree or an elegant Anarkali, as it's all about exuding grace and feeling absolutely stunning.
Your favourite Bollywood bride?
All Bollywood brides have their own unique elegance and distinctive styles, making it difficult for me to choose just one. Each bride brings something different to the table, making them all memorable in their own way.
Which celebrity do you enjoy styling the most?
When it comes to styling celebrities, I particularly enjoy working with Kangana Ranaut. Her bold attitude and ability to carry outfits with great confidence make the styling process a delightful experience.