Exotic Airbnb homes to make your trip memorable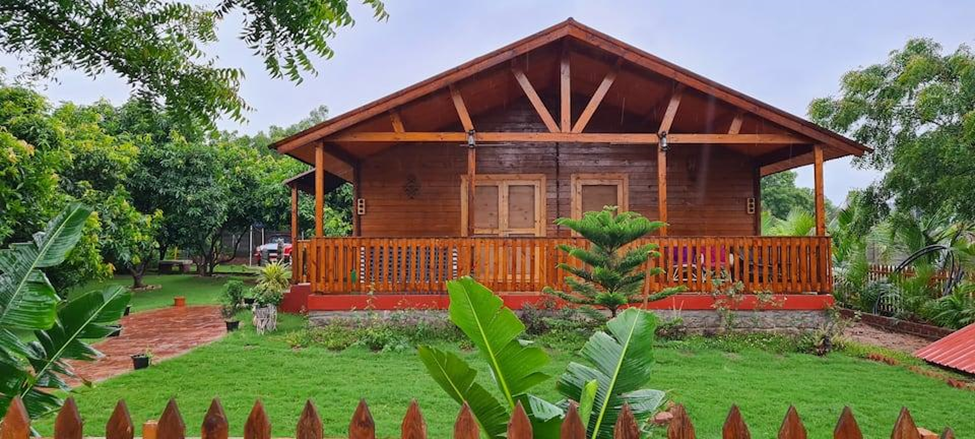 Planning a trip is complicated, and the emergence of Airbnb's has become a boon to travellers looking for an authentic experience on their terms. Curated by a wanderer at heart, Manisha brings you exotic Airbnb stays that are Instagram-worthy and travel-friendly. Here are some of the best Airbnb's that will make your stay memorable.
AsanjA  – Maharashtra
The Cave shelter, hosted in the quiet countryside of Maharashtra, is a 3-bedroom earth shelter offering a great view of the Sahyadri Hills. Surrounded by lush greenery on the outside and partaking in every city luxury, this cave home is a one-of-a-kind stay with great backgrounds and peaceful luxury. From family get-togethers to solo vacations, this place will surely give you memorable temporary housing.
Cost: ₹37,072 per night
The Hanging Villa Container – Rajasthan
This exquisite Airbnb villa is suspended on two pillars with a private pool. It is one of the best places for relaxation during an outing. With amenities such as a bar table, wine rack, superior air conditioning, and a well-designed attached kitchen, this villa offers a comfortable yet unique stay to all those people with wanderlust. Located in the residential area of the Pink City, the hanging container has all the luxurious amenities with the twist & adventure of a hanging accommodation.
Cost: ₹18,143 per night
Lotus Villa –Chennai
The Lotus Villa has traditional aesthetics with modern amenities. Best for honeymoon couples, this villa boasts a swimming pool, a beautiful garden, a Lilly Pond, and private beach access. Enjoy a memorable stay in these beautiful quarters and boast a stay as grand as your adventure.
Cost: ₹22,071 per night
Camp Footprint – Kerala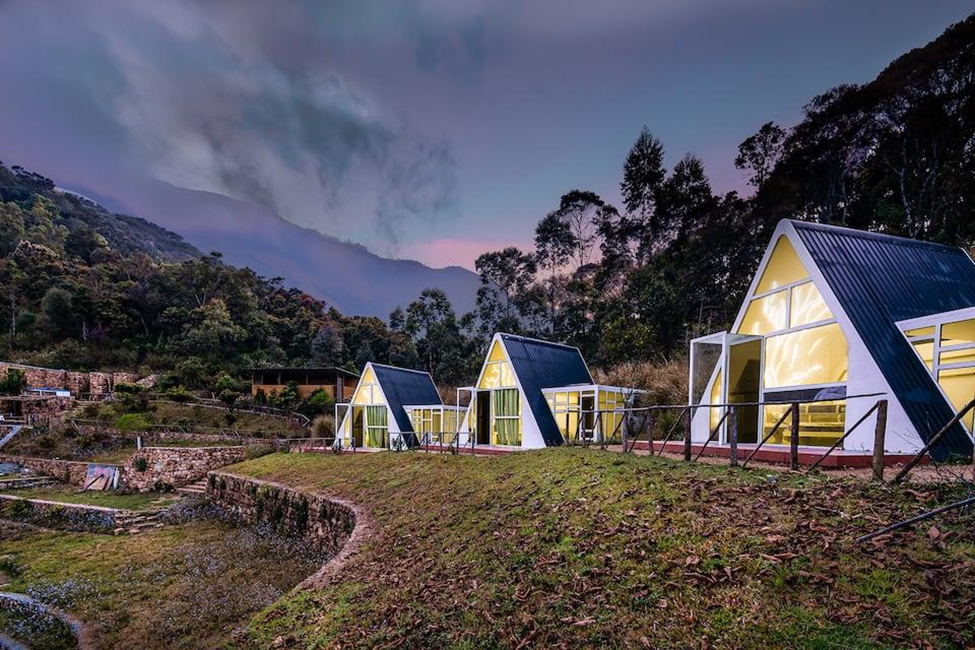 A wild outing in the beautiful Kerala city of Munnar, Camp Footprint offers an adventurous stay without taking away the luxury of modern-day amenities. With stunning views and a perfect opportunity for wildlife lovers, the camp footprint is a perfect accommodation for aspiring photographers and trekkers.
Cost: ₹10,500 per night
Itsy Bitsy Dome House – Himachal Pradesh
A geodesic design built on the top of a mountain, the Itsy Bitsy Dome House is every bit a traveller's dream destination. With a grand view of snow-covered peaks and pine trees, the dome house has every amenity present in the luxurious urban accommodations. At this breath taking architecture, enjoy the local culture and bonfire to make great memories and unforgettable stay.
Cost:   ₹4,243 per night
The Mudhouse – Kerala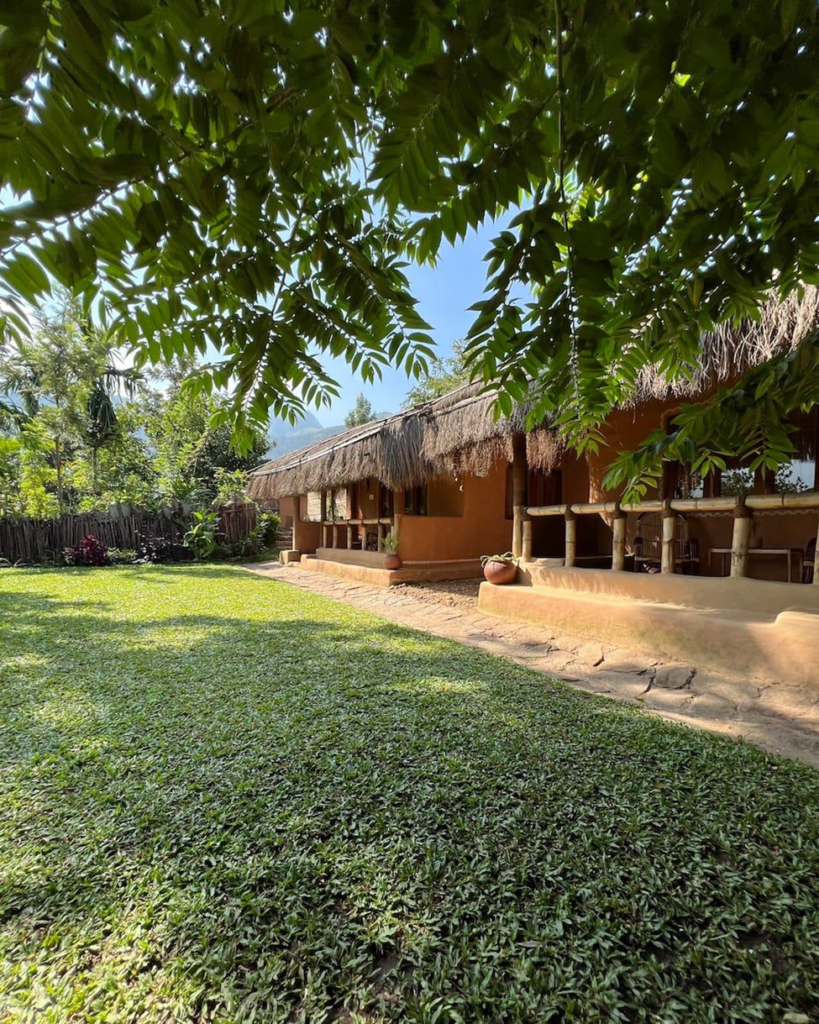 Returning to the foundations of civilization, Kerala offers a nostalgic experience with its earthen houses in the magical valley of Marayoor. Surrounded by the Sandalwood forest and Chinnar Wildlife Sanctuary, the Mudhouse stay is sure to tinge all the senses of the human body and grant an experience like no other.
Connect with nature and relive the early morning bird songs, and the quiet sound of the Mother Nature.
Cost: ₹20,000 per night
The Brickhouse – Maharashtra
The Brickhouse by Earthbound is inspired by the rural lifestyle accommodated with the urban luxuries. This is a perfect blend for a traveller looking for experiences both in destination as well as the journey. With an indoor pond and intimacy with the nature, the Brickhouse is sure to leave you with a set of unforgettable memoirs.
Cost: ₹11,429 per night
Mangawoods Serenity – Hyderabad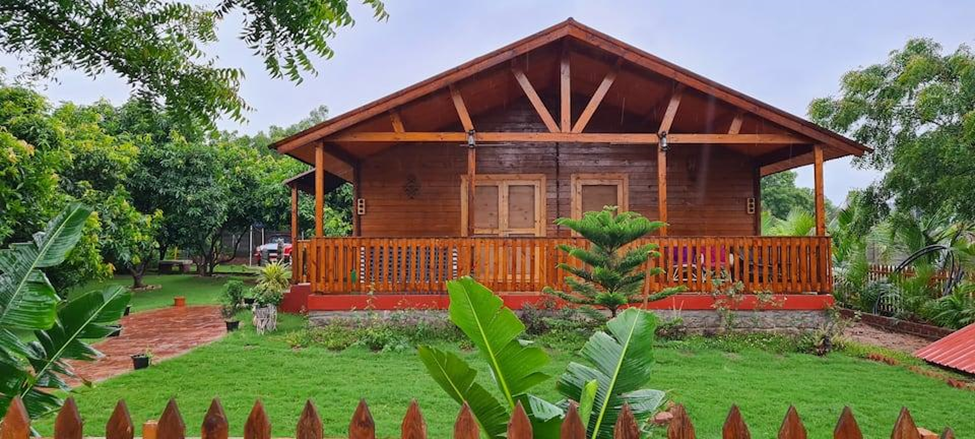 A cottage experience among the gem fruit of South India – The Mango plantations, travellers look forward to a vintage feel with antique interiors and lush surroundings. Dining under the trees and an Ambassador car are some of the unique experiences this place offers.
Get your phone out and transport to the 1950's with a snap at this grandeur of a place.
Cost: ₹9,929 per night
Wunderhaus- Puducherry
An artist's getaway, this East Coast house in Tamil Nadu is designed for creative minds. This place is adorned by artworks by Tamil Nadu artists Bala Govind Kumar and Wunderhaus studio and is an ideal destination for artists, backpackers, and workshop organisers. Extremely curated and passionately presented, this homestay will bring peace to your mind and connection to your heart.
Cost: ₹1,436 per night
Canoe Ville – Kerala
An exquisite boathouse in the still waters of Kerala Backwaters, Canoe Ville is sure to give an extremely unique homestay experience to travellers. Amidst the beautiful Vambanad Lake and guarded by coconut trees, this boathouse also features an open space accommodating hammocks for a shore experience like no other.
Cost: ₹3,250 per night
Pack your bags and embark on an experience that will remain over many lifetimes and worthy of a legacy.