From Debutant to Champ; Siraj Opens Up about the Incredible Oz Tour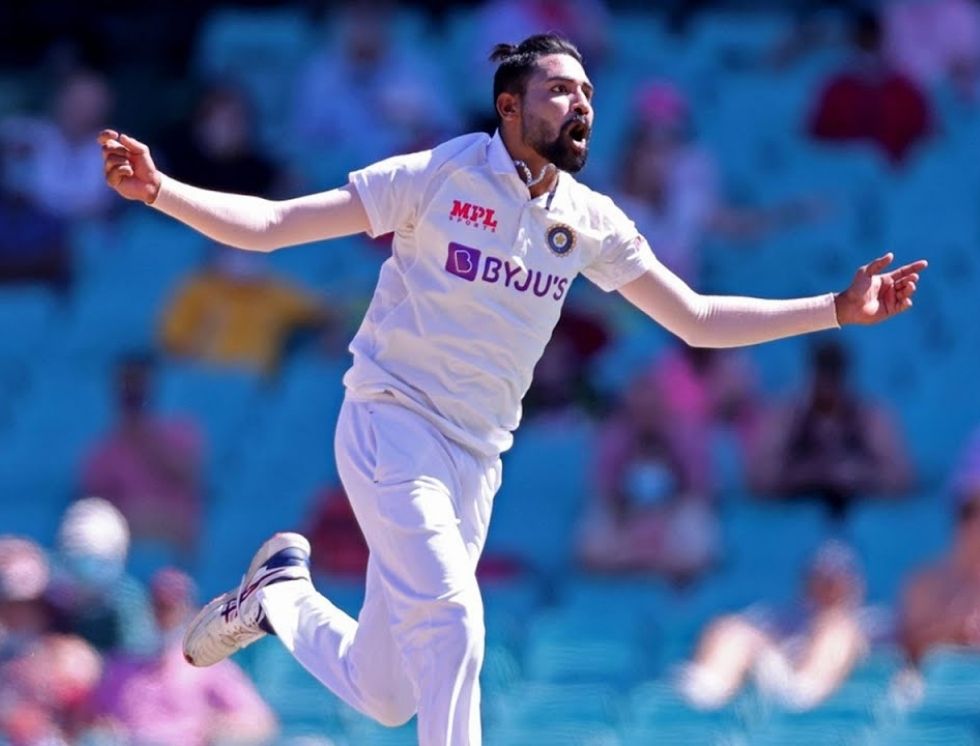 Indian pacer Mohammed Siraj just touched down in Hyderabad after a victorious tour of Australia. In a chat with reporters from his home in Hyderabad, Siraj talked about the challenges that a full-fledged test series in Australia threw his way, how he dealt with his father's demise and the innumerable injuries that plagued team India throughout the tour. Aishwariya Parmeshwaram gets you a lowdown on what was going on behind the scenes of a historic series…
Hyderabad: Mohammed Siraj, who returned to India after his successful Test debut Down Under with the Border-Gavaskar Trophy, is an example of passion, hard work and determination. Siraj got an opportunity to bowl in the iconic Boxing Day Test match in Melbourne, when Mohammed Shami was injured, and he made history straightway when became the first Indian debutant in seven years to take 5 wickets.
By the end of the well-fought series, Siraj had taken 13 wickets. More importantly, he led an entirely green horn bowling line up to an incredible series victory in Brisbane, after all of India's frontline bowlers were sidelined due to injuries. "It felt like we were playing with India A again," quipped Siraj, adding that it helped release pressure from the young shoulders, and allowed them to play freely.
Favourite Wicket: "Marcus Labuschange in Brisbane. Took two wickets in an over at a crucial stage, his was most important"
His journey hasn't been a cakewalk but his parents supported him throughout and encouraged him to pursue cricket. "Parent's support is crucial for sports," Siraj believes, "Without them you won't have peace of mind while playing." Siraj's father is known to have encouraged his son to chase his cricketing dreams even at the cost of missing Board exams. In what was a tragic incident, Siraj lost his father just before he made his Test debut against the Aussies. Unable to attend his father's funeral, Siraj stayed on with Team India, fuelled by a desire to fulfil his late father's dream. "It was emotional, talking to my family helped, and I dedicated every wicket I took to my dad," said Siraj, who went straight from the airport to pay homage to his father upon landing in India.
Reactions after he got back home: "Mom cried, but I wanted to stay positive. Ate nahari paaye after a while, so it felt good."
The tour of Australia opened doors for the young player, and he is only looking forward to reaching greater heights and playing good cricket. "I don't want to let this performance get to my head. I don't want to relax now as the England series and ongoing World Test Championship are extremely important to me," he explains. The young bowler found support from the skipper Virat Kohli, Rahane, Bumrah and other senior players who helped him understand the new red ball, encouraged him after bad spells and fine-tuned his bowling skills.
Plan for his "bunny" David Warner: "He had struggled against my in-swing in the IPL. The plan was to bowl that constantly."
On racist remarks that were allegedly hurled at him in Sydney from the crowd, Siraj said, "My duty was to inform the captain, and I did that" said Siraj. As the case is still pending, Siraj said, "I didn't let it affect my game. The umpire said we can leave the field, but we respect the game and didn't want to do that and asked them to move the abusers instead," adding that the incident only helped their game as it fueled their confidence and made them mentally strong. This historic win by the Indian team on Australian grounds after 32 years is being hailed as one of India's finest victories. Siraj said the hard work and passion were the driving forces behind his splendid outing. "I have always worked hard and had respect for the game, and this is all the advice I can give to everyone who is passionate about the game," said the pacer.